Some of the links on this site may be affiliate links. This means, at no additional cost to you, I may be paid a small commission if you follow the links and make a purchase. Learn more here.
This coconut chickpea curry is so good. We've added it to our weekly rotation and our two year old recently gobbled up her whole bowl! I didn't grow up as an adventurous eater. In fact, I was quite the opposite. I mainly ate pasta and mashed potatoes. Not quite the most colorful diet, that's for sure.
Making Good Curry at Home
But times have certainly changed. My husband introduced me to curry when we were dating (he's always been a big fan). And although I've had some good experiences with curry eating out, it's been hard to find a recipe that's...
As delicious and flavorful as a restaurant
Can be made with simple, healthy ingredients
Something that our kids will eat
When we talk over meal ideas for the week, my husband often suggests curry. It usually doesn't happen though, because the kids can't do too much spice. And when they make a fuss at dinner time, it isn't a very enjoyable meal.
So the fact that I've made this coconut chickpea curry weekly for the last month or so should tell you something. This recipe is inspired by this curry recipe on 40aprons. After making a few modifications, it's just how we like it!
Kid Friendly Curry
The challenge with our kids (and probably most kids) is that they can't handle much spice. So it's been tough to find a recipe that's spicy and flavorful enough for the grown ups, but not too spicy for the kids.
I like a bit of sweetness in the thick curry sauce, which this recipe provides with the coconut aminos and the lime juice. Of course, if we decide we need more spice we just add a dash of hot sauce.
This curry is super easy to throw together on a weeknight. It comes together in less than 30 minutes and is so tasty!
Flexible Curry Recipe
The process is simple. And extremely flexible. Adjust it to meet your needs.
Do you like a sweeter curry? Try an extra squeeze of lime juice.
Would you like more spice? Hot sauce should do the trick.
Want it creamier? Add more coconut milk. Be careful with this though. If you add too much, you'll dilute the flavors so you might have to add more seasonings to balance it out.
Would you rather have chicken? Or shrimp? Go for it! Customize this to your liking!
Do you have carrots and spinach instead of bell peppers and onions? No problem. Use what you have. That's my motto in any recipe really.
Want to go low-carb? Use cauliflower rice instead of normal rice.
How to Make Coconut Chickpea Curry
Heat the oil with the curry powder until fragrant. Then add your veggies (with a little salt) to saute until softened. I don't like mushy veggies, so I cook them until they aren't crunchy any more.
Stir in the coconut milk and turmeric and simmer until the sauce has reduced and thickened to your liking. If you want a thinner sauce, don't reduce it as much.
Stir in the chickpeas, chopped greens, coconut aminos (Coconut aminos are a soy sauce alternative that's made from coconut. It gives the dish a sweet, rich flavor. If you only have soy sauce, that's fine too.), fish sauce, lime juice, salt, and pepper.
Serve over your favorite rice (cauliflower rice or a basmati rice are both great) and garnish with cilantro and lime wedges.
We usually have a big container of rice already cooked in the fridge, but if we don't, basmati rice is quick to cook, and should take about as long as the curry to cook. Be sure to rinse the rice first to help get rid of those excess starches.
Looking for more Healthy and Homemade Dinner Recipes?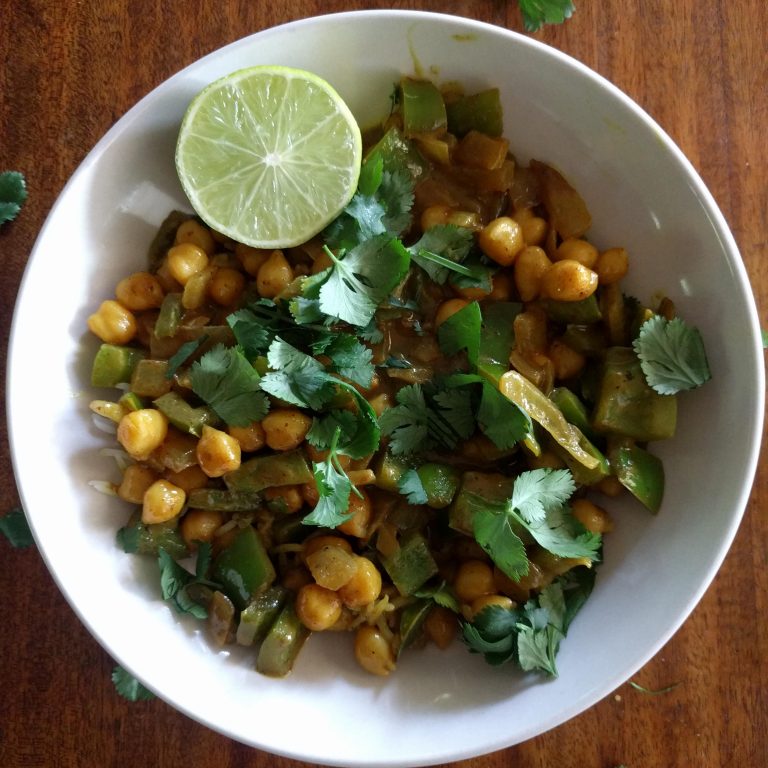 Weeknight Coconut Chickpea Curry with Turmeric
A simple and delicious curry made with chickpeas, carrots, bell peppers & onions.
Ingredients
1 Tbs coconut oil
2 Tbs curry powder
½ onion, diced
1 bell pepper, diced
2 carrots, peeled and diced
1 13.5 ounce can of coconut milk
2 tsp ground turmeric
1.5 cups cooked chickpeas, also known as garbanzo beans (1 can)
1 big handful of greens, chopped (spinach, kale, etc)
2 Tbs coconut aminos
1 Tbs fish sauce
juice of ½ lime
salt, pepper to taste
cilantro and lime wedges for garnish
cooked rice (cauliflower or basmati both work well)
Instructions
Heat the coconut oil in a large pan.
Add the curry powder and cook until fragrant (about 1 minute).
Add your veggies to saute until slightly softened (about 3-6 minutes, depending on size of your diced veggies)
Stir in the coconut milk and turmeric and simmer until the sauce has reduced and thickened to your liking.
Stir in the chickpeas, handful of greens, coconut aminos, fish sauce, lime juice, salt, and pepper.
Cook another minute or two until heated through.
Serve over your favorite rice and garnish with cilantro and lime wedges.
Nutrition Information:
Yield:

5
Serving Size:

1
Amount Per Serving:
Calories:

432
Total Fat:

23g
Saturated Fat:

18g
Trans Fat:

0g
Unsaturated Fat:

3g
Cholesterol:

0mg
Sodium:

567mg
Carbohydrates:

50g
Fiber:

10g
Sugar:

13g
Protein:

11g
Save this for later when you are in a curry mood!