Some of the links on this site may be affiliate links. This means, at no additional cost to you, I may be paid a small commission if you follow the links and make a purchase. Learn more here.
Ohh, this simple dairy free coconut curry sauce is so good that I could (and do) eat it by the spoonful. This sauce has it all...amazing curry flavor, sweetness, and a bit of tang from the lime juice. Oh, and a super creamy smooth texture to round it all out.
This recipe uses curry powder instead of curry paste, and has no added sugar. Although you'd never guess it because its SO sweet and packed with flavor.
Before we get to the recipe...can I give you a quick cooking tip?
The secret to cooking simple and healthy meals quickly is having delicious sauce recipes that you can use for tons of flavor (without hours of cooking over the stove).
When I meal plan dinners for the week (with this template), it typically consists of:
Protein (meat or beans)
A couple vegetables
Small serving of carbs
A delicious homemade sauce
Since I can use the same basic ingredients in multiple meals throughout the week, and just change out the sauce for a completely different flavor, this formula works really well for us.
But the sauce makes or breaks the meal.
And in the case of this simple curry sauce...well, it's a family favorite. Even my young kids like it!
Tools used to make coconut curry sauce
Sauce pan - If your nonstick pans are flaking, I recommend updating your nonstick sauce pan to a cast iron or stainless steel option to make sure you don't ingest any toxic nonstick stuff on accident.
Stirring spoon - I love these wooden spoons - great price right now too!
Ingredients used to make this sauce
Alright, now that we've gathered our tools and ingredients, it's time to make some delicious coconut curry sauce!
How to make 5 minute coconut curry sauce
In a medium sauce pan, heat the oil (we like coconut oil for this recipe) and curry powder until fragrant. Cook for about a minute and add the coconut milk and turmeric.
I don't reduce mine much, because I like my curry more soupy. But if you'd rather have a thicker curry (without much liquid), just reduce it until it's the thickness you like. A word of caution, if you heat the mixture on too high of heat, the coconut milk may get to be a strange texture.
If you know you like REALLY thick curry sauce, I recommend buying coconut cream instead of coconut milk and use it instead in this recipe.
Once you've got it all mixed together, turn off the heat and add the lime juice, coconut aminos, and fish sauce.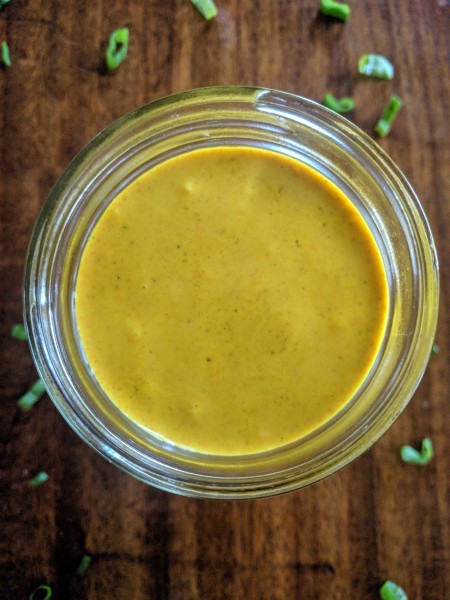 Coconut Curry Sauce - Ingredient Substitutions
Coconut Milk: We use full fat, unsweetened coconut milk - the kind in the can. If you're looking for the specific brand, here it is on Amazon. Although we get ours at Costco. The canned kind (usually found in the Asian aisle of my grocery store) is thicker and will give you a creamier sauce than the kind in the carton. If you're on the AIP diet, or just avoiding gums, you can use this coconut milk that is made without guar gum and I've been super impressed with the texture, given there's no guar to hold it together.
Coconut aminos: Coconut aminos can be used as a soy-sauce replacement. It's made from coconuts and has a sweetness that you just can't get with soy sauce. You can use soy sauce in place of coconut aminos in this curry sauce, but the flavor will be slightly different. We use this brand and love it!
Curry powder: I have not tried using curry paste in this recipe, so I can't guarantee it would work. If you try it, let me know in the comments below!
Fish sauce: If you're looking for a vegan curry sauce, I recommend omitting the fish sauce altogether. You can add extra coconut aminos, salt, and lime juice, to taste at the end if the flavor isn't quite how you like it.
Spice level: The spice level of this sauce depends on the curry powder you're using. I personally think it's pretty mild. If you're looking for more spice, I recommend adding your favorite hot sauce or cayenne powder, to taste.
How to use your coconut curry sauce?
Obviously, you can use this sauce in a traditional curry with rice, veggies, and meat (or beans). This coconut chickpea curry recipe uses this exact sauce.
You can also do self-serve style and set the jar of curry sauce on the table. Pour it over your bowl (or plate) of food and use as much as you like.
This works well if you have picky eaters at the table. If they don't like sauce, they don't have to eat it.
Looking for more delicious homemade sauces?
Don't spend hours on Pinterest searching for flavorful sauce recipes when I've got an eBook FULL of awesome, healthy & flavorful sauce recipes on sale NOW! Grab your copy here!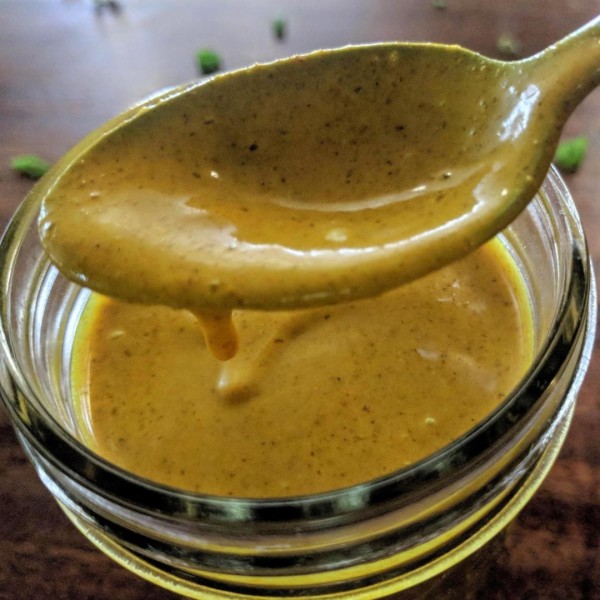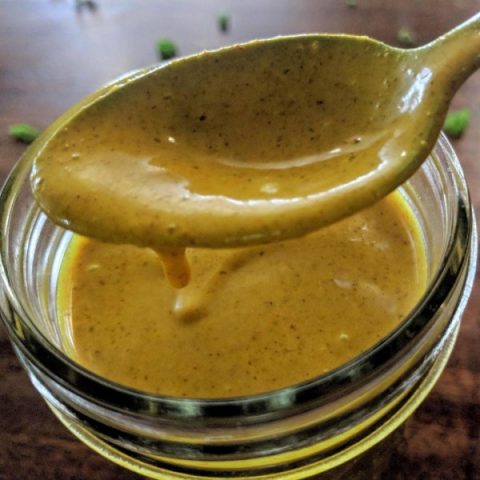 5 Minute Coconut Curry Sauce
A sweet and delicious coconut curry sauce. Perfect for dinner tonight!
Ingredients
1 Tbsp coconut oil
2 Tbsp curry powder
1 13.5 ounce can of coconut milk
2 tsp ground turmeric
2 Tbsp coconut aminos
1 Tbsp fish sauce
juice of ½ lime
Instructions
In a medium sauce pan, heat oil and curry powder for about a minute.
Add the coconut milk and turmeric and heat until reduced to your desired thickness. I typically only cook it for a few minutes before taking if off the heat.
When it's as thick as you'd like, turn off the heat and add the lime juice, coconut aminos, and fish sauce. Stir until combined.
Store in an air tight container in the fridge. It should keep for about a week.
Nutrition Information:
Yield:

8
Serving Size:

¼ C
Amount Per Serving:
Calories:

144
Total Fat:

13g
Saturated Fat:

11g
Trans Fat:

0g
Unsaturated Fat:

1g
Cholesterol:

0mg
Sodium:

269mg
Carbohydrates:

8g
Fiber:

1g
Sugar:

5g
Protein:

2g
Don't forget to Pin & save this for later!