Some of the links on this site may be affiliate links. This means, at no additional cost to you, I may be paid a small commission if you follow the links and make a purchase. Learn more here.
I've seen a lot of veggie chips on the store shelves lately. So of course, I wanted to learn how to make them myself. We got a mandoline slicer (or mandolin slicer) for a Christmas gift this year, and we're SO excited about it. Beet chips, sweet potato chips, parsnip chips. Yumm!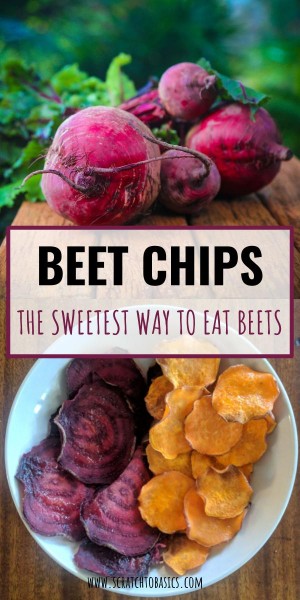 It's the only tool I put on my Essential Time-Saving Kitchen Tool List that I didn't own when I wrote the post. That's how confident I was that it would help me save time in the kitchen. And guess what? It's been awesome.
Tools to Make veggie chips
What is a Mandoline Slicer?
A mandoline slicer is a tool (shown below) that has a sharp blade for cutting food to your desired thickness. Basically, you put something on the board, slide it down across the blade and it slices your food.
With this specific model (the one we have is pictured below), you can adjust the thickness to be paper thin or a bit thicker. This is really helpful and allows for thick or thin uniform slicing.
The top three reasons to get a mandoline slicer (or dig yours out from the back of the cupboard):
Uniform slicing
It will save you lots of time
It's so easy to use.
Click here to see this mandoline slicer on Amazon!
Uniform Slicing
Any time I've tried to slice something uniformly, I usually end up doing the opposite. They're usually close in size, but certainly not what I imagine when I think about something uniformly sliced.
Our mandoline slicer is great because you adjust the knob to your desired thickness, and then you just push your food along the board across the blade as many times as you need. And then you're done!
Quick Slicing
If I were to get a sweet potato out and slice it with a knife on a cutting board, evenly, as thin as possible, it would probably take me at least five minutes and a lot of frustration because I'd probably not get it as thin as I want, and the slices wouldn't be very the same size.
In all honesty, one issue is that our knives aren't as sharp as they used to be. So we really need to get them sharpened. But I have a feeling we're not the only ones with dull knives.
It takes time for those of us who aren't professional chefs to slice something thin and evenly…while not cutting your finger off.
With the mandoline slicer, it takes less than a second to do a slice. The blade is so sharp that it slices quick and easy. So I can get a whole sweet potato sliced in about 1 minute with minimal effort.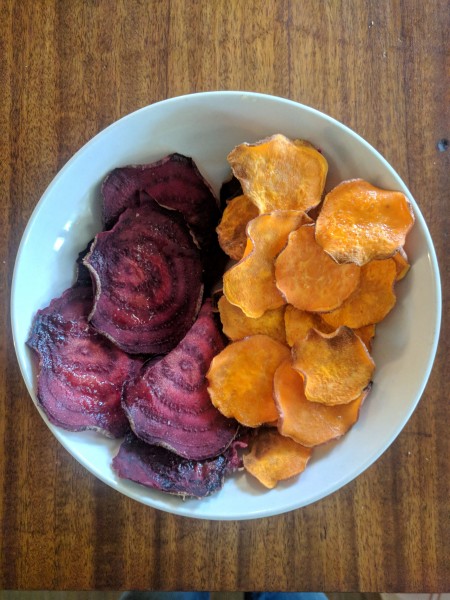 Easy Slicing
The reason it's so easy is because the blade is so sharp, and there's a guided place for the sweet potato to go. There's really no thinking involved.
Side note: Given that the blade is so sharp, I'm really glad that our mandoline slicer came with cut proof gloves. I usually wear one on the hand that's holding the vegetable.
Why Make Your Own Veggie Chips?
Okay, so you might be asking…Why would I make something myself if I can just buy it in the store? Good question.
Cost – A bag of veggie chips is marked up substantially. Considering it takes one sweet potato or beet to make a few sheets of chips, they're much less expensive when you make them at home.
Ingredients – The store bought chips are made using refined oils (like vegetable oil, sunflower oil, safflower oil, etc.) These oils aren't something we should eat if we can help it.
If you're looking for more healthy snacks that you can make at home, I've got you covered. Sign up here to download this cheat sheet!
Uses for your Mandoline Slicer
Okay, so we've covered how awesome the mandoline slicer is. Let's talk about the different ways you can use it. You can slice fruits, vegetables, meat, and cheese.
Our absolute favorite right now is veggie chips.
And when I say "our favorite", it's not just the grown ups. My daughters (4 and 2) LOVE veggie chips. It's pretty amazing that they won't eat beets, but they'll gobble down beet chips.
And they wouldn't touch parsnip fries a couple weeks ago, but they are loving the parsnip chips. I love it when vegetables aren't a battle!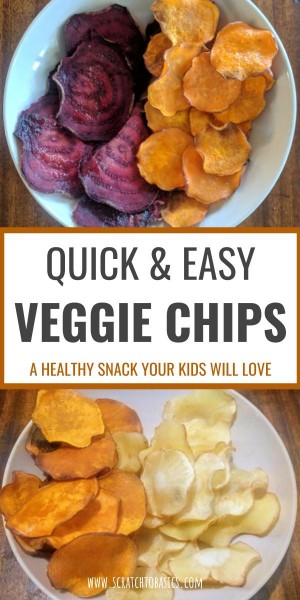 Veggie Chip Recipe
To make veggie chips, slice your vegetable into thin slices with your mandoline slicer, or by hand. (We typically don't peel the veggies. But we buy organic and scrub them pretty good before slicing.)
Then toss them in a little oil and salt and place them in a single layer on a parchment lined cookie sheet.
Baking The Veggie Chips
I started out making them as thin as I possibly could, but they were too easy to burn. So I've been making them a couple "clicks" thicker. I haven't measured, but something like 1/8″ thick.
Bake at 350 (F) until the edges are curling up and starting to brown. The cooking time will vary based on the thickness and the type of vegetable you're using.
If you're slicing them SUPER thin, watch them closely at the 10-15 minute mark. Every oven is different and they can go from done to REALLY done in a few seconds. If some chips bake faster than the others, remove the ones that are done first.
If they're a little thicker, they'll cook in 20-30 minutes. And if they're really thick, they'll take even longer.
We've used this recipe using beets, sweet potatoes, and parsnips. I'm excited to try different seasonings next.
What about you? What's your favorite chip flavor? Let me know in the comments below.