Some of the links on this site may be affiliate links. This means, at no additional cost to you, I may be paid a small commission if you follow the links and make a purchase. Learn more here.
If you've ever had the urge to eat some chocolate, but you don't want to bake anything, and you just want something EASY, these no bake brownie bites are just what you need. They're Paleo, vegan, gluten free, dairy free, and so so yummy.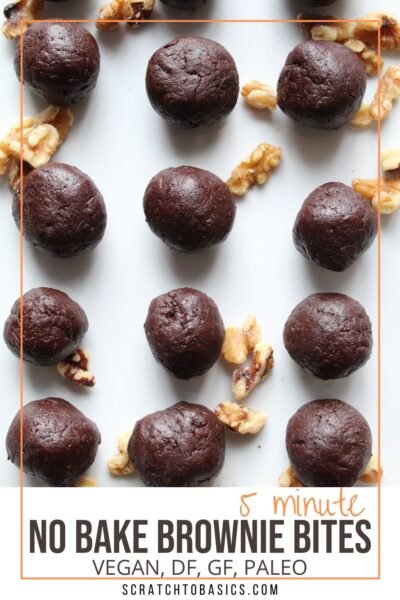 And they couldn't be simpler.
You can have a batch ready in five minutes start-to-finish.
Plus, you probably have everything you need in your kitchen right now. So, what are you waiting for!?
How to Make These No Bake Brownie Bites
To make these no bake date brownie balls, you'll need a food processor, something to scoop the balls with, and the ingredients.
The process is simple:
Blend the walnuts
Add the cocoa & salt
Add the dates
Scoop into balls & enjoy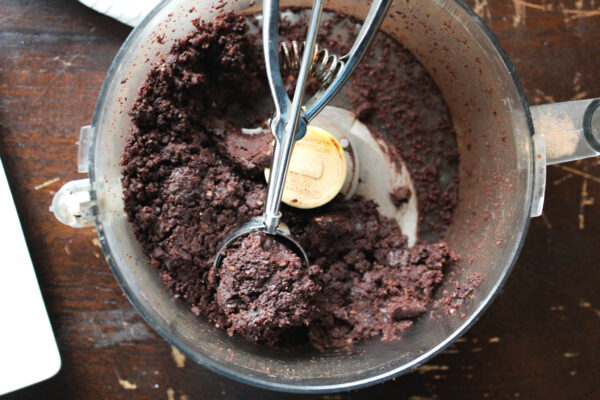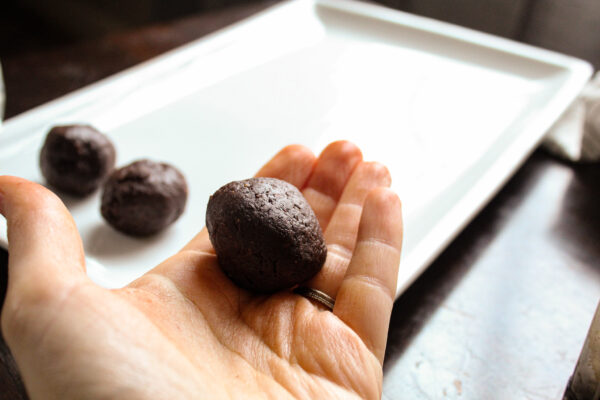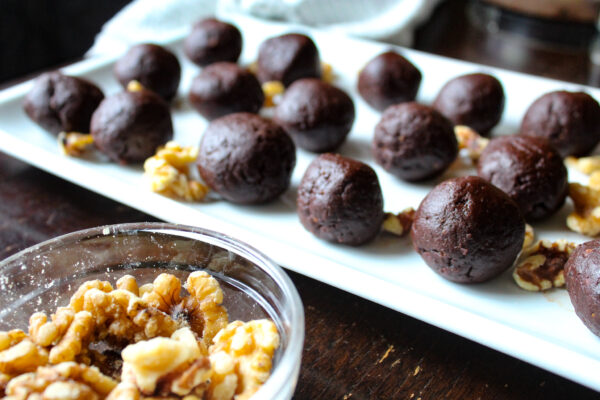 Tools Used
Ingredients Used
Troubleshooting: Tips & Tricks For Success
Overall, these are super simple to make, but I'm here to make this as simple as possible for you.
Are your date & walnut brownie bites not sticking together?
Try adding dates one at a time until the mixture is sticky enough to stick together.
How big should the chocolate date balls be?
I used a 1 Tbsp cookie scooper (this is the exact one I used) to make these, and it worked great. You could easily use a spoon, if you'd prefer.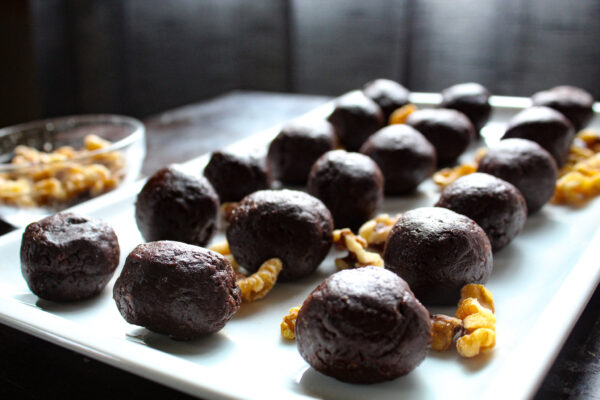 I like my no bake brownie bites to be about 1" diameter so they're easy to grab and take a bite of. The 1 Tbsp cookie scooper does a good job of making them uniformly about this size.
Can I make these ahead of time?
These brownie bites will last in the fridge for a week or two. So you can definitely make them ahead of time.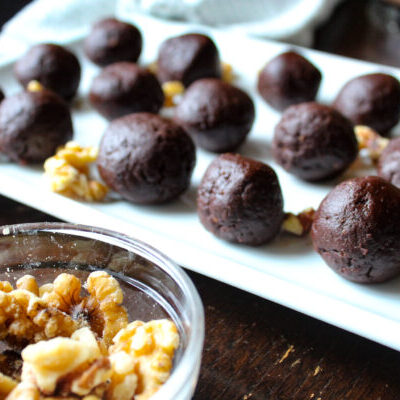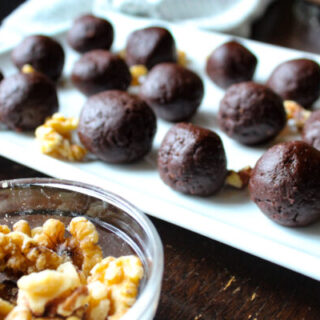 Date Brownie Balls
Yield:
18-20 1 Tbsp balls
Ingredients
2 cups whole walnuts
2 cups pitted dates (~20)
1 cup cocoa powder (or cacao powder)
¼ tsp salt
Instructions
1. In your food processor, pulse the walnuts until finely ground

2. Add the cocoa powder & salt, then pulse until combined

3. Add the dates, one at a time, to the bowl of the food processor, while it's on

4. Once the dates are all added, process the mixture until it's crumbly, and sticks together.

5. Use a scooper, a spoon, or your hands to roll the mixture into balls.

6. Serve, eat, and enjoy!
Save this for later on Pinterest