Some of the links on this site may be affiliate links. This means, at no additional cost to you, I may be paid a small commission if you follow the links and make a purchase. Learn more here.
Make this delicious oven roasted broccoli recipe tonight and you'll never look at broccoli the same way again.
We simply roast the broccoli in the oven, then drizzle a delicious sesame ginger sauce over it to amp the flavor. In 30 minutes you'll be enjoying the best broccoli you've eaten!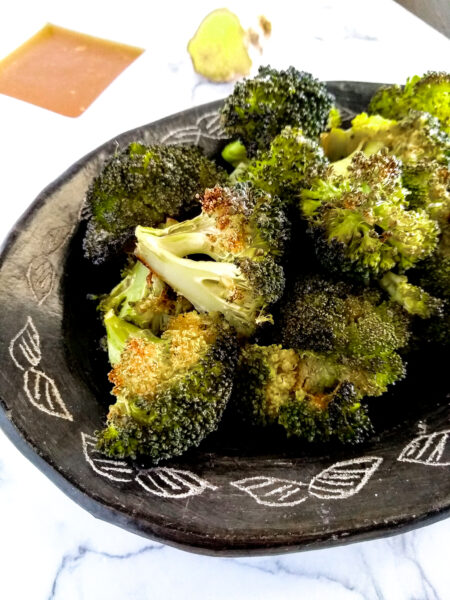 Tools needed to make oven roasted broccoli
Baking sheet - You'll need a baking sheet. Use what you have!
Zester - We love this little handheld wonder. In this recipe we'll use it to zest the ginger into the sauce and give it LOTS of flavor. Here's the one we love.
Mason jar - I love mixing up sauces in mason jars. You can use a bowl if preferred.
Ingredients used to make the best oven roasted broccoli
Broccoli

-

You can use a head of broccoli and cut it up to be bite size (or the size you want) OR buy the pre-chopped broccoli. Whichever is easiest for you.
Salt - We like using this salt because it still has trace minerals in it (and I love the flavor).
Sesame Ginger Sauce (avocado oil, sesame oil, coconut aminos, ginger, honey, vinegar) - This sauce is optional, but highly recommended. It pairs really well with the broccoli. If you're curious about swapping out any of the sauce ingredients, here's a full post on this sauce.
How to Make Roasted Broccoli in the Oven
First: Prep the broccoli
First, you're going to cut the broccoli so it's all about the same size. If you've got some huge pieces with some tiny bites, everything won't cook in the same time frame.
Pro tip: Don't just throw away the broccoli stems. Chop them up too. They're tasty! Why waste food if you don't have to?
Second: Roast the broccoli in the oven
Second, you're going to roast the broccoli in the 375 (F) with a drizzle of oil and sprinkle of salt. Place the broccoli in the oven on a sheet pan for 25-30 minutes, or until slightly browned, but not mushy (see picture below).
You'll want them evenly spaced in one layer so they can brown on the edges a bit. We don't want to steam them, so give them room to breathe.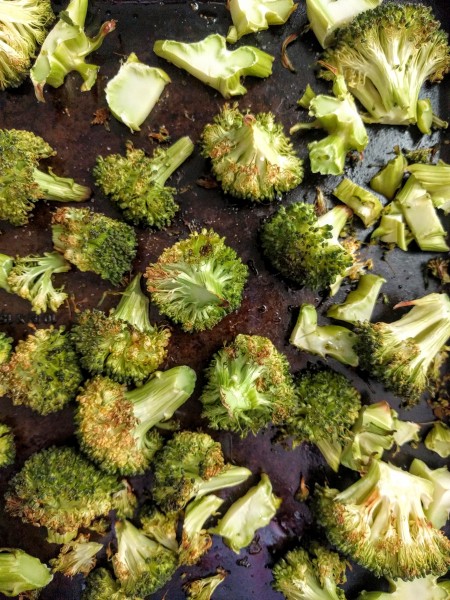 Third: Make the sauce (optional)
The sauce is optional, but really makes the broccoli shine. While the broccoli is in the oven you can whip up this simple sauce. Simply put all the ingredients in a mason jar, put a lid on it and shake until combined.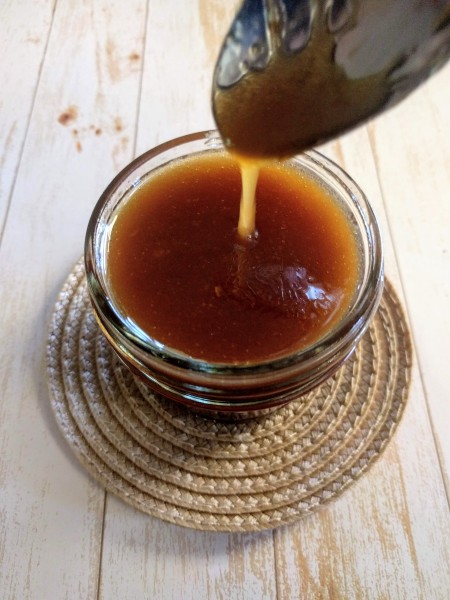 Fourth: Drizzle the sauce over the broccoli
Once your broccoli is cooked and your sauce is mixed, put it all together! Drizzle the sauce over the broccoli and taste the beauty of sweet, salty, spicy sesame ginger sauce over oven roasted broccoli. It's a beautiful thing.
Alternatively, you could use the sesame ginger sauce as a dipping sauce. Or, ya know...why not both? Drizzle some of the sauce over the broccoli, serve it and offer any leftover sauce as a dipping sauce on the table.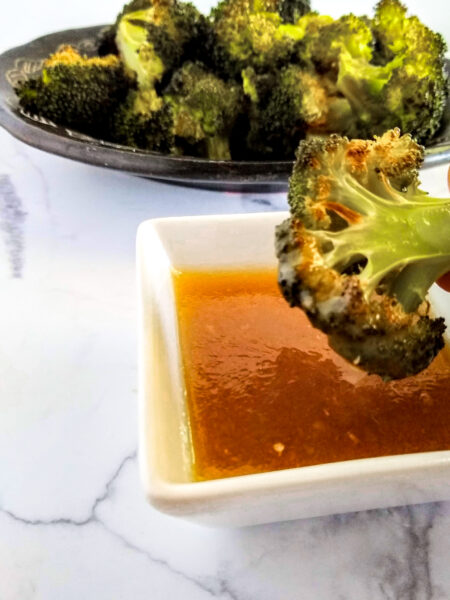 FAQ & Recipe Tips
Is it better to roast or steam broccoli?
Both roasting and steaming are healthy ways to cook broccoli, so it is just a matter of preference. While steaming broccoli requires less fat because no oil is needed, I prefer roasted broccoli for its delicious roasty flavor and crisp texture.
Is it ok to eat roasted broccoli?
Absolutely! Roasted broccoli is a nutritious and delicious option that also happens to be very popular. Roasted broccoli is a great source of protein, fiber, and vitamin C. The best tip I can give anyone who wants to eat healthier is to find ways to make vegetables taste good. Roasting them in the oven (like we do in this recipe) makes me LOVE a vegetable that I otherwise wouldn't touch.
How long should broccoli be cooked?
Timing of how long broccoli should be cooked is totally dependent on how big the pieces are.
But for a general guideline, when making broccoli in oven, cook it for 25-30 minutes.
If you prefer steamed the broccoli, I'd do it for 5 minutes or less so it doesn't get mushy.
Why doesn't my roasted broccoli look like yours?
Troubleshooting your broccoli...
Your broccoli will be mushy (steamed) if you crowd your baking sheet. Make sure to give spaces in between each broccoli.
It might look a little charred if you overcooked it.
Can I make it ahead of when I need it?
If you're looking to make a big batch of roasted broccoli and use it throughout your week, you can do that. However, I'd caution you to keep the sauce off until you're ready to eat it (to avoid any soggy broccoli).
Related Recipes
Here are a few more yummy vegetable recipes to boost your veggie count (and make your taste buds happy).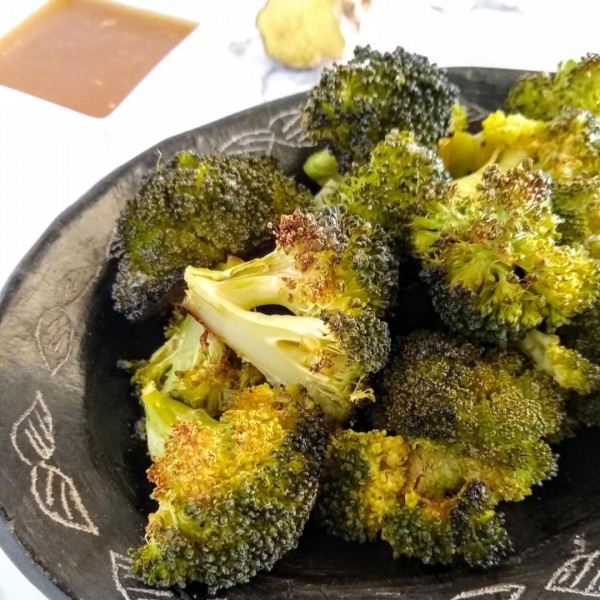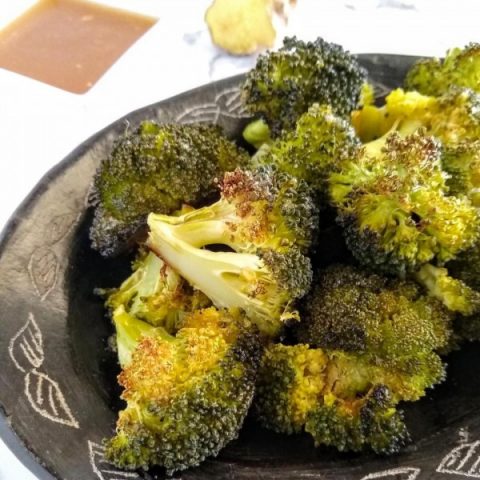 Roasted Broccoli With A Delicious Sesame Ginger Sauce
A delicious and healthy recipe for roasted broccoli drizzled with a sweet sesame ginger sauce.
Ingredients
Roasted Broccoli
2 heads broccoli
1 tablespoon oil (avocado oil or olive oil)
¼ teaspoon salt
Sesame Ginger Sauce
4 tablespoon avocado oil (or other mild oil)
1 tablespoon sesame oil
2 tablespoon coconut aminos
1 teaspoon zested ginger
1 teaspoon honey
2 teaspoon white vinegar
pinch of salt
Instructions
Preheat the oven to 375 (F) and chop the broccoli into florets (they should be roughly the same size)
Arrange the broccoli in a single layer on a baking sheet
Drizzle avocado oil over the broccoli and sprinkle with a pinch of salt
Roast the broccoli in the oven for 25-30 minutes, or until cooked and slightly browned.
While the broccoli is cooking, make the sauce.
To make the sauce, put all sauce ingredients in a mason jar, put the lid on, and shake.
When the broccoli is done, remove it from the oven and pour the sauce over it.
If you have extra sauce, save it for later or set it on the table to use as a dipping sauce for the sauce lovers.
Nutrition Information:
Yield:

4
Serving Size:

1
Amount Per Serving:
Calories:

282
Total Fat:

22g
Saturated Fat:

3g
Trans Fat:

0g
Unsaturated Fat:

18g
Cholesterol:

1mg
Sodium:

537mg
Carbohydrates:

20g
Fiber:

7g
Sugar:

7g
Protein:

5g
Save This For Later on Pinterest