Some of the links on this site may be affiliate links. This means, at no additional cost to you, I may be paid a small commission if you follow the links and make a purchase. Learn more here.
Make delicious oven roasted broccoli and pour this sweet sesame ginger sauce all over it. In 30 minutes you'll be enjoying the best broccoli you've eaten! I mean, just think about it...oven roasted broccoli...amazing. Sesame ginger sauce....awesome. Put them together....Yum, yum, yum.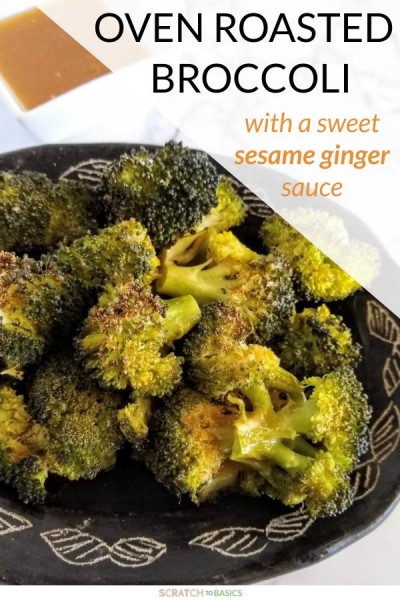 Flavor + Texture = Delicious Veggies
Anybody here like raw broccoli? If so, kudos to you. I can't handle it. I have a vague memory that I liked it as a kid, but no one has been able to corroborate my story.
It's the texture. You see...I LOVE sauce. And raw broccoli is just too dry for me. I'll eat plain oven roasted broccoli (generously salted) straight off the baking sheet. I can't get enough of it. Especially if it's hot out of the oven.
But this recipe is awesome because you get the roasty flavor of oven roasted broccoli along with the sweet, salty, slightly spicy sesame ginger sauce. It's a match made in heaven.
FAQ
Do I have to use coconut aminos in the sauce?
Nope. You can substitute soy sauce (watch out for gluten in soy sauce if you're gluten free). I'd recommend adding a little less salt if you do though. Coconut aminos are not as salty as soy sauce (and a little sweeter). We buy this kind of coconut aminos.
Can I use a different vegetable?
I personally LOVE this sauce with broccoli. but make do with what you have. You could definitely use half broccoli and half carrots (or cauliflower) for a little color and flavor variation.
Why doesn't my roasted broccoli look like yours?
Troubleshooting your broccoli...
Your broccoli will be mushy (steamed) if you crowded your baking sheet.
It might look a little charred if you over cooked it.
Do you use aluminum foil or parchment when you roast broccoli in the oven?
I don't. You can if you'd like. I don't have a problem with the broccoli sticking to the pan, so I don't see a reason to.
HOW TO MAKE THIS RECIPE
First: Prep the broccoli
First you're going to cut the broccoli so it's all about the same size. If you've got some huge pieces with some tiny bites, everything won't cook in the same time frame.
Pro tip: Don't just throw away the broccoli stems. Chop them up too. They're tasty! Why waste food if you don't have to?
second: Roast the broccoli in the oven
Second, you're going to roast the broccoli in the 375 (F) oven on a sheet pan (also called baking sheet) for 25-30 minutes, or until slightly browned, but not mushy (see picture below).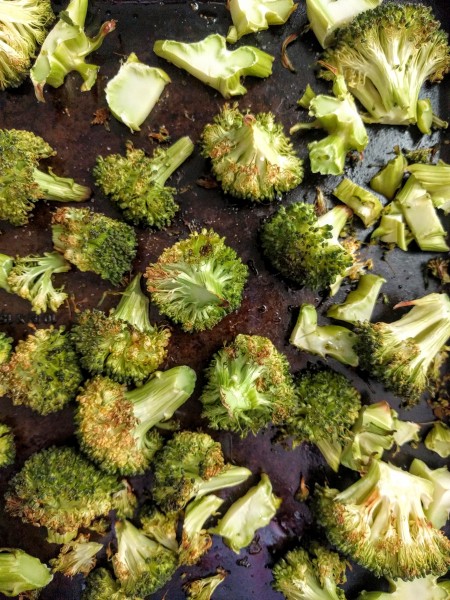 Third: Make the sauce
Mix up the sauce while the broccoli is in the oven. It's a simple sauce to make...throw it all in a mason jar and shake.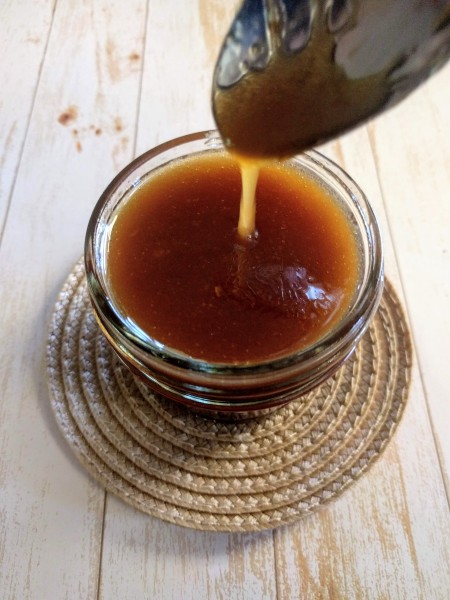 Fourth: Combine it all
Once your broccoli is cooked and your sauce is mixed, put it all together! Drizzle the sauce over the broccoli and taste the beauty of sweet, salty, spicy sesame ginger sauce over oven roasted broccoli. It's a beautiful thing.
Alternatively, you could use the sesame ginger sauce as a dipping sauce. Or, ya know...why not both? Drizzle some of the sauce over the broccoli, serve it and offer any leftover sauce as a dipping sauce on the table. Perfect!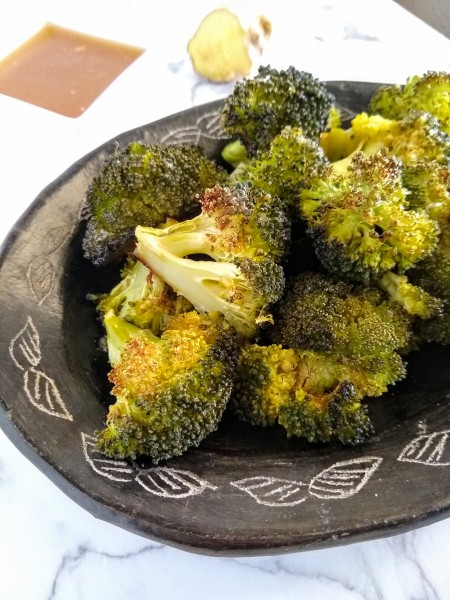 What about leftovers?
If you're looking to make a big batch of sesame ginger roasted broccoli and use it throughout your week, definitely go for it. I'd caution you to keep the sauce off until you're ready to eat it (to avoid any soggy broccoli). If you really want to combine them now (and eat later), just put a very small amount on.
Tools that make this easy
Zester - makes zesting the ginger for the sauce super easy
Related Recipes
If you love vegetables with delicious flavor, try these recipes: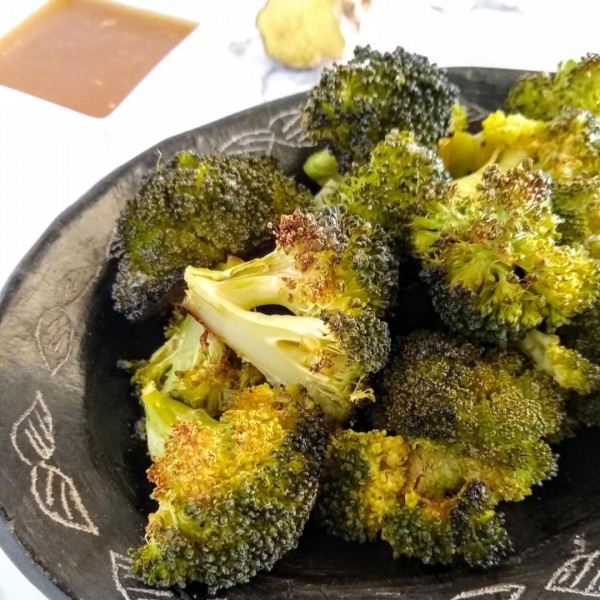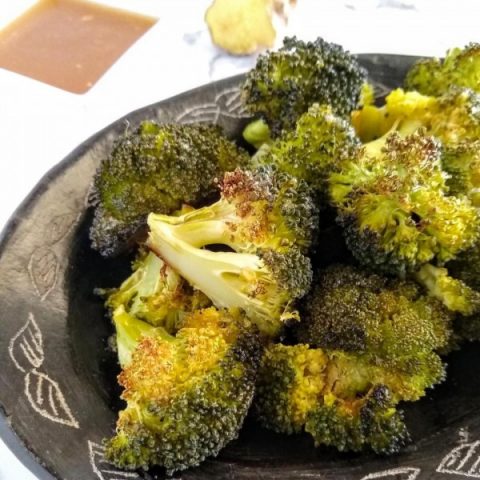 Roasted Broccoli With A Delicious Sesame Ginger Sauce
A delicious and healthy recipe for roasted broccoli drizzled with a sweet sesame ginger sauce.
Ingredients
Roasted Broccoli
2 heads broccoli
1 Tbsp oil (avocado oil or olive oil)
¼ tsp salt
Sesame Ginger Sauce
4 Tbsp avocado oil (or other mild oil)
1 Tbsp sesame oil
2 Tbsp coconut aminos
1 tsp zested ginger
1 tsp honey
2 tsp white vinegar
pinch of salt
Instructions
Preheat the oven to 375 (F) and chop the broccoli into florets (they should be roughly the same size)
Arrange the broccoli in a single layer on a baking sheet
Drizzle avocado oil over the broccoli and sprinkle with a pinch of salt
Roast the broccoli in the oven for 25-30 minutes, or until cooked and slightly browned.
While the broccoli is cooking, make the sauce.
To make the sauce, put all sauce ingredients in a mason jar, put the lid on, and shake.
When the broccoli is done, remove it from the oven and pour the sauce over it.
If you have extra sauce, save it for later or set it on the table to use as a dipping sauce for the sauce lovers.
Nutrition Information:
Yield:

4
Serving Size:

1
Amount Per Serving:
Calories:

282
Total Fat:

22g
Saturated Fat:

3g
Trans Fat:

0g
Unsaturated Fat:

18g
Cholesterol:

1mg
Sodium:

537mg
Carbohydrates:

20g
Fiber:

7g
Sugar:

7g
Protein:

5g
Don't forget to save this for later!