Some of the links on this site may be affiliate links. This means, at no additional cost to you, I may be paid a small commission if you follow the links and make a purchase. Learn more here.
Looking for a crowd pleasing cheese ball for your next holiday gathering? This is it! Filled with chopped cranberries and coated with pistachio crumbles, the striking red and green colors in this cheese ball will look amazing on your Christmas appetizer table. Make this cranberry goat cheese ball today!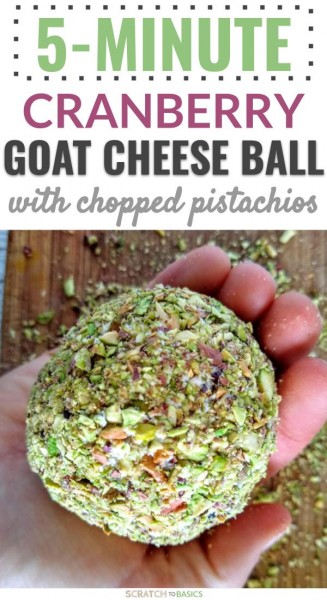 Shape it into a ball or a log, or even a Christmas tree if you'd like.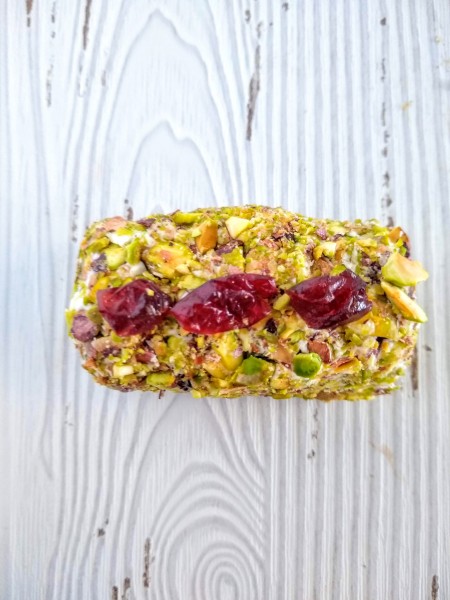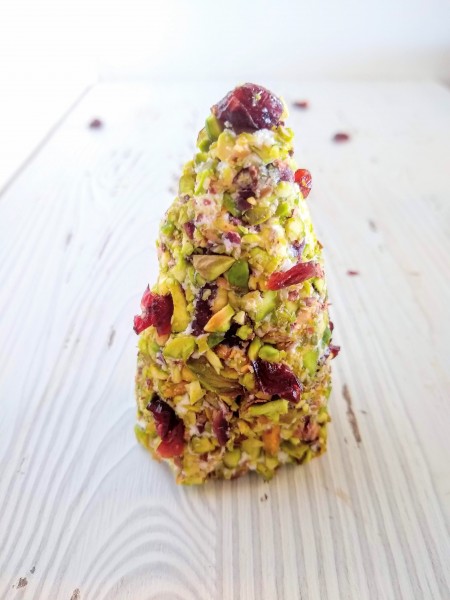 Serve it with crackers, or sourdough bread slices. Chopped veggies make a great dipper as well.
Related: 20 minute almond flour "cheese" crackers
Why i love this recipe
Well first of all, it's goat cheese. So, of course it's delicious. I don't eat dairy typically (because my belly doesn't handle it well), but goat cheese seems to sit okay on occasion.
I love the tangy goat cheese, the sweet and tart cranberry, and the salty crunch from the pistachios. The flavors are great, and it looks so festive, too. I can't wait to make this at Christmas!
Tools used to make this cranberry and pistachio goat cheese ball
You probably already have all the tools that you need to make this goat cheese ball. But if you don't, I've included links here based on what I use.
If you're looking for more kitchen gear that can save you tons of time, look through my essential tools list here (and make sure you're using tools that are saving you time, not wasting time.
How to make This Cranberry GOat Cheese Ball
This recipe is super easy to make. Chop the cranberries, mix them in the goat cheese with the other ingredients, then form it into a ball (or log or tree). Roll it in the pistachio crumbles to coat.
Step 1: Chop the cranberries
Set the goat cheese out on the counter to soften it a bit while you chop the cranberries.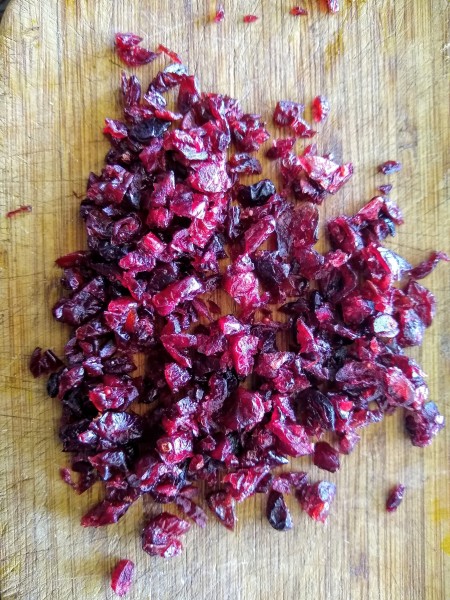 Step 2: Mix the cranberries, garlic powder, Pinch of salt, and thyme with the goat cheese
Mix everything together in a mixing bowl. The softer your goat cheese is, the easier it will be to combine. Even if it's cold, it'll mix fine. It'll just take a little more muscle.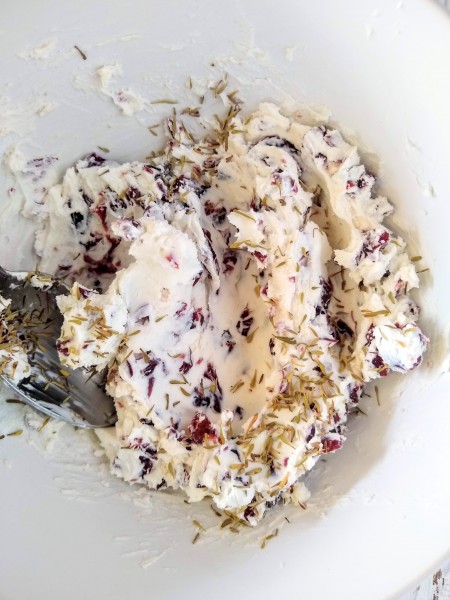 Step 3: Form into a ball (doesn't have to be perfect)
Using your spoon, form the goat cheese mixture into a ball. Try not to use your hands much because it'll be pretty sticky. Alternatively, you can form it into a log or a Christmas tree, whatever shape you'd like.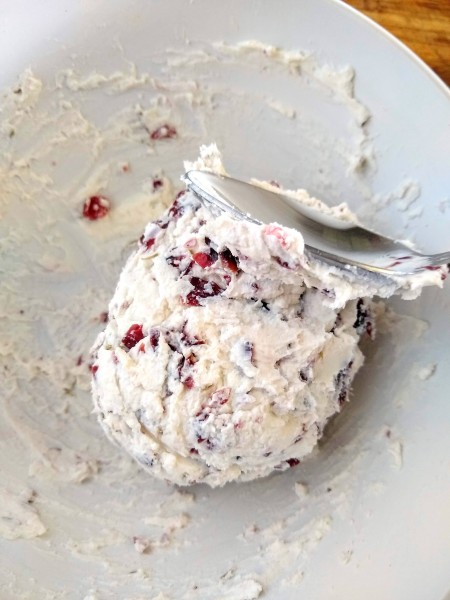 Step 4: Dip the goat cheese ball in the pistachio crumbles.
Chop the pistachios and dip one side of the goat cheese ball into the pistachio crumbles.Continue dipping and form the ball into a more perfect version of the shape you're going for.
Use 2-3 tablespoons of pistachios. If you chop the pistachios very fine (almost to a powder) you won't use as much pistachios as you would if you left them as bigger chunks. I like a little crunch every now and then so I didn't chop it all SUPER fine.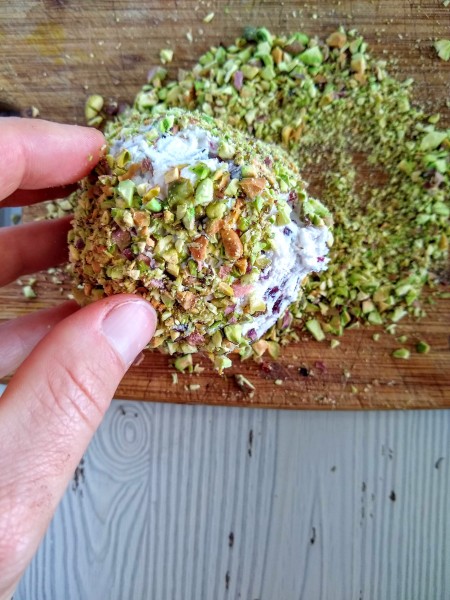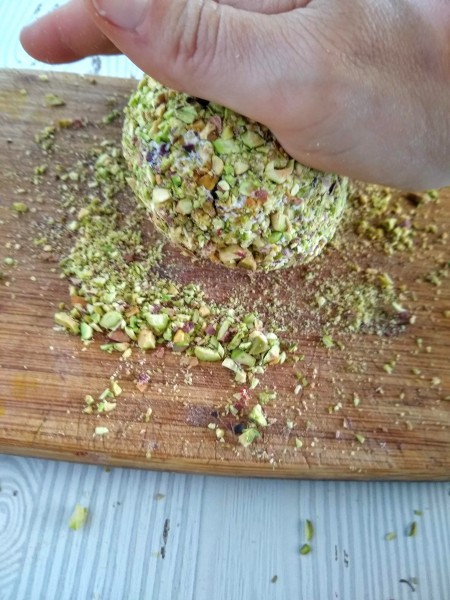 How to you serve a cheese ball
Serve on a platter with a cheese knife, with a variety of options for dippers (crackers, carrot sticks, celery sticks, etc.).
What are the best crackers for cheese ball?
Any crackers will do, although I'm partial to these almond flour "Cheese" crackers. Serve the cheese ball alongside a cheese knife to spread the cheese onto the crackers, OR use carrot and celery sticks as dippers.
How long is this homemade cranberry goat cheese ball good for?
Assuming you use fresh ingredients, the cheese ball should keep in the fridge for about a week.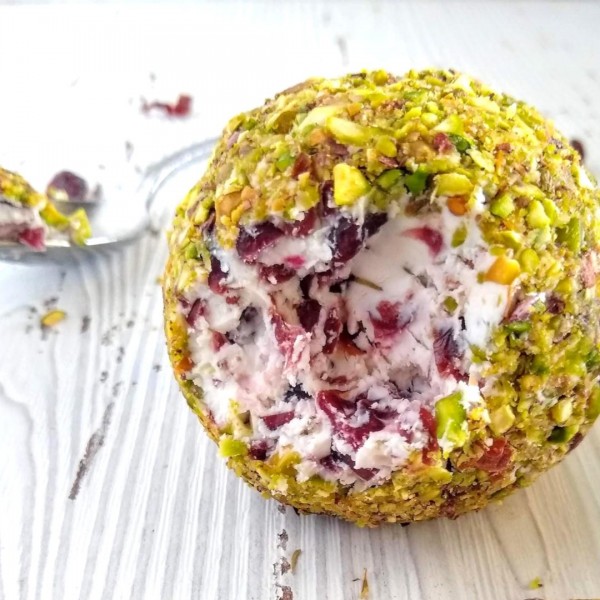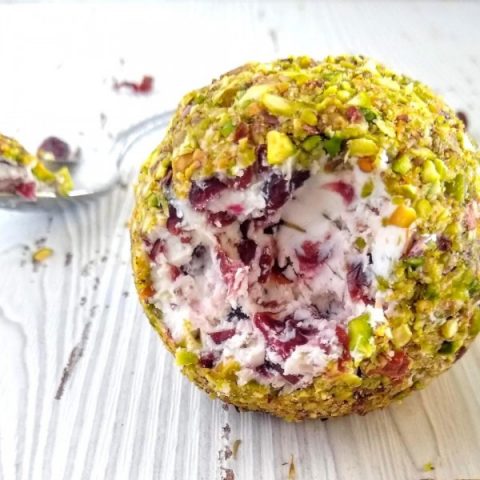 Cranberry Goat Cheese Ball With A Perfect Pistachio Coating
Yield:
1 goat cheese ball
A deliciously creamy and perfectly flavored cheese ball. In 5 minutes you can have a show-stopping holiday appetizer!
Ingredients
4 ounces plain goat cheese
⅓ cup dried cranberries
⅛ tsp garlic powder (or granulated garlic)
1 pinch of salt (we love himalayan pink salt)
¼ tsp dried thyme
2-3 Tbsp shelled pistachios (if you chop them very finely, you'll need less than if you leave them bigger).
Instructions
Set the goat cheese out so it can soften while you chop the cranberries and pistachios.
Chop the cranberries into small pieces (you'll want a little in each bite, so chop them pretty small).
Chop the pistachios finely and leave them on the cutting board.
Put the goat cheese in a bowl with the chopped cranberries, the garlic powder, pinch of salt, and the thyme.
Mix until evenly combined. The softer the goat cheese is at this step, the easier it will be.
Form into a ball (doesn't have to be perfect). It will be sticky, so use the utensil you used to mix it all together.
Set the ball onto the chopped pistachios and turn to coat. Once the outside is coated with the pistachios, you'll be able to shape it into a better ball without getting sticky cheese all over your hands.
Enjoy!
Nutrition Information:
Yield:

16
Serving Size:

1 Tbsp
Amount Per Serving:
Calories:

29
Total Fat:

2g
Saturated Fat:

1g
Trans Fat:

0g
Unsaturated Fat:

0g
Cholesterol:

3mg
Sodium:

41mg
Carbohydrates:

3g
Fiber:

0g
Sugar:

2g
Protein:

1g