Some of the links on this site may be affiliate links. This means, at no additional cost to you, I may be paid a small commission if you follow the links and make a purchase. Learn more here.
Looking for a crowd pleasing Christmas cheese ball for your next holiday gathering? This is it! Filled with chopped cranberries and coated with pistachio crumbles, the striking red and green colors in this cheese ball will look amazing on your Christmas appetizer table.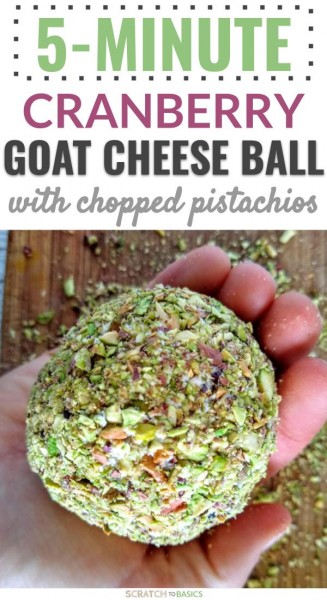 It's shaped into a ball in this picture (above), but you could easily shape it into a log or even a Christmas tree if you'd like.
You can serve this with crackers, chips, or your favorite sourdough bread slices. Chopped veggies make a great dipper as well. Make this Cranberry Goat cheese ball today! You won't be disappointed, friends.
Tools used to make the goat cheese Christmas cheese ball
You probably already have all the tools that you need to make this goat cheese ball. But if you don't, I've included links here based on what I use.
Mixing bowl - Mix all the ingredients. Here's the ones we use.
Cutting board - I love these wooden boards.
Kitchen knife - Every kitchen needs a sharp knife. Here's a great one if you're in the market. If you've already got great knives, grab this knife sharpener to keep 'em sharp.
Spoon - To form the goat cheese mixture into a ball...use whatever spoon you've got.
Ingredients in making this Holiday Cheese Ball
Goat cheese - I love the tangy flavor of goat cheese in this cheese ball.
Cranberries - The cranberries give the cheese ball its festive red color (as well as a sweetness).
Pistachios - Adds a yummy flavor, crunch, and green color.
Garlic powder - Adds a boost of savory flavor.
Thyme - The thyme boosts the flavor in your cheese ball.
Salt - To taste
How to make This Cranberry Goat Cheese Ball
This recipe is super easy to make. You'll chop the cranberries, mix them in the goat cheese with the other ingredients, then form it into a ball (or log or tree). Then once it's shaped, you can roll the ball in the pistachio crumbles to coat.
I know it's simple, but I'll still walk you through the steps with pictures below.
Step 1: Chop the cranberries
Set the goat cheese out on the counter to soften it a bit while you chop the cranberries.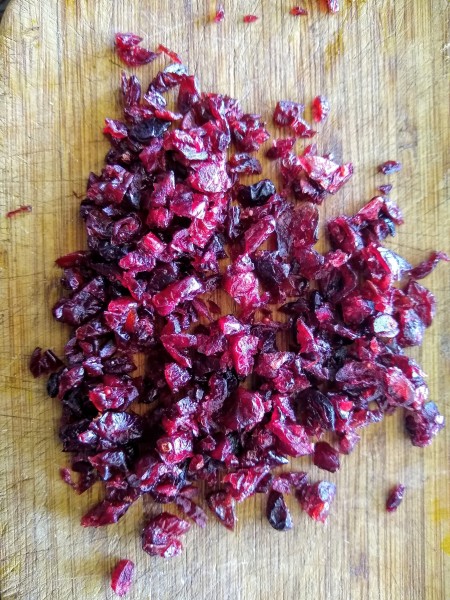 Step 2: Mix the cranberries, garlic powder, pinch of salt, and thyme with the goat cheese
Mix everything together in a mixing bowl. The softer your goat cheese is, the easier it will be to combine. If it's cold, it'll mix but will just take a little more muscle.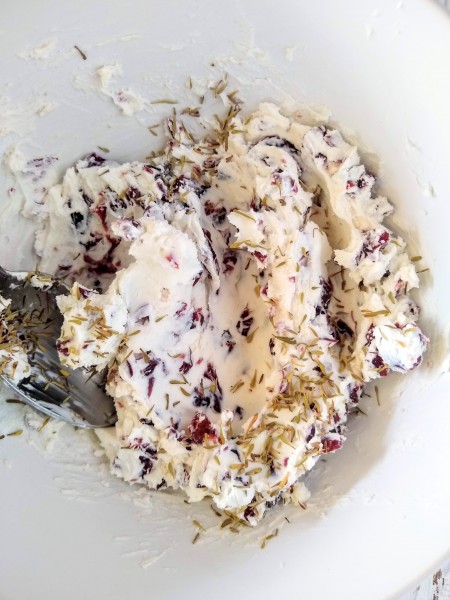 Step 3: Form into a ball (doesn't have to be perfect)
Using your spoon, form the goat cheese mixture into a ball. Use your spoon, or parchment paper to keep your hands from getting sticky. Alternatively, you can form it into a log or a Christmas tree, whatever shape you'd like on your holiday table.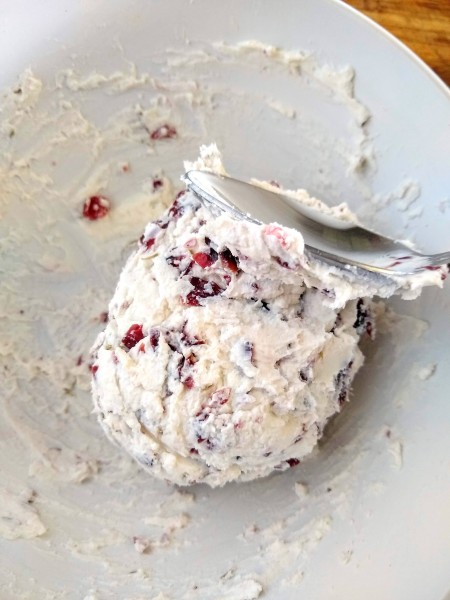 Step 4: Dip the goat cheese ball in the pistachio crumbles.
Chop the pistachios and dip one side of the goat cheese ball into the pistachio crumbles. Continue dipping and form the ball into a more perfect version of the shape you're going for.
Use 2-3 tablespoons of pistachios. If you chop the pistachios very fine (almost to a powder) you won't use as much pistachios as you would if you left them as bigger chunks. I like a little crunch every now and then so I didn't chop it all SUPER fine.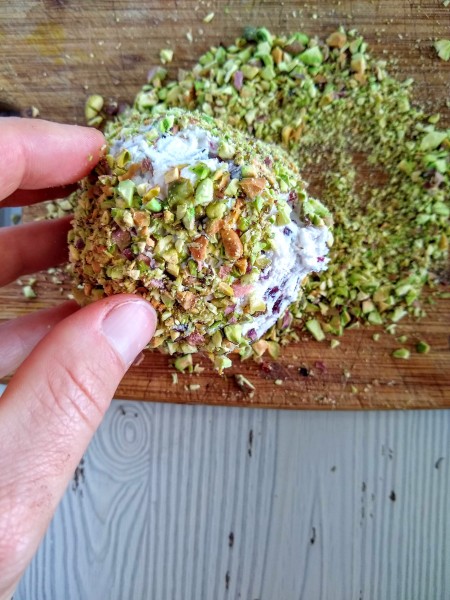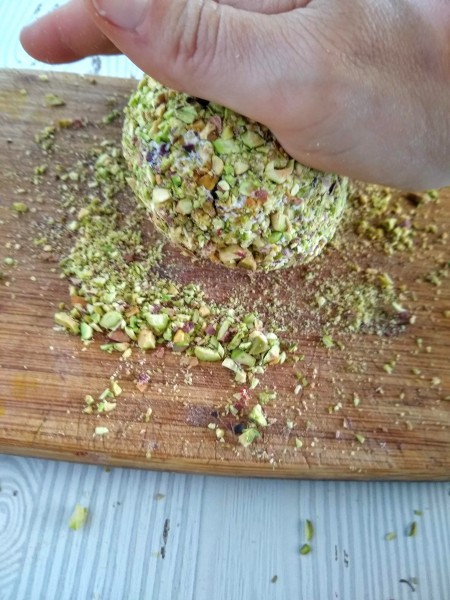 Why I love this cheese ball recipe
Well first of all, it's goat cheese. So, of course it's delicious. I don't eat dairy typically (because my belly doesn't handle it well), but goat cheese seems to sit okay on occasion.
I love the tangy goat cheese, the sweet and tart cranberry, and the salty crunch from the pistachios. The flavors are great, and it looks so festive, too. I can't wait to make this at Christmas!
FAQ & Recipe Tips
How do you serve a cheese ball?
Serve on a platter with a cheese knife, with a variety of options for dippers (crackers, carrot sticks, celery sticks, etc.).
What are the best crackers for cheese ball?
Any crackers will do, although I'm partial to these almond flour "Cheese" crackers. Serve the cheese ball alongside a cheese knife to spread the cheese onto the crackers, OR use carrot and celery sticks as dippers.
How long is the cranberry cheese ball good for?
Assuming you use fresh ingredients, the cheese ball should keep in the fridge for about a week, so feel free to make it a few days ahead of when you need it.