Some of the links on this site may be affiliate links. This means, at no additional cost to you, I may be paid a small commission if you follow the links and make a purchase. Learn more here.
Pesto is a delicious sauce to use on your grilled chicken, in your pasta, or even on your pizza. In this post we'll walk through how to make basil walnut pesto, as well as a few substitutions you can easily make if you don't have all the ingredients you need.
Ready? Let's get started!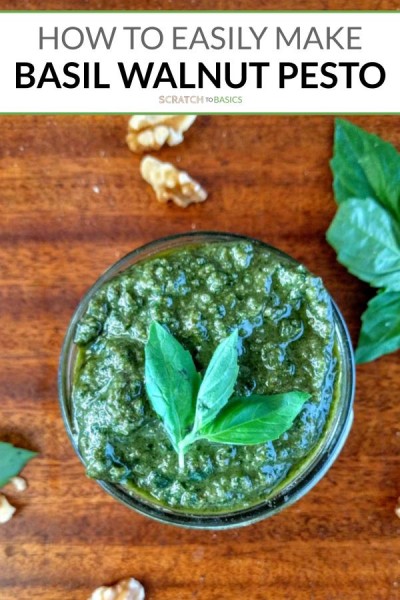 Traditionally, pesto is made with a mortar and pestle by smashing pine nuts, then adding basil, garlic, Parmesan, olive oil, and salt.
But we're going to do things a little differently today. First of all, we'll be using a food processor. Second, we're going to substitute walnuts for the pine nuts. Because pine nuts aren't something I typically have on hand.
And if you're anything like me you don't like running to the store for special ingredients you only use in one recipe. Instead, I like to make substitutions for an ingredient I'm more likely to have on hand.
If you don't have a food processor, you can use a mortar and pestle. It'll take more work (and more time), but it can be done.
Since I'm all about making your life easier in the kitchen, I highly recommend you at invest in just a few kitchen tools - only the ones that will make your life easier. Here's my list of minimalist kitchen essentials - basic tools you should make sure you've got in your kitchen.
How to Make Basil Walnut Pesto
To start making your basil walnut pesto, get your basil. If you have a sunny window or a spot in your garden, basil is SUPER easy to grow. So either go grab a big bunch from your abundant basil plant, or buy some at the store.
Next, shred the Parmesan. I use this handheld zester (REALLY can't put into words how much I love this thing). But any shredder/zester will do. Now put everything except the olive oil in the bowl of your food processor.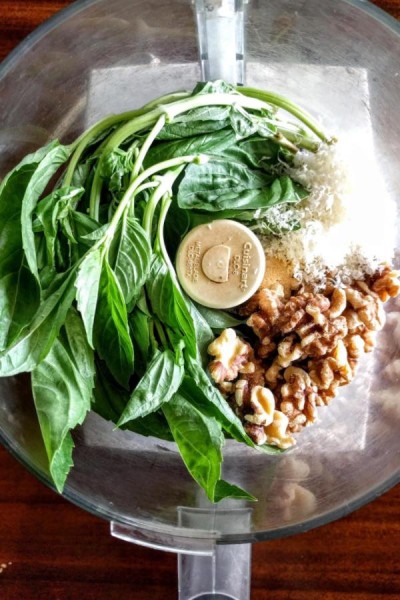 Pulse your food processor a few times and then turn it on until you've got a uniform consistency. Scrape down the sides, if necessary in between pulses.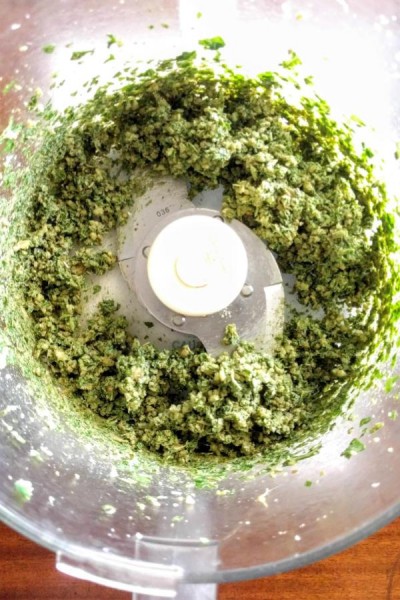 Next, pour in the olive oil with the food processor running.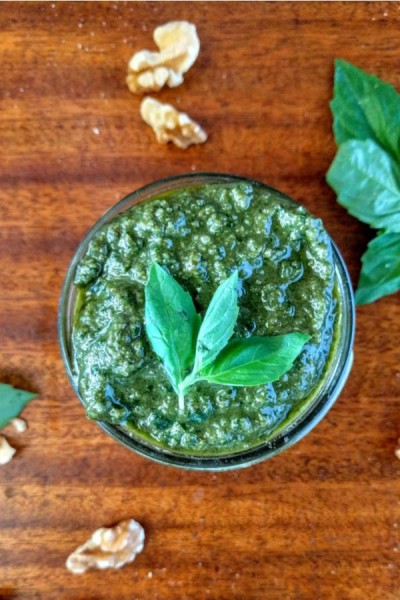 Ingredient substitutions in basil walnut pesto
I almost ALWAYS make substitutions when I try new recipes. Most recipes are flexible and you can easily make substitutions based on your preferences or what you have on hand.
Here are some tips for substituting ingredients in this recipe:
If you're wondering how to make pesto without pine nuts, this recipe is for you. Like I mentioned before, I use walnuts instead of pine nuts. You could also substitute almonds or sunflower seeds for the nuts.
I also like to substitute granulated garlic or roasted garlic for the fresh garlic. This is mostly for my kids. My husband and I like the spicy garlic flavor, but if there's any hope of our kids eating it, the spice can't be there. Use what works best for you!
I've seen recipes for spinach walnut pesto, but haven't actually tried it myself. Here's a recipe if you want to try it.
I learned to cook by doing a LOT of guess-and-check with ingredient substitutions. Sometimes it works great, sometimes it's a little...um...different, but it's almost always edible, and sometimes surprisingly tasty! And in the end, you'll learn something new and (hopefully) you'll be more empowered to continue trying new things.
Recipe notes & tips
Why does my pesto taste bitter?
If it tastes a little bitter, try adding another pinch of salt. Salt will counteract the bitterness, as would more Parmesan, or something acidic (like lemon juice).
Basil has a strong flavor and the pesto will also have a strong flavor. Remember that you'll likely be eating it WITH some other food (on chicken, on pasta, etc.) so even if it tastes really strong in the bowl, the flavor will be toned down a bit in your final dish. If you want a milder flavored pesto, or if you're running low on basil, use half spinach, half basil.
Should I use the basil stems in the pesto?
Basil stems are edible (as are the stems of other green herbs like cilantro and parsley). So you can definitely throw them in. If you're going the mortar-and-pestle route, the stems might be a little difficult to smash down into a paste. But with the food processor, it works just fine (another reason I recommend the food processor for this recipe). I typically cut off the biggest part of the stems at the bottom and throw the rest in.
How long will my basil walnut pesto last?
Your basil walnut pesto should last 5-7 days in the fridge, or 3-4 months in the freezer.
How do I freeze pesto?
A super easy way to freeze your basil walnut pesto is to put it in ice cube trays and stick it in the freezer. Once it's frozen you can transfer it to a freezer-safe container or a Ziplock bag.
Then when you need to use it, it won't take very long to thaw.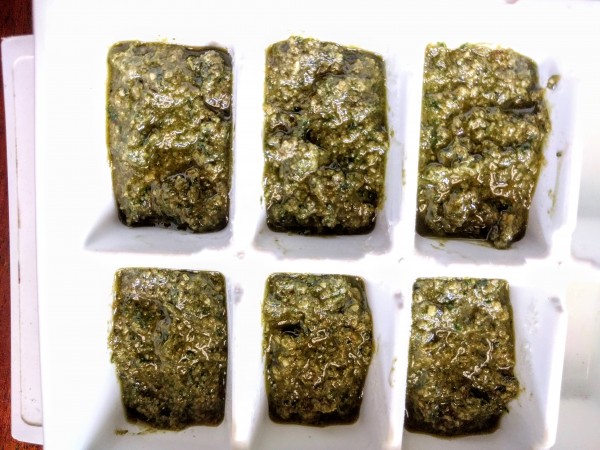 How do I thicken up the basil walnut pesto?
If you need to thicken your pesto, try sticking it in the fridge for 30 minutes to an hour. If you need a faster solution, add more walnuts and blend until they're incorporated. Alternatively, if you want to thin it out a bit, add more olive oil.
What to serve with your homemade basil walnut pesto?
Now that you've made your basil walnut pesto, you need to find something to go with it. Here are some ideas:
Looking for more delicious homemade sauce recipes?
Once you start making food from scratch, you'll realize how much better it tastes when it comes from your own kitchen. Here are more yummy homemade sauce recipes to try this week:
...and there's so much more (here's my master archive of recipes here on the blog.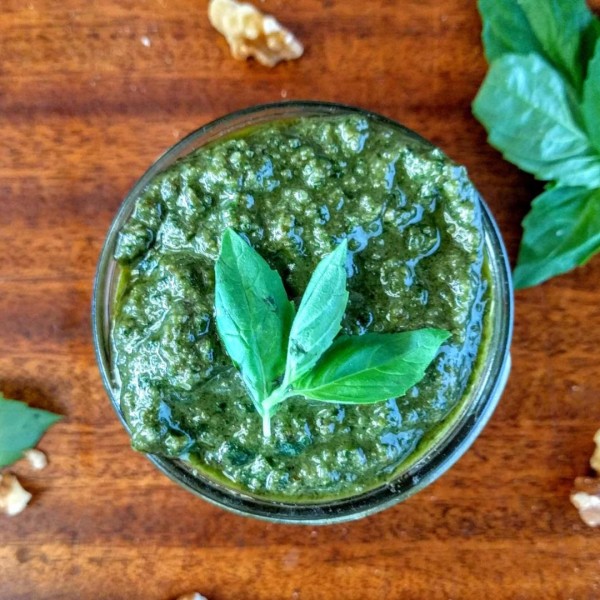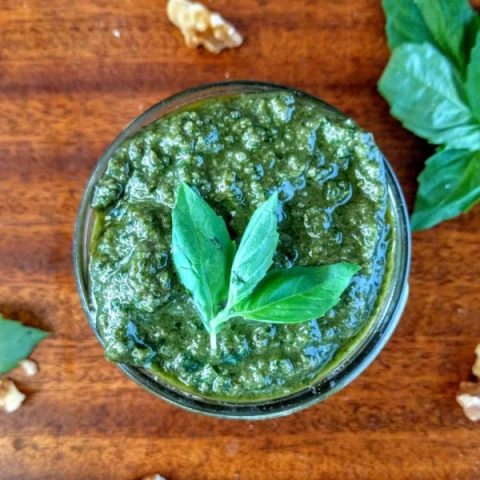 How to Easily Make Basil Walnut Pesto
A delicious and simple pesto packed with flavor. Perfect for pasta, chicken, or even as a pizza sauce!
Ingredients
One big bunch of basil (or about 3 oz), stems included
⅔ cup walnuts
⅓ cup finely shredded Parmesan
½ tsp granulated garlic (or 2 garlic cloves or 1 head of roasted garlic)
¼ tsp salt, plus more if needed (to taste)
½ cup extra virgin olive oil
Instructions
Put the basil, walnuts, Parmesan, garlic, and salt into the bowl of your food processor.
Pulse your food processor a few times and then turn it on until everything is the same consistency.
With the food processor running, pour in the olive oil.
When the olive oil is incorporated, taste and add more salt if needed.
Notes
Fresh garlic will give a spicier pesto. Since we have young kids in the house we use garlic powder or roasted garlic and they love it.
Nutrition Information:
Yield:

16
Serving Size:

1 Tbsp
Amount Per Serving:
Calories:

96
Total Fat:

10g
Saturated Fat:

1g
Trans Fat:

0g
Unsaturated Fat:

8g
Cholesterol:

1mg
Sodium:

65mg
Carbohydrates:

1g
Fiber:

0g
Sugar:

0g
Protein:

1g