Some of the links on this site may be affiliate links. This means, at no additional cost to you, I may be paid a small commission if you follow the links and make a purchase. Learn more here.
This cilantro lime mayo is a delicious sauce to go with fajitas, tacos, zucchini fritters, tuna cakes, burgers, grilled chicken, you name it. It's got a delicious creamy texture and a ton of flavor. Not only does it taste amazing, but it's SO simple to make.
Whether you're on a special diet like Whole30, Paleo, dairy free, gluten free, or none of the above...this sauce will add a nice punch of flavor to your next meal.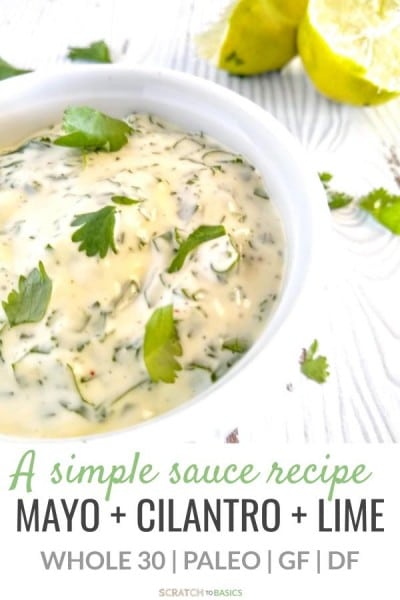 Cilantro Lime Mayo - Perfectly Balanced Flavors
In any meal I eat, I pay close attention to the balance of flavors. What needs balanced?
I'm sure you've had an unbalanced meal where you just thought...something's missing from this. Maybe you knew right away what it was. Or maybe you just put some hot sauce on it and called it good (I'm looking at you, hubby).
This cilantro lime mayo sauce is balanced in all the right ways. It'll add creaminess, tang, and a huge yumm factor to your burger, wrap, or taco.
Tools to make this cilantro lime mayo sauce
You don't need much to make this tasty sauce, but you will need...
How to make cilantro lime mayo sauce
step 1: Chop your cilantro
Grab a handful and chop the cilantro finely. You can leave the stems in. They give a ton of flavor. Just chop them finely and you won't notice in the dip.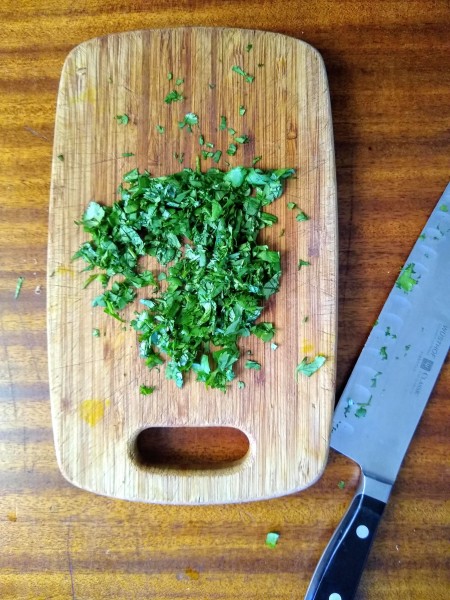 Step 2: combine all ingredients together
Mix the mayo, lime, cilantro, and cayenne (if using) in a ramekin, mason jar, or other small mixing bowl.
A quick word on mayonnaise...I highly recommend making your own mayonnaise. By doing so, you'll be avoiding the refined oils in the store bought versions. When I first started making my own mayonnaise I was AMAZED at how much better it tasted and loved how I could control the ingredients.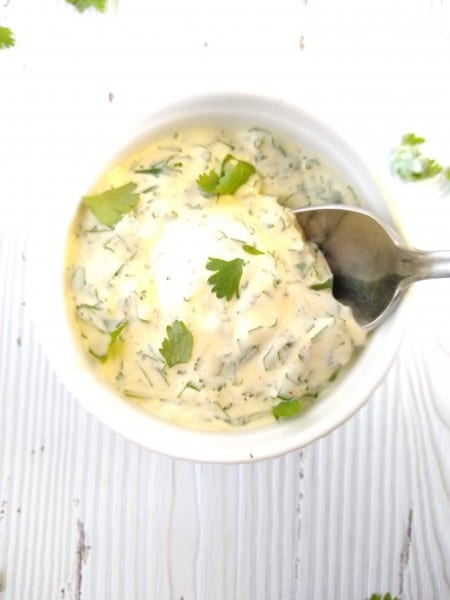 Step 3: Serve & Enjoy
I've used this sauce on zucchini fritters, on roasted veggie fajitas, burgers, and even drizzled over roasted veggies. It's such a delicious sauce, use it anywhere you want an extra kick of acidity and flavor.
Looking for more delicious homemade sauce recipes?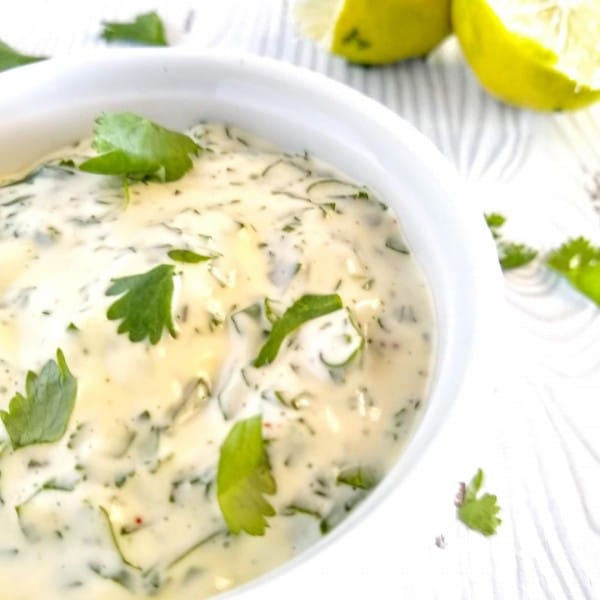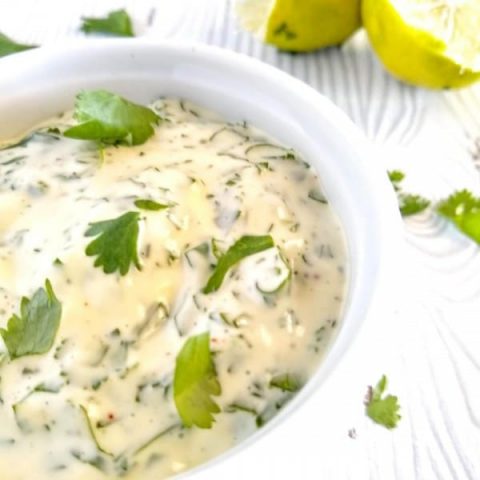 Creamy Cilantro Lime Mayo Sauce
This creamy and tangy cilantro lime mayonnaise sauce is delicious with tacos, spread on your sandwich, or drizzled over some zucchini fritters.
Ingredients
½ cup mayonnaise (here's my mayonnaise recipe)
1 big handful of cilantro, chopped
½ juice of lime
1 dash of cayenne pepper (optional, to taste)
Instructions
If you're making your own mayonnaise, make it first. Use this recipe for a perfect mayo every time.
Grab a big handful of cilantro and chop it finely. You can leave the stems in if you'd like. They just give a bunch of flavor!
Mix the mayonnaise, cilantro, and lime juice in a ramekin.
Add a dash of cayenne (optional). Add more if you want more spice.
Nutrition Information:
Yield:

8
Serving Size:

1 Tbsp
Amount Per Serving:
Calories:

106
Total Fat:

10g
Saturated Fat:

2g
Trans Fat:

0g
Unsaturated Fat:

8g
Cholesterol:

6mg
Sodium:

100mg
Carbohydrates:

3g
Fiber:

0g
Sugar:

2g
Protein:

0g
don't forget to share this on pinterest