Some of the links on this site may be affiliate links. This means, at no additional cost to you, I may be paid a small commission if you follow the links and make a purchase. Learn more here.
Oven roasted garlic…yumm. It's an incredibly simple task to roast garlic, and yet it adds an amazing depth to the flavors in your food. Give it a try and you won't be disappointed.
How to Roast Garlic in Oven
The roasting part is super simple. Since roasted garlic takes a while to cook (but takes very little oven space) why not make a big batch at the same time?
Or just stick in a few heads (of garlic) while your dinner is cooking and the oven is already on. Then store them for later. See storage options below.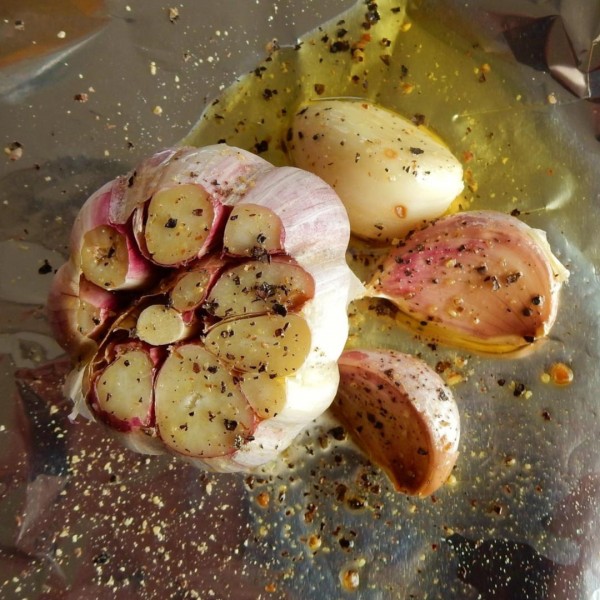 Recipe for Oven Roasted Garlic
Preheat oven to 400 (F)
Slice the tops off the heads of garlic to expose a little bit of each clove
Set each head of garlic on a sheet of foil
Drizzle olive oil over the top and add a pinch of salt and pepper
Fold the foil up over the heads of garlic and pinch closed at the top
Bake in oven for about 30 minutes
They're done when the cloves are soft
How to Use Roasted Garlic
To use the roasted garlic, you need to get the soft garlic cloves out of the paper wrapping. The easiest way I've found to do this is to squeeze it out (like you would toothpaste). Start at the base and start squeezing towards the top. The roasted garlic cloves will slide out the top.
Here are 15 ideas of how you can use your roasted garlic.
Mayonnaise, herb and roasted garlic spread – use as a dip for french fries, veggies, or spread it on a sandwich.
Use on bruschetta. Spread it on toasted bread, followed by your topping of choice (tomato and basil is a classic). This is great for an appetizer, side, or snack.
Use it in pesto. Chop up a handful of basil, a little olive oil, small handful of nuts (pine nuts, almonds, or walnuts will work), some parmesan, roasted garlic, and salt and pepper to taste.
Use it as a topping on your baked potato.
Add it to this hummus recipe in place of garlic powder.
Use it as a pizza topping – drop it in small chunks on your pizza.
Spread it on pizza crust before you put the sauce on (or just omit the red sauce all together).
Make roasted garlic butter. Combine some with butter and use it anywhere you would butter (on toast, cooking veggies, baked potato, etc.)…I'd NOT recommend it in cookies though.
Mash some in a ramekin and put it on a charcuterie tray with cheeses and meats for your next party.
Spread some on these three ingredient crackers.
Mix some roasted garlic with olive oil using an immersion blender, and drizzle it over popcorn.
Avocado roasted garlic spread – mix some avocado mayonnaise with roasted garlic. Use as a dip for vegetables, or spread it on a sandwich.
Put some in the pan with your vegetables when you're making stir fry.
If you make your own bread, put a few cloves in your dough when shaping it for a delicious flavored bread (and a great smelling house).
Spread some on your corn at your summer BBQ.
Storage
You can store roasted garlic in the fridge or the freezer. Make a big batch at once and store it for when you need it.
Freezing Roasted Garlic
Just squeeze out the cloves onto a sheet pan and stick it in the freezer. When the cloves are frozen, you can transfer them to an air-tight bag or container to keep long term.
You can also mash the cloves up and freeze them in an ice cube tray by the teaspoon or tablespoon.
Roasted Garlic in the Fridge
If you'd rather keep the heads of roasted garlic in your fridge for a few days, you can do that too. Keep them in the paper wrapping and put them in an airtight container or bag. They will keep for 2-3 days.