Some of the links on this site may be affiliate links. This means, at no additional cost to you, I may be paid a small commission if you follow the links and make a purchase. Learn more here.
Oven roasted garlic...I mean, does it get any better? After reading these uses for oven roasted garlic, the only question you'll have is which way you'll eat it FIRST. It's an incredibly simple task to roast garlic, and yet it adds an amazing depth to the flavors in your food. Give it a try and you won't be disappointed.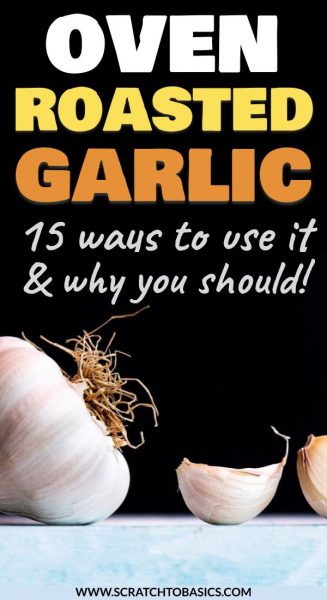 Oven Roasted Garlic Cloves
Roasting the garlic cloves is extremely simple. Garlic takes a while to get to that perfectly soft roasted state, but it takes very little oven space.
Stick a head of garlic in the oven while your chicken is roasting, or roast a dozen heads of garlic at once. There several ways to store your garlic cloves, so you might as well make a big batch while you've got the oven on.
Tools & ingredients needed to make roasted garlic
How to Make Oven Roasted Garlic Cloves
Preheat your oven to 400 (F).
Slice the tops off the heads of garlic to expose a little bit of each clove.
Put each head of garlic on a small sheet of aluminum foil, cut side up.
Drizzle olive oil over the garlic cloves and add a pinch of salt and pepper.
Fold the foil up over the heads of garlic and pinch them closed at the top.
Bake these foil balls in the oven for about 30 minutes.
You'll know they're done cooking when the cloves are soft.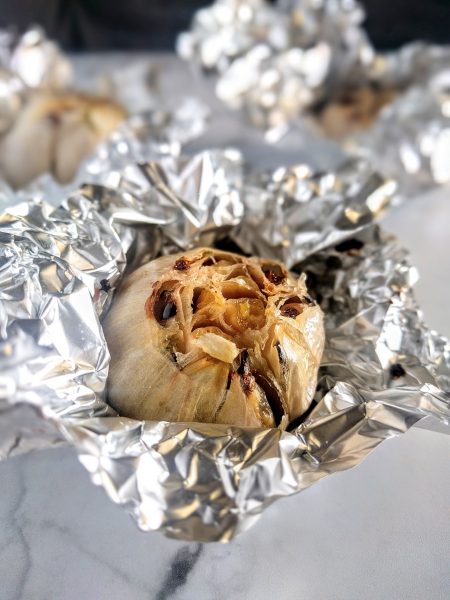 How to Use Roasted Garlic
To use the roasted garlic, you'll first need to get the soft garlic cloves out of the paper wrapping.
The easiest way I've found to do this is to squeeze it out (like you would toothpaste). Let the cloves cool a bit before you try this or you'll burn your fingers. Start at the base and start squeezing towards the open top. The roasted garlic cloves will slide out the top.
Creating restaurant-quality delicious food doesn't have to involve complicated ingredients. Often, it's as simple as getting the most flavor out of the simplest ingredients. Roasting garlic cloves in the oven is one way to maximize the flavor of garlic.
Ready to Save Hundreds on Your Grocery Budget?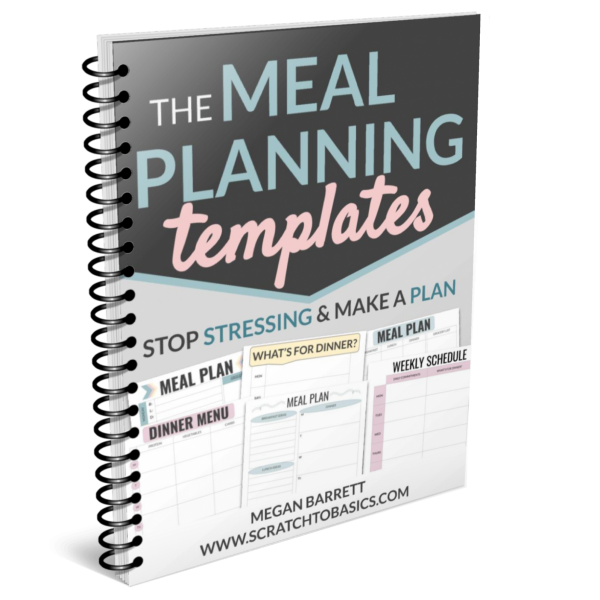 Make a Meal Plan Today!
Get started meal planning and save hundreds every month with this bundle of meal planning templates. Opt in below to get this PDF delivered directly to your inbox.
15 ways to use oven roasted garlic
1. Herb and garlic spread
Mix mayonnaise with herbs and roasted garlic, then use it as a dip for french fries, veggies, or spread it on a sandwich.
2. Use it on bruschetta
Spread the roasted garlic on some toasted bread, followed by your topping of choice (tomato and basil is a classic). This is great for an appetizer, side, or snack.
3. Roasted garlic pesto
Use it in pesto in place of fresh garlic or garlic powder. Chop up a handful of basil, a little olive oil, small handful of nuts (pine nuts, almonds, or walnuts will work), some parmesan, roasted garlic, and salt and pepper to taste. Here's a delicious recipe for a basil walnut pesto.
4. On A Baked Potato
Spread it on your next baked potato for a delicious boost of flavor.
5. Hummus
Add it to this hummus recipe in place of the garlic powder for a big boost of flavor.
6. Pizza topping
Use your oven roasted garlic as a pizza topping. Mash the roasted garlic into a paste and "drop" it in small chunks around the pizza. Here's an easy pizza sauce recipe that we use for weekly pizza night!
7. Pizza sauce
Spread the roasted garlic paste on your pizza dough instead of tomato sauce if you're looking to try something new!
8. garlic butter
Combine some of your garlic with butter and use it anywhere you would use butter (on toast, cooking veggies, baked potato, etc.)...I would NOT recommend it in cookies though.
9. Charcuterie Board
Mash some in a ramekin and put it on a charcuterie board with cheeses and meats for your next party. Add more salt and pepper, to taste.
10. Cracker Dip
Another tasty option is to spread some of your roasted garlic on these almond flour "cheese" crackers.
11. Garlic on Popcorn
Mix some of your garlic with olive oil using an immersion blender and drizzle it over popcorn. I use this one and highly recommend it. My first two smoked and couldn't handle much blending. This one has been going strong for years.
12. Avocado Garlic Spread
Mix some of this delicious avocado mayonnaise dip with your garlic spread. Use as a dip for vegetables, or spread it on a sandwich.
13. Add To Your Stir Fry
Put some in the pan with your vegetables when you're making stir fry.
14. In your bread
If you make your own bread (which you should), put a few cloves in your dough when you're shaping it for a delicious flavored bread (and a great smelling house).
15. On grilled corn
Spread some delicious oven roasted garlic on your grilled corn at your summer BBQ. Melted with butter and sprinkled with salt. Can you beat that? I don't think so.
Everything You need to know about Storing Roasted Garlic
HOW DO YOU STORE ROASTED GARLIC?
You can store your roasted garlic in the fridge or the freezer. If you're going to keep it in the fridge, Keep them n the paper wrapping and put them in an airtight container or bag. I like to squeeze the garlic out of the paper wrapping, mash it all up into a paste and store it in an ice cube tray in the freezer.
CAN YOU FREEZE ROASTED GARLIC?
Yes! Just squeeze out the cloves onto a sheet pan and stick it in the freezer. When the cloves are frozen, you can transfer them to an air-tight bag or container to keep in your freezer longer term. You can also mash the cloves up and freeze them in an ice cube tray by the teaspoon or tablespoon. This is a great way to add delicious flavor to your meals. Your guests will be dying to know your secret recipe for making food so flavorful.
HOW LONG CAN YOU KEEP ROASTED GARLIC?
You can keep roasted garlic in the fridge for 2-3 days. If you choose to freeze it, it should keep several months in the freezer.
Pin this for later