Some of the links on this site may be affiliate links. This means, at no additional cost to you, I may be paid a small commission if you follow the links and make a purchase. Learn more here.
Looking for a collection of awesome gluten free dip recipes? Well, you've come to the right place. This is a list of 39 incredible dips and spreads your guests will LOVE.
Whether you're looking for an idea to serve at the next football game, or for something to bring to your potluck, this list has it all! Chutneys, salsas, veggie dips, meat dips. Keep reading for some deliciously mouthwatering recipes.
Related Post: Gluten Free Sides & Salads for Your Next Potluck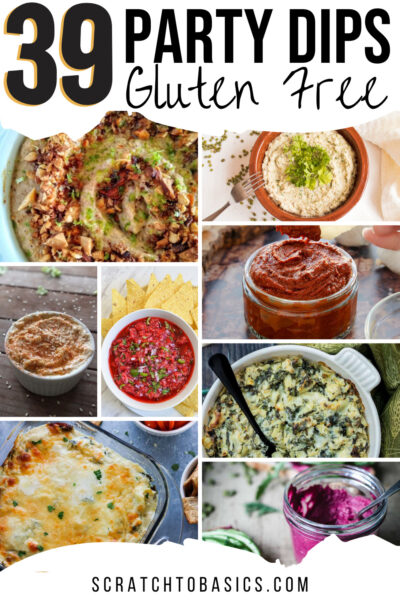 I've been following a gluten free diet for my Hashimoto's for years and I know what a bummer it is to walk into a party, head to the snack table, and quickly realize you can't eat a single thing because everything has the food you *can't* have.
It's a bummer.
So, if you're having a party - do your gluten free friends a favor and make one (or more) of these delicious dips. If you're going to a party, consider bringing one of these dips so you know you'll have something delicious AND gluten free you know you can eat.
Enjoy!
39 Gluten Free Party Dips
Chutneys
Garlic Chutney by A Mummy Too - You can use the garlic chutney as a condiment - a tiny taste gives a BIG flavour hit. You can also swirl it into yogurt or thin with water to make a fantastic dip.
Dhaniya Ambi Chutney | Spicy Coriander Dips by Veg Buffet - Dhaniya Ambi chutney is a spicy and tangy chutney (dip) made with fresh coriander leaves, green chillies, raw mango (ambi) and is flavoured with onion and garlic. The best thing about this chutney is the use of absolutely fresh ingredients that not only add rich flavour to it but also give it an amazing green color.
Tomato Chutney by Hurry The Food Up - Taking the best from both Indian and British chutneys, this Anglo-Indian is the easiest, quickest and tastiest tomato chutney you'll find on either continent.
Creamy Gluten Free Dips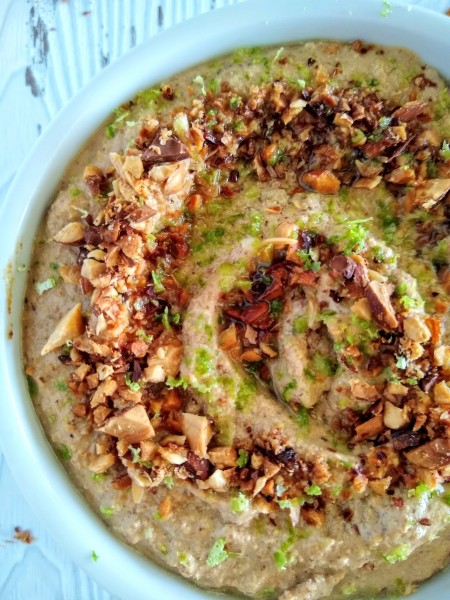 Jalepeno Almond Lime Dip by Scratch to Basics - I love that this almond jalapeno dip is high in protein, low in carbs, and packed with flavor. It's addictive and easy to eat with carrots, celery, crackers, chips, or just by the spoonful!
Avocado, Yoghurt and Mint Dip by It's Not Complicated - You will love this Avocado, Yoghurt and Mint Dip. It is light, silky smooth and refreshing as well as being incredibly easy to make. Here I have combined two of my favourite ingredients, creamy avocado and tangy Greek yoghurt. I have boosted their flavour with the addition of lime juice and mint. If you're looking for a healthy snack or appetiser, this is the recipe for you.
Vegan Tzatziki by Vegan Hugs - This Vegan Tzatziki is just as good as the original and you won't believe that it's dairy-free. It's rich, creamy, tangy, and so darn easy to make — just blend, chill and serve!
Cream Cheese Dip by Recipes from a Pantry - This warm Cream Cheese Dip is perfect for any party or gathering, especially your game day spread. Perfect to serve with your favourite tortilla, chips or crostini.
Roasted Garlic Baked Ricotta Dip by Cozy Cravings - This delicious dip features plenty of roasted garlic, ricotta cheese, lemon zest, and red pepper flakes. So good you'll have to stop yourself from eating the whole bowl.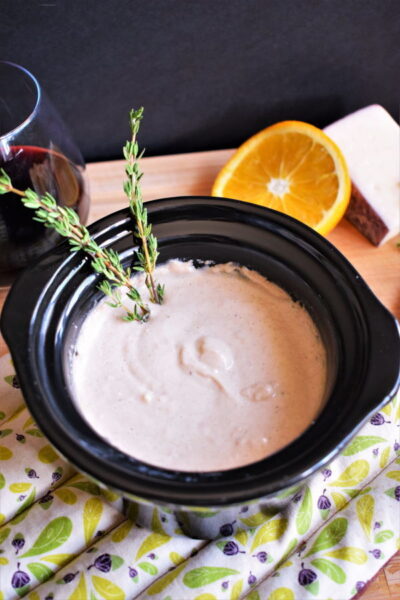 Red Wine & Cheese Dip by In the Kitch - Your guests will enjoy scooping this bubbling red wine and cheese dip right from your warmer or mini crock pot. Serve this unique, savory dip with crusty bread, crackers, tortilla chips, breadsticks, etc.
Chesapeake Crab Dip by Culinary Lion - One of the most popular restaurant menu items in the mid Atlantic. Chesapeake Crab Dip is a creamy dip loaded with Blue crab, cheeses and old bay served with a variety of dippers. Its the perfect shareable appetizer for any gathering
Honey Yogurt Fruit Dip by End of the Fork - This 3-ingredient sweet dip is thick and creamy with a delicious tangy freshness, perfect with slices of fresh fruit or on fruit salad.
Quick Spicy Feta Dip (Tirokafteri) by The Fiery Vegetarian - Smooth creamy and fiery, this Greek spicy feta dip is perfect as part of a mezze or served with toasted pita chips or crudites for dipping.
Avocado Mayo Dip by Scratch to Basics - This is a great go-to egg-free "mayo" recipe. Are you avoiding eggs? Can't get enough of that creamy avocado goodness? This avocado mayonnaise is tangy and creamy, just like mayonnaise should be...but with even more flavor!
Hummus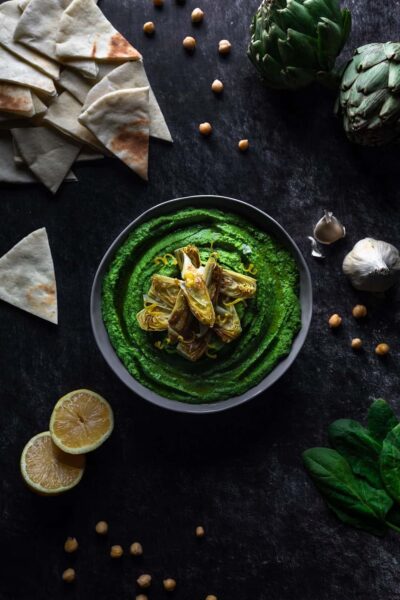 Spinach Hummus with Lemon Artichokes by Foodworthfeed - This delicious hummus recipe is colored with spinach and topped with crispy artichoke hearts with lemon.
Tahini Hummus by Scratch to Basics - This hummus recipe is the perfect gluten free dip. It's simple, delicious, and goes with any dipper. If you're looking for a simple recipe on how to make hummus from scratch, you've come to the right place.
Healthy Mung Bean Hummus Recipe by Mind Body and Spirit Wellbeing - This is an extremely delicious vegan hummus recipe you will have to try! It is also one of the best easy gluten free and dairy free recipes which makes it suitable for people with celiac disease, gluten intolerance, and those following a strict vegan diet plan. This healthy hummus recipe is excellent for direct consumption, as a vegan side dish, a vegan spread for toast, a gluten free dip and an appetizer or as a protein packed breakfast idea!
Roasted Beetroot Hummus by My Goodness Kitchen - With sweet earthy beetroot and light miso, this beetroot hummus is a healthy and delicious spread that can be ready in minutes.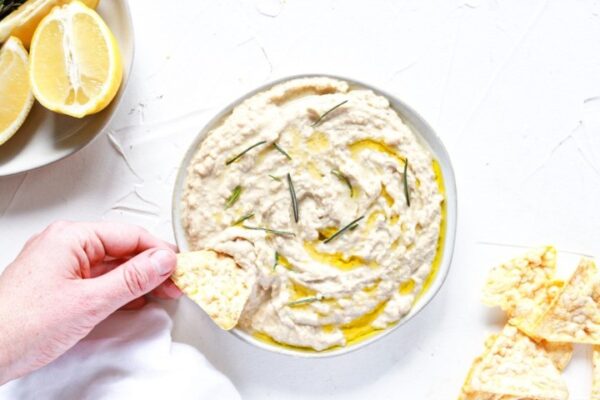 Lemon Rosemary Hummus by Chelsea Peachtree - Creamy lemon rosemary hummus is an easy, healthy snack or appetizer that anyone can enjoy! Made with a few simple ingredients, this naturally gluten free and vegan dip is delicious and oh so tasty!
Dark Chocolate Hummus by A Sweet Alternative - This dark chocolate hummus is perfect for dipping fresh seasonal fruit. It's silky smooth and intensely chocolaty.
Cookie Dough Hummus by My Plantiful Cooking - This cookie dough hummus is rich, creamy and sweet ! Incredibly easy to make, gluten-free and healthy.
Meat Dips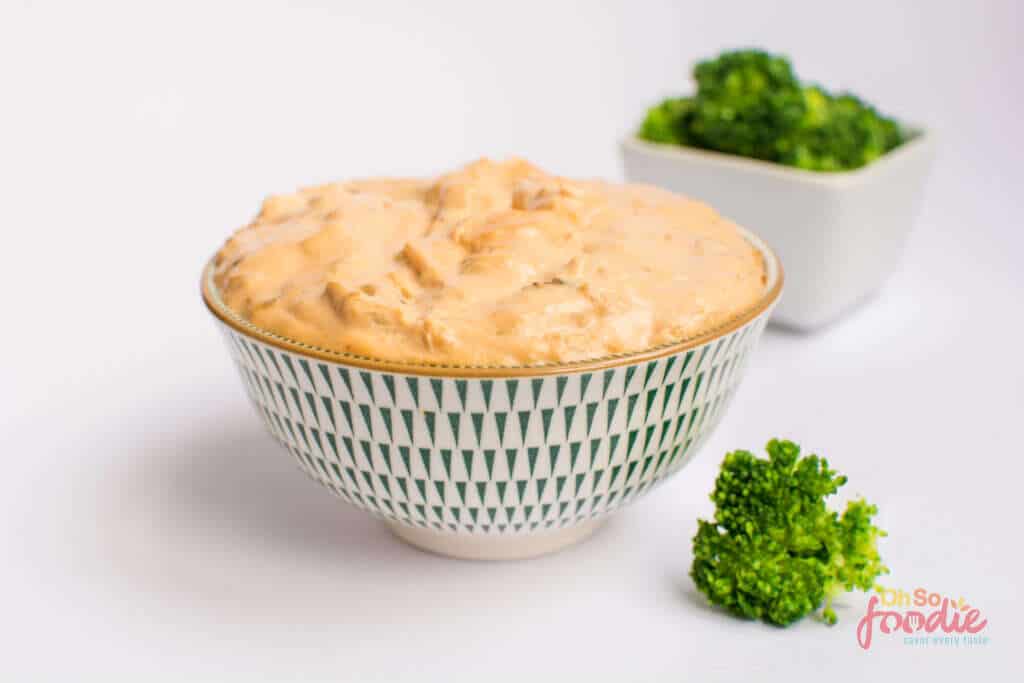 Keto Buffalo Chicken Dip by Oh So Foodie - An EASY, buffalo chicken dip made with sour cream, ranch dressing and cheese in 15 minutes! Everyone will love this delicious gluten free party appetizer!
Beef Jerky Dip by The Top Meal - Creamy and a bit spicy, this delicious warm beef jerky dip has only 4 ingredients. Great with any kind of chips, sliced cucumbers or bell peppers. Party favorite!
Paleo 7 Layer Dip (Whole30) by Eat the Grains - A paleo spin on your favorite 7 layer dip – loaded with beef, cilantro lime cauliflower rice, fajita veggies, lettuce, tomato, and more. A must have for game day!
BLT Dip by This Farm Girl Cooks - BLT dip is cool and creamy, full of crispy bacon, ripe and juicy tomatoes, and topped with a sprinkle of fresh green onions. It's an easy appetizer recipe to make at home or take to a potluck!
Instant Pot Buffalo Chicken Dip by Always Use Butter - This amazing Instant Pot Buffalo Chicken Dip is made from scratch in under 40 minutes, and you just need to really "cook" for 10 of those. With hot sauce, sour cream, chicken and blue cheese this is a buffalo lover's spicy dream.
Salsas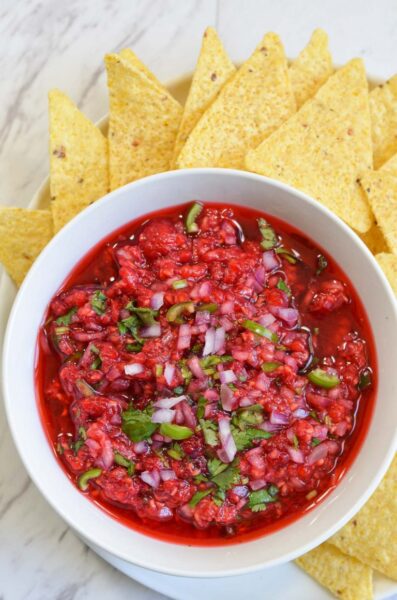 Raspberry Salsa (Hot & Sweet Salsa) by FitMealIdeas - This easy red raspberry salsa is inspired by the Traditional Mexican Pico De Gallo and instead of tomatoes, I use fresh raspberries to make this homemade fruit dip.
Avocado Mango Salsa by Scratch to Basics This avocado mango salsa is packed with flavor and is a perfect addition to your fish tacos. You can also use it as a dip for crackers or chips. This tasty gluten free dip can be made easily in 5 minutes.
Spinach Artichoke Dips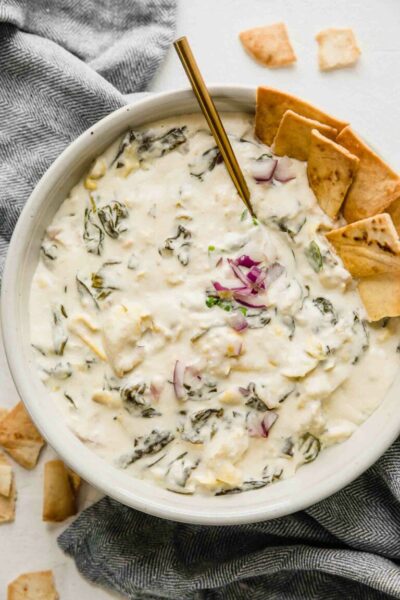 Spinach Artichoke Dip by Jars of Lemons - Made with simple, wholesome ingredients, this recipe is a fool-proof way to impress your friends. It's cheesy, gooey, hot, easy to make and delicious!
Healthier Baked Spinach Artichoke Dip by Vanilla Bean Cuisine - This Healthier Baked Spinach Artichoke Dip features spinach, artichoke hearts, and shallots in a cheesy, creamy sauce lightened up with yogurt and fresh herbs. Vegetarian and gluten-free!
Skinny Spinach Artichoke Dip Recipe by Mae's Menu - A creamy and savory dip that's perfect for crackers, veggies, and more, this Skinny Spinach Artichoke Dip is a perfect gluten-free party dip! This dip is also lower in fat and calories than traditional artichoke dip, making it a great recipe for so many dietary preferences!
Veggie Dips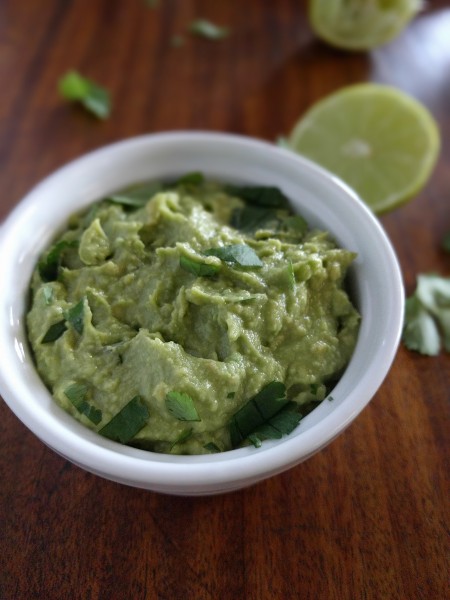 Simple Guacamole by Scratch to Basics - This delicious guacamole is made with a few simple ingredients. Guacamole should keep avocados the star of the show, don't you think?
Vegan Mushroom Pâté by Rhian Williams - This Vegan Pâté is rich and meaty, smooth and silky and so easy to make. It's nutritious and makes a party dip that everyone will love! Made with mushrooms and walnuts, it's a delicious and elegant recipe that tastes just like a vegetarian version of French liver pâté!
Caramelized Onion Dip by Champagne Tastes - This easy caramelized onion dip is made with onion, shallot, garlic, yogurt, and fresh chives. Try it for a healthy twist on the classic chip dip!
Creamy Greek Roasted Eggplant Dip by Elise Tries to Cook - This Greek inspired eggplant dip is the perfect healthy mid-afternoon snack. This is a roasted eggplant dip easy enough for a make-ahead healthy dip appetizer for any gathering or crowd. Naturally gluten free and only one swap to make it vegan!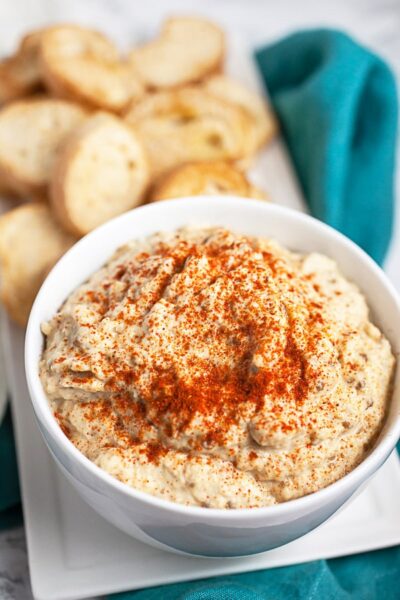 Smoky Eggplant Baba Ghanoush by The Rustic Foodie - Smoky Baba Ghanoush recipe is the best Middle Eastern appetizer! It's vegan, gluten free, and easy to make. Perfect served as a dip with pita!
7- Layer Mediterranean Dip by CookEatLiveLove - An easy delicious layered dip recipe with tons of fresh veggies and marinated tofu!
Kid's Guacamole- 4-ingredient Recipe by Carrots & Cookies - Make this super easy and healthy guacamole for any party any time of year - it's always a favorite and ready in no time!
Sun-Dried Tomato Dip by Veggies Save The Day - Easy to make in a food processor in 15 minutes, this creamy Sun-Dried Tomato Dip uses white beans in place of cream cheese and sour cream.
Black Bean Dip by Spice up the Curry - Looking for a healthy yet delicious dip (snack) recipe? This black bean dip is a perfect dish that is easy to make and it can be made in advance. Just serve with veggies or tortilla chips!
---
So...there you have it! 39 incredible gluten free dips and spreads that will become your next go-to party dip and family favorite. Which one will you try first? Let me know in the comments below.
Oh, and if you're sitting there wishing that eating gluten free, dairy free, or Paleo could just be a little easier - snag this awesome deal now before it's gone!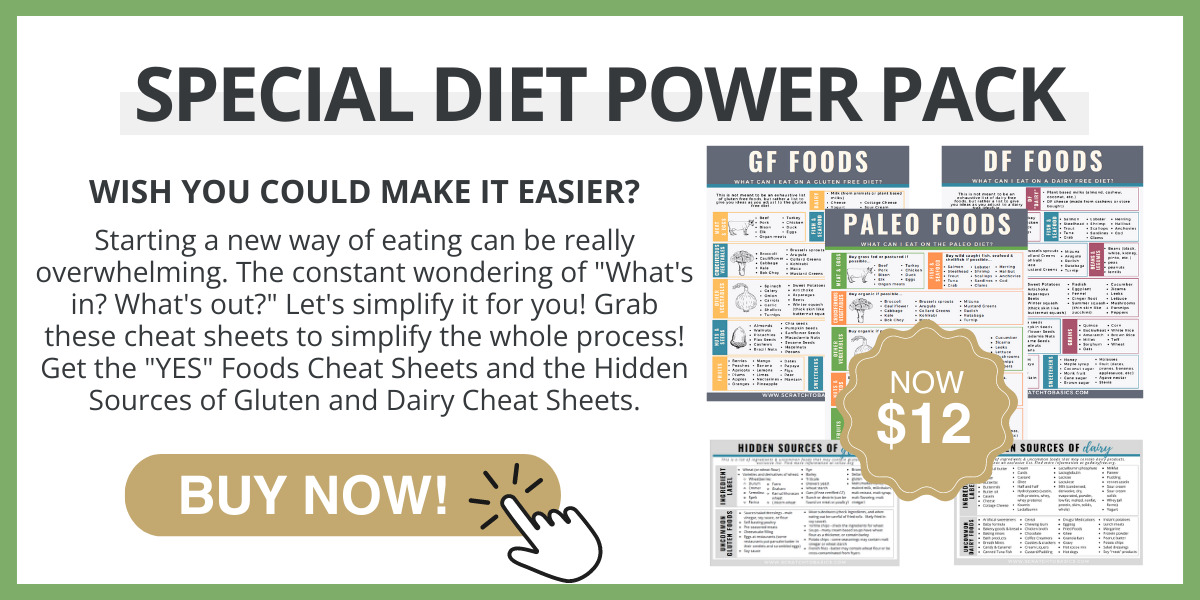 Save this for later on Pintrest!