Some of the links on this site may be affiliate links. This means, at no additional cost to you, I may be paid a small commission if you follow the links and make a purchase. Learn more here.
These easy no bake peanut butter balls without powdered sugar are a crowd pleaser, for sure. Your kids will love 'em, your husband will love 'em, and the neighbors will love 'em.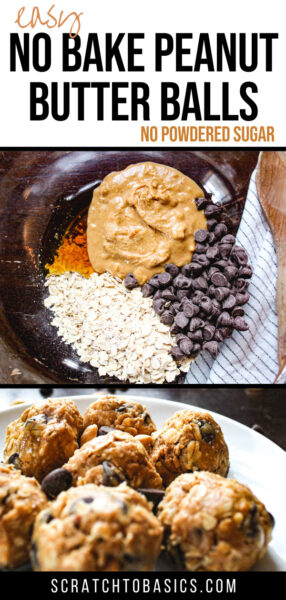 I mean, what's not to love? They're easy to make (no baking required), and a tasty snack or treat, with lots of protein to give you energy when you need a pick-me-up. Whip some up today and enjoy a healthy snack that's not loaded with sugar.
How to Make These Easy No Bake Peanut Butter Balls
The process is simple. Add all ingredients to a bowl, then mix it together.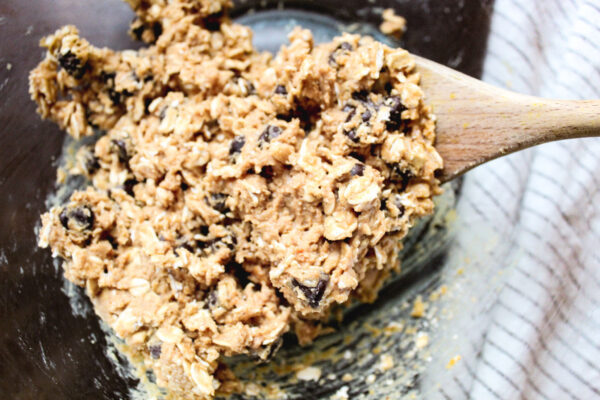 To form the balls, I like to use a cookie scooper to get them the same size, then I roll them between my hands until they look nice and smooth on the outside.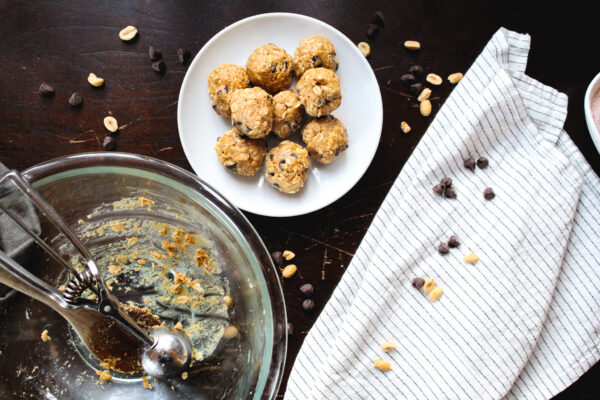 Once they've been rolled into balls, you're done. You can refrigerate them to harden them a bit, or just eat them right away.
Tip: If the mixture is too crumbly, add more peanut butter, one tablespoon at a time (alternatively, you can add liquid). I usually just add peanut butter. If the mixture is too sticky, add a few more oats.
I've found this recipe to be really forgiving and delicious no matter which fillers you use. Although, I always seem to end up with chocolate chips in mine!
This recipe makes 24 1" peanut butter balls.
How long will peanut butter balls last in the fridge?
These peanut butter balls don't seem to last long around our house, because we eat them too fast. But if you've got more self control than we do, they should last a couple weeks in the fridge.
Alternately, you can freeze them then thaw overnight before you want them.
Ingredients You'll Need (see notes on ingredient substitutions below)
Peanut butter (get the natural kind - without hydrogenated oils, or sugar - like this one)
Oats
Honey
Chocolate chips, or coconut flakes, or raisins (or a combination)
Salt - We like using this salt, because it still has the trace minerals in it. 
Vanilla (optional)
Tools You'll Need
Ingredient Substitutions & More Flavor Ideas
Peanut Butter - For an extra crunch, use crunchy peanut butter. If you prefer it to be smoother, use creamy. You can swap a different nut butter if you'd prefer in a 1:1 ratio.
Oats - You can use Old Fashioned Oats, Rolled Oats, or Quick Oats. Don't use Steel Cut Oats or you'll get quite the crunch when you bite in.
Honey - You can swap maple syrup for honey 1:1 in this recipe.
Fillers - You can use a combination of fillers (chocolate chips, coconut flakes, raisins, cranberries, seeds, etc.).
Try These Healthy Treats Next
Save this for later on Pinterest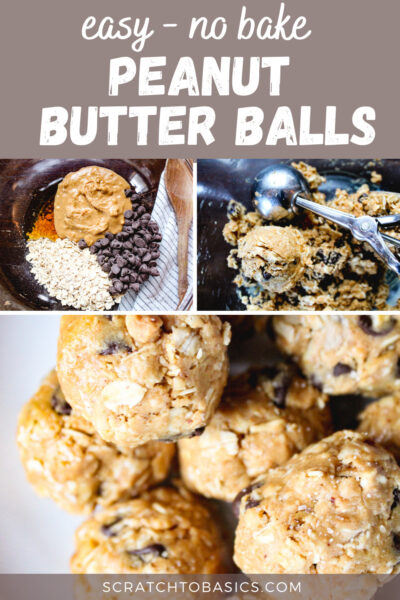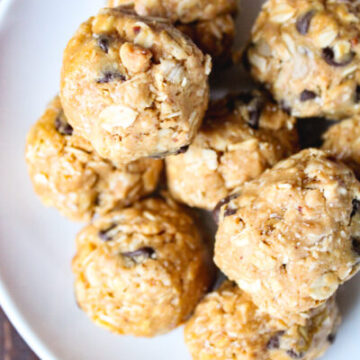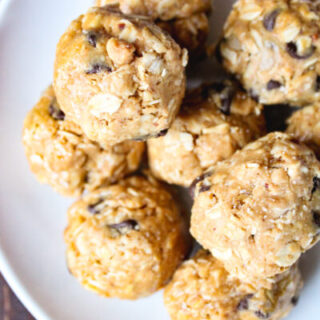 No Bake Peanut Butter Balls
Ingredients
1 cup peanut butter (get the natural kind)
1 cup rolled oats
¼ cup honey
½ cup chocolate chips, or coconut flakes, or raisins (or a combination)
Pinch salt (more if your peanut butter is unsalted)
2 tsp vanilla (optional)
Instructions
1. Mix all ingredients together in a mixing bowl

2. Use a cookie scooper or a spoon to form the mixture into 1" balls, roll them between your hands until smooth and round.

3. Serve & enjoy!