Some of the links on this site may be affiliate links. This means, at no additional cost to you, I may be paid a small commission if you follow the links and make a purchase. Learn more here.
Note: I personally try every item I review on this site. Before writing this review on Crowd Cow, we had ordered several boxes from them to try a wide variety of their options.
Crowd Cow is my go-to online meat delivery service...but...it's not the cheapest. I highly recommend watching their site for any deals they have (they have a lot of them). For example, right now you can get $25 off your first order with my code: STB25.
Online Meat Box Delivery
Are you frustrated with the meat selection in your local supermarket? Wish you could find a way to order farm fresh meat directly from the farm? You're not alone.
I felt the same way. That's why I started researching ways to buy quality meat from a reliable source. At the time the original post was written, I had been using Crowd Cow regularly for months. Now, we still order meat from them (years later).
Once you start paying attention to the ingredients in your food and the path your meat took to get to your plate, you'll likely start wondering how to find quality grass-fed, pasture raised, sustainable, farm fresh meat options for your family.
Keep reading to see my Crowd Cow review, along with a special Crowd Cow promo code to get you $25 off your first order (use STB25 at checkout). Plus, a comparison of Butcher Box and Crowd Cow.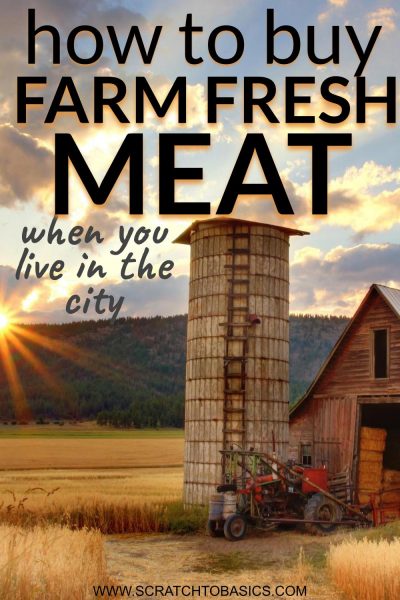 Crowd Cow vs Local Grocery Store Meat
When you buy meat in your neighborhood supermarket, it's most likely from animals raised in conventional feed lots.
Here's a summary of what you'll find at a conventional feed lot. Animals are:
Crammed into small spaces.
Raised and fattened as quickly as possible (usually with a diet of corn and soy products, sometimes a little grass too).
Overuse of antibiotics to help keep sick animals alive.
Health benefits of sustainable meat from Crowd Cow
Meat from grass fed and pastured animals has a more healthy ratio of healthy fats (Omega 3: Omega 6), whereas conventional grain fed beef has very little Omega 3s, so the ratio skews towards the unhealthy side.
Grass fed beef also contains about twice as much CLA as grain fed beef. CLA, or conjugated linoleic acid has several health benefits, including a reduction in fat (in YOUR body).
The idea behind the grass-fed meat movement is to let the animals graze in their natural environment.
Some people prefer the taste of grain fed beef, because of the higher fat content. For those people, a sustainable meat option would be to find pasture raised, grain finished beef for more tender, marbled cuts of beef (Crowd Cow has that option).
Farm Fresh Meat Online
The best place to get grass fed and pastured sustainable and ethical meat is from a local farmer if you live near a farm.
If you can't find a local farmer to buy grass fed and pastured meat from (or you don't have the freezer space for half a cow), you're in luck. Because there are several options for meat box delivery.
Enter Crowd Cow (my favorite of all).
Related Post: How to Buy Meat From a Farm
What is Crowd Cow?
Crowd Cow is a Seattle based business that partners with ethical farms and ranches in an online meat marketplace. They ship high quality meat and seafood throughout the U.S (except Alaska and Hawaii).
The company was created as a way to bring the direct-farm sales into the online world.
It all started after they found it hard to find a local farm where they could buy a share of an animal (like ¼ or ½ cow). Their friends had told them the meat tasted so good from the local farms, but in order to do it, you need to have a large freezer (with plenty of space), and you need to be able to find a farm near you.
Ethan and Joe made Crowd Cow as a way to "crowdfund a cow" so 50 different people could each buy a tiny amount of the beef directly from the local farm.
They are on a mission to provide options to customers looking for quality meat, and also a place to create a meaningful connection between the farmer and the customer. Because, let's be honest...don't we all like knowing where our food is coming from?
Instead of finding a farm to buy your meat from near you, you can go to Crowd Cow's website and see what's available at the farms they've partnered with. They only work with farms they know personally, and they believe in full food transparency (one of my favorite parts of Crowd Cow).
How does Crowd Cow work?
On their website, you can shop by the type of meat you're looking for, or shop by a specific farm. They're currently partnering with over 40 different farms, and you can read about each of them on their website here.
At Crowd Cow, you can get any order on repeat (like a subscription). Basically it's a Custom Box where YOU choose the meat, YOU choose the frequency, and THEY deliver it to your door on repeat (with a bit of savings, too). Each month you'll get an email notifying you that your order is about to ship and you can go in and modify it however you'd like.
What's the pricing for Crowd Cow Farm Fresh meat?
The pricing is higher than what you'll see in the supermarket. But you need to remember that this is NOT the same meat you're used to seeing in the supermarket.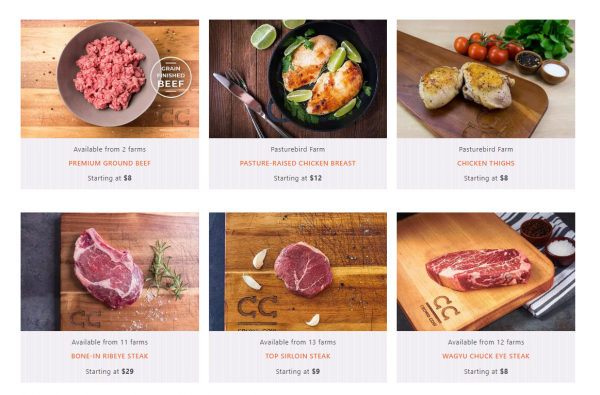 This is meat from animals raised in pastures on ethical ranches and farms. The meat tastes amazing, and you can feel good about supporting them.
Here is some pricing info for just a few of their products on their website (at the time this is written):
New York strip steak - $22 for a 12 oz steak
Ground dry aged steak - $9 for a 1lb pack
Top sirloin steak - $10 for an 8 oz steak
Wagyu chuck eye steak - $8 for a 6 oz steak
Pastured chicken thighs - $8 for a 12 oz pack
Copper river sockeye salmon - $15 for a 6 oz fillet
Crowd Cow has a minimum order of $50, and shipping is free after $149 (all subscription boxes have free shipping). Grab $25 off your first order with this link (or use the code STB25)
When we lived in the country, we would frequently buy ¼ or ½ cow from local farmers on an as-needed basis. But now that we're living in the 'burbs, we've got our Crowd Cow box subscription set up, and let me just tell you - it is SO convenient.
They also have weekly deals where you can snag meat at a discount (for the budget shoppers out there).
What kind of meat can I get at Crowd Cow?
You can get a wide variety of meat cuts from Crowd Cow.
They currently sell:
Sustainable seafood
100% grass-fed beef
Pasture raised grain-finished beef
Japanese Wagyu beef
Domestic Wagyu beef
Pork
Chicken
American lamb
One of my favorite parts of buying meat from Crowd Cow is that you get to see which farm provided your meat. You can read more about the farm on the website and what else is available from them.
Because this isn't a wholesale meat operation, the availability is constantly changing based on what's available.
Currently on the website I see New York Strip Steak available from 8 farms, Pasture-Raised Chicken Breast available from one farm, and Thick Cut Bacon available from 2 farms (among many other choices). See what's currently available here.
My experience with Crowd Cow
We recently bought some whole pastured chickens and chicken livers from Crowd Cow. It's really hard to find quality chicken meat where I live. I can find "Organic" chicken, but often that label doesn't mean the chickens were happy frolicking out in the pasture.
Related: How to understand what meat and egg labels are REALLY saying
Pastured Whole Chicken -Pasturebird Farm
Crowd Cow sells pastured chicken, which is exactly what I wanted. We bought three pasture raised whole chickens from Pasturebird Farm (a farm in Murrieta, CA that raise chickens outside on grass, with room to roam, on locally-milled feed).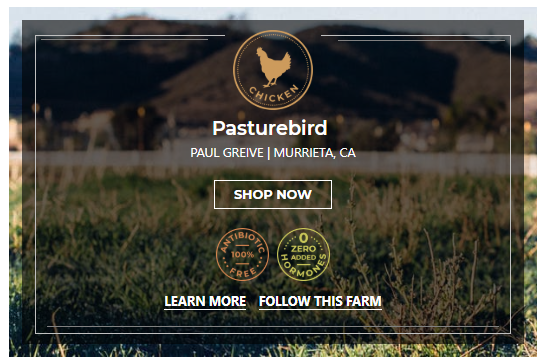 We ordered them on Crowd Cow and thoroughly enjoyed eating them. SO much more flavor than chicken in the grocery store. We also bought chicken livers.
Everything came frozen in an insulated box. It was still completely frozen when it got to us.
I love buying whole chickens because that means we get the bones to make broth. And when you get pastured chicken, the bones make REALLY good broth.
To cook whole chickens, we lay it on top of a bunch of veggies in our cast iron skillet and stick it in the oven for a few hours until it's fully cooked.
More of my favorite things from Crowd Cow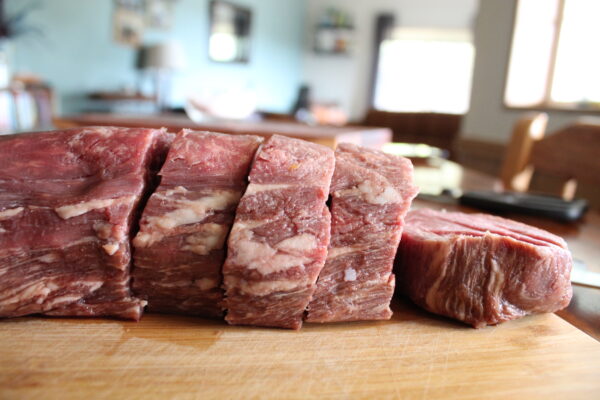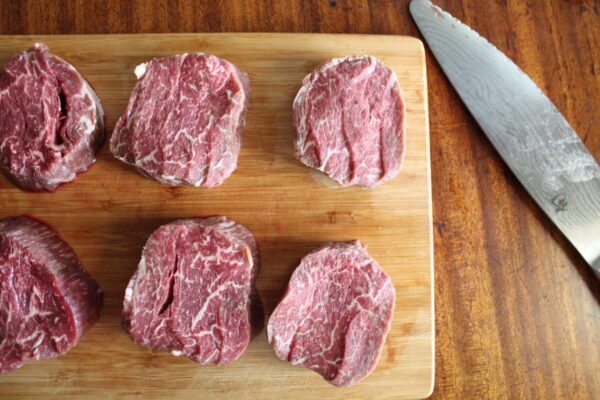 Since starting our subscription, we've gotten to try a lot of different meat there. Here are some of my favorites:
Ground wagyu - umm. This was the best burger I've ever had (and I've had a lot of burgers). We currently get 2 pounds of Mishima Reserve ground wagyu FREE inside our subscription box. Get yours here!
Chateaubriand from Mishima Reserve - We made our own filet mignon - shared a bunch with family and ate them as a treat meal. Seriously delicious.
Hickory Smoked Sugar-Free Bacon from Pederson's Natural Farms
Crowd Cow vs Butcher Box - What's the Difference?
Butcher Box is a meat subscription service that delivers grass fed meat, heritage pork, and free-range organic chicken to your door. Butcher Box is less focused on specific farms, and aims to get grass-fed meat to the masses.
Which means when you buy from Butcher Box, you're not really sure where your meat is coming from.
Crowd Cow is more than just a subscription service. Crowd Cow partners with individual farms to sell meat as it becomes available. It's like you're buying part of a cow with fifty other people.
Crowd Cow has craft cuts of meat that Butcher box doesn't offer. And you get the added benefit of full transparency knowing exactly which farm your meat came from when you buy from Crowd Cow.
Related Post: Crowd Cow vs Butcher Box - A Complete Comparison
Butcher Box and Crowd Cow Pricing Comparison
Butcher Box subscription box prices (they typically advertise as costing $6/meal):
Custom box (9-14 lbs) is $149
Custom box (18-26 lbs) is $270
Classic Box (8-11 lbs) is $129 - Mixed box, beef & pork only, beef & chicken only, or beef only.
Big Box (16-22 lbs) is $238 - Mixed box, beef & pork only, beef & chicken only, or beef only
The biggest difference in my opinion is that with Butcher Box, you don't really get to decide what goes in your box. With Crowd Cow you do.
With Crowd Cow, you get to order whatever cuts of meat you'd like and get it on repeat for a 5% savings. So your subscription box could be as large or small as you'd like. How's THAT for customization?
Not sure which direction to go? Try them both, and decide for yourself which meat tastes better, and which company works better with what you're looking for. Read up on my experience with both (and how I'd compare them side by side here).
Related: Butcher Box Review
How can I get a Crowd Cow Promo Code?
Crowd Cow meat is likely going to be more expensive than what you'll see in the supermarket, but you get what you pay for. With Crowd Cow you get full transparency in the farm your meat is coming from, as well as a connection with your farmer.
If you're looking for a promo code/coupon code, I've got a code for you right here. Get $25 off your first order here with the code STB25.
Crowd Cow is also great at offering rotating deals. Click here to see the current deals at Crowd Cow.
Save this for later on Pinterest