Some of the links on this site may be affiliate links. This means, at no additional cost to you, I may be paid a small commission if you follow the links and make a purchase. Learn more here.
This tarragon chicken salad is such an easy, healthy, and delicious meal prep option for your lunches during the week. This easy healthy chicken salad recipe comes together fast and is a great meal prep lunch option. It's also Paleo, Gluten Free, Dairy Free, and Whole 30.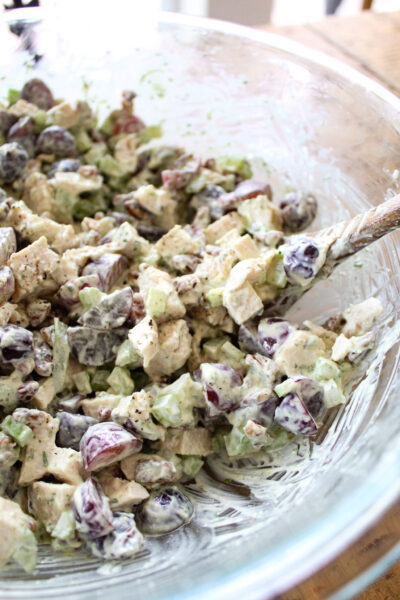 A few weeks ago, my lack of healthy lunch options became extremely obvious, judging by the fact that I was eating almonds and chocolate chips for my lunch *oops*. So I re-evaluated my situation and started meal planning and meal prepping my lunches for the week.
I created this meal prep chicken salad recipe after doing a bunch of Google research on how to make the best chicken salad. I combined the best of everything out there, and added my special touch (simplifying without losing the great flavors).
The final version of this chicken salad recipe uses chicken breast, grapes, celery, and a delicious, creamy tarragon sauce. I love this healthy chicken salad recipe, and I hope you do too!
Tools Needed to Make Easy Healthy Salad Recipe
You really don't need anything special to make this healthy chicken salad recipe (you likely already have everything in your kitchen).
Big mixing bowl, small mixing bowl & spoon
Baking sheet to bake the chicken breast
Cutting board & sharp knife
Meal prep containers (optional)
Ingredients Needed to Make Easy Healthy Chicken Salad
Chicken Breast - Roast the chicken breasts in the oven after sprinkling garlic powder, salt, and pepper over the top. If you're looking for a shredded chicken salad recipe, shred the chicken. I like the chunks so I dice the chicken.
Grapes - I love the grapes in this recipe because they add a bit of sweetness and I love how the purple grapes add more color to the meal.
Celery - Celery, chopped very finely, gives a yummy flavor and a refreshing crunch to each bite.
Roasted Pecans - You could substitute almonds or walnuts here if you'd prefer. Roasting them makes their flavor even better.
Creamy Tarragon Sauce (Mayo, mustard, tarragon, apple cider vinegar, salt & pepper) - If you've been around here any time at all, you know I make my sauces so they're packed with flavor, are full of real food ingredients, and take barely any time to make. We prefer this style of mayonnaise (or my homemade mayonnaise) in the sauce.
How to make the Healthy Tarragon Chicken Salad
This is really easy to throw together, it's just a matter of getting the ingredients prepped and in the same place. I roasted a bunch of chicken breasts in the oven and used some of them for this recipe (and some for other recipes throughout the week).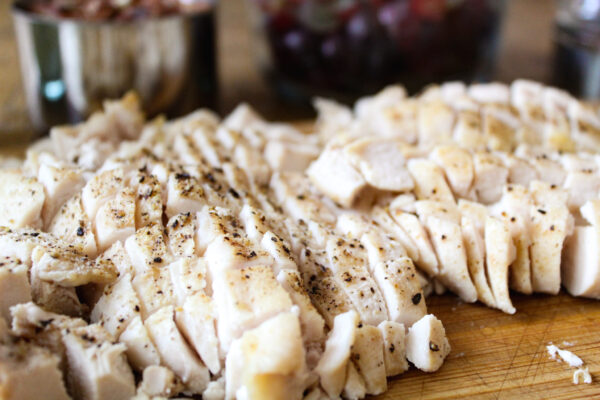 You can mix the tarragon mayo sauce pretty quickly while the chicken is cooling. It's just a few simple ingredients mixed together in a bowl.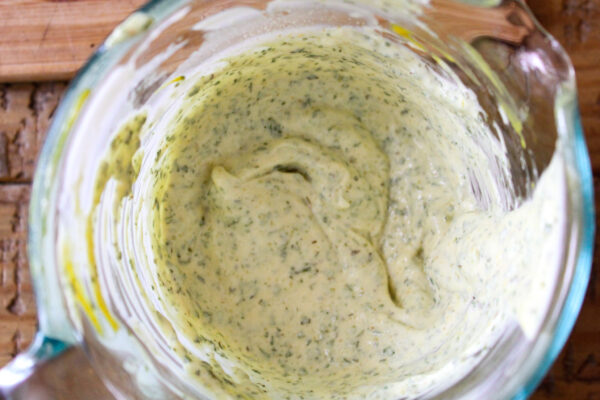 Chopp the celery finely, quarter the grapes, and lightly toast the pecan pieces.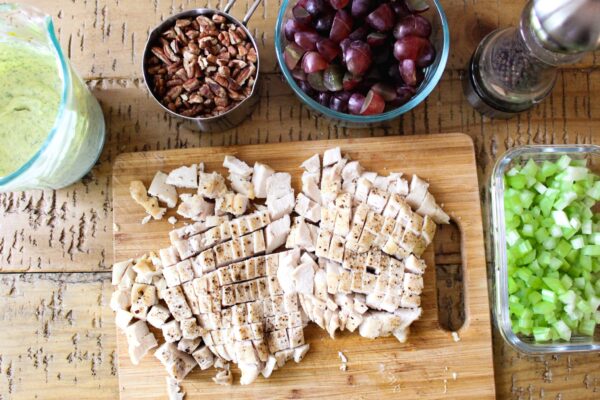 In my research, I found that some recipes used shredded chicken, but I prefer to see the chicken chunks in my bowl, so I diced the chicken into bite-sized pieces.
FAQ & Recipe Tips
Can I meal prep this chicken salad for a week?
Yes! I did these multiple weeks in a row, where I made a big batch, kept it in the fridge, then either the morning of or at lunchtime, I scooped out what I needed (on top of lettuce, or just straight into a bowl). Also, pro-tip: when I make this chicken salad, I add a few extra chicken breasts to the baking sheet so I have extra pre-cooked chicken ready for the week. This is one of many meal prep strategies that I talk about here on the blog (and in Meal Prep Magic - my meal planning course)
How long does chicken salad keep in the refrigerator?
If you're wondering how long chicken salad will keep in the refrigerator, this will keep for over a week in your fridge. I don't recommend making sandwiches ahead of time, because the bread will get soggy (nobody wants soggy bread). So keep it in a big container in the fridge, and dish it up as needed.
Does tarragon go well with chicken salad?
Before this recipe, I'd honestly never used tarragon before. I knew it went well with chicken but I just hadn't tried it yet. My goodness, am I glad I did! I love the flavor combo of chicken and tarragon - especially in this chicken salad recipe. If you're wondering what tarragon tastes like, it's usually compared to licorice, anise, and fennel.
What does tarragon taste like?
Tarragon has a distinctive taste all its own. It has a mild bitterness and a subtle sweetness. A flavor similar to licorice and vanilla.
What to add to your chicken salad?
One of the great things about chicken salad is that it's very customizable, depending on what you've got on hand, and what your family likes to eat.
Here are some other add-ins you could use in your chicken salad if you'd like:
Cranberries
Onion
Cayenne pepper (for a spicy kick)
Parsley
How can you use this chicken salad recipe?
I prefer to keep this as a big batch in the fridge and then dish it out the morning of (or at lunchtime if you work from home). Here are a few ideas for how to use it:
Put it in a chicken salad sandwich
Eat it as a healthy chicken salad bowl
Put it in a big lettuce leaf for a lettuce chicken salad wrap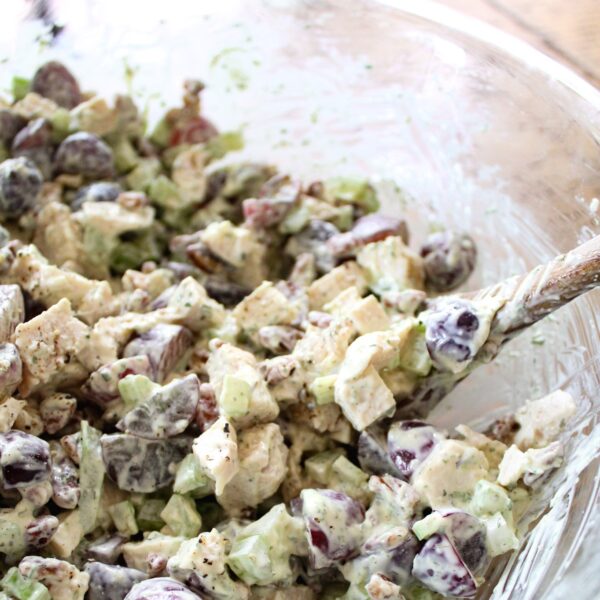 Tarragon Chicken Salad With Grapes
Make this tarragon chicken salad recipe with grapes today. It's the perfect recipe for meal prep lunches for the week. Easy, healthy, and comes together FAST. What more could you ask for?
Ingredients
1 lb chicken breast (about 2 large breasts)
1 cup roasted pecan pieces
1 cup purple grapes, quartered
3 stalks celery, diced finely
Tarragon Mayo Sauce
⅔ cup mayonnaise
1 tablespoon mustard (yellow or dijon)
1 tablespoon dried tarragon
½ teaspoon apple cider vinegar
½ teaspoon granulated garlic
Instructions
Preheat the oven to 350 (F)
Lay the chicken breasts on a baking sheet and sprinkle the tops with salt, pepper, and garlic powder (or granulated garlic).
Bake the chicken breasts on a baking sheet in a 350 (F) oven until internal temperature reaches 165 (F) - depending on the thickness of the chicken breasts, this takes anywhere from 25-30 minutes.
While the chicken is cooking, you can prep the rest of the ingredients.
Quarter the grapes, finely dice the celery (I prefer ¼ to ½ inch dice), and roast the pecans with the chicken if they aren't roasted already (10 minutes is enough for them to get toasty).
Next make the sauce by combining the mayonnaise, mustard, tarragon, apple cider vinegar, and granulated garlic. Stir to combine.
When the chicken is done cooking, let it cool. Then dice the chicken into ½" chunks.
Add all ingredients (chicken, pecans, grapes, celery, and sauce) to a big mixing bowl and mix until combined.
Store in fridge until ready to use (or eat right away).
Nutrition Information:
Yield:

6
Serving Size:

1
Amount Per Serving:
Calories:

436
Total Fat:

34g
Saturated Fat:

5g
Trans Fat:

0g
Unsaturated Fat:

28g
Cholesterol:

75mg
Sodium:

257mg
Carbohydrates:

8g
Fiber:

2g
Sugar:

5g
Protein:

26g
Save this for later on Pinterest!