Some of the links on this site may be affiliate links. This means, at no additional cost to you, I may be paid a small commission if you follow the links and make a purchase. Learn more here.
Soft ginger cookies have long been a favorite in our house. Especially around the holidays.
And this year, as we continue on with our Paleo style of eating (grain free, gluten free & refined sugar free) I knew I needed to come up with a way to have the delicious spicy/sweet cookie combo despite our food restrictions. So, here they are! Paleo ginger cookies!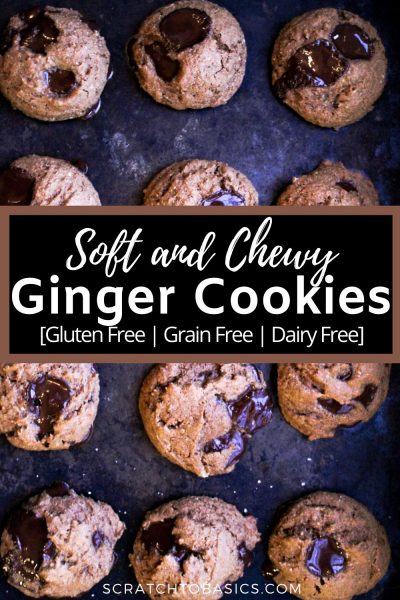 This recipe does the trick (it's dairy free, too) and I'm thrilled to be able to share it with you today! We love adding dark chocolate chips to our ginger cookies.
Because...ya know...it's chocolate.
But if you'd rather a more traditional soft ginger cookie, just omit the chocolate chips.
Tools used to make these soft Paleo ginger cookies
Special ingredients used in this recipe
Nut butter (I've been using homemade pumpkin seed butter in an effort to reduce my almond butter consumption, but almond butter or cashew butter should work just fine). I prefer to use nut butters with only one ingredient (or make your own nut butter at home).
Sugar - We use coconut sugar for our baking needs, and typically order it on Amazon (it's a much better deal than we can find in our local stores).
Chocolate chips (optional). I've been loving these chocolate chunks from Hu chocolate. They test their chocolate for mold & mycotoxins and I appreciate that!
How to make these Paleo ginger cookies
I've provided detailed step-by-step instructions in the recipe below. I'll summarize here and provide some pictures to help.
But really, the process is quite simple.
Mix the nut butter with coconut oil, sugar, & molasses. Then add the vanilla & egg.
Mix the flour, salt, baking soda, and spices in a separate bowl.
Combine the wet & dry ingredients, then add the chocolate chips (if using).
Refrigerate the dough for 20-30 minutes
Scoop the dough onto a baking sheet
Bake in 350 (F) oven for 6-8 minutes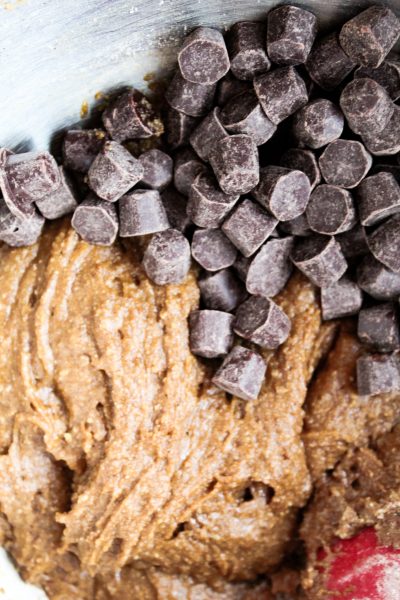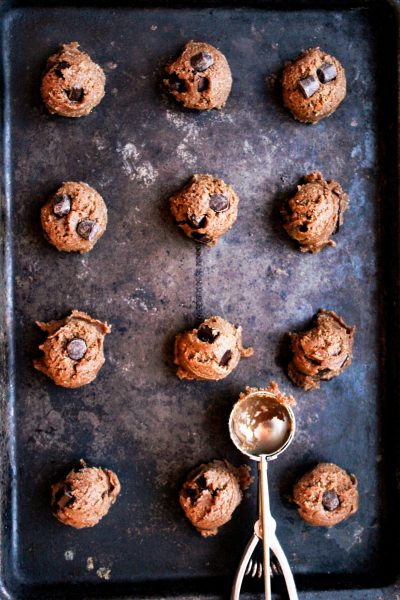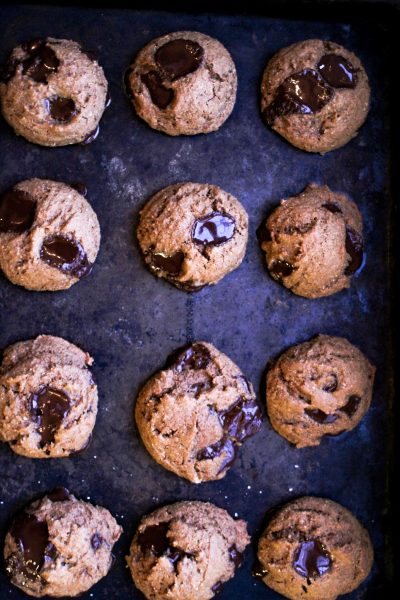 Storage tips
These cookies will keep for 5-7 days in the fridge. But, to be honest, they don't last that long in our house!
More Paleo Dessert Recipes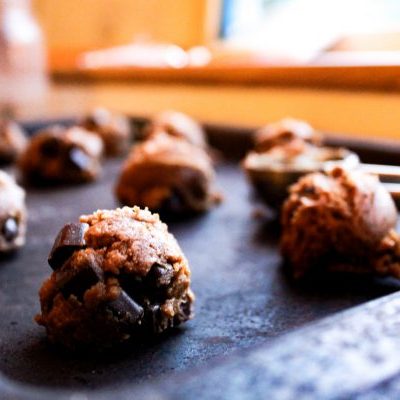 Coconut Flour Ginger Cookies
Additional Time:
30 minutes
These ginger cookies are delicious and are gluten free and dairy free too!
Ingredients
6 tablespoon pumpkin seed butter (or almond butter or cashew butter)
6 tablespoon coconut oil
½ cup coconut sugar
2 tablespoon molasses
1 ½ teaspoon vanilla extract
1 egg
½ cup coconut flour
¼ teaspoon salt
1 teaspoon baking soda
2 teaspoon ground ginger
¾ teaspoon cinnamon
¼ teaspoon cloves
¾ cup chocolate chips (optional)
Instructions
Mix the nut butter with coconut oil, sugar, & molasses. Then add the vanilla & egg.
Mix the flour, salt, baking soda, and spices in a separate bowl.
Combine the wet & dry ingredients, then add the chocolate chips (if using).
Refrigerate the dough for 20-30 minutes
Scoop the dough onto a baking sheet
Bake in 350 (F) oven for 6-8 minutes
Don't forget to save this for later on Pinterest