Some of the links on this site may be affiliate links. This means, at no additional cost to you, I may be paid a small commission if you follow the links and make a purchase. Learn more here.
Come and get 'em! This recipe for fajita veggies in oven has TONS of veggies and is knock-your-socks-off tasty. Made on a sheet pan and loaded with veggies, your family will be thrilled when they see these veggie fajitas on the menu.
Some people might pick one vegetable for their fajitas (or sheet pan tacos)...but we're doing LOTS of veggies in this recipe. Perfectly seasoned portabello mushrooms, zucchini, bell peppers and onions fill the tortillas and are topped with the most perfect guacamole and a creamy cilantro mayo sauce.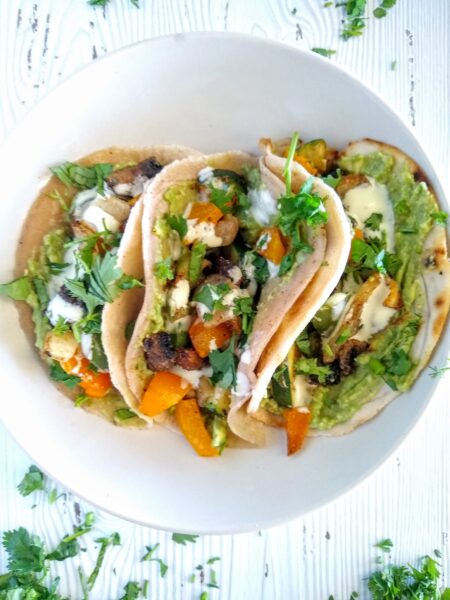 Are you hungry yet?
BONUS...this recipe of fajita veggies in oven is suitable for anyone following a special diet like gluten free, dairy free, Paleo, or Whole 30.
Tools Needed to Make Sheet Pan Veggie Fajitas
Sheet pan or two - Depending on their size (I recommend measuring your oven and either finding one big sheet pan to fit the oven or getting two that will fit side by side).
Guacamole bowl - This "it's five o'guac somewhere" bowl makes me laugh, and makes me want guacamole) - optional for this sheet pan veggies.
Taco seasoning - 3 ingredients to a homemade mix - here's the fajita seasoning recipe
Ingredients Needed to Make Sheet Pan Veggies
The beauty of this oven baked fajita veggies recipe is that you can make it with whatever veggies you have on hand.
This specific recipe is made with:
Portabello mushrooms - Gives the dish its tasty and savory, with an umami flavor.
Bell peppers - Can't have fajitas without bell peppers!
Onions - It adds robust flavor to the dish.
Zucchini - Because it's zucchini season and I have zucchini coming out of my ears.
How to make Sheet Pan Veggie Fajitas in Oven
Step 1: Make the taco seasoning Mix
If you just want to make just enough seasoning mix for this recipe: The amounts of each of the three spices are listed in the recipe card at the bottom of the page.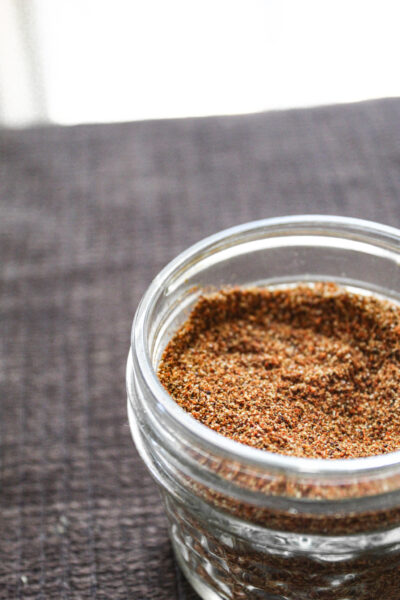 If you want to make a big batch to use later: Here's the homemade taco seasoning recipe. No need to buy the store-bought packets, they're loaded with extra ingredients and preservatives.
Step 2: Chop your veggies
We want the veggies to cook and be done at the same time, so we want to think strategically about the size we chop each of them. See the recipe card for size recommendations.
The sizes I recommend are based on NOT wanting mushy veggies. If you like softer vegetables, consider chopping them smaller, or cooking them longer.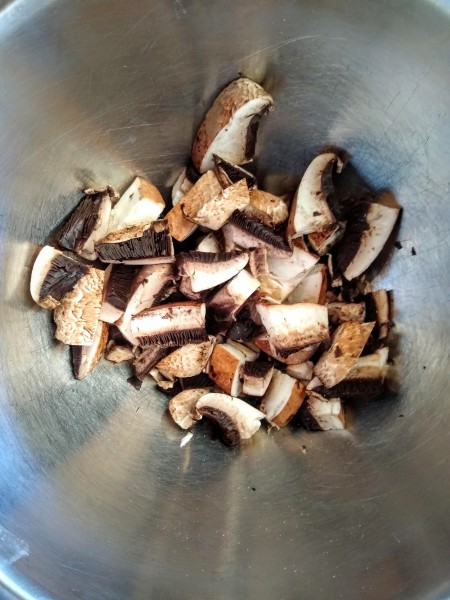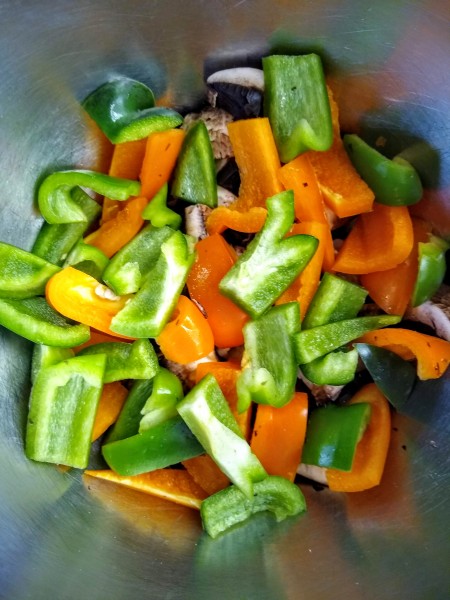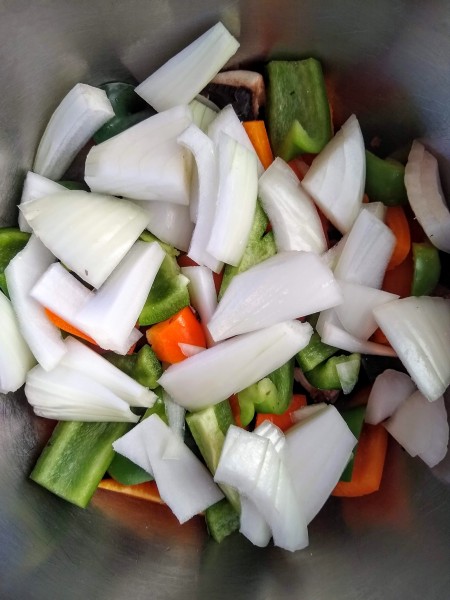 Step 3: Toss the veggies in the oil and seasoning
Put all the veggies in a bowl and pour the oil and seasoning mix in. Toss the veggies to coat them.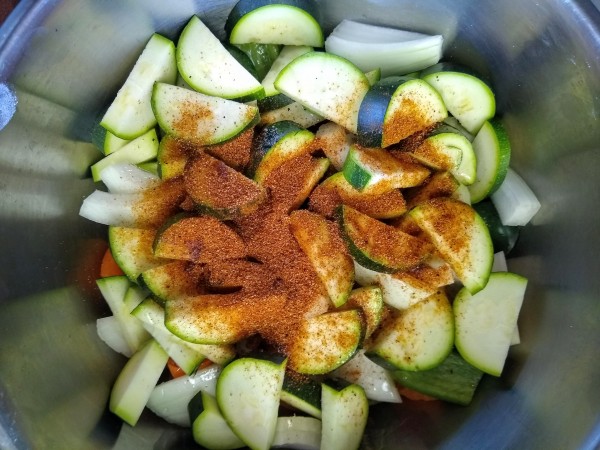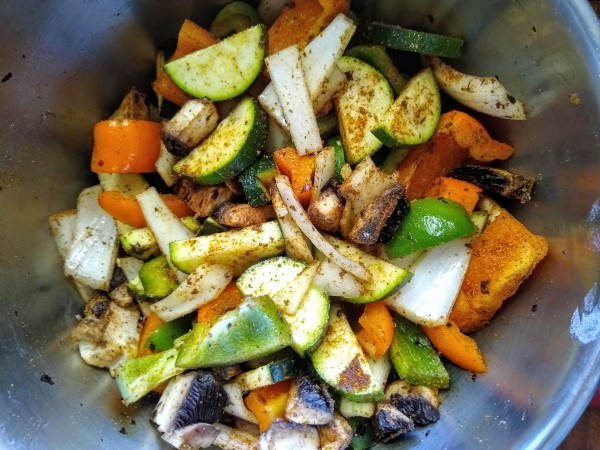 Step 4: Bake the veggies
Bake your veggies in your 375 (F) oven for about 15-20 minutes, or until they're cooked how you like them.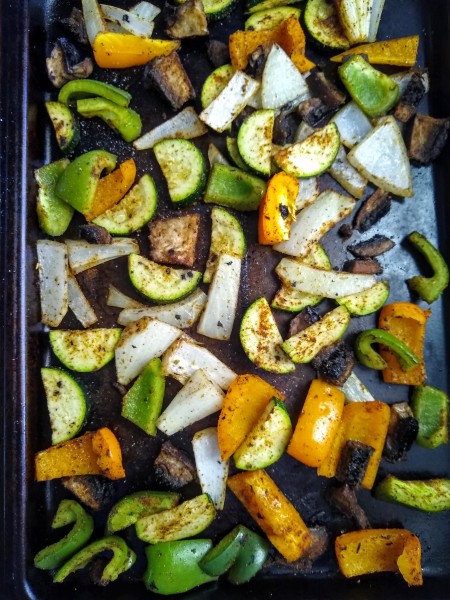 Step 5: Make the extras
What goes with sheet pan veggies? Well, I highly recommend some tortillas (these homemade tortillas are awesome), guacamole, and a simple creamy lime cilantro mayo.
Step 6: Serve The Fajitas & Enjoy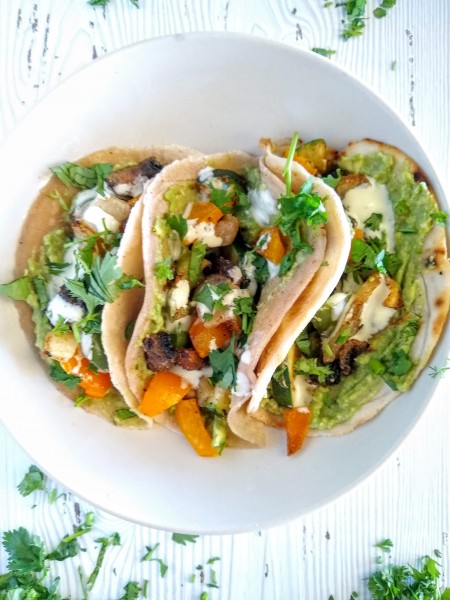 FAQ & Recipe Tips
Can I Make these ahead of time?
Yep! Make the Sheet Pan Veggie Fajitas ahead of time, and store them in the fridge until you want to serve them. You can also make the Sheet Pan Veggie Fajitas and eat them throughout the week in your lunches. Your choice!
Should fajita veggies be soft?
I like my veggies to have some texture to them (other than mush). Soft? Sure. Mushy? No thanks. This is an area you have total control over when you cook them at home. Cook them longer for softer veggies, cook them less for firmer veggies.
How do you cut vegetables for fajitas?
When you make fajitas at home, cut them how you like them. There's no hard-and-fast rule here. In restaurants you'll typically see peppers and onions cut into strips.
What are fajita veggies made of?
Fajita veggies usually consist of bell peppers, onions, mushrooms, salt, and pepper BUT you can make them with whatever veggies you prefer! This is the beauty of cooking it yourself and as I've said earlier—if you're going to cook dinner for you and your family, you might as well make it just how YOU like it, with YOUR favorite vegetables.
Related Recipes
More Sheet Pan Meals to Try this Week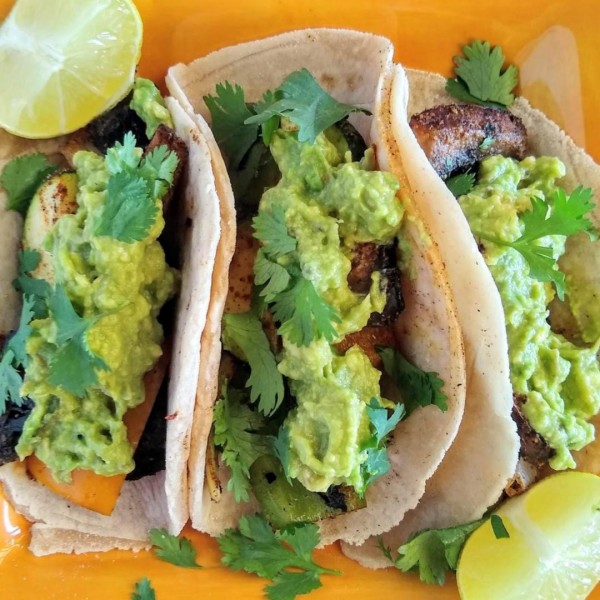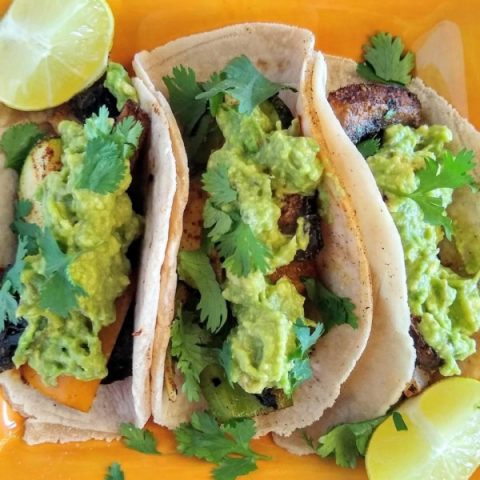 sheet pan oven roasted veggie fajitas
Perfectly seasoned oven roasted veggie fajitas, topped with guacamole and a creamy cilantro lime mayo sauce.
Ingredients
tortillas (here are three tortilla recipes)
guacamole (here's my favorite guacamole recipe)
2 portabello mushrooms
2 bell peppers (any color)
1 medium onion
1 medium zucchini
2 Tbsp oil (I like olive oil or avocado oil)
extra limes, for serving (optional, but recommended)
Seasoning Mix
1 tsp garlic powder
2 tsp cumin
4 tsp chili powder
Cilantro Lime Mayo
½ cup mayonnaise- here's my homemade mayo recipe)
1 handful cilantro, chopped finely
½ lime, juiced
salt, to taste
cayenne pepper (optional)
Instructions
Preheat the oven to 375 (F)
Chop your mushrooms into 1 ½ " pieces
Chop your bell peppers into ½" - 1" pieces
Dice your onion into about 1" pieces (or less if you like your onion softer when cooked)
Chop your zucchini into ¼" discs, then chop the discs in half.
Combine all your veggies into a bowl and toss with the oil and seasoning mix.
Dump onto two sheet pans in a single layer.
Sprinkle salt over the top of the veggies
Bake in your 375 (F) oven for 15-20 minutes, or until everything is cooked. Add more salt if needed.
Serve with tortillas, guacamole, cilantro lime mayo, and lime wedges.
Notes
No meat is included in the recipe, but can easily be added.
Nutrition Information:
Yield:

4
Serving Size:

1
Amount Per Serving:
Calories:

419
Total Fat:

36g
Saturated Fat:

5g
Trans Fat:

0g
Unsaturated Fat:

30g
Cholesterol:

14mg
Sodium:

643mg
Carbohydrates:

23g
Fiber:

6g
Sugar:

5g
Protein:

5g