Some of the links on this site may be affiliate links. This means, at no additional cost to you, I may be paid a small commission if you follow the links and make a purchase. Learn more here.
Make this salt free taco seasoning recipe at home using only three ingredients that you likely already have in your cupboard! You can use this healthy taco seasoning without salt in all your favorite taco dishes instead of getting overloaded with processed salt in the store bought spice packages.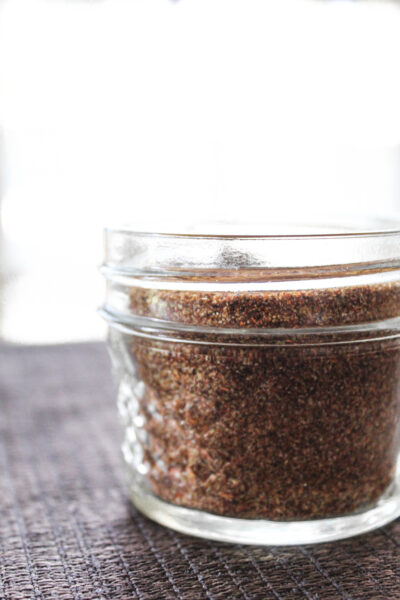 Up until recently, every time I made a Mexican dish like tacos, enchiladas, or chili, I would get out the same three spices and try to make it taste "right". I'd add spices, then taste, add more spices, then taste, and on and on (and on). Now I have a simple formula to make this delicious salt free taco seasoning perfect every time. And I'm here to share it with you!
Tools Needed to Make your Homemade Taco Seasoning Recipe
Ingredients to Make This Salt Free Taco Seasoning Recipe
How to Make This Salt Free Taco Seasoning Recipe
This homemade taco seasoning recipe is completely customizable, of course. I like using recipes as a guide and I'm terrible at following them exactly. So why would I expect you to do the same?
Side note: I encourage you to alter any of my recipes to make them fit your taste buds the best. Do you like things extra spicy? Add a bit of cayenne to the mix.
Put everything into a jar and give it a good shake.
1 part garlic powder
2 parts cumin
4 parts chili powder
Store at room temperature in a container that won't let air in and make sure to label the seasoning before storing.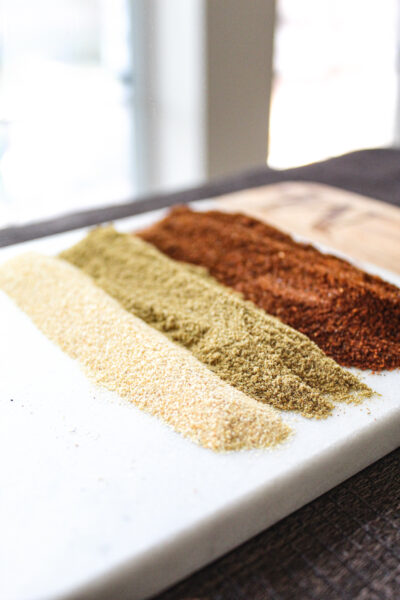 Use this formula and scale it based on how much you want to make. The recipe below will make just under ½ cup of taco seasoning mix.
FAQ & Recipe tips
What is a good substitute for taco seasoning?
Instead of buying the store bought taco seasoning packages, make this simple Paleo and keto taco seasoning today. It only has three ingredients instead of the long list on many of the other recipes.
Does taco seasoning have a lot of sodium?
The average amount of sodium in a regular pack of taco seasoning is between 350 mg and 575 mg. The good thing about this recipe is that it doesn't call for any salt - just three spices - cumin, chili powder and garlic powder. Couldn't be simpler, really.
Does McCormick taco seasoning have salt?
Yes, the ingredient list of the McCormick taco seasoning includes spices (including chili pepper, paprika, oregano), corn starch, salt, onion, and garlic.
What is taco seasoning made of?
Most taco seasonings you buy at the store have salt and preservatives in addition to a long list of spices like onion powder, garlic powder, and warming spices like paprika, oregano, and chili. The thing I love most about this recipe is that it's only 3 ingredients and it doesn't have any salt.
This simple paleo and keto taco seasoning recipe will become a staple in your kitchen, for sure.
How to store your salt free taco seasoning?
Use an airtight container to keep your homemade taco spice mix safe. It should last for around six months at its optimum freshness. We love mason jars in our home.
More homemade spice mixes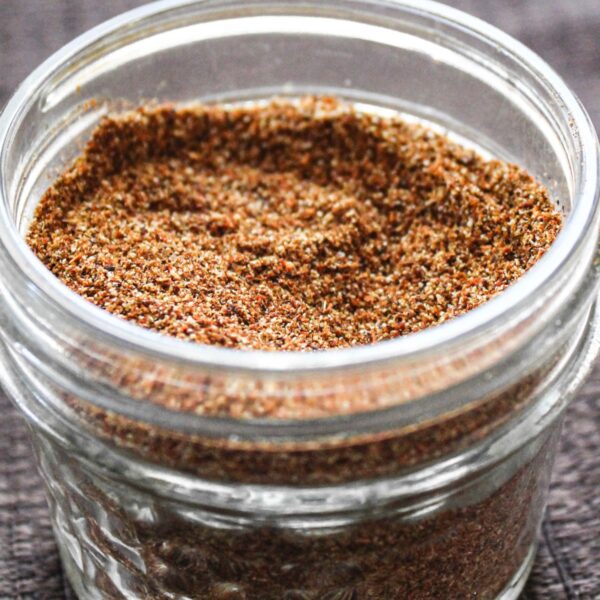 Taco Seasoning - No Salt
You can make this simple taco seasoning with only three ingredients and no salt. Put it on your taco meat for a ton of flavor - no packets required.
Ingredients
1 tablespoon garlic powder
2 tablespoon cumin
4 tablespoon chili powder
Instructions
Mix all ingredients in a bowl
Store in airtight container until you're ready to use
Save this for later on Pinterest