Some of the links on this site may be affiliate links. This means, at no additional cost to you, I may be paid a small commission if you follow the links and make a purchase. Learn more here.
It's soup season, friends! And what better way to celebrate than with this delicious (and easy) crock pot chicken tortilla soup recipe!
Bust out your dutch ovens, crock pots, and instant pots because here on Scratch to Basics we're about to get soupy. Last year, I spent a month or two developing a bunch of crockpot recipes that you can make ahead and freeze as a freezer meal, or make it the day you want it. And this chicken tortilla soup was a crowd favorite, for sure.
This crock pot chicken tortilla soup is super tasty as-is, or with the extra toppings. For specific diet modifications, see the notes in the recipe card at the bottom.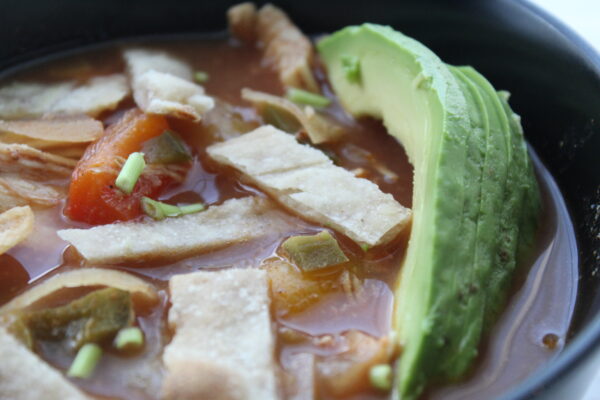 Tools Needed to Make Crock Pot Chicken Tortilla soup
Ingredients needed for this Easy tortilla soup
Chicken breast - You could use chicken thighs if you'd prefer.
Veggies - Onion, jalapeno, bell peppers.
Flavors -

tomato paste, chicken broth, garlic powder, chili powder, cumin, salt

Optional Toppings - Lime wedge, diced avocado, shredded cheese
Tortilla chips (optional)
How to Make Crock Pot Chicken Tortilla Soup
Crock pot chicken tortilla soup - as a crockpot meal tonight
To make this recipe in your crockpot, you'll put all the ingredients into the bowl of your slow cooker and cook it for 5-6 hours.
Then, when the chicken is cooked through, serve it in a bowl with your toppings (optional - but recommended).
Crock Pot Chicken Tortilla Soup - freezer meal for another day
To make this recipe ahead of time, you'll just need a few freezer meal tools. The main thing you're going to need to make this ahead of time is something to store your uncooked meal in. I use these compostable freezer bags because I don't love the idea of using plastic near my food.
Here's the general idea for the freezer meal:
Prep your ingredients
Put them in your (labeled) freezer bag
Freeze for later
To cook the crock pot chicken tortilla soup meal, just set the bag in the fridge the night before you're ready for it.
Once you're ready to cook your crock pot chicken tortilla soup, you just need your crockpot (or instant pot with slow-cook setting). Dump all the thawed ingredients inside and cook!
Ingredient Substitutions and Diet modifications
There are simple swaps to make this tortilla soup gluten free, dairy free, Paleo, or even vegan.
For gluten free - Use gluten free tortilla chips, and a gluten free thickener (if you choose to thicken your soup)
For dairy free - Omit the shredded cheese topping (or use a dairy-free cheese option).
For Paleo - Use Paleo tortilla chips (like Siete brand) for the topping.
For vegan - Use tofu instead of chicken, or beans and no cheese.
FAQ & Recipe Tips
Can you put raw chicken in slow cooker?
You sure can. I probably wouldn't put frozen raw chicken directly into a slow cooker on low, because that can lead to bacteria growth. That's why when I do the freezer-meal method, I make sure the chicken has been thawed (at least MOSTLY thawed) before I cook it in the crock pot. You can use a digital thermometer to check the doneness of the meat to test if it's done.
How do you thicken up crock pot chicken tortilla soup
You can thicken the soup by adding a thickener. For gluten free soup, you can use a starch like arrowroot or tapioca. I recommend taking some of the liquid from the soup, adding the thickener to combine it into a thick sauce, then stirring it back into the soup. This will help reduce clumping.
What is the difference between enchilada soup and tortilla soup?
Enchilada soup usually has sour cream and/or heavy cream in the soup. This tortilla soup does not have those ingredients in it, however you could easily add a dollop of sour cream to the top and eat it.
Is taco and tortilla soup the same thing?
Taco soup can be made with either ground beef or chicken. It's thicker than this soup (more like chili consistency).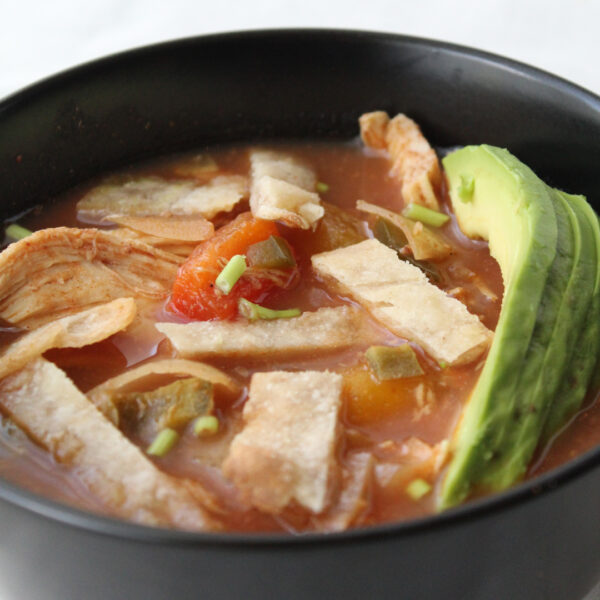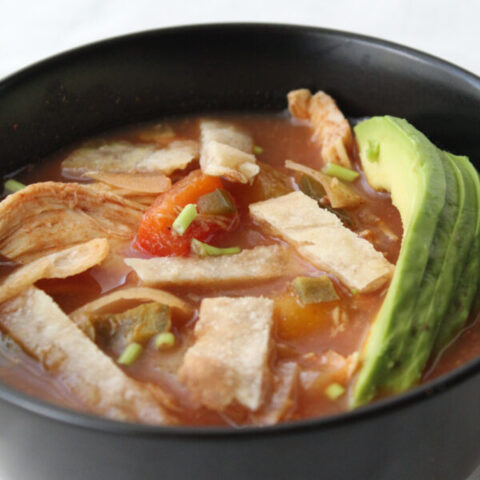 Crockpot Chicken Tortilla Soup
Total Time:
6 hours
5 minutes
Make this chicken tortilla soup easily in your crockpot today. Made with simple ingredients and packed with flavor, your whole family will love it!
Ingredients
Soup Ingredients
1.5lb chicken breast
½ large yellow onion - ½" dice
1 jalapeno (finely diced)
2 bell peppers - 1" dice
½ 6oz can tomato paste
2 cups chicken broth
1 teaspoon garlic powder
4 teaspoon chili powder
2 teaspoon cumin
½ teaspoon salt
Optional Toppings
Lime wedges
Diced avocado
Shredded cheese
Tortilla chips
Instructions
Prep Instructions (for freezer meal)
Add chicken breast (whole) to freezer bag.
Dice onion, jalapeno, and bell peppers, and add it to freezer bag.
Combine the broth, tomato paste and spices in a bowl, then dump into the freezer bag.
Squeeze the air out, seal the bag, lay flat in the freezer until frozen.
Cook Instructions
Thaw in the fridge overnight, or soak in cold water the morning you're ready to cook it (if you previously froze the ingredients).
Cook the soup ingredients in the crockpot on low for 5-6 hours.
When the chicken is cooked through, shred the chicken with two forks and serve with optional toppings



Notes
Diet Modifications
For gluten free, use gluten free tortilla chips
For dairy free, omit the shredded cheese topping
For Paleo, use Paleo tortilla chips (like Siete brand)
For vegan, use tofu instead of chicken, and no cheese

Save This For Later on Pinterest