Some of the links on this site may be affiliate links. This means, at no additional cost to you, I may be paid a small commission if you follow the links and make a purchase. Learn more here.
At the time I'm writing this...we've been using Imperfect Foods (formerly Imperfect Produce) off and on for several years now (with well over twenty five deliveries over that time). So here's my Imperfect Foods review to help you determine if it's a good deal for you.
Ready to try Imperfect Foods? Use this link for and get $20 off your first box!
Imperfect Foods Review 2021
In this post I'll go through the positives and negatives about my experience using Imperfect Foods over the last few years, as well as what makes Imperfect Foods stand out from the rest of the produce boxes out there.
To see what we got in a recent box, watch this video on YouTube: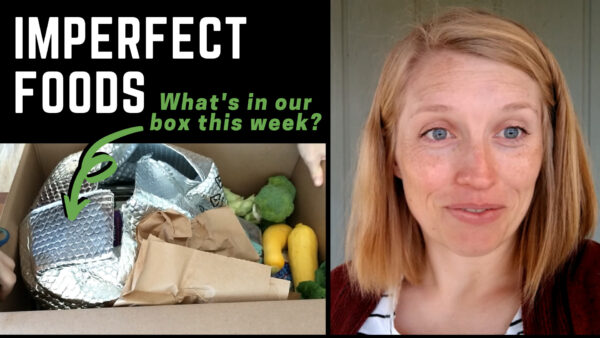 Things I love about Imperfect Foods
We're saving money on healthy food
No more last minute grocery store runs
We get to customize our box
They bring it to my door
We're reducing food waste
Reduced plastic bags at home
Related: Three Online Grocery Stores To Find Real, Healthy Food From the Comfort of Your Home
We save money with Imperfect Foods
You might be wondering if Imperfect Foods is a good deal, and if it's really cheaper your local grocery store. So I made a video of our most recent box, and have included the prices for every item we got below:
Organic Cauliflower - $3.99/head - ours was 1lb 14oz
Coleman Natural Foods Applewood Smoked Bacon (No Sugar Added) - $5.99 - 12oz
Organic Spring Mix - $3.79 - 5oz
Imperfect Foods Medjool Dates - $5.99 - 14oz
Conventional Lemons (2) - $.89 - about 7oz for both
Vital Farms Pasture Raised Eggs - $3.99/dozen
La Quercia Sliced Prosciutto - $4.99 - 2oz
Conventional Summer Squash (2) - $.89 - 1lb 3oz for both
Avocados (Small) - $.80 each
Conventional Pears - (2) - $1.49 - 13oz for both
Niman Ranch Uncured Pork Andouille Sausage - $6.99 - 12oz
Imperfect Foods Grass-Fed 85% Lean Ground Beef - $6.49/lb - 1lb
Organic Broccoli - $3.09 - 1lb 9oz
Organic Gold Beet Bunch - $2.79 - about 1lb 13oz for the bunch
I can't guarantee these prices will be the same prices you get when you order from Imperfect Foods, but it'll give you some numbers to compare against your local grocery stores to see if it makes sense financially for your family.
Also, wanted to mention this here - if you're looking to get your spending under control - grocery & food spending as well as other areas, I want to invite you to watch this FREE budgeting masterclass to help you get your finances under control.
Imperfect Foods saves us time
When we use Imperfect Foods, I don't have to stress about making it to the grocery store with my kiddos. We still go to the store for some of the non-produce items, but by using Imperfect Foods, we don't ever reach the point where the fridge is empty and everyone's hungry.
That's not a good situation to be in...trust me on this one.
With Imperfect Foods I know the box will come on Tuesday afternoon and it'll provide apples, oranges, vegetables, and sometimes a non-produce item that I want to try out. They've recently added a bunch of discounted pantry staples like oils, vinegar, snacks, pasta, and more.
We even got some meat & eggs in our last box. They've really expanded their selection recently to make it more of a one-stop-shop grocery experience.
Customize Your Box
We've used other produce delivery services before, and the one thing that we didn't like was the big element of surprise. It made it hard to meal plan when we didn't know what produce we would be getting.
With Imperfect Foods, I get a message to customize my box on Thursdays. Then I can log in and add/remove/adjust the default items they put in the box until Sunday afternoon.
And, if we have a week where we still have produce leftover (or our garden is in full swing), I can skip the box all-together, or only get a couple items that I need. You only pay for what's in your box.
When you go to sign up, you get to choose whether you want the Organic box or the Regular box, and what size works for you. At this moment, there is small, medium, large, extra large, and organic, fruit only, vegetable only, and a mixed fruit/veg. We signed up for the Large - Organic mixed fruit & vegetable box.
They've recently added even more options (other than just produce). Now, when you sign up for a box you'll get the option to add on other non-produce grocery items.
This is what you'll see: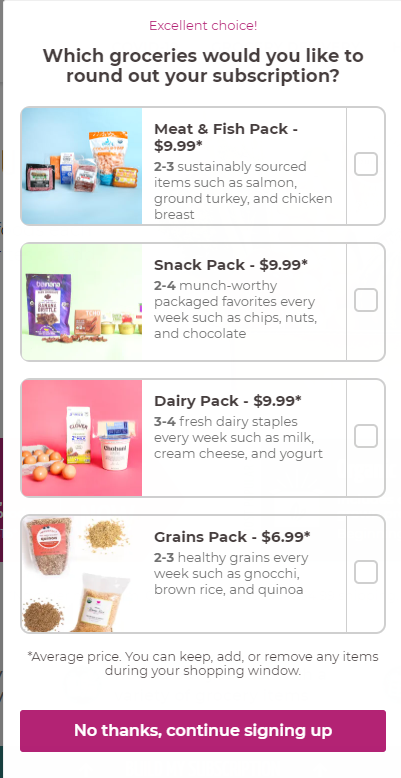 Imperfect Foods Delivers to My Door
I still remember the day our first box arrived. It was a Tuesday afternoon and a white van labeled "Imperfect Produce" found our house (which is a feat in and of itself). We have a really long driveway and we're kind of out in the country.
I felt bad about making the driver come all the way out to us, but when I mentioned it, she was all smiles and was super friendly. She told me we're not even the farthest ones out, so that made me feel a little better.
Try Imperfect Foods TODAY! Use this link for $20 off your first box.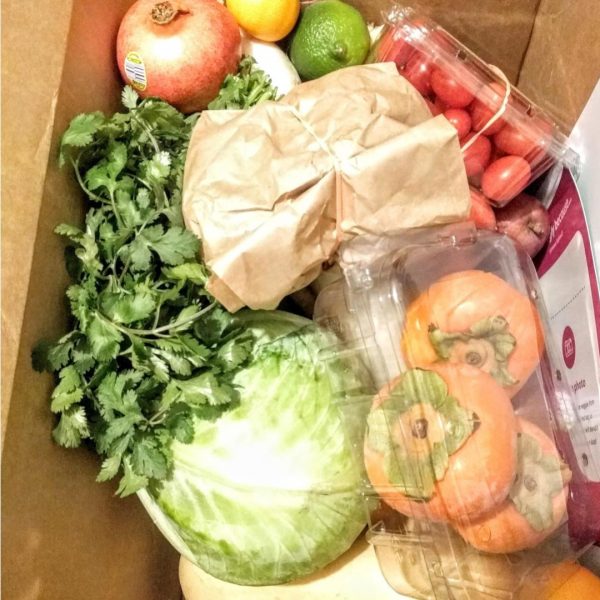 We're reducing food waste
I was initially interested in Imperfect Foods because of their mission to reduce food waste and sell the less-than-perfect-looking produce that would otherwise be wasted. I've been learning about how much food is currently being wasted just because it doesn't look good enough to make it to the supermarket shelves.
When I look closely at the apples from our apple trees and compare them with apples from the store, I saw that the home-grown apples often have little marks on them. It doesn't mean they are any less delicious or that anything is wrong with them. It just means they were grown on our giant old apple trees in our yard.
Imperfect Foods sources food that would otherwise be wasted and sells it at a discount. We get the organic box and it does save us money. Not only does it save us money on the price of the produce, but also because I have fewer trips to the store. Fewer trips to the store = fewer spontaneous purchases = good news for the budget.
Looking to overhaul your budget and start saving more money? Watch my free masterclass here!
No more plastic bags
We try to use re-usable produce bags when we go to the store, but inevitably there's a few times where I don't bring enough, or I just forget the bags all together. Imperfect Foods boxes up the fruit and vegetables without the need for any plastic bags. The items that could get bruised easily are usually put in a plastic container within the box.
If you're working to eliminate plastic from your life, Imperfect Foods can help with that.
Try Imperfect Foods TODAY! Use this link for $20 off your first box.
Things I don't like about Imperfect Foods
It's not a one-stop-shop for all your grocery needs (although they're getting there with recent changes). There are still things I need to occasionally get at the grocery store. The difference is that I'm never desperate for produce, which is a big deal to me. Because we eat a lot of veggies. With their recent changes you can add on dairy, snacks, meat/fish, and grains to your box each week if you'd like.
Their selection changes weekly, so if you like eating the same meal over and over, you'll need to still go to the grocery store on the weeks they don't carry an item.
Delivery fee. This isn't really something I don't like about them, because like I said, they come ALL THE WAY out to our house and it's totally worth the convenience to me. But I wanted to mention it, because it might not be worth it to you. There's a $4.99 delivery fee for each box you have delivered. They've recently added the option to get this delivery fee waived if your order is over a certain amount.
It's not available everywhere. They're growing quickly, but they still aren't available in every city. Check their website here to see if they deliver to your area. If they're not, it's very possible they'll be there soon.
What do you think? Do the pros outweigh the cons? Is it something you might be interested in trying out? If so, click here to get $20 off your first box today!
What's Different About Imperfect Foods than other produce delivery boxes?
We've tried a bunch of other produce delivery services in the last few years. Here's what makes Imperfect Foods stand out above the rest.
Related: 8 Produce Delivery Boxes To Try This Month
More control
You get to choose what goes in and what stays out of your box every single week. You also get to log in a few days before your delivery and see ALL the options. So instead of letting someone else decide what you get, YOU pick (and you get to see the prices when you make your selection).
This makes it easier to think through my weekly meal plan and make sure I'm getting food I'll actually eat.
Sense of Humor
This may seem like a minor thing, but I appreciate when companies have a good sense of humor. I laugh out loud sometimes at their weekly newsletters and their blog. Here's an example on their error page.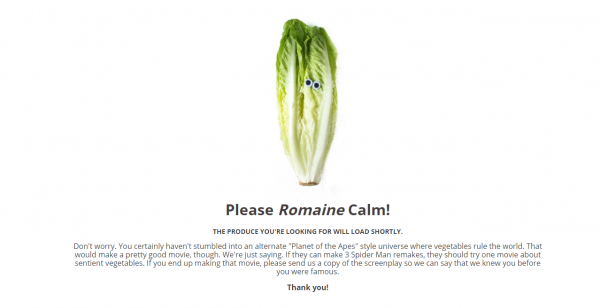 I think we could all use a little more laughter in our lives...don't you?
Hand Delivered
The produce box is hand delivered by somebody in the company. It's not shipped via UPS, it's hand delivered to your door by somebody in an Imperfect Foods van. And the drivers always seem really happy to be there.
Environmental Focus
Food waste is a really big problem, and I appreciate that Imperfect Foods is trying to help address the problem. Grocery stores want the food to look "perfect" and won't even accept the imperfect shaped or colored produce. But that's exactly what Imperfect Produce does.
Ready to try Imperfect Foods? Start here and get $20 off.
Questions you might have
Is there a delivery fee for Imperfect Foods?
Yes. There is a $4.99 delivery fee for each delivery, unless you order over a certain amount.
Do I have to be home to get the delivery?
Usually no. As long as it's clear to the driver where to leave the box. There's a place for "Driver Instructions" in the sign-up process. This is where I explain that we have an extremely long driveway and ask them to put the box on our porch.
What farms does Imperfect Foods source their food from?
I emailed them to ask this question and they said the farms they're sourcing their food from differ each week, depending on where there's excess produce they can use. But they mostly source food from medium to large farms. Their business model was designed this way (which makes sense to me...bigger farms, more surplus/imperfect produce to provide). Their website says they source 78% of their produce from family farms or cooperatives, 13% is wholesale, 6% comes from grower representatives, and 3% comes from corporate farmers. If you want more transparency in where your meat is coming from, look into something like Crowd Cow.
When do they deliver?
They deliver Monday through Friday from 12pm to 8pm. Which day they deliver to you depends on your zip code. To find out when they would deliver to you, enter your zip code on the sign up page. It says on their FAQ page that they can provide a shorter window if it's more convenient for you, but you can't change the day.
How do I know when my box will be delivered?
There is an automated text message when your box is getting close (under 10 minutes). And another text when the box has been delivered.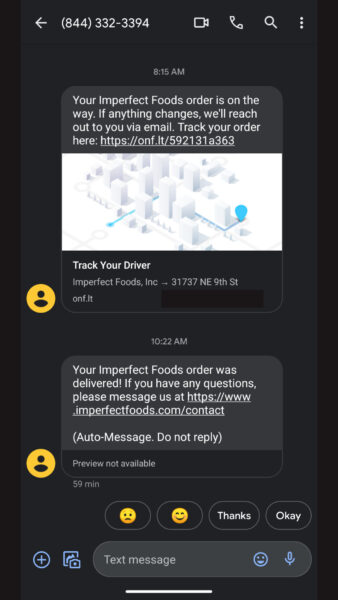 What about leaving the produce in the heat?
When you specify where you want them to drop the box, you can specify "in the shade" (assuming there is some). Or you can put a cooler on your porch and ask them to put the box in the cooler and close the lid. The drivers won't deliver to a garage or inside your house.
Does Imperfect Foods accept SNAP benefits?
According to their website, online grocery stores aren't allowed to accept SNAP and other benefits. However, they have a reduced-cost box for anyone who meets the requirement for CalFresh/SNAP/EBT benefits. When you sign up, click the box to apply for a reduced cost box and you'll get a 33% discount if approved.
Conclusion
Give Imperfect Foods a try. It makes shopping less stressful, delivers produce to your door, and it'll feel like you're doing your part to help reduce food waste (and cut back on plastic produce bags).
Ready to try Imperfect Foods? Use this link and Get $20 off your first box today!
Click here if you'd like to learn about other 8 other produce box delivery services.