Some of the links on this site may be affiliate links. This means, at no additional cost to you, I may be paid a small commission if you follow the links and make a purchase. Learn more here.
When you're looking for a meat meat box delivery service, and would love to get grass fed beef delivered straight to your doorstep, you might be surprised to learn you've actually got quite a few choices to order grass fed beef online.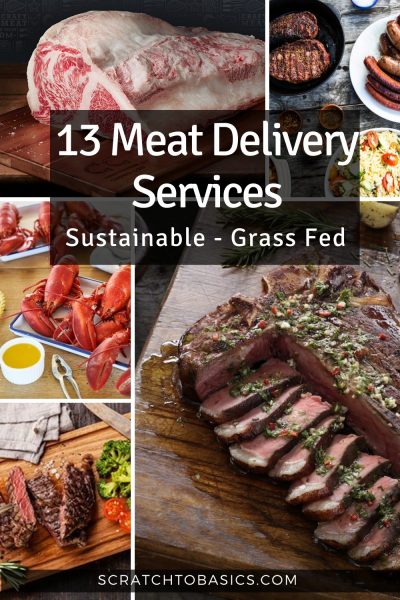 In this post I provide thirteen companies that I recommend for online meat box delivery (seafood, too), as well as exclusive discount codes to get the best deals on grass fed beef online, as well as sustainable seafood online.
Here's a list of the meat box delivery companies covered in this post:
Grass Fed Beef Online - Meat box delivery: Crowd Cow
Subscription Option? Yes! They currently have a Custom box (you choose the cuts) and five other boxes to choose from (including a steak lovers box and a Japanese Wagyu box).
Products Offered: Wild seafood, pasture raised chicken, grass fed & finished beef, grass fed & grain finished beef, grass fed & finished bison, lamb, turkey
Discount Code: Use STB25 here to get $25 off your first order
Review: Read my honest Crowd Cow Review here.
Crowd Cow is a Seattle based business that partners with ethical farms and ranches in an online meat marketplace. The founders, Ethan and Joe, had an idea to "crowdfund a cow". Instead of needing to buy hundreds of pounds of meat if you want to buy straight from the farm, you could get together 50 different people who all want farm-fresh meat and everyone could buy a tiny amount of the beef.
The farmer still sells the cow in full, but you aren't placed with the burden of needing to store hundreds of pounds of meat in your freezer.
My favorite part of Crowd Cow is how they have so much transparency when it comes to where the meat came from. Every time you look at a product on their website, it tells you a little bit of information about the farm where the animal was raised (and offers a link to learn even more about the farm). You can learn where the farm is, how the animals are raised, what they are fed, and more.
Grass Fed Beef Online - Meat Box Delivery Subscription: Butcher Box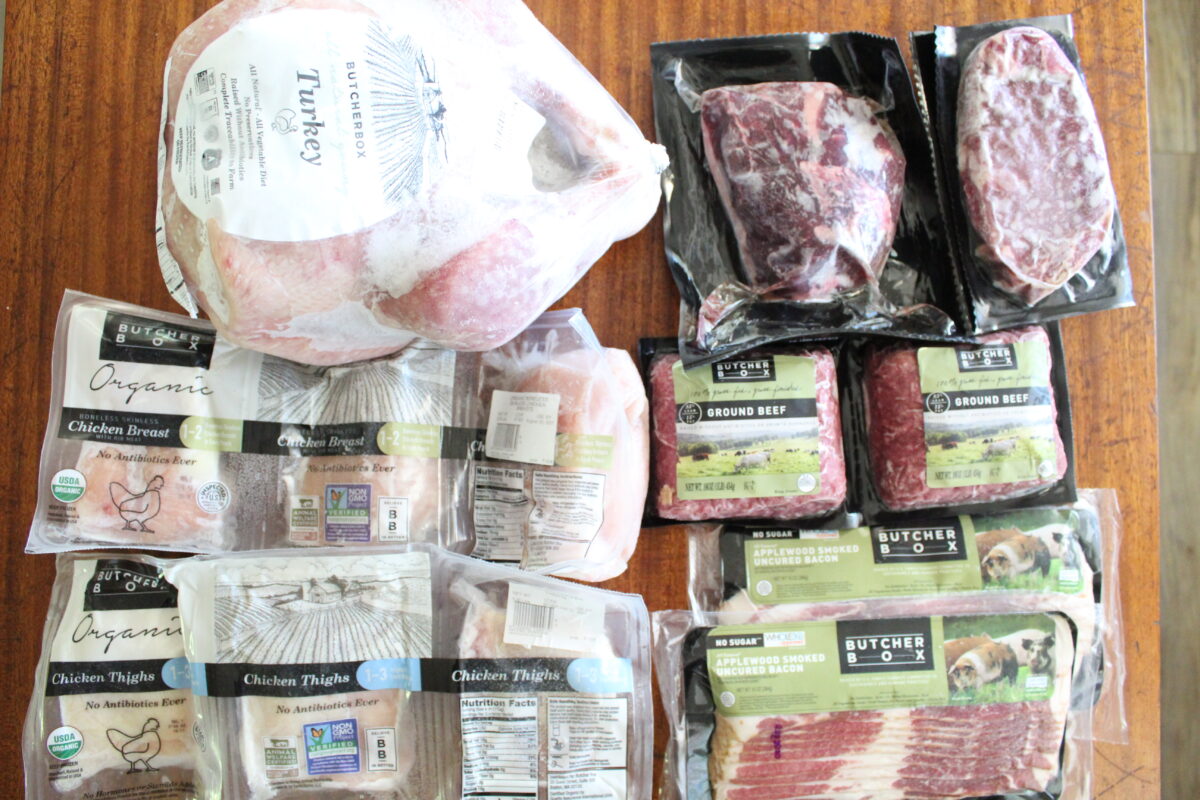 Subscription Option?: Yes, Butcher Box exclusively works through a subscription, however you can cancel at any time. Boxes start at $146.
Products Offered: Grass fed & grass finished beef, Organic & free-range chicken, Heritage breed pork & sustainable, wild-caught seafood.
Discount Code: Use this link to see their current promo.
Butcher Box is a great option for anyone looking to start eating more sustainable and farm-fresh meat. It provides a better quality of meat than many supermarkets offer. Read my full Butcher Box review to learn more about how it works.
Their sign-up bonuses, free delivery, and easy-to-use website make them a great option for someone who has decided to eat a higher quality of meat, and is willing to pay a little extra for the convenience. Here's a side-by-side comparison of Crowd Cow vs Butcher Box.
Grass Fed Meat Online, Organic Chicken & Pasture Raised Pork: Thrive Market
Subscription Option? No
Products Offered: They have 100% grass-fed beef, Wagyu beef, Organic chicken, pasture-raised chicken, pasture-raised pork, wild caught seafood, and sustainable seafood. Build your own box or choose one of the pre-made boxes.
Discount Code: Use this link & get a free gift (up to $24 value)
Thrive Market is an online grocery store that provides health food at a discounted rate from the typical health store. They have an easy-to-search website, where you can search by many special diets (Paleo, keto, Whole 30, etc.).
They have several meat and seafood boxes to choose from, available for order as needed (not an automatic subscription). You can even build your own box with any combination of the meat & seafood they offer.
Grass Fed Meat, Heritage Pork & Pastured Chicken: Farm Foods
Farm Foods Market provides 100% grass fed beef (no antibiotics or hormones) that comes directly from family farms. They offer pastured chicken (which I've found very hard to find in a typical grocery store).
Grass Fed & Pastured Meat: Porter Road
Subscription Option? Yes! They currently have five boxes to choose from, starting at $70
Products Offered: grass fed & finished beef, pastured chicken, pastured pork, and pastured lamb
Discount Code: Use this link for FREE shipping on orders over $100
The home page of the Porter Road website says it all: "If it's not raised right it can't be delicious". Porter Road focuses on selling meat raised better, that tastes better. Their meat is pasture raised, and judging from the reviews, you can taste the difference.
Their animals are fed non-gmo feed, and their meat is hand cut in their own facility.
Subscription Option? No
Products Offered: 100% grass fed & grass finished beef, wild caught seafood, pastured poultry fed non-GMO grains, heritage pork raised on pastures, and more.
US Wellness Meats provides only 100% grass fed and grass finished beef, pastured poultry (including some soy-free options), and more. Their seafood is sourced from Vital Choice (see below), and they also carry grass fed & finished bison and lamb.
They often have sale items for you to get a great deal on your favorite cuts, or try something new at a discount.
One of my favorite things to see a company offer is sugar free meats - sugar free bacon, sugar free liverwurst, and sugar free sausage. Because, you know...meat doesn't really need sugar to taste good!
You can find over 300 delicious items (including Paleo approved & Whole 30 approved) delivered right to your door at US Wellness Meats.
Wild & Sustainable Seafood: Vital Choice
Subscription Option? Yes! Get one of their three Vital Boxes - wild salmon, wild fish, or wild seafood. Their boxes start at $129
Products Offered: They've got a huge variety - wild fish like salmon, halibut, tuna, and more, shellfish like scallops, clams, shrimp, crab, and more, even canned and pouched fish & seafood.
Discount Code: Save 5% Off The Vital Choice Vital Box + Free Shipping On Orders $99+ Using Code: VCAFINT5 at this link.
VItal Choice is committed to providing natural, sustainably harvested seafood products of superior quality at a fair price to promote their customers' health and wellbeing.
They limit their offerings to fish and shellfish from fisheries that are either certified sustainable, or considered sustainable by experts. They are deeply committed to the health of their customers, as well as the health of coastal fishing communities and the environment.
Wild & Sustainable Seafood: Sizzle Fish
Subscription Option? Yes! Three subscription options. Their boxes start at $109.95
Products Offered: Lobster, Crab Cakes, Crab, Calamari, Scallops, Mussels, Shrimp, Clams, Salmon, Smoked Fish, Smoked Mackerel, Sablefish, Tuna, Haddock, Sea Bass.
Discount Code: Use SCRATCH at checkout on their website for 10% off OR 15% off your first subscription box.
Sizzlefish delivers super-premium-quality, all-natural fish and seafood directly to your door. Their seafood is pre-portioned, frozen and vacuum-packed for quick & easy meals.
While they do have some farmed fish on their website, anything labeled "wild" will be wild-caught fish. Not only do they provide fish delivered to your door, but their website has a ton of recipes for ways to use the fish - definitely worth trying.
Subscription Option? No
Products Offered: Luke's Lobster offers lobster, crab, tuna & seasoning for their products.
Luke's Lobster is a sustainable seafood company in Maine. Founded by a 3rd-generation Maine lobsterman Luke Holden. Luke's brings the world's best sustainable seafood directly from fishermen at the docks to doorsteps nationwide.
In 2012 Luke's opened its own seafood production business in Maine, which allows it to buy directly from fishermen they know and trust, prepare the seafood perfectly, and get it to guests and home cooks in perfect condition. Luke's product line includes not just its famous lobster roll kits, but fresh seasonal seafood like dayboat scallops, line-caught bluefin tuna, halibut, and sustainably farmed oysters.
Luke's is a Certified B Corp, committed to taste, transparency, and purpose. They only source sustainably fished and farmed seafood, and I'm so excited to share them with you.
Wagyu Beef & Kurobuta Pork Online: Snake River Farms
Subscription Option? Yes, there are three subscription options to choose from Snake River Farms curated meats (Beef, Beef & Pork, Dry-Aged), starting at $225
Products Offered: They offer a variety of different cuts of Wagyu beef and Kurobuta pork.
Snake River Farms is based in Idaho and specializes in Wagyu beef and Kurobuta pork. While the meat is not exclusively grass fed, the animals are raised on a ranch and fed a grass-fed diet for the first year of their life. After that, they're fed a mixed diet of hay, forages, grains, potatoes, vitamins, and minerals.
Organic Meat & Online Grocery Delivery: Azure Standard

Subscription Option? No
Products Offered: Most meat products
Azure Standard is an online grocery store that delivers groceries (including meat) to your door or to a local drop spot where you pick up your groceries with your neighbors.
There's quite a variety of meat products on their website (as well as plenty of other grocery items). You can take a look at their website and see what interests you most.
Subscription Option? No
Products Offered: The real draw to Fossil Farms is their exotic meats that are hard to find anywhere else.
Fossil Farms specializes in exotic, all natural meats like alligator, elk, emu, antelope, and more. If you'd like more variety than the typical grocery store offers, I suggest you give Fossil Farms a try.
Primal Pastures - Ultra-Quality, High Animal Welfare
Subscription Option? No
Products Offered: Beef, halibut, truly pasture raised chicken, pork, cod
Primal Pastures is a new farm-to-doorstep option that I recently found. They offer truly pasture raised, beyond organic, soy free meats - brining regenerative agriculture to your kitchen. If you're in Southern California, I highly recommend going out for one of their Farm Fridays and supporting this local (to you) farm.
Conclusion
Now that we've gotten through the list, I hope you see that there are a LOT of options when it comes to meat box delivery services. The next time you find yourself discouraged while staring at the grocery store shelves, wishing there was a better option, remember how many places you can find grass fed beef online (sustainable seafood too).
More of my favorite ways to get food delivered to your door
Save this for later!