Some of the links on this site may be affiliate links. This means, at no additional cost to you, I may be paid a small commission if you follow the links and make a purchase. Learn more here.
If you're looking for Christmas gifts for kids that won't just break and get ruined in the first week of owning them, you've come to the right place. Keep reading for 14 toys that will last a lifetime (maybe more).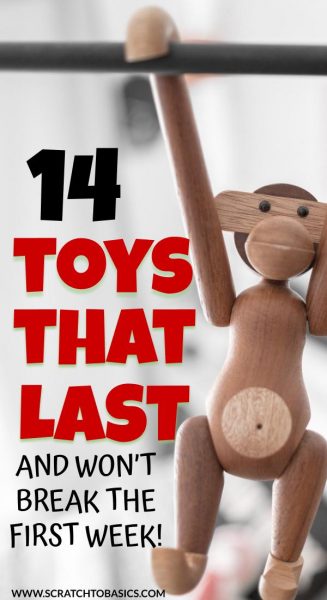 I have a love/hate relationship with gifts for my kids. I love seeing the joy on their faces when they open something new for the first time. The wonder and excitement just beams from their whole body.
That's the "love" part.
The part I'm not so fond of is the excess. The junk. The toys that break after a week and then I'm left trying to figure out if I can fix it somehow, or if I should just throw it away.
Maybe it'll be a toy we just don't play with anymore. Now isn't that exciting, kids? It'll sit on the shelf and we can look at it while I try to think about what in the world I'm going to do with it.
And now after several years of Christmases and birthdays with kids, we have a play room that's bursting at the seams with half-working toys, because they just keep breaking, and I keep thinking I'll fix them.
If only toys were made to last.
When my grandparents were kids, they didn't have this problem. Because they had a few toys that were made to last. They were most likely made of wood, and they weren't given fifteen new toys at Christmas. Maybe they got one.
It was a simpler time.
There's something special about playing with toys like the ones listed here. The kind of toys that require imagination because there are no electronics involved. The kind of toys you can pass down to the next generation, fully intact.
Read through the list and pick out a toy that will last, and be one that's worth giving.
More Christmas gift ideas
14 Christmas Gifts for kids that last a lifetime
1. Radio flyer wagon
Radio Flyer wagons have been around for years. The old ones are still passed down from generation to generation. Nowadays the wagons are made from plastic...which makes them cheaper, yes, and also less awesome.
If you can find one of these metal/wooden wagons, grab it!
SEE IT ON AMAZON HERE
---
2. Baseball mitt
Give the gift that lasts a lifetime. A real leather baseball glove is a gift to give your kids that will definitely last a lifetime.
SEE IT ON AMAZON HERE
---
3. Wooden bead dr. office toys
You've probably seen these toys in daycare classrooms, doctor's offices, and other waiting rooms. And that's because they last. Even with daily use, they hold up well due to being made of wood.
This model is made with a non-toxic finish.
SEE IT ON AMAZON HERE
---
4. Wooden egg shakers
These wooden egg shakers are adorable! We have these shakers and my kids love them. They're made with non-toxic paint and haven't broken in years of use.
The sound they make isn't obnoxious, but sounds great when they shake along to songs.
SEE IT ON AMAZON HERE
---
5. Abacus
Give this classic abacus learning toy made by Melissa & Doug. It's a traditional abacus wooden bead counting frame with 100 brightly colored wooden beads.
A great educational gift for kids ages 3-5 years old.
SEE IT ON AMAZON HERE
---
6. Wooden puzzles
Of course, there are wooden puzzles for the youngest kids (toddlers) that can survive several years of gnawing, biting, and throwing. You know...the ones with animals where you match their shape and take only a few seconds once they've figured it out.
But there's also wooden puzzles like the one shown here that are fun for young kids (and old).
SEE IT ON AMAZON HERE
---
7. Jenga
I've never heard of anyone breaking the game Jenga. There are no significant markings needed to play the game (that could wear off with years of use), and the blocks are made of solid wood. So they certainly won't break from getting dropped or thrown across the room.
Jenga is certainly a game that will last a lifetime.
SEE IT ON AMAZON HERE
---
8. Wooden Train tracks
Our kids have several brands of wooden train sets mixed together from Christmas gifts and hand-me-downs from friends. The beauty of these train sets is that they all fit together, no matter the brand.
And when they're all wood like these, they'll provide fuss-free entertainment for years to come.
SEE THE TRACKS ON AMAZON HERE
---
9. lincoln logs
This master cabin log set includes 400 pieces of interlocking wood logs.
Give the gift of actual wooden "Lincoln Log" style toys. These are made from real wood, stained with non-toxic water based paint and are made to last.
SEE IT ON AMAZON HERE
---
10. Legos
There are two exceptions to the "plastic toys break all the time" rule. One is Legos.
Although, it might feel like you're breaking your foot when you step on a lego without any shoes on! Ouch!
Legos give kids the opportunity to build, invent, and explore their imagination.
SEE IT ON AMAZON HERE
---
11. Playmobil
The other exception to the "plastic toys break all the time" rule is Playmobil.
No joke, my kids are currently obsessed with Playmobil. Do you know where they got them? From my mother-in-law...from when her kids were younger. Yep. These Playmobil ACTUALLY have lasted that long.
Playmobil is awesome. It provides an opportunity for my kids' to use their imagination and enter a world they've created.
Currently, the play room floor has been taken over by block "houses" and "cars" and the Playmobil people are living quite the adventurous life, thanks to my kids' vivid imaginations.
I HIGHLY recommend these toys.
SEE THESE ON AMAZON HERE
---
12. Wooden Blocks
This extra large starter set is perfect for beginner builders, and the more advanced. With unique shapes, the possibilities are endless with what your kids will create!
My kids have been building towns, houses, boats, trains, and cars out of these blocks every day for months on end. These blocks, combined with their Playmobil people (see above) are their most favorite activity.
SEE THESE ON AMAZON HERE
---
13. Wooden sled
If you live somewhere with snow in the winter, you've gotta get one of these wooden sleds.
The plastic sleds don't compare.
If you're lucky, maybe your grandparents have gifted you one of these from when they were a kid. Or you've found one at the neighborhood garage sale.
If not, Amazon's got you covered. These classic sleds are small enough for kids to pull up the hill, but large enough for most adults to enjoy the joys of winter sledding.
There's even a baby boggan (second picture) with high railings to keep your baby safe when you pull them behind you on your snowy walk.
SEE THE CLASSIC SLED ON AMAZON
SEE THE BABY BOGGAN ON AMAZON HERE
Wooden toys like this hanging monkey are not only adorable, but they truly will last. This guy is super cute.
Stick him in your kids stocking, or just surprise them by hanging him somewhere and let them find the new member of the family. "He's just hanging around here somewhere..."
SEE THE WOODEN MONKEY ON AMAZON HERE
---
Conclusion
When you go shopping for Christmas gifts for the kids in your life, consider giving a gift that encourages imagination and will last. Pick a gift that they will be able to use for years to come.
Pin this for later