Some of the links on this site may be affiliate links. This means, at no additional cost to you, I may be paid a small commission if you follow the links and make a purchase. Learn more here.
In this Thrive Market review, we'll be covering everything you need to know, including:
What is Thrive Market?
Is Thrive Market worth it?
How does Thrive Market work?
Best Thrive Market products
...and so much more.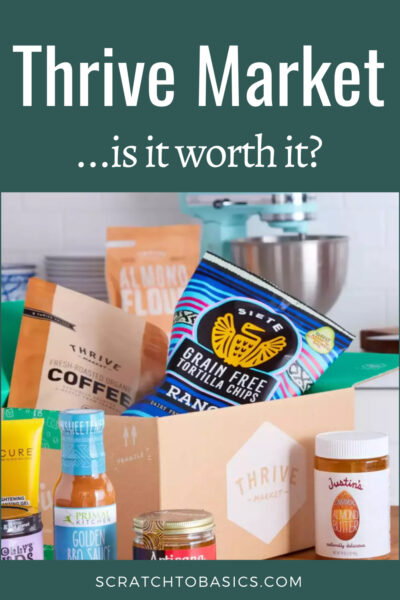 When you're trying to save money on groceries but still buy high-quality, natural, and organic products, it can be rough on your budget. Even worse, it can be hard to find everything you're looking for at just one store, so you'll spend extra time (and gas money) driving around to multiple stores, maybe still not completely satisfied with what you've found.
The good news is that in this modern world, you can do almost all of your grocery shopping online. Just look at these other online grocery options I've been testing and trying for you...
Thrive Market might be the exact solution you're after, to not just help you save money on those favorite organic products, but also save you considerable time shopping. Let's dive into more about this service and help you decide if it's worth signing up for Thrive Market for your family.
Alright, let's dive into this Thrive Market review...
What Is Thrive Market?
Thrive Market is a membership-based online grocery store -- an online "market," if you will -- that promises to save you a decent percentage on your grocery bill by removing some of the steps in the commercial food retailer chains.
Every product they offer is natural, organic, non-GMO, and sustainable, where possible. They definitely deliver on this promise with a large, solid selection of carefully curated brands and products offering just about everything except fresh produce (yes, including meat & seafood).
How Much Is A Thrive Market Membership?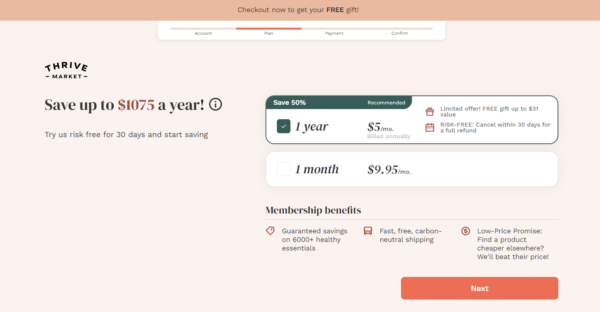 You can start a Thrive Market membership for as low as $5 per month* (for the annual subscription at $59.95 per year).
When you choose the annual option on the sign-up page, you'll automatically get a 30 day risk free period. That means, if you decide at any point in those first 30 days to cancel, you'll be able to do it for a full refund. At this point, the risk free trial is only available for the annual plan. But, really, there's no risk if you can cancel for a full refund.
The membership fee is higher if you pay on a monthly basis (about $9.95 per month*), but for someone on the fence about the service but wants to try for a longer timeframe, this might be worth it for a month or two, to save a little money versus annual if you end up canceling.
*Membership subscription costs as of the time of this writing.
Sign up here & get 25% off your first order PLUS a free gift!
How Does Thrive Market Work?
Thrive Market is, in a nutshell, a sort of online grocery store or online "market." They offer thousands of products in a wide variety of your typical household categories -- from babies to pets to snacks and wine!
It's super simple to shop with them. Once you log into your account (whether it's through the free trial or a paid account), you'll shop the same as you would at any online retailer -- search for the product you want or browse their products by category. Add the products you want to your basket, check out, and eagerly await your delivery!
Another benefit that I love about Thrive Market is that you can search their entire selection by specific diets and values. As they say on their website, you can search by over 70 different diets and values. Talk about customization!
But wait, they've made your grocery shopping efforts one step better. Those same organic, non-GMO, overall incredible products you've switched to buy from Thrive Market and you order month after month? You can even schedule them to Autoship on a regular schedule, making your pantry restocking efforts that much faster and easier!
Here are more specifics about Thrive Market:
How To Sign Up With Thrive Market
Signing up is as easy as a dream. You can click this link to sign up with Thrive Market, complete the sign-up form, and you're in! You can sign up either through a computer or the app for iPhone and Android.
You'll get the usual reminders and notifications near the end of your trial to encourage you to sign up for the paid membership (which, spoiler alert, I encourage!), so once you're in for the trial it's a breeze to continue with your account.
Sign up here & get 25% off your first order PLUS a free gift!
How To Order Items From Thrive Market
This is the part that I love SO much.
Your grocery store may have a "natural" section where you can find all of the gluten-free, keto, paleo, organic, and other natural and specialty products. But they probably don't narrow it down much more strictly than by the purpose (snacks, baking, etc).
With Thrive Market, I love that I can shop by category (baby, household, meat, etc), by diet choices (e.g. paleo, keto, vegan, etc), OR you can even shop by the values that matter to you. That means that with one click, you can shop only organic, or only certified Fair Trade, etc.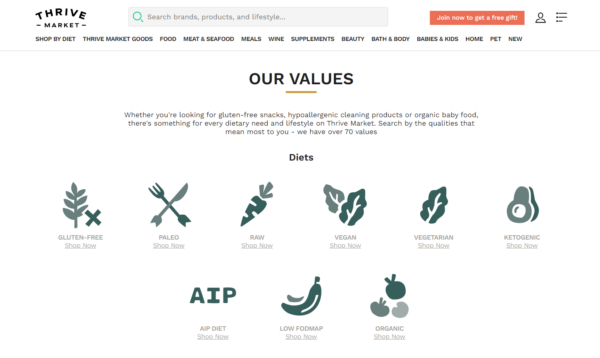 Regardless of how you search, you'll add your desired items to your cart and checkout just as with any online retailer. Make sure to set up Autoship during checkout for those items that you want to arrive regularly!
Thrive Market Coupon
Right now, if you use this link you can get 25% off your first order PLUS a free gift. Their promotions change somewhat frequently, so take advantage of this offer today!
How To Cancel Thrive Market Membership
You can absolutely cancel a Thrive Market membership. All you need to do is contact support via the chat box on the website or send an email to the support email address to request cancellation.
On a paid membership, if you cancel anytime before the first 30 days are up you'll get a full refund.
Once you're past the first 30 days you can still cancel but the refund will not be the same. Your membership privileges will continue until the end of your membership period. If you're on a monthly plan, you'll finish your month and not renew. If you're on the annual plan, you'll stay on the annual plan but it will not renew at the end of your year.
Thrive Market Products
We've used Thrive Market off and on throughout the years...depending on the stores near us, our current availability to go to the grocery store and shop, and our food preferences.
Here are the top Thrive Market Products I highly recommend (based on things my family buys, and cost savings from our regular grocery stores):
Enjoy Life Chocolate Chips (Allergen Free)
Siete Chips
Coconut Milk - Simple (no gums, JUST coconut milk).
Justin's Dark Chocolate Peanut Butter Cups - my weakness
Thrive Market Collagen Peptides
Seventh Generation Toilet Paper
Bone Broth (Kettle & Fire or Thrive Market brand)
Organic applesauce pouches (for kids) + a TON of other flavors of pouches
I also really like just browsing for new foods to try. It's super helpful to shop while seeing reviews and being able to hear how other people like something before trying it. You don't get that in your local grocery store.
Pros & Cons Of Thrive Market
Pros
Depending on your specific product choices, save money over grocery store options for the same product.
Delivered groceries saves considerable time over driving to the store(s).
Super affordable membership cost typically pays for itself with just one order per month.
A great option for those who don't live close to specialty grocery stores or stores with specialty sections/offerings.
A charitable company that gives back to those in need with every membership purchased.
Free delivery on orders $49+ (which is not hard to reach)!
Cons
Won't necessarily have all the brands you're used to, so may take a few test purchases to find what you like.
I wish they also had fresh produce to be a one-stop grocery service!
It has a membership fee. We all love a good freebie, but I suppose they have to make this work to offer these great products somehow.
Sign up for Thrive Market here!
Is Thrive Market Worth It? - FAQ
Is Thrive Market worth the cost?
This will depend on how you shop. If you only make a purchase every few months, you might find that your monthly membership fee is being wasted, paid to the company but with nothing to show for it.
If your family doesn't care to shop organic and you simply want the cheapest items out there, then you won't find the cost worth it.
But if you're serious about making a heavily organic, non-GMO, natural products switch in your pantry, then yes, the cost is worth it - especially at the discounted annual rate. You'll likely recoup that cost in your savings with just one order per month over grocery store pricing, and of course, every order after that is just extra!
The best way to decide for your family is to make a list of the products you'd likely buy, and then jot down the prices from Thrive Market and from the other store(s) where you usually shop. From there you can better figure out your savings based on YOUR unique purchasing habits, instead of ours!
Plus, if you sign up for the annual membership and find that you DON'T save* as much as your membership fee, they'll credit your account the difference in Thrive Cash (like a gift certificate). So, if your membership fee was $60, but you only saved $40 for the year, you'll get $20 in Thrive Cash deposited into your account after you renew. They call it their Savings Guarantee.
*Note that the savings is based on the MSRP listed on their website.
Sign up here & get 25% off your first order PLUS a free gift!
Does Thrive Market offer a free trial?
Absolutely! When you sign up with Thrive Market you get your first 30 days free. You can cancel anytime during that trial, no questions asked.
Is everything at Thrive Market organic?
Not every single product is organic, but everything they offer promises to be the best of the best. They prioritize quality in their products, which means they aim to meet the standards for non-GMO, organic, vegan, Certified Fair Trade, and more.
Here's a look at all the different certifications and values you can search by:
Is Thrive Market good quality?
Absolutely! Just see the answer above for the care they put into their product selection!
Is Thrive Market a better deal than buying at a store?
That's going to depend on what you normally purchase and somewhat on your view of the world. By that, I mean that you'll want to compare the brands and options at Thrive Market against what you normally buy an item for.
But more than that, you'll want to consider how you value your time. The cost of an item may only be $0.05 cheaper, and you wouldn't normally make a drive to a second store to save the few cents, but it might be worth it to add to your order, especially if your order earns free shipping..
The same item may instead be $0.05 more at Thrive Market, versus your store, however. Is it worth it to save the time driving to the store? Will an extra cost at Thrive Market save you much more than that amount in gas money?
Prices may not always be a better deal, but delivered groceries is almost always a better "deal" for the time savings.
How can I save money with Thrive Market?
The best way to save money on groceries with Thrive Market is to:
Only buy the items you NEED and stick to your shopping list (search for products, don't browse).
Only buy the items from them that are cheaper than at your local stores.
Set up Autoships so that you're not buying something too frequently and building up an unnecessary stock of things you don't need or use very often.
If you're looking for more ways to save money & get your spending under control in other areas so that you can afford to invest in high quality food, check out this FREE masterclass and learn how to get control of your money, grow your savings, and finally get ahead financially.
Is Thrive Market good if I'm eating on a certain diet?
Thrive Market is excellent for those eating a special diet. Since you can shop by diet, they've made grocery shopping one step easier!
Is Thrive Market a good fit for me?
If you like shopping for items that are organic, gluten-free, sustainable, fair trade, and just good for the world, then Thrive Market is definitely a great fit for you.
If you're more concerned with the cost of an item, the likelihood of manufacturers' coupons for things, or stuck on certain brands, then Thrive Market may not be the best fit if it deviates too much from what your priority options are.
If you're concerned with the membership fee, you might qualify for a FREE membership. Check their website to learn more about how you can apply for a Thrive Gives account. Something that's just super cool about Thrive Market is that for every paid membership, they give a free membership to a student, teacher, active member of the military, veteran, first responder, or low-income family in need. Learn more on their website here.
Final Thoughts On Thrive Market
Overall, as you can tell, the answer to the question "is Thrive Market worth it?" is very subjective, and very personal.
If you're at all passionate about trying to purchase high-quality, sustainable, and earth-friendly products for your family, then Thrive Market will be a guiding light on that path, making brand research much more simplified as your family makes these changes.
For the quality, very affordable membership cost, and incredible convenience of having products I know I can trust delivered right to my doorstep, well… as a busy mom it's a no-brainer to call this a great shortcut to have in your back pocket.
If you think Thrive Market sounds like something your family would benefit from, you can sign up for Thrive Market here.
Save this for later on Pinterest!