Some of the links on this site may be affiliate links. This means, at no additional cost to you, I may be paid a small commission if you follow the links and make a purchase. Learn more here.
This dairy free and gluten free chocolate paleo cake is rich and full of chocolate flavor. It's Paleo approved, and continually proves to be a HUGE hit every time we make it (which is every single family birthday, friend birthday, and the occasional "just because I want some cake" day).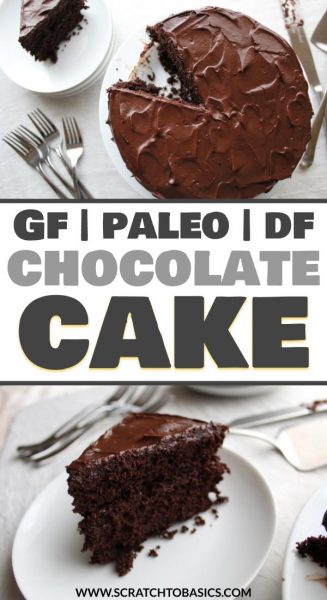 This delicious paleo chocolate cake is a show stopper that tastes amazing and (BONUS) it won't spike your blood sugar like a "normal" cake since the main flour is almond flour.
This recipe was inspired by this cake at Downshiftology. After a few adjustments (adjusting the size and making a few ingredient substitutions), it's just how I like it! And I'm so excited to share it with you!
Tools needed to Make this Paleo Cake Recipe
Bowl & spatula (or stand mixer like this one) - To mix the batter, use what you've got.
Baking pans - This recipe uses 2 8" round cake pans (these are my choice).
Parchment paper - I've used these parchment rounds before and they made it really easy to line the pan. They're a perfect fit!
Ingredients used In this Paleo Chocolate Cake
Flour Blend (Almond flour / Tapioca flour/ Coconut flour) - Gives texture to your cake without gluten.
Coconut sugar - We use coconut sugar instead of refined white sugar for *little* more health benefits when using sugar. You can substitute it with refined sugar or monk fruit sugar.
100% cocoa powder - You need the cocoa for the chocolate cake (obviously).
Eggs - Farm fresh eggs are best.
Coconut milk - Full fat from the can like this kind...only one ingredient is a bonus!) It adds necessary fat to the mixture. Alternatively, you can swap out almond milk if you prefer.
Brewed coffee - Enhances the chocolatey flavor of the chocolate cake. Trust me on this one.
Avocado oil - We like avocado oil for its mild taste without the ick of the refined vegetable oils. A light olive oil would work too.
Vinegar (white vinegar or apple cider vinegar) - It makes the chocolate cake fluffy by reacting with the baking soda.
Baking soda, salt, vanilla - Basic ingredients for the paleo chocolate cake.
How to Make a Delicious Chocolate Paleo Cake
Ready to make the cake?
First, prepare your cake pans by putting parchment down and/or oil to keep the cake from sticking. This recipe will make two 8" round cakes, so get them ready.
Next, mix the ingredients (wet and dry separately) and then combine them.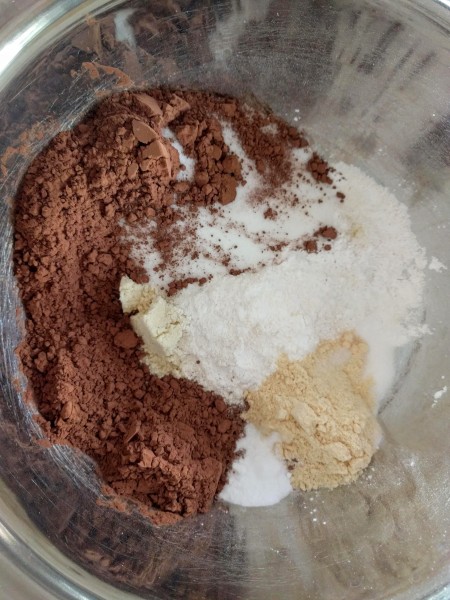 Finally, bake the cakes in a 350 (F) oven for 20-25 minutes, or until the middle springs back a bit when you gently touch it.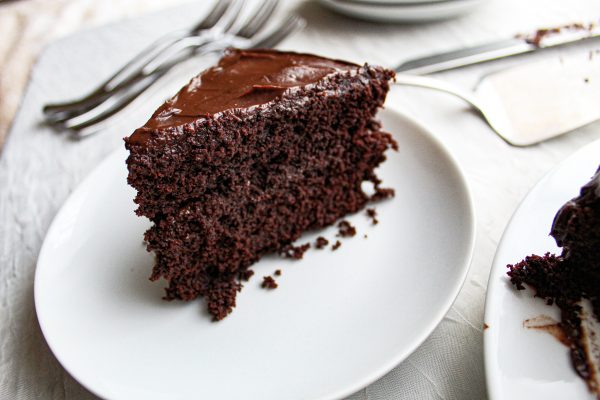 FAQ & Recipe Tips
What is a paleo cake made of?
When making a cake, you'll need some type of flour, some type of moisture, something to make the cake a spongy texture, and sweetener of some kind. If you're making a Paleo cake, you'll be using Paleo friendly flours, milks, sweeteners, etc. Here's what we use in this recipe:
Flour (almond flour, coconut flour, tapioca flour)
Coconut Sugar (a Paleo friendly sugar)
Coffee (makes the chocolate flavor deep and rich)
Cocoa powder
Coconut milk (you won't taste a coconut flavor, but it adds necessary fat to the mixture)
Paleo cakes will NOT have the following in them:
Wheat flours or other grain based flours or flour blends
Refined sugars
Dairy (usually)
Can you eat cake on a Paleo diet?
Well, you need to think about why you're doing the Paleo diet in the first place. If you're on a strict therapeutic diet, consult with your doctor first (obviously). If you're doing it for any other reason, I think yes. It's perfectly fine to eat a Paleo friendly cake on the Paleo diet. As with all diets, make sure you're eating a nutrient dense diet most days, and the occasional treat is just fine.
Do I need all three Paleo flours?
If you want it to have a soft, spongy, moist texture, I'd recommend it. Remember that the cake (the kind you're probably used to) is typically made with wheat flour, which has gluten that holds it together and gives it the airy, spongy texture. Since we're avoiding grains and gluten, you need a few different flours to re-create the spongy texture.
What about frosting? Is there Paleo friendly chocolate frosting?
Well, I'm just so glad you asked. I frosted this cake (and most of my cakes these days) with a delicious and simple chocolate frosting. You can find the recipe here.
The secret ingredient in the frosting is avocados. But don't let that scare you off. It's SO good and there's no avocado off-taste at all. Trust me. I take my chocolate seriously.
If you're okay with dairy, I also love this honey cream cheese frosting.
Can I use this Recipe for cupcakes instead of a Cake?
Yes! Definitely, yes. If you're making cupcakes, bake them for about 15 minutes in a 350 (F) oven, or until the tops spring back when you gently push them.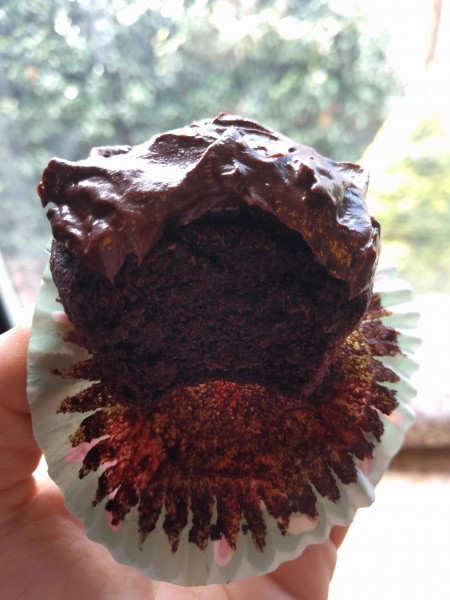 Related Recipes
Here are a few more tasty recipes you'll want to try as soon as possible.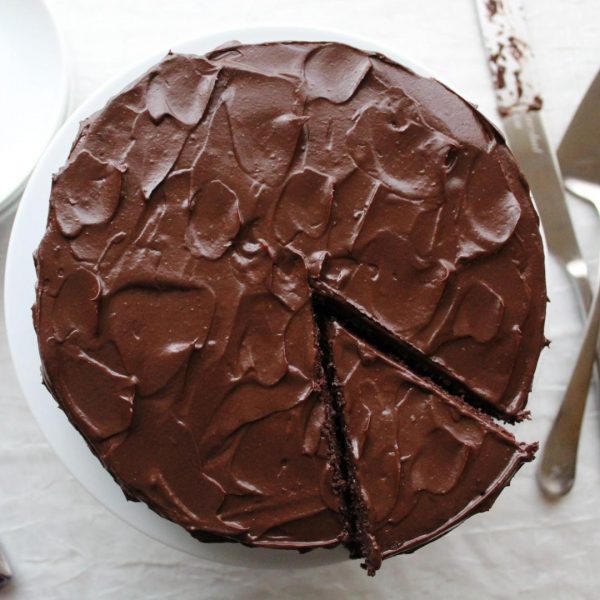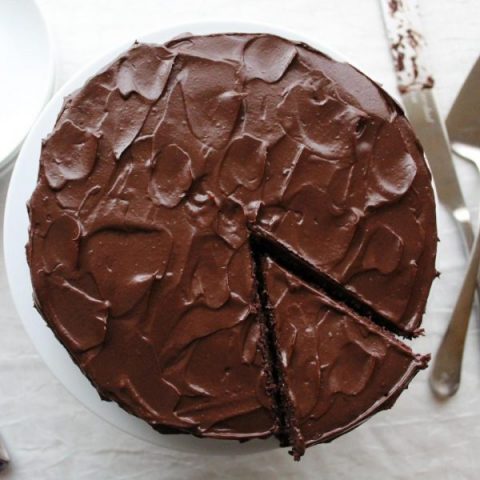 Dangerously Dark Chocolate Cake (GF + DF)
An irresistible Paleo dark chocolate cake that's always a crowd pleaser. Gluten free and dairy free, everyone can have a slice!
Ingredients
1 ½ cups almond flour
½ cup tapioca flour
¼ cup coconut flour
1 cup coconut sugar
¾ cup cocoa powder
1 teaspoon baking soda
½ teaspoon salt
2 eggs
¾ cup coconut milk (full fat)
½ cup brewed coffee
¼ cup avocado oil
½ teaspoon vinegar (white vinegar or apple cider vinegar)
1 teaspoon vanilla
Instructions
Preheat oven to 350 (F)
Prepare your two 8" round cake pans by laying parchment down. Grease the pan.
Mix all dry ingredients in a bowl (almond flour, tapioca flour, coconut flour, sugar, cocoa powder, baking soda, and salt).
Mix all wet ingredients in a bowl (eggs, coconut milk, coffee, avocado oil, vinegar, vanilla).
Combine and stir until the dry is incorporated into the wet.
Divide the batter between the two cake pans.
Bake in the 350 (F) oven for 20-25 minutes, or until the center springs back when you gently touch it.
Notes
I recommend this chocolate frosting for a delicious (and healthy) option.
For cupcakes, bake in 350 (F) oven for about 15 minutes. It will make 15-18 cupcakes (depending on how big you make them).
Nutrition Information:
Yield:

12
Serving Size:

1/12th of cake
Amount Per Serving:
Calories:

275
Total Fat:

16g
Saturated Fat:

4g
Trans Fat:

0g
Unsaturated Fat:

11g
Cholesterol:

31mg
Sodium:

218mg
Carbohydrates:

28g
Fiber:

3g
Sugar:

17g
Protein:

6g
Save this for later on Pinterest!