Some of the links on this site may be affiliate links. This means, at no additional cost to you, I may be paid a small commission if you follow the links and make a purchase. Learn more here.
This cake is amazing. And it's gluten free, dairy free, grain free. AND it's high in protein. I made it for my daughter's birthday party and had a few comments of, "this is the best cake I've ever eaten". It's just that good. This dark chocolate cake is a show stopper that tastes amazing and (BONUS) it won't spike your blood sugar like a "normal" cake.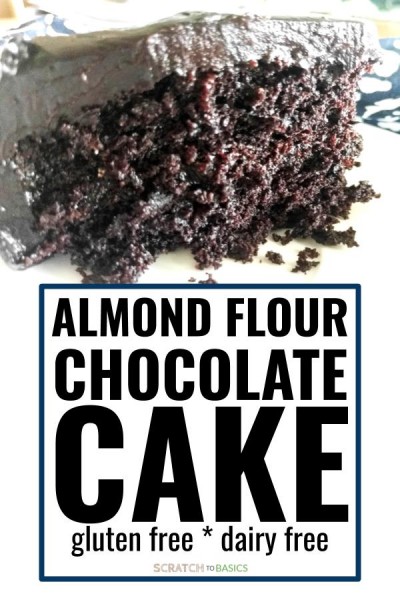 I remember when I was first getting into baking from scratch (meaning…not out of a box). I made a cake for a woman I sort of knew. I'd met her at church a few times, but didn't know her too well. When her birthday came around, a group of us were going to celebrate and I volunteered to bring the cake. So I made her a chocolate cake with chocolate frosting (this chocolate obsession has been around for a while).
Immediately when she saw it, she said…"Is that a scratch cake?" with a hint of awe in her voice. The cake was delicious, and from that day on, she would often talk about how I made her a "scratch cake" for her birthday. She even introduced me to her grown daughter as the "girl who made me a scratch cake".
Cooking from scratch is a lost art, and one that takes time. It meant so much to my friend that I took the time to make her a cake completely from scratch. To her, it was an incredible gift. To me, it was fun (and delicious). But through that experience I learned the impact a "scratch cake" can have.
This Dark Chocolate Cake Recipe
This recipe was inspired by this cake at Downshiftology. After a few adjustments (decreasing sugar, adjusting the size, and substituting some ingredients), it's just how I like it! And I'm so excited to share it with you!
Have you ever had a piece of cake and you feel the blood sugar spike almost immediately? Maybe it's so sweet that you get a headache? And then when your blood sugar drops, you feel like you just need more sugar to bring it back up. This is a cycle I'm all too aware of. And I don't like it.
And that's why I love this dark chocolate cake. It's made with almond flour which is high in fat and protein. And even though it's sweet, it won't spike your blood sugar as much because the fat in the almond flour helps slow the effects of the sugar. Brilliant, isn't it? I think so.
What's In This Cake?
Here are a few of the wholesome ingredients you'll find in this chocolate cake:
flour (almond flour, coconut flour, tapioca flour)
sugar (use coconut sugar if Paleo)
coffee (makes the chocolate flavor deep and rich)
cocoa powder
coconut milk (you won't taste a coconut flavor, but it adds necessary fat to the mixture)
What's out?
Wheat flours
Gluten free flour blends
Grains
Excess sugar
Dairy
How to make this Dark Chocolate Cake
Prepare your cake pans. This recipe will make two 8″ round cakes. You'll want to mix the ingredients (wet and dry separately) and then combine them. Then bake in a 350 (F) oven for 20-25 minutes, or until the middle springs back a bit when you gently touch it.
Do I really need all three flours?
If you want it to have a soft, spongy, moist texture, I'd recommend it. Remember that the cake (the kind you're probably used to) is typically made with wheat flour, which has gluten that holds it together and gives it the airy, spongy texture. We're trying to re-create that texture with almond flour instead. Feel free to experiment and try without one of these if you need to.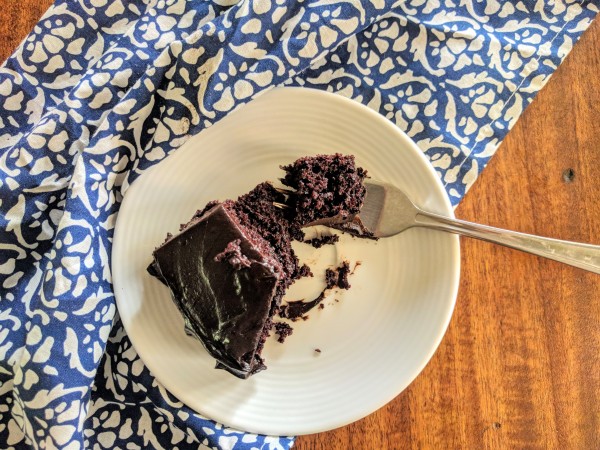 What about Frosting?
You can use any frosting you'd like. I frosted my cake with a delicious and simple chocolate frosting. You can find it here by another name.
The secret ingredient in the frosting is avocados. And don't let that scare you off. It's SO good and there's no avocado off-taste at all. Trust me. I take my chocolate seriously. I would not be talking about it right now if it wasn't amazing. My grandpa (who would tell me if he didn't like it) loved it and then told all his skeptical buddies it was delicious. Trust me. It's good.
Can I use this Recipe for cupcakes Instead of a Cake?
Yes! Definitely, yes. And I encourage you to do so. Bake them for about 15 minutes in a 350 (F) oven, or until the tops spring back when you gently push them.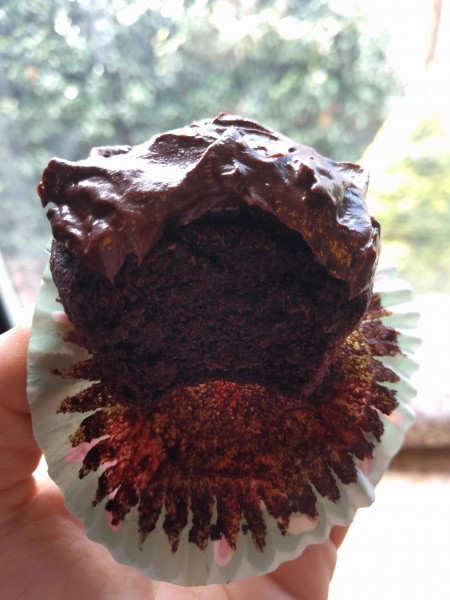 More Chocolate dessert ideas
Need more chocolate recipes that won't spike your blood sugar? No problem. If you're a big chocolate fan like me, you'll love these brownies. And for a smaller (individual size) you can try this guilt free personal size brownie.
Don't forget to pin this for later!
Print
Dangerously Dark Chocolate Cake [GF + DF]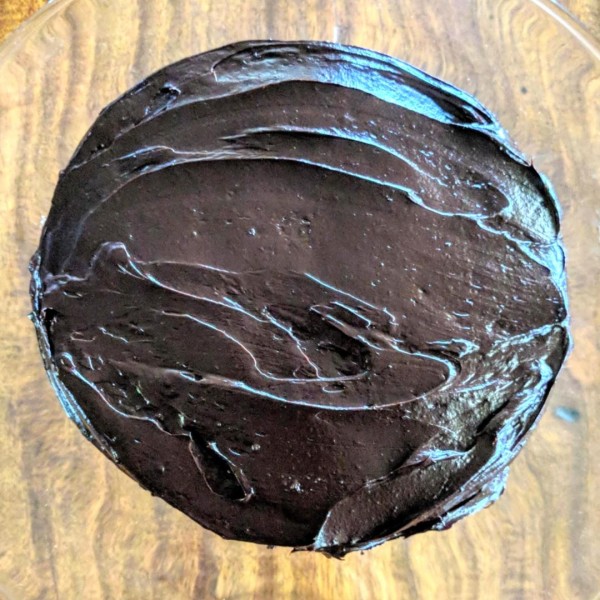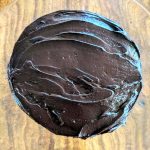 An irresistible dark chocolate cake that's always a crowd pleaser. Gluten free and dairy free, everyone can have a slice!
Author:
Prep Time:

10 minutes

Cook Time:

25 minutes

Total Time:

35 minutes

Yield:

2

8″ round cakes

1

x
Category:

dessert

Method:

bake

Cuisine:

American
Scale
Ingredients
1 1/2 cup

s almond flour

1/2 cup

tapioca flour

1/4 cup

coconut flour

1 cup

sugar

3/4 cup

cocoa powder

1 tsp

baking soda

1/2 tsp

salt

2

eggs

3/4 cup

coconut milk (full fat)

1/2 cup

coffee

1/4 cup

avocado oil

1/2 tsp

vinegar (white vinegar or apple cider vinegar)

1 tsp

vanilla
Instructions
Preheat oven to 350 (F)
Prepare your two 8″ round cake pans by laying parchment down. Grease the pan.
Mix all dry ingredients in a bowl (almond flour, tapioca flour, coconut flour, sugar, cocoa powder, baking soda, and salt).
Mix all wet ingredients in a bowl (eggs, coconut milk, coffee, avocado oil, vinegar, vanilla).
Combine and stir until the dry is incorporated into the wet.
Divide the batter between the two cake pans.
Bake in the 350 (F) oven for 20-25 minutes, or until the center springs back when you gently touch it.
Notes
I recommend this chocolate frosting for a delicious (and healthy) option.
For cupcakes, bake in 350 (F) oven for about 15 minutes. It will make 15-18 cupcakes (depending on how big you make them).
Keywords: dessert, chocolate cake, dark chocolate cake, gluten free cake