Some of the links on this site may be affiliate links. This means, at no additional cost to you, I may be paid a small commission if you follow the links and make a purchase. Learn more here.
These dark chocolate peanut butter cups (or almond butter) are nourishing, craving-busting, and incredibly satisfying. I'm completely hooked on Justin's dark chocolate peanut butter cups, so (of course) I came up with a recipe of my own so I can make them at home without spending a fortune on candy.
I can't wait for you to make these yourself. Next time that chocolate peanut butter cup craving hits, reach for a homemade version made with simple ingredients in your cupboard!
Why I love this recipe
This recipe is different than the store because YOU are in control of what goes in, and what stays out. You have total control of how dark of chocolate (or how sweet) you use.
If you can't find a pre-sweetened bar that suits your preferences, just sweeten your own! Start with a 100% chocolate bar (like this kind). Then melt it, and sweeten it to taste with your preferred sweetener. I talk more about this approach in this homemade dark chocolate almond clusters recipe.
That's the beauty of making food from scratch. You get total control over the ingredients. This recipe uses simple, real food ingredients.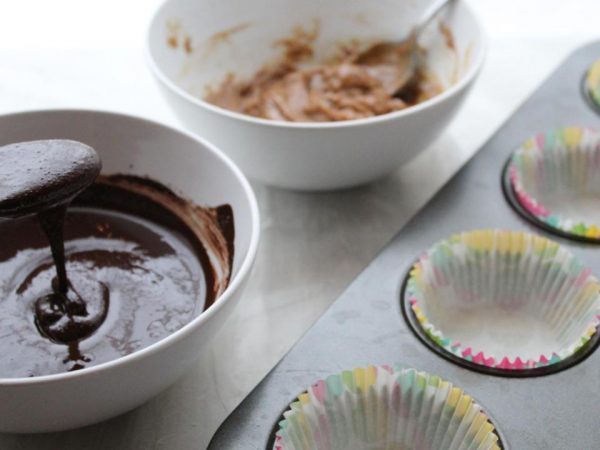 Ingredient Tips:
Dark chocolate
Pre-sweetened - Do you have a favorite chocolate bar that you just love the flavor of? Try using it for this recipe.
Or...
Sweeten your own chocolate - Another option is starting with a 100% chocolate bar (often referred to as baking chocolate). If you start with unsweetened chocolate, you get to sweeten it with your sweetener of choice, however much you like.
Peanut butter (or almond butter)
For the peanut butter (or almond butter), I will either make my own or buy this kind with no added oils or anything crazy. All you need is nuts (maybe salt) on the ingredient label.
If you're buying it at the store (or if you're using another kind of nut butter), make sure you take a good look at the ingredient list so you know what you're eating. The fewer ingredients the better.
Are these the same as chocolate cups from Justin's, or Trader Joe's?
Yes! ...and no.
I've had more than my fair share of peanut butter cups (and almond butter cups). I grew up munching on Reese's peanut butter cups. And in more recent years, I've been hooked on Justin's. We don't have a Trader Joe's near me, but I've had their peanut butter cups and thoroughly enjoyed it. In fact I just got some as a birthday gift from my sister-in-law who knows me SO well.
Justin's peanut butter cups vs Homemade peanut butter cups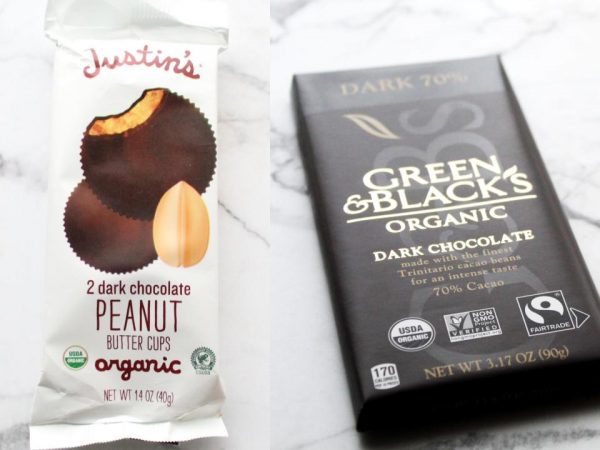 I did a side-by-side comparison between Justin's, and two homemade versions. One homemade version was made with this chocolate bar made by Green & Black's, and one starting from this unsweetened chocolate bar (and adding coconut sugar).
Here's what each cup looks like after I took a bite (the photos below are using almond butter, but peanut butter would look very similar).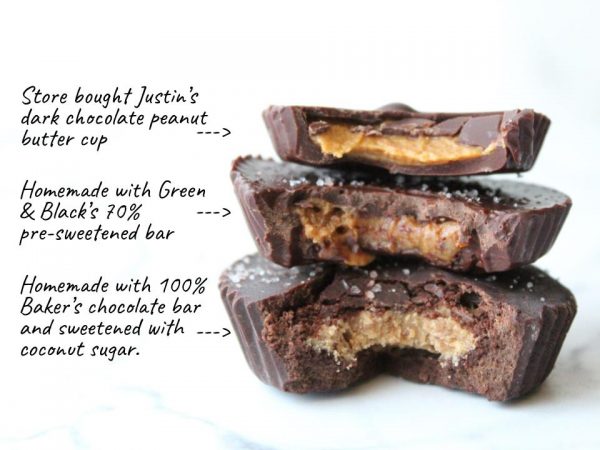 Justins vs Homemade: How do they look?
As you can see, the store bought cup is super creamy and looks great (as expected...it's commercially made).
The visual difference between the two homemade options (bottom two in the image above) is mostly in the thickness of the chocolate. The cups that were made with an unsweetened chocolate bar had a thicker chocolate layer, and the sugar didn't fully dissolve.
Justins vs Homemade: How do they taste?
They all taste amazing. Seriously.
The Justin's peanut butter and almond butter cups always leave me wanting more. I'm not sure which ingredient does it, but I seriously can't get enough of them. The middle name of my third daughter probably should be "Justin", given how many of those I ate in my third trimester.
The homemade versions taste amazing also. But for some reason I feel more satisfied from the homemade almond butter cups. I'm not sure why, but I bet it has something to do with some of the ingredients in the store bought versions.
It's a great thing for Justin's...that you always want more. But not exactly great for my budget. And really, do you need 12 of these at once? Doubtful.
Justin's Ingredients vs Homemade Ingredients
Even though those chocolate & almond butter (or peanut butter) cups are delicious, they're still commercially made. And that means they've been processed more than something you could make at home.
Sure, you can buy dark chocolate almond butter cups at Trader Joe's, or you can buy Justin's almond butter cups on Amazon here. But at what cost? It's much more expensive to buy these pre-made dark chocolate cups, but why not take just a few minutes and eat a real-food version instead?
Alright. Now that I've sufficiently convinced you to make your own. Let's talk about how simple it is!
How to Make Dark Chocolate Peanut Butter Cups (or Almond Butter Cups)
This is an extremely easy recipe. Make one or two at a time on an as-needed basis, or maybe you make a big batch and grab one when you want something sweet.
Tools used to make these dark chocolate cups
Ingredients needed in this recipe
To make these delicious cups, follow these steps:
First, melt your chocolate (sweeten it if you're choosing to start completely from scratch) and mix the almond butter with maple syrup (or honey) and salt.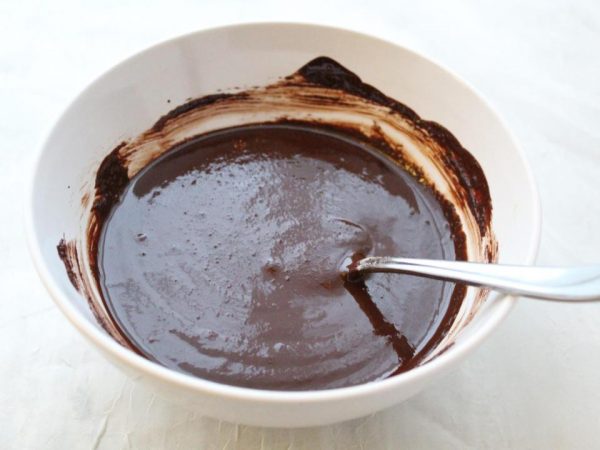 Next, get your muffin cups ready and put melted chocolate in the paper cups. You just need enough to cover the bottom.
Next add a little dollop of your nut butter mixture and spread it out a little if you'd like. If you don't spread it out, you might have a bite that only has chocolate in it. The more uniform the almond butter in this stage, the more uniform it will be when it's time to eat it.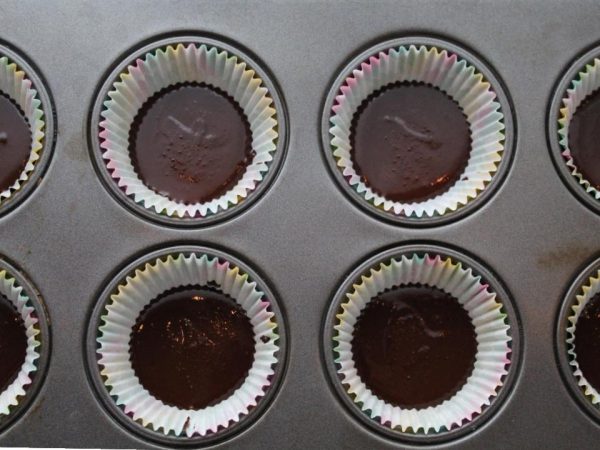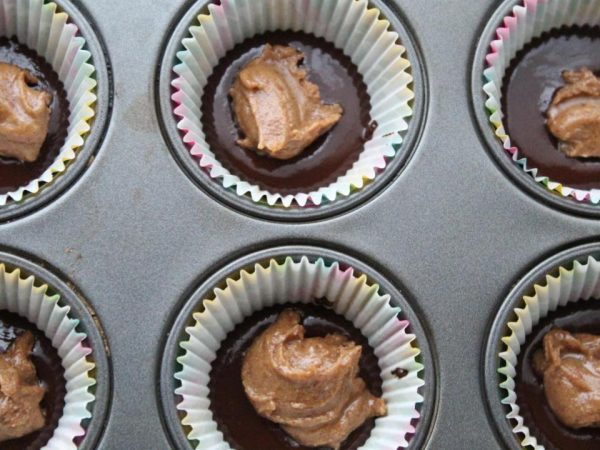 Next, add more melted chocolate to the top. You can sprinkle them with a little coarse salt here, or wait until they're hardened.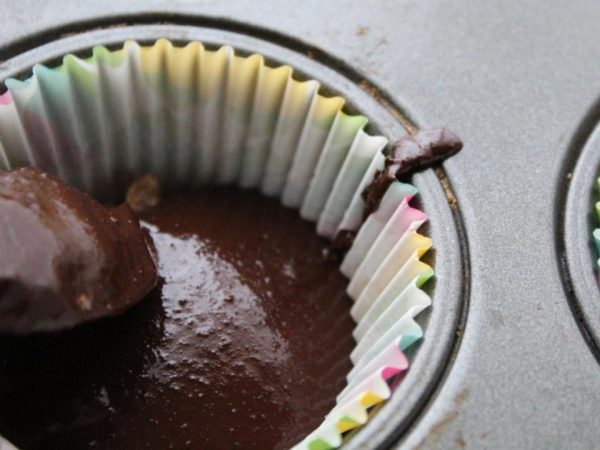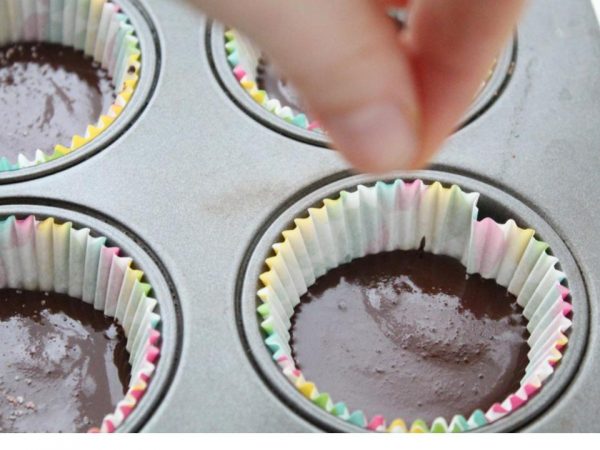 Stick them in the freezer for a few minutes, or the fridge for a little bit longer to harden. Alternately, you can leave them at room temperature to harden in a couple hours.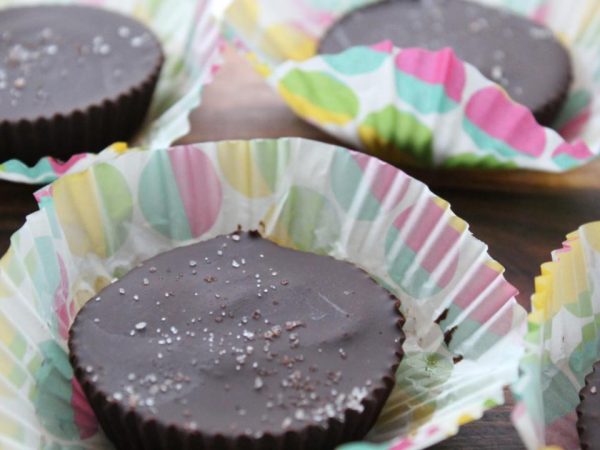 This is the part where the muffin tin works well. You can put the whole muffin tin in the fridge or freezer and not worry about them tipping over and spilling.
Tips and tricks from years of experience
Okay, so the basic idea is super simple, right? Chocolate, nut butter, chocolate, harden. Done. But there are a few tips and tricks you might be interested in knowing.
Here they are:
Looking for a heart shaped peanut butter cup? Put a little ball of aluminum foil between one side of the paper cup and the muffin tin to create a heart shape. Perfect for Valentine's day, right?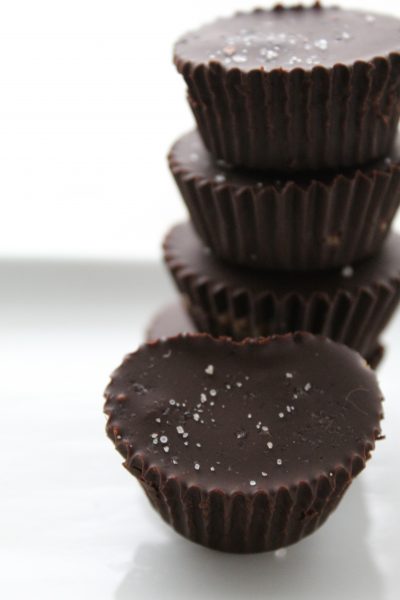 You can also make mini cups with a mini muffin tin. I often do this. If you can eat ONE big one, or two little ones...which would you choose? Follow the same basic process.
If you want MORE almond butter than just a little dollop, feel free to add more. Make this recipe your own.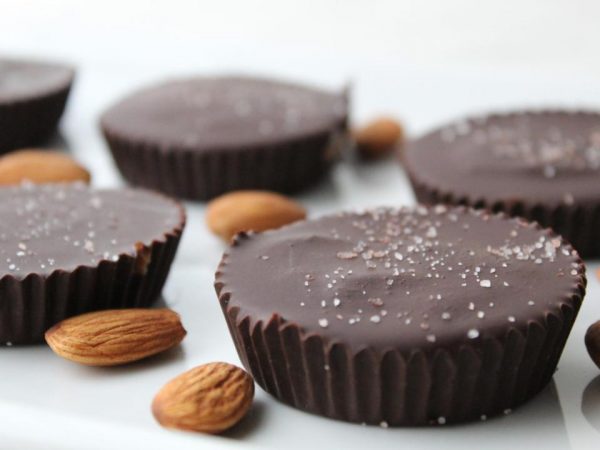 Feel free to comment below with any other questions you might have. I can't wait to hear about your creations!
Here are some FAQ that might help you out, also...
FAQ 1: Why use almond butter vs peanut butter?
Peanuts are actually legumes, not nuts. So in the Paleo world, they're on the "no" list. If you prefer almonds over peanuts, or have a peanut allergy in the family, use almonds. Also, if you're trying to make this a Paleo recipe, use almond butter.
If your body handles peanuts okay, feel free to switch the almond butter for peanut butter (just remember to watch the ingredient list. We don't want any hydrogenated oils or anything messing up our healthy chocolate treat).
FAQ 2: What is the best nut butter to use?
The best nut butter is the kind with the simplest ingredients. With just a food processor and a few minutes you can make almond butter at home with only one ingredient. Read more about how to make your own nut butter here.
If you're buying almond butter at the store, be sure to check the ingredient label .The kind with ONLY almonds will be the best. The next best is the kind with almonds and sea salt. I don't recommend buying any of the other options.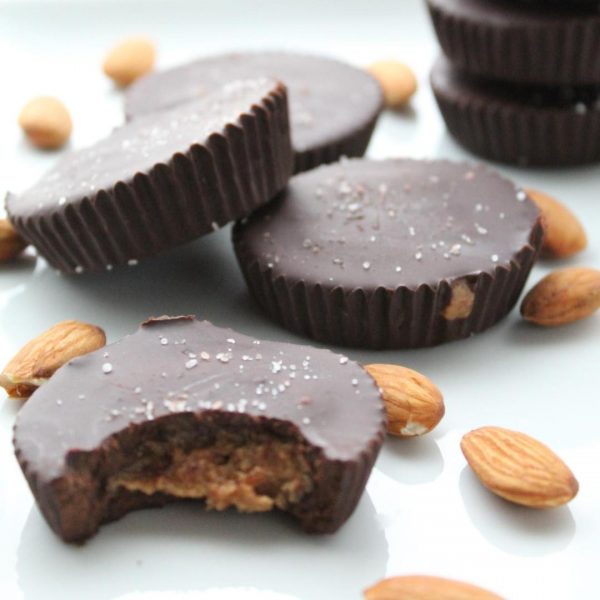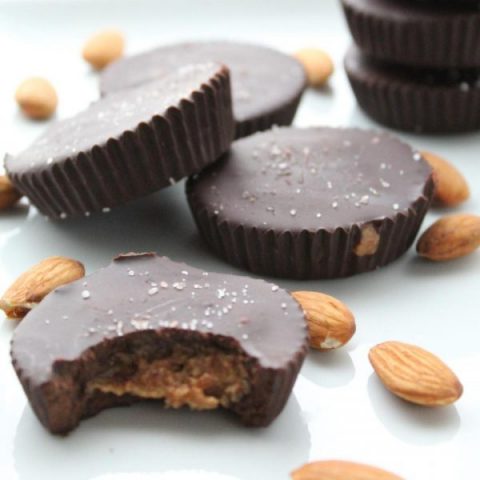 Dark Chocolate Almond Butter Cups (Paleo, dairy free, vegan)
Take control of your food and make these at home with real food ingredients. Just how you like them. Perfectly sweetened dark chocolate with almond butter on the inside.
Ingredients
12 oz dark chocolate 
⅓ cup almond butter
1 Tbsp maple syrup or honey
1 pinch of Himalayan salt or sea salt (plus extra for sprinkling)
Instructions
Melt the chocolate
Combine the almond butter with the maple syrup (or honey) and pinch of salt
Put 12 paper muffin cups in a muffin tin and scoop in enough chocolate to cover the bottom. You don't need much. Just enough to cover the bottom.
Next, add a spoonful of the almond butter mixture. Add about ½ teaspoon and spread it around to ensure each bite has almond butter inside it.
Then add another spoonful of the melted chocolate on top of the almond butter mixture in each cup.
Let harden on countertop, or stick in the fridge to make the hardening process quicker.
Enjoy!
Notes
Sweeten your own chocolate by melting a 100% chocolate bar and adding in sugar (or coconut sugar) until it's your desired sweetness.
Make substitutions so that this suits your taste preferences.
Substitute peanut butter for the almond butter, or honey for the maple syrup.
Use what salt you have. I like the himalayan salt. 
Nutrition Information:
Yield:

12
Serving Size:

1
Amount Per Serving:
Calories:

207
Total Fat:

13g
Saturated Fat:

6g
Trans Fat:

0g
Unsaturated Fat:

6g
Cholesterol:

2mg
Sodium:

64mg
Carbohydrates:

21g
Fiber:

3g
Sugar:

16g
Protein:

3g
Pin this for later!