Some of the links on this site may be affiliate links. This means, at no additional cost to you, I may be paid a small commission if you follow the links and make a purchase. Learn more here.
Did you know that you can make chocolate frosting without butter or cream or milk or any dairy at all? This recipe takes just a few minutes, and uses a surprising healthy super-food ingredient...avocados.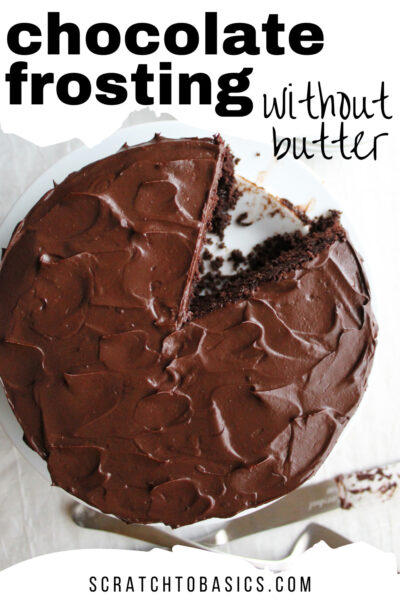 This frosting is my go-to frosting on all my kids' birthday cakes (and the cakes I make for fun). Sometimes I even just eat it with a spoon and call it Paleo chocolate pudding.
This frosting is so creamy, and it wows every single one of my guests when I tell them the secret ingredient.
If you make this chocolate frosting without butter, you'll quickly learn why avocados as a base for frosting makes perfect sense! The avocado provides a creamy texture, while the cocoa powder and the honey give it the rich chocolate flavor.
Why would you make chocolate frosting without butter?
Well, I'm not sure why YOU are deciding to make chocolate frosting without butter. But I can tell you why I do. My body has a tendency to freak out when I eat even the tiniest amount of dairy. Not all the time, just when I'm pregnant and for a few years after a pregnancy.
It's weird, and kind of like torture.
With all those hormones raging, a big slice of chocolate cake with creamy chocolate frosting is EXACTLY what I want.
So, instead of a butter filled frosting, I use this recipe instead. Every. Single. Time.
No butter. No problems.
So this frosting (on top of this dark chocolate cake) is what we make for birthday parties around here. See these birthday cakes below...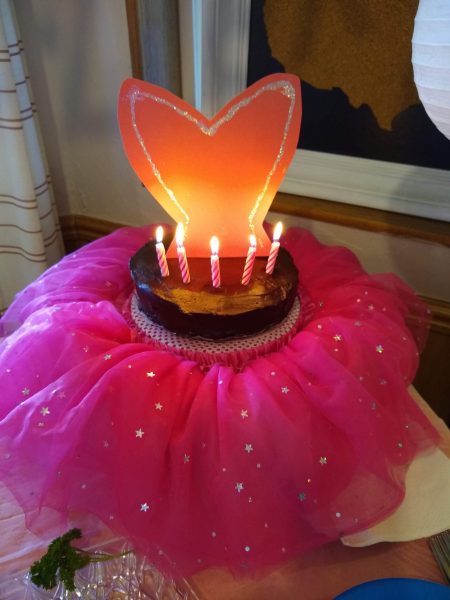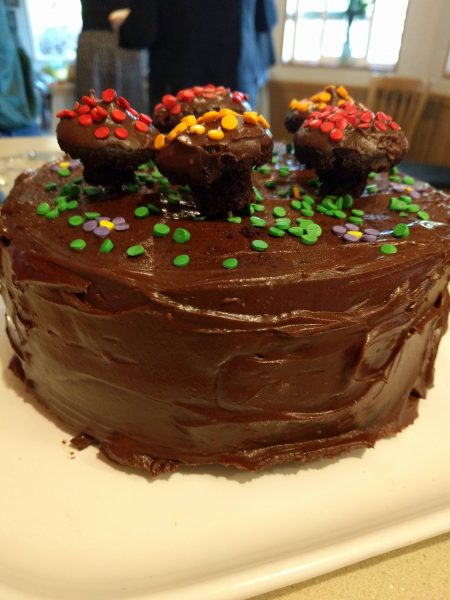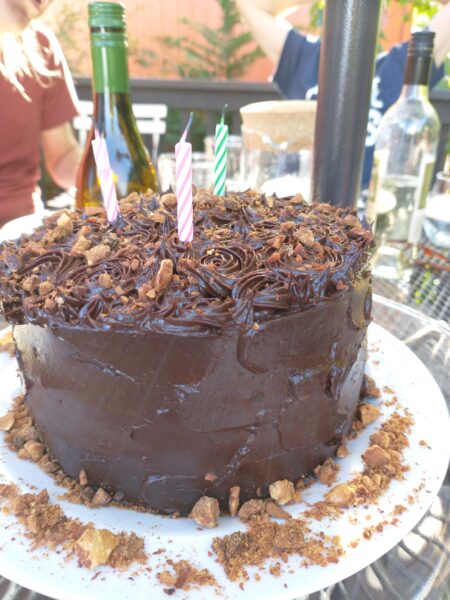 My father in-law even said..."this is the best cake I've ever had". He doesn't follow have any food allergies and is used to the "real deal".
This cake brings people together, folks.
What makes this chocolate frosting different?
The ingredients included (and not included) in this recipe is the main difference between any other recipe you'll see out there. And, in case you're wondering what's in the containers of chocolate frosting in the store, I'll tell you...
The Betty Crocker brand has the following ingredients...
sugar
water
palm oil
high maltose corn syrup
corn starch
cocoa processed with alkali
and less than 2% of:

salt
distilled monoglycerides
polysorbate 60
sodium stearyl lactylate
sodium acid pyrophosphate
citric acid
natural and artificial flavor
potassium sorbate (to preserve freshness)
Ingredients in this chocolate dairy free frosting
Avocados - This is what gives the creamy, smooth texture (along with a bunch of health benefits). You can't substitute the avocados here.
Cocoa powder - Use 100% cocoa powder or cacao powder. I use them interchangeably here.
Honey - Make this a vegan chocolate frosting by substituting the honey for maple syrup. You could probably use some sort of powdered coconut sugar, but I have only tested it with honey and maple syrup.
Salt (optional, but highly encouraged) - The salt is kind of optional here. I like to add a little salt to make the flavors "pop" a little more.
I think it's clear which frosting has the simpler ingredients, don't you?
How To Make This Paleo Chocolate Frosting Without Butter
The only tool you really need is a food processor, stand mixer, or immersion blender to blend it all up.
Add the ingredients and mix them with your preferred blending tool.
See? Couldn't be simpler.
Recipe Tips & FAQ
What can be used instead of butter in frosting? You'll typically see margarine, shortening, or a dairy-free butter in recipes for dairy free chocolate frosting. This recipe uses avocados, which may sound strange, but it works so incredibly well here!
Does this avocado chocolate frosting taste like avocados? It doesn't! The cocoa, honey, and pinch of salt covers up any avocado taste.
How should I store this chocolate frosting? This avocado chocolate frosting will keep well for about 3-5 days in a mason jar in the fridge. If you're making it for a party, feel free to make it ahead of time.
Can I freeze it? I have had success freezing it, and haven't noticed any off-flavors or textures after defrosting it. Just set it in the fridge overnight before you're going to want to use it.
Blending tip: If you're using an immersion blender or stand mixer, put the cocoa powder in the bowl first, then honey, then avocados. That way you won't get a giant puff of cocoa when you turn on the blender (or mixer). Trust me on this one.
Can I pipe my cakes with this frosting? Absolutely. I've made some great looking cakes with this frosting and my piping bags. If the frosting isn't holding its peaks well, add a tablespoon of cocoa powder at a time until you get the consistency you need. As long as it's not sitting in the sun, you should be good though. See the pictures below for a couple of my piping experiments with this frosting.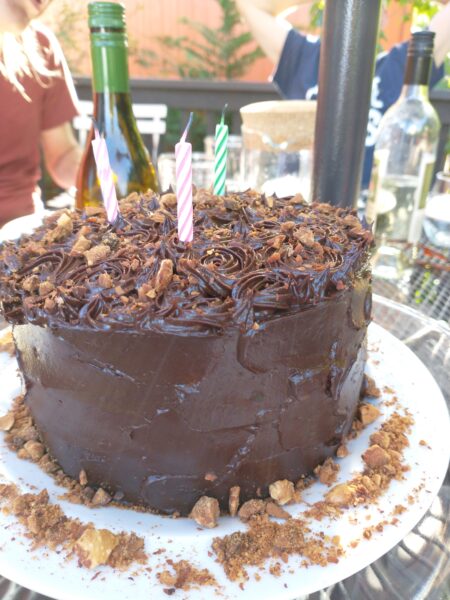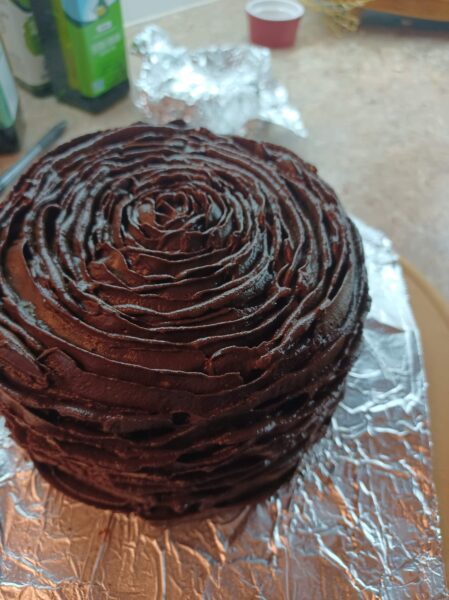 How to use this chocolate frosting without butter
First, you're going to need a cake or cupcakes to frost. If you're looking for a moist dark chocolate cake that's gluten and grain free, here's a delicious Paleo chocolate cake recipe that's become my go-to.
To frost a layer cake, put one layer of the cake on a plate (upside down so that the "bottom" of the cake is facing up), then add some frosting and spread it around. This is like the "glue" that holds the cake layers together (you could also use nut butter or jam as this layer).
Next, I put the other cake layer on top (right side up) and make sure it looks centered and nice. At this point you can use a knife to trim up any weird bumps. The reason we put the cakes like that is so that the top doesn't slide off the bottom. When we put two flat sides on each other, we can be more sure that it'll say put.
Finish frosting the top of the cake however you'd like.
You can use piping tips, or use your offset spatula to make designs in the frosting. However you decide to decorate it, I know your guests are going to love every bite of it.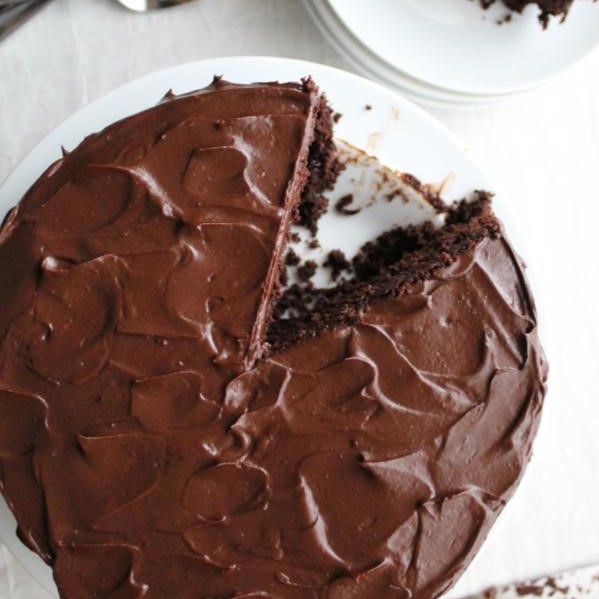 Paleo Chocolate Frosting Without Butter
Make this chocolate frosting without butter today! This frosting is smooth and creamy, and you can pipe with it, too!
Ingredients
2 ripe large Hass avocados
½ cup honey (or maple syrup)
½ cup cocoa powder
pinch of salt (optional)
Instructions
Using your food processor, stand mixer, or immersion blender, blend the avocados, cocoa powder, and sweetener until smooth.
Use the frosting to frost the cake (between each layer and on top).
Eat right away or store in fridge for 2-3 days.
Nutrition Information:
Yield:

16
Serving Size:

2 Tbsp
Amount Per Serving:
Calories:

83
Total Fat:

4g
Saturated Fat:

1g
Trans Fat:

0g
Unsaturated Fat:

3g
Cholesterol:

0mg
Sodium:

10mg
Carbohydrates:

12g
Fiber:

2g
Sugar:

9g
Protein:

1g
Save this for later on Pinterest!