Some of the links on this site may be affiliate links. This means, at no additional cost to you, I may be paid a small commission if you follow the links and make a purchase. Learn more here.
Make these real fruit popsicles this summer for a healthy treat your kids will love. I made these for 4th of July, but of course, they're a refreshing healthy treat (without any added sugar) any time you need a cool-down this summer.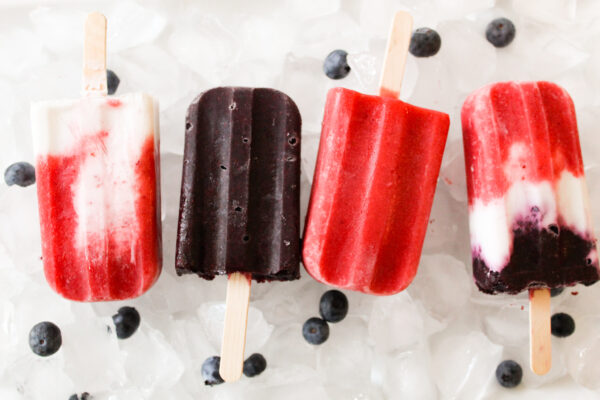 Tools Needed To Make Popsicles with Real Fruit
Immersion Blender - You'll need to blend the fruit into a puree before pouring it into the popsicle mold. I've found the immersion blender to be the easiest tool, but you could also use a food processor.
Popsicle Mold - It took me a long time to find a popsicle mold that I was happy using. I wanted a plastic free BPA-free mold, with the classic wood popsicle sticks. And I found this silicone popsicle mold that I love. It has four slots for popsicles, but there are others with more slots if you're feeding a bigger crowd (and have the space in your freezer).
Related: 38 Dairy Free Popsicle Recipes to Beat the Heat
Ingredients needed to Make Popsicles with Real Fruit
Fruit - I've used both fresh and frozen fruit with this recipe. Use what you have!
Lime Juice - The lime juice in the recipe enhances the natural sweetness of the fruit. You could easily swap the lime juice for lemon juice.
Salt - Adding a pinch of salt to the fruit puree will also increase the sweetness. Add a tiny bit and taste the difference.
How to make Real Fruit Popsicles
Step 1: Make the fruit puree for the popsicles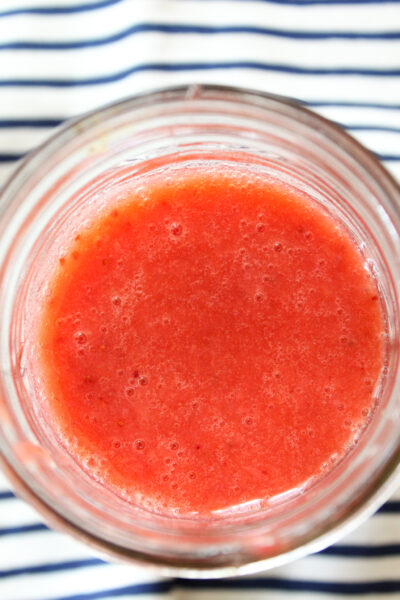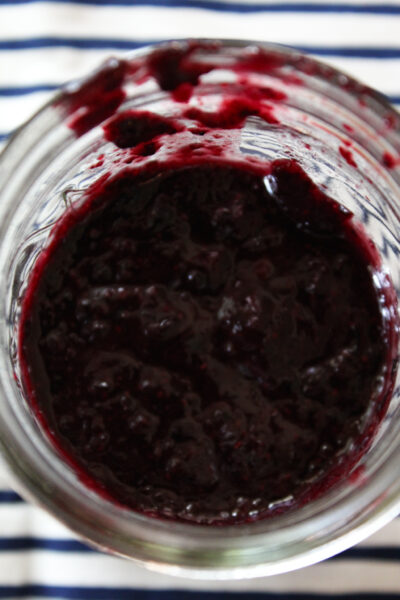 If you're using fresh fruit, just blend the fruit and add the lime juice and salt.
If you're using frozen fruit, first you'll need to thaw the fruit (either at room temperature overnight or with a microwave in about one minute). Then you'll add the lime juice and salt.
If you'd like multiple colors or flavors in one popsicle, you'll need two fruits and you'll want to keep them separate.
STEP 2: Pour the puree into your popsicle mold
If you use this popsicle mold, you'll have a nifty silicone funnel to use when you're pouring the puree.
For a solid colored popsicle and one flavor, just pour your puree into the mold.
If you'd like a layered popsicle with multiple flavors, you'll alternate your two (or more) fruits.
If you want the multiple colors swirled together, swirl the popsicle stick around for a few seconds after you pour the puree into the mold.
STEP 3: Cover the popsicle mold, add the popsicle sticks in the slots and freeze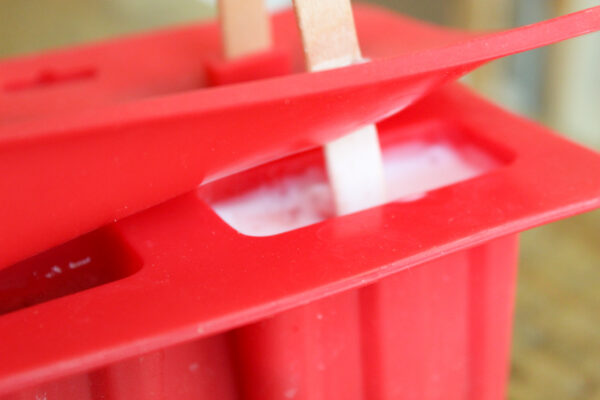 Put the cover on your mold and slide the popsicle sticks through the holes provided, then transfer to the freezer. You'll need to leave it standing just as it is for 5-6 hours to make sure they're fully hardened.
Step 4: Remove your popsicles from the mold, and put them in the storage bags (or eat them right away).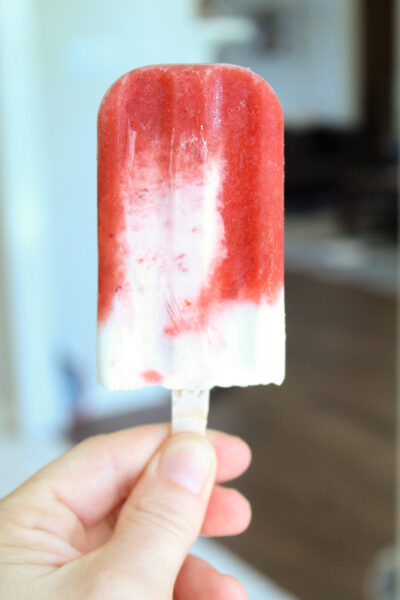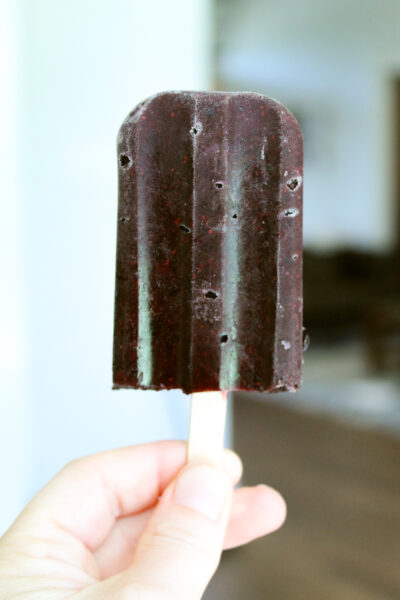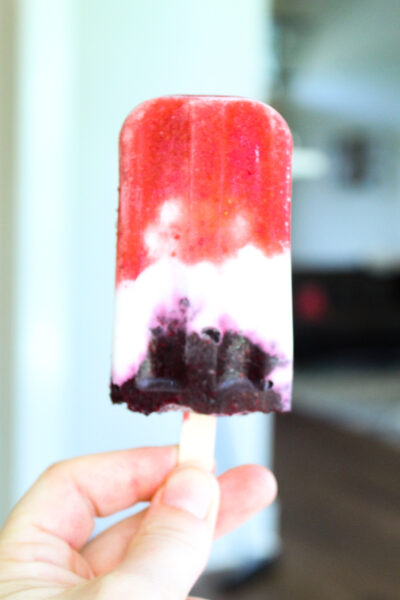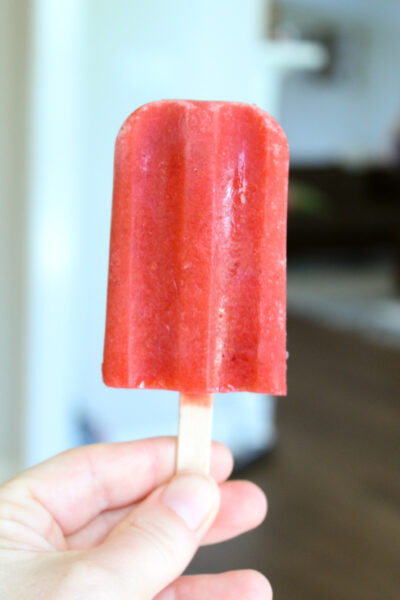 Once the popsicles are frozen you can remove them from the mold. You should be able to wiggle the popsicle and get it out of the mold by pulling on the popsicle stick, but if you're having trouble, just run hot water on the outside of the mold for 10-15 seconds (no longer or the popsicle will melt) and wiggle it out of there.
Is This a Good Popsicle Recipe for Kids?
Yes! My kids always love helping make these popsicles (and they really like eating them when they're done). I say any chance you get to include your kids in the process, do it.
Here are a few ideas of how kids can help make these popsicles.
The kids can help with picking out the fruit at the Farmer's Market or grocery store.
Let them help you pour the fruit puree in the molds.
Let your kids be taste testers to decide if more lime juice is needed in the fruit puree.
Kids can stick the popsicle sticks through the slots (with assistance for young kids) and find a place in the freezer to let them sit while they harden.
Related Post: Kids cooking tools to help make memories in the kitchen
Recipe Tips & FAQ
HOW DO I STORE REAL FRUIT POPSICLES?
This popsicle mold I bought came with awesome popsicle storage bags. They have a sticky seal (similar to an envelope and you fold it over to seal it).
HOW LONG DO POPSICLES TAKE TO MAKE AND FREEZE?
Blending the fruit takes about 5 minutes, pouring the fruit into the mold takes about 2 minutes. The time it takes for the popsicles to harden in the freezer is about 5-6 hours. So make a batch in the morning for a refreshing afternoon summer treat.
HOW TO GET POPSICLES OUT OF THE MOLD?
If the popsicles don't just slide out of the mold, I recommend running the outside of the mold under hot water for 10-15 seconds, and then wiggling them back and forth until they slide out. Be careful, though. If you keep them under the hot water too long they'll start to melt.
More healthy summer treats your whole family will love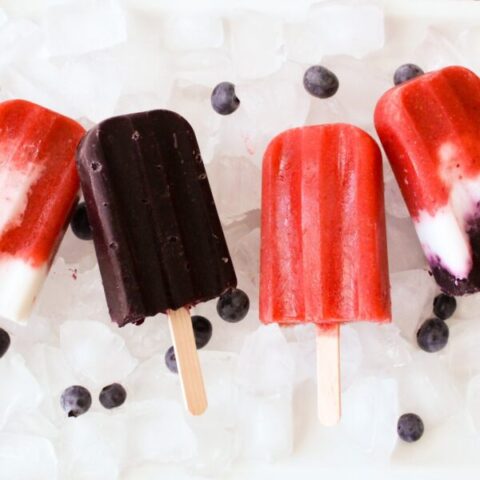 Real Fruit Popsicles
Total Time:
5 hours
10 minutes
These real fruit popsicles are a refreshing summer treat that will cool you down on a hot summer day. Perfect for all ages!
Ingredients
3 cups fresh or frozen fruit
Juice of 1 lime
Pinch of salt
Instructions
If you're using frozen fruit, thaw the fruit first (heat it in a microwave for a minute or move to the fridge the night before you want to use it).
Blend your fruit with an immersion blender and add the lime juice and salt.
Put the lid on and slide the popsicle sticks into the holes provided with your mold.
Set upright in your freezer for 5-6 hours, or until frozen.
Remove from the mold and put in plastic storage bags, or eat them right away.
Notes
- For a layered look, use multiple fruits (and coconut milk if you'd like white in there) and put one type of fruit in at a time.
- For a swirled look, just move the popsicle stick around a bit.
- To remove the popsicles from the mold, you should be able to wiggle them around and get them to come out. But if they don't, run the outside of the mold under hot water for 10-15 seconds just to loosen them. Then wiggle them out.
Nutrition Information:
Yield:

4
Serving Size:

1
Amount Per Serving:
Calories:

148
Total Fat:

12g
Saturated Fat:

11g
Trans Fat:

0g
Unsaturated Fat:

1g
Cholesterol:

0mg
Sodium:

41mg
Carbohydrates:

11g
Fiber:

2g
Sugar:

6g
Protein:

2g
Save this for later on Pinterest!