Some of the links on this site may be affiliate links. This means, at no additional cost to you, I may be paid a small commission if you follow the links and make a purchase. Learn more here.
Wondering how to make delicious fruit-only popsicles for your kids this summer? This post will walk you through step by step how to do it. These popsicles (or ice pops) are made with blueberries, strawberries, coconut milk, lime juice (and a pinch of salt). I made these for 4th of July (see the red, white, and blue layers)? But of course, they're a refreshing dairy free and sugar free treat any time you need a cool-down.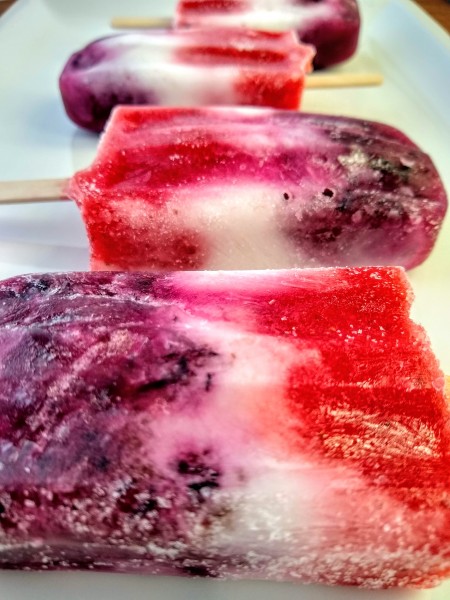 It's summer! School's out, and it's only a matter of time before we're dripping in the summer sun. Fresh fruit is hitting the Farmer's Markets, and my fruit intake instantly doubles (maybe triples). I just can't resist those berries!
Why I love These Homemade Popsicles
I love that there's no added sugar in this recipe. Instead, we use a little lime juice and a little salt to enhance the natural sweetness of the fruit.
how to pick a Popsicle Mold
It took me a long time to find a popsicle mold that I was happy with using. I wanted a plastic free BPA-free mold, with the classic wood popsicle sticks. And I found this silicone popsicle mold. If you're in the market for a popsicle mold, here are the Amazon results for BPA Free popsicle molds.
The mold I bought came with a bunch of popsicle sticks, a collapsible funnel, plastic bags that seal for storage, and the mold itself. I'm starting out with the 4 popsicle mold. Already we have a stash in the freezer that should last us a while.
If you have big plans to entertain this summer, this bigger mold might be a better idea. Just keep in mind you'll need to find space in your freezer to set it for a few hours.
How to Make Popsicles Step by Step
Step 1: fruit puree + Lime Juice + Salt
For the fruit in this recipe, we're using fresh blueberries and fresh strawberries. Definitely use what you have here, though. If you don't care about the red/white/blue thing, pick whatever fruit you have on hand.
How to make the fruit puree
Use your immersion blender to blend up a cup of each fruit in separate bowls.
Add lime juice of 1/2 lime to each bowl. The acidity in the lime juice will enhance the sweetness of the fruit.
Add a pinch of salt to each bowl (salt will enhance the sweetness even MORE).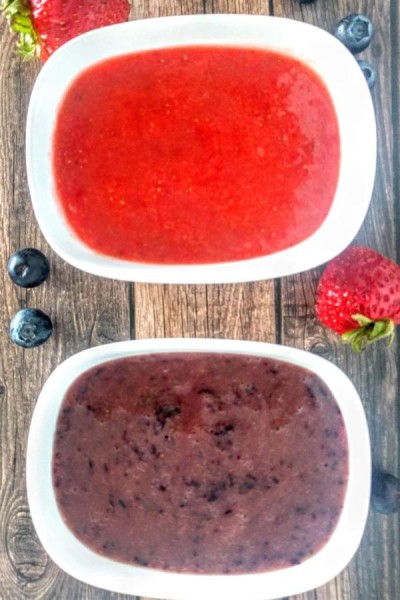 STEP 2: Pour The puree into Mold
If you use this popsicle mold, you'll have a nifty funnel (pictured here) to use when you're pouring the puree in. This helps if you want distinct lines in your layers.
To get the red white and blue layers, I put the blueberry puree first, then coconut milk, then the strawberry puree. If you want a swirly pattern, after you pour in the puree, sick a popsicle stick in and move it up and down for a couple seconds.
STEP 3: Cover mold
Put the cover on your mold.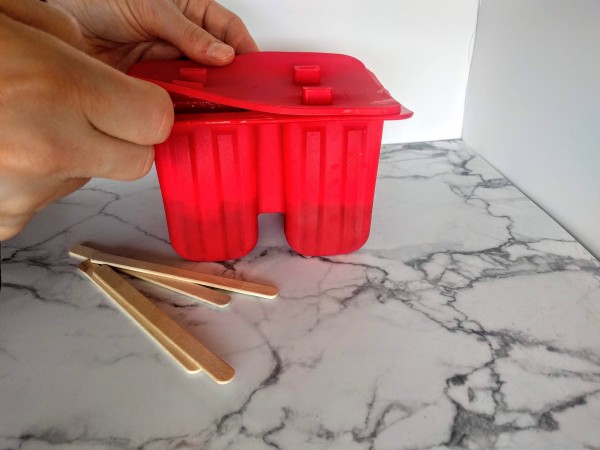 Step 4: ADD STICKS, PUT IN FREEZER
Slide the popsicle sticks through the holes provided, then transfer to the freezer. You'll need to leave it standing just as it is for 5-6 hours to make sure they're fully hardened.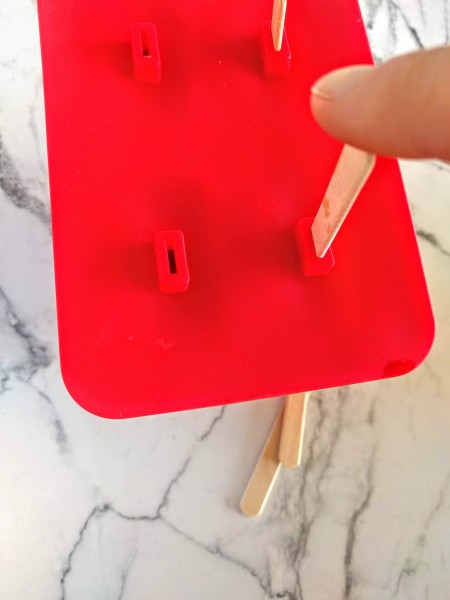 Step 5: remove them from the mold and put them in the storage bags
Once the popsicles are frozen you can remove them from the mold. I recommend running the outside of the mold under hot water for 10-15 seconds, and then wiggling them back and forth until they slide out.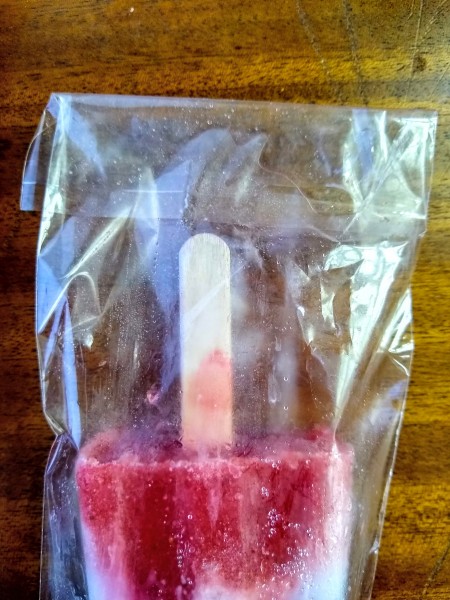 STEP 6: Enjoy a healthy, sugar free Summer cool down
Sit back in the hammock and enjoy your healthy summer treat! Make up the puree in the morning and by the afternoon sun they'll be ready to go!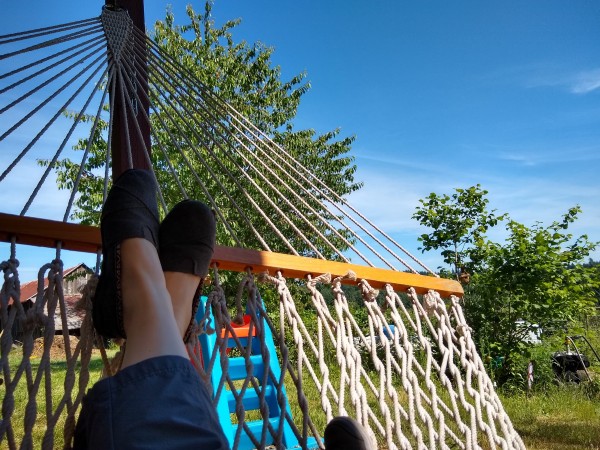 FAQ
How long does it take to make popsicles?
Blending the fruit takes about 5 minutes.
Pouring the fruit into the mold takes about 2 minutes
The time it takes for the popsicles to harden in the freezer is about 5-6 hours.
So make a batch in the morning for a refreshing afternoon summer treat.
Are popsicles healthy?
When you look at the popsicles in the store, beware of added sugar and artificial flavors and colors.
These homemade, sugar free, popsicles use fresh fruit (local and organic if possible) and no added sugar. So THESE popsicles are healthy, but not all popsicles are created equal.
What's in sugar free popsicles?
Not all sugar free popsicles are created equal when it comes to ingredients. Check the ingredient label in the store to see what's been added to the popsicles. Often you'll find artificial sweeteners and colors added to popsicles labeled "sugar free".
How do I store homemade popsicles?
This popsicle mold I bought came with awesome popsicle storage bags. They have a little sticky thing (similar to an envelope and you fold it over to seal it).
Can my kids help?
Yes! Any chance you get to include your kids in the process, do it. Here are a few ideas of how kids can help make these popsicles.
The kids can help with picking out the fruit at the Farmer's Market.
Let them help you pour the fruit puree in the molds.
Let your kids be taste testers to decide if more lime juice is needed in the fruit puree.
kids can stick the popsicle sticks through the slots (with assistance for young kids) and find a place in the freezer to let them sit while they harden. If your freezer is full, this could be a fun family activitiy in itself…time to clean the freezer out!
Related: Kids cooking tools to help make memories in the kitchen.
Conclusion
Making popsicles at home is not difficult, and is a great way to enjoy a refreshing treat this summer. Bring a bunch to your next BBQ (4th of July? Memorial Day? A normal Saturday BBQ?).
Looking for a chocolate dessert that won't melt in the summer heat, try this five minute chocolate pudding!
Print
How To Make Refreshing Fruit Puree Popsicles At Home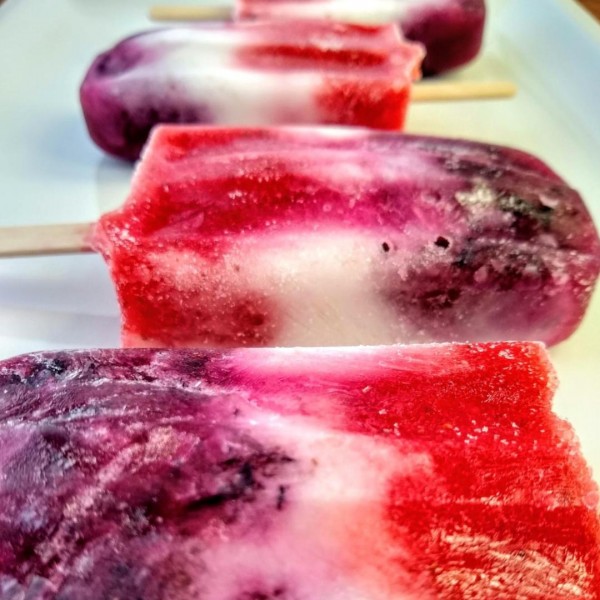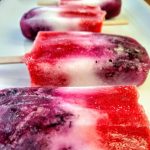 A refreshing summer treat that will cool you down on a hot summer day. Bonus: no added sugar and dairy free!
Author:
Prep Time:

10 minutes

Cook Time:

5 hours

Total Time:

5 hours 10 minutes

Yield:

4

popsicles

1

x
Category:

dessert

Method:

freeze

Cuisine:

American
Scale
Ingredients
1 cup

fresh strawberries

1 cup

fresh blueberries
juice of

1

lime
pinch of salt

1 cup

coconut milk
Instructions
Make The Fruit Puree:
Blend your one cup of strawberries with an immersion blender in one bowl
Blend your one cup of blueberries with an immersion blender in another bowl.
Add juice of 1/2 lime to each bowl and a tiny pinch of salt. 
Taste and add more lime if it's not as sweet as you'd like.
Pour 1/4 cup of the blueberry puree in each popsicle mold, followed by 1/4 cup of coconut milk, followed by 1/4 cup of strawberry puree.
Put the lid on and slide the popsicle sticks into the holes provided.
Set upright in your freezer for 5-6 hours, or until frozen.
Notes
If you want a swirled look, just move the popsicle stick around a bit.
Keywords: Fourth of July dessert, popsicles, no added sugar, refined sugar free, dairy free
Please share this on Pinterest!