Some of the links on this site may be affiliate links. This means, at no additional cost to you, I may be paid a small commission if you follow the links and make a purchase. Learn more here.
You're going to LOVE these chocolate cookies without butter. And actually, these are DOUBLE chocolate cookies. They're dairy free and gluten free too, and full of flavor and yumm factor.
If you like the idea of chocolate desserts made without butter, gluten, and dairy, I've got more just like that. Check out these Paleo brownies with almond flour, or this Paleo chocolate cake, and these coconut flour ginger cookies without butter.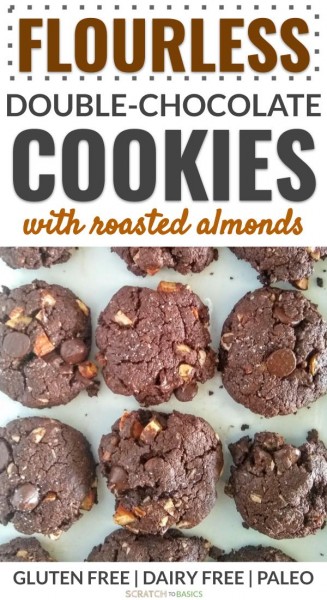 Why would you want to make chocolate cookies without butter?
These days I can't eat dairy without my body reacting in a very unpleasant way. But years ago when I DID eat dairy, there were times when I'd be in the cookie making mood, but there was no butter in sight. *Bummmmer*
So, whether you don't eat dairy at all, or just need a recipe for some chocolate cookies without butter - I've got you covered. These cookies are dark, rich, and filled with chopped almonds and melted chocolate chips. They're absolutely irresistible.
How to make chocolate cookies without butter
Step 1: Mix wet ingredients
The first step is to mix the wet ingredients in a mixing bowl, plus the sugar. The mixture will be thick. Make sure everything is mixed well.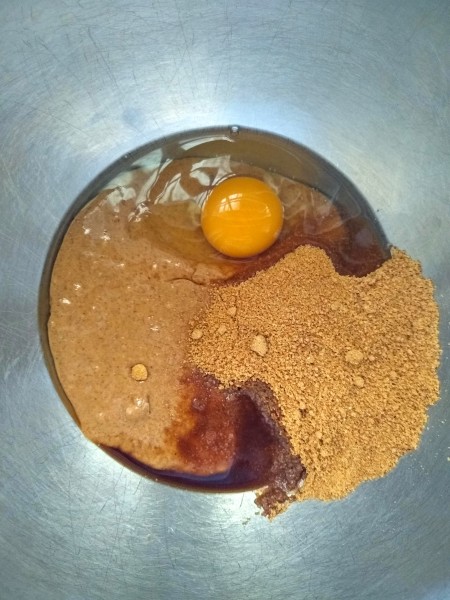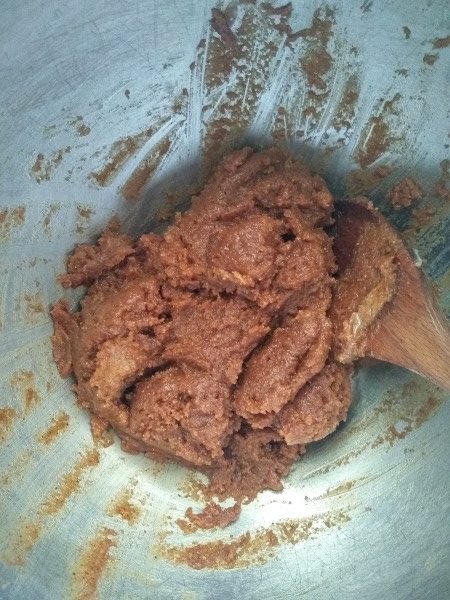 Step 2: Mix dry ingredients
The next step is to mix the dry ingredients in a mixing bowl.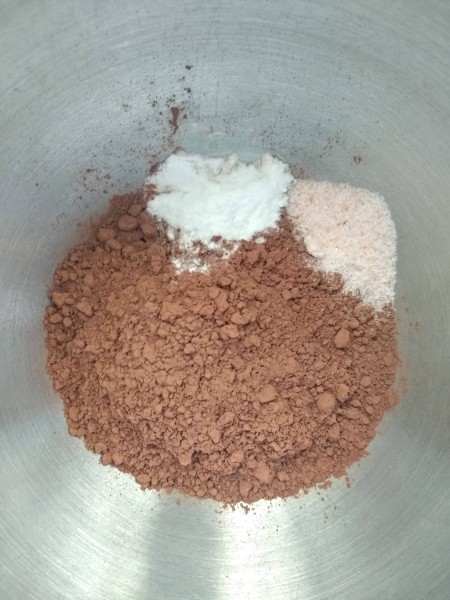 Step 3: Mix dry and wet ingredients
Then add the dry ingredients to the wet ingredients. The cookie dough mixture will be thick.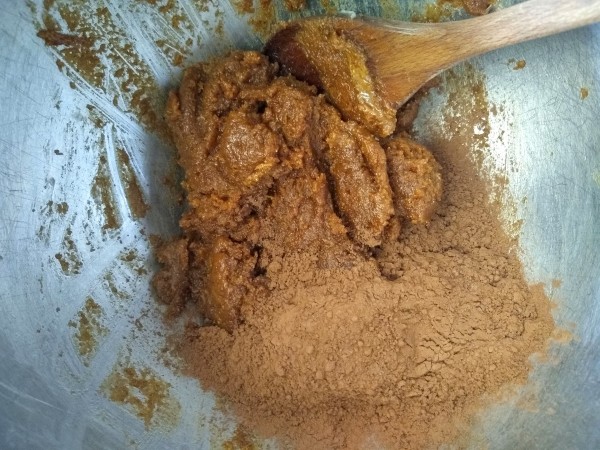 Step 4: Add the chocolate chips and almonds
Chop your ½ cup of almonds into small bite size chunks.
The cookie dough mixture will look a little crumbly when everything is mixed together. That's okay. Grab a handful and pinch it between your fingers. It should hold together.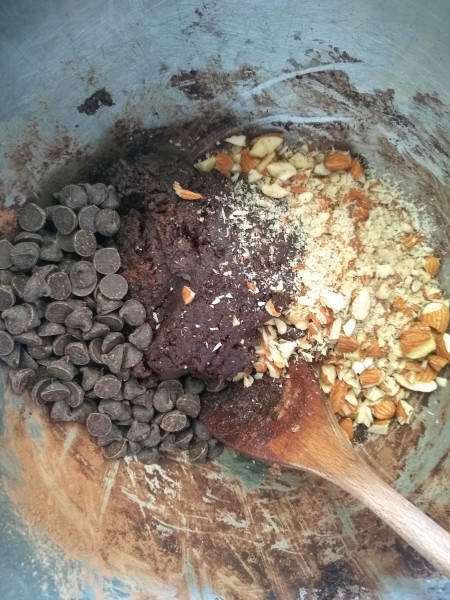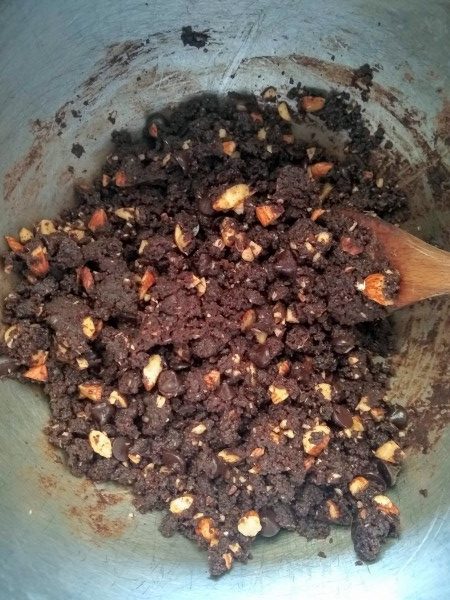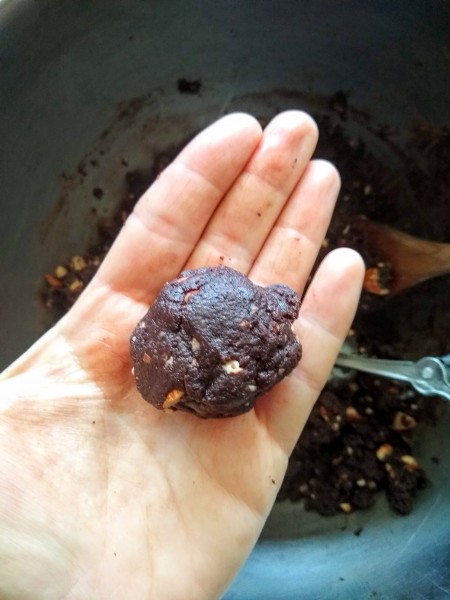 step 5: Scoop onto cookie sheet and bake
This is where it's really nice to have two cookie sheets that fit in your oven side by side. I HIGHLY recommend this. When they fit side by side, you don't have to rotate them and worry about burning the bottoms on one pan while the other pan's top is burnt but the bottom is raw.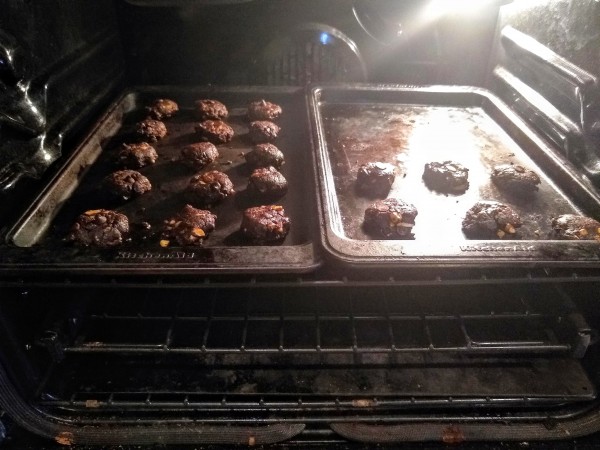 Bake them in the 350(F) oven for 6-8 minutes, or until the top is set. Then try not to eat them all at once!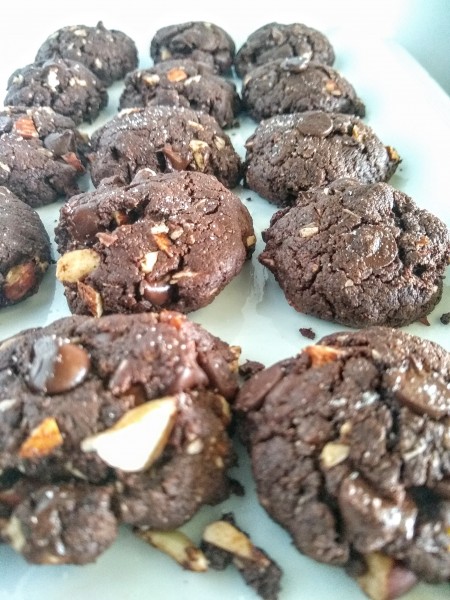 Tips for the best chocolate cookies without butter
Are chocolate chips dairy free? Many chocolate chips either have milk in them, or they might have "may contain milk" on the label. Typically "may contain milk" means that even though milk might not be an ingredient in the chocolate chips, there may be traces of milk from traces left on the machines. These chocolate chips are COMPLETELY dairy free. Grab them here on Amazon for WAY cheaper than the store.
Is there dairy in these double chocolate cookies? "Normal" cookies often use butter as a base. Some use a LOT of butter. This recipe is butter free and dairy free. Delicious for everyone - regardless of where you stand on the dairy/no dairy issue.
Can I make these ahead? Make these cookies ahead of when you need them and store them for up to a week. Keep in an air-tight container to keep them fresh. You can also freeze the cookie dough balls and cook them from frozen, one or two at a time whenever you need a chocolate fix!
Ingredient Substitution Ideas
Almond butter - Make your own (here's how) OR buy pre-made. This is the kind we buy - no refined oils, no added preservatives. JUST almonds. If you don't have almond butter, I suggest cashew butter as an alternative.
Coconut sugar - We use this coconut sugar regualrly in our house because it has a lower glycemic index than refined sugar. Feel free to use refined sugar if that's what you have.
Salt - This is the salt we use because it's still got naturally occurring minerals (unlike table salt).
Chopped roasted almonds - These are optional, but I definitely like the chocolate/almond flavor combination in these cookies. You could add in extra chocolate chips, peanuts, dried fruit, or pumpkin seeds instead if you'd rather.
Chocolate chips - Get this kind for a completely dairy free chocolate chip.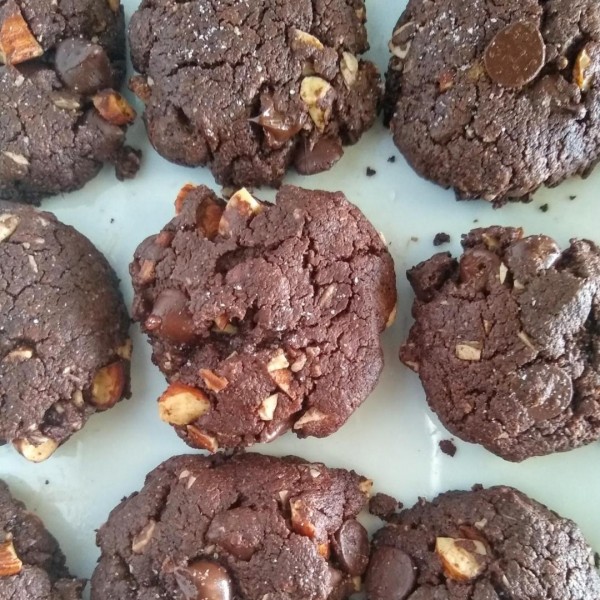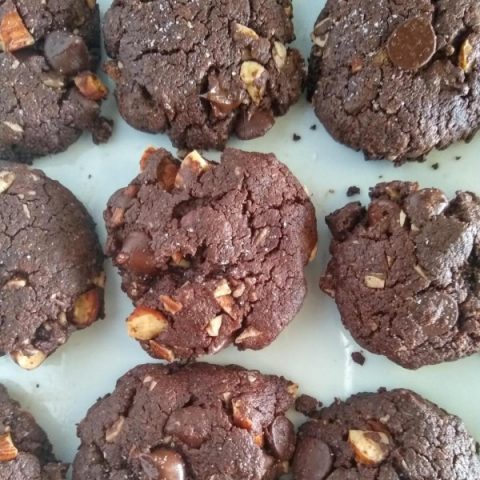 Chocolate Cookies Without Butter (Gluten Free, Dairy Free)
These double chocolate cookies without butter have melty chocolate chips and chunks of roasted almonds to satisfy your sweet tooth. Enjoy these gluten free and dairy free morsels today.
Ingredients
Wet:
1 cup almond butter
½ cup coconut sugar
1 egg
2 teaspoon vanilla
Dry:
½ cup cocoa powder
½ teaspoon salt
1 teaspoon baking soda
Fillings:
½ cup chopped roasted almonds
½ cup chocolate chips
Instructions
Preheat the oven to 350 (F)
Mix the almond butter, sugar, vanilla and egg in a bowl.
Mix the cocoa powder, salt, and baking soda in a separate bowl
Combine the two bowls, mixture will be thick
Add the almonds and chocolate chips and stir to combine. Mixture will look crumbly, but should hold together when you grab a handful and squeeze into a ball.
Bake in 350 (F) for 6-8 minutes, or until just set.
Notes
I like to use a 1 tablespoon cookie scoop to measure my cookie dough.
Nutrition Information:
Yield:

21
Serving Size:

1
Amount Per Serving:
Calories:

143
Total Fat:

10g
Saturated Fat:

1g
Trans Fat:

0g
Unsaturated Fat:

8g
Cholesterol:

9mg
Sodium:

136mg
Carbohydrates:

11g
Fiber:

2g
Sugar:

8g
Protein:

4g