Some of the links on this site may be affiliate links. This means, at no additional cost to you, I may be paid a small commission if you follow the links and make a purchase. Learn more here.
You're going to LOVE these flourless chocolate cookies. Not only is there cocoa powder in the cookie dough, but there's also chocolate chips. That's right. DOUBLE the chocolate. Oh, and don't forget about the roasted almonds. All in a gluten free and dairy free cookie that's [almost] too good to be true.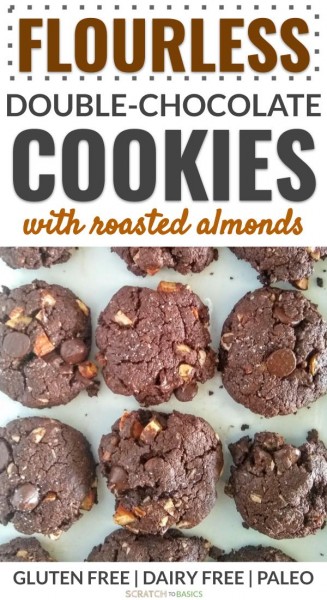 These flourless double chocolate almond cookies are the FIRST cookie recipe on the blog. And they're delicious. Chocolate and almond are one of my favorite dessert flavor combinations.
Related: Dark Chocolate Almond Clusters With Sea Salt
But the problem with cookies is that most of them have butter as a main ingredient. If you're okay eating dairy, then maybe that's not a problem for you. But I'm still on a no-dairy-diet. And I knew I'd need to find a new way. I used to make a "normal" version of this cookie for years so I used that butter heavy recipe as a starting point.
These cookies are dark, rich, and filled with chopped almonds and melted chocolate chips. They're absolutely irresistible.
Ready to Save Hundreds on Your Grocery Budget?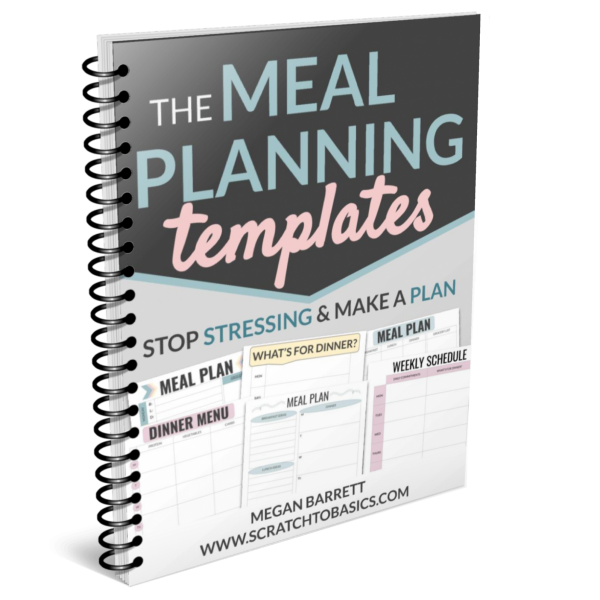 Make a Meal Plan Today!
Get started meal planning and save hundreds every month with this bundle of meal planning templates. Opt in below to get this PDF delivered directly to your inbox.
Why i love this recipe
I love the chocolate almond flavor combination. Melty chocolate chips along with the crunchy almond pieces are SOOOO good.
Also, this recipe uses almond butter instead of "normal" butter. So you also get a boost of protein.
Oh and did I mention there's TWO forms of chocolate in these cookies? Yep. Double chocolate cookies.
Related: Dark Chocolate Almond Ice Cream [Paleo + Dairy Free]
Everything You Need to make these flourless chocolate cookies
How to make these double chocolate cookies
Step 1: Mix wet ingredients
The first step is to mix the wet ingredients in a mixing bowl, plus the sugar. The mixture will be thick. Make sure everything is mixed well.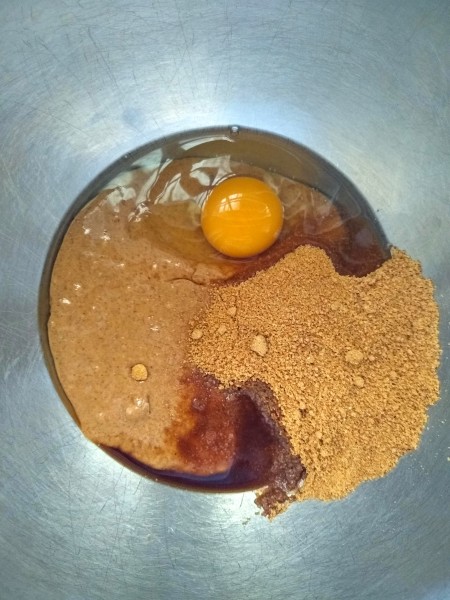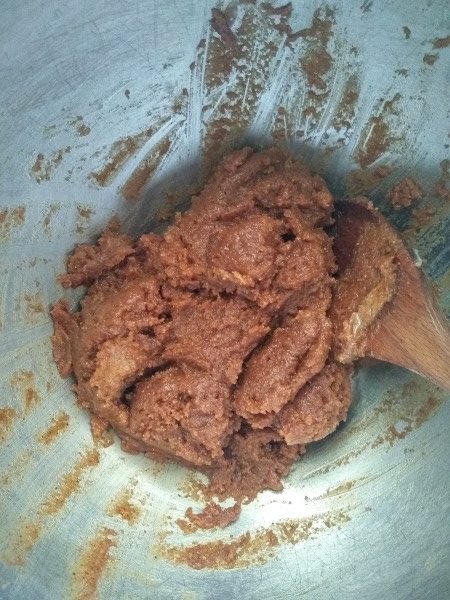 Step 2: Mix dry ingredients
The next step is to mix the dry ingredients in a mixing bowl.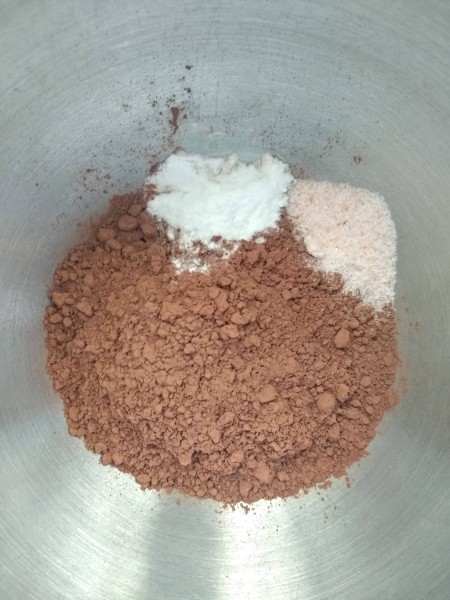 Step 3: Mix dry and wet ingredients
Then add the dry ingredients to the wet ingredients. The cookie dough mixture will be thick.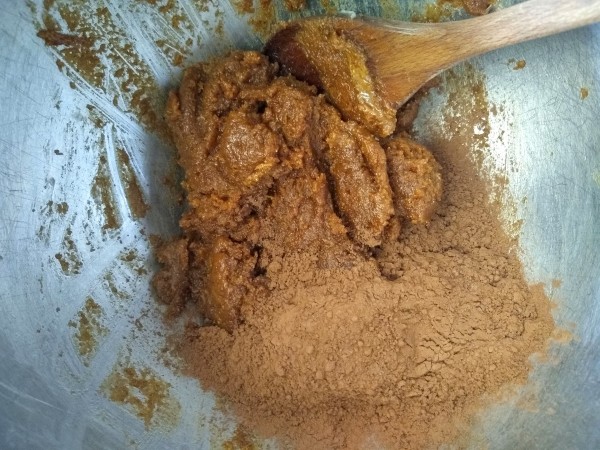 Step 4: Add the chocolate chips and almonds
Chop your ½ cup of almonds into small bite size chunks.
The cookie dough mixture will look a little crumbly when everything is mixed together. That's okay. Grab a handful and pinch it between your fingers. It should hold together.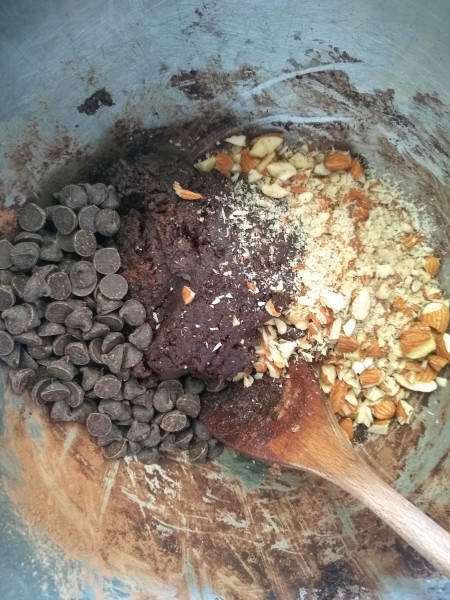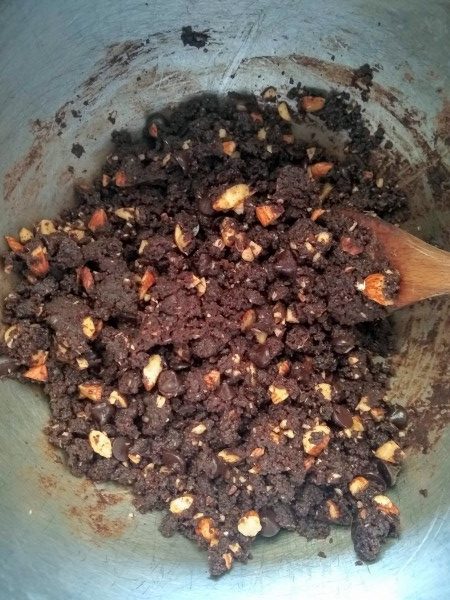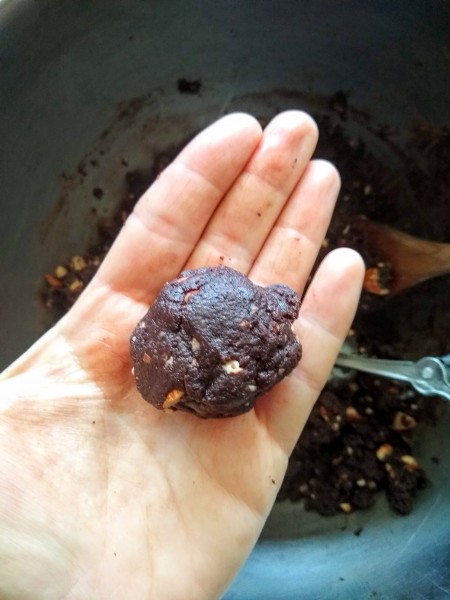 step 5: Scoop onto cookie sheet and bake
This is where it's really nice to have two cookie sheets that fit in your oven side by side. I HIGHLY recommend this. When they fit side by side, you don't have to rotate them and worry about burning the bottoms on one pan while the other pan's top is burnt but the bottom is raw.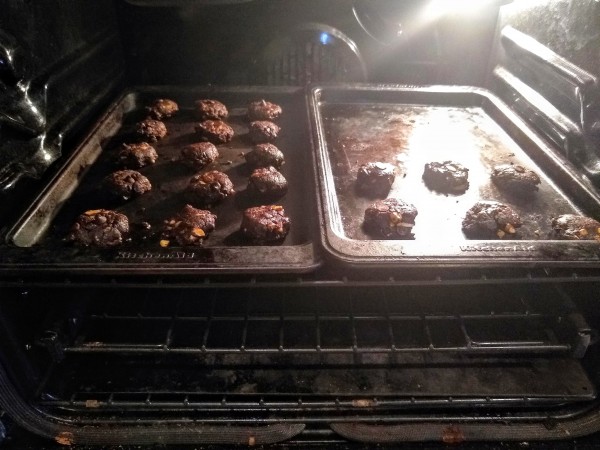 Bake them in the 350(F) oven for 6-8 minutes, or until the top is set. Then try not to eat them all at once!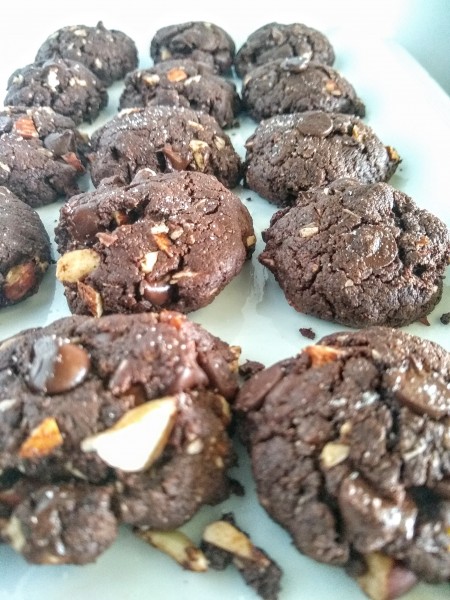 What chocolate chips are dairy free?
Many chocolate chips either have milk in them, or they might have "may contain milk" on the label. Typically "may contain milk" means that even though milk might not be an ingredient in the chocolate chips, there may be traces of milk from traces left on the machines.
You need to decide if you're okay with traces of milk, or not.
Completely dairy free chocolate chips
These chocolate chips are COMPLETELY dairy free. Grab them here on Amazon for WAY cheaper than the store.
Read ingredient labels to see if milk or milk products are included in the chocolate you're using. Pure cocoa powder (the 100% stuff) usually doesn't have milk. Many chocolate bars do.
Is there dairy in these Double chocolate cookies?
"Normal" cookies often use butter as a base. Some use a LOT of butter. Some people who don't do well with dairy do okay with butter. This recipe is butter free and dairy free. Delicious for everyone - regardless of where you stand on the dairy/no dairy issue.
Make ahead & storage
Make these cookies ahead and store for up to a week. Keep in an air-tight container to keep them fresh.
You can also freeze the cookie dough balls and cook them from frozen, one or two at a time whenever you need a chocolate fix!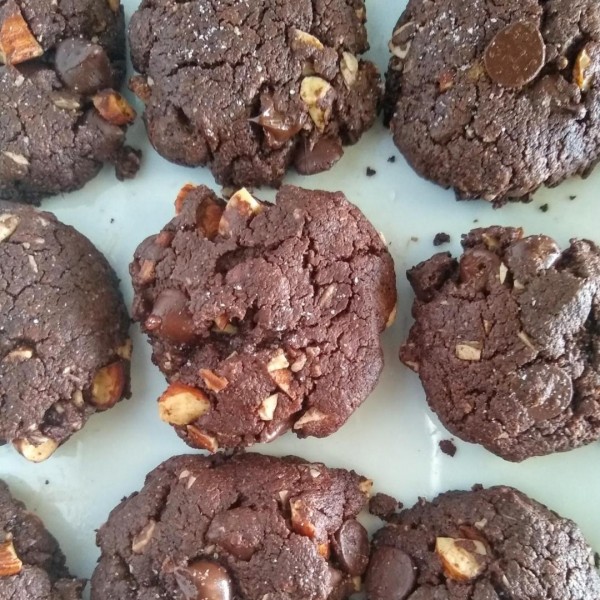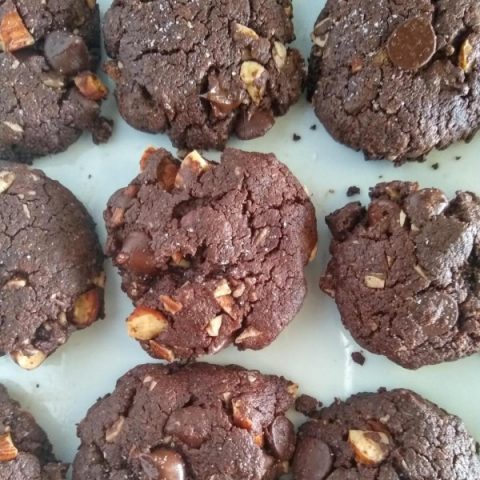 Flourless Double Chocolate And Almond Cookies (GF + DF + Paleo)
These flourless double chocolate cookies have melty chocolate chips and chunks of roasted almonds to satisfy your sweet tooth. Enjoy these gluten free and dairy free morsels today.
Ingredients
Wet:
1 cup almond butter
½ cup coconut sugar
1 egg
2 tsp vanilla
Dry:
½ cup cocoa powder
½ tsp salt
1 tsp baking soda
Fillings:
½ cup chopped roasted almonds
½ cup chocolate chips
Instructions
Preheat the oven to 350 (F)
Mix the almond butter, sugar, vanilla and egg in a bowl.
Mix the cocoa powder, salt, and baking soda in a separate bowl
Combine the two bowls, mixture will be thick
Add the almonds and chocolate chips and stir to combine. Mixture will look crumbly, but should hold together when you grab a handful and squeeze into a ball.
Bake in 350 (F) for 6-8 minutes, or until just set.
Notes
I like to use a 1 Tbsp cookie scoop to measure my cookie dough.
Nutrition Information:
Yield:

21
Serving Size:

1
Amount Per Serving:
Calories:

143
Total Fat:

10g
Saturated Fat:

1g
Trans Fat:

0g
Unsaturated Fat:

8g
Cholesterol:

9mg
Sodium:

136mg
Carbohydrates:

11g
Fiber:

2g
Sugar:

8g
Protein:

4g