Some of the links on this site may be affiliate links. This means, at no additional cost to you, I may be paid a small commission if you follow the links and make a purchase. Learn more here.
This ketchup has no sugar added and is still so flavorful. It's the essence of ketchup - without the crazy sweetness. It's made without sugar (or any sweeteners) and with simple ingredients you will find in your own kitchen. You'll never miss the other stuff when you can make this gluten free ketchup in ten minutes in your own kitchen with simple ingredients.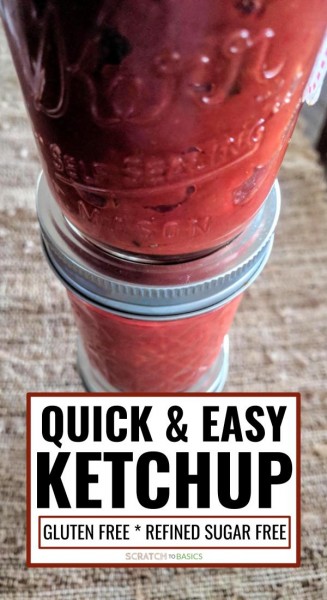 Tools needed to make this sugar free ketchup recipe
Mixing bowl - You can use any bowl you like. We have these glass bowls that I use often.
Sauce pan - Use what you've got. If you're in the market for a new one, here's one I recommend.
Mason jars - We love storing sauces and condiments in mason jars. They're re-usable and last forever.
Ingredients needed for this gluten free ketchup
Whole cloves - Makes your gluten free ketchup tastes like regular ketchup that you are used to.
Olive oil (or avocado oil) - Always use the healthiest type of oil in your ketchup recipe.
Tomato paste - Super concentrated and it gives out plenty of tomato flavor, with no tomatoes needed.
White vinegar or Apple Cider Vinegar- This will help preserve your gluten free ketchup. You can use white vinegar, apple cider vinegar, or whatever vinegar you have in your cupboard.
Other spices (cinnamon, salt, garlic powder, onion powder) - add the yummy savory flavors to the ketchup.
How to make this no sugar added ketchup
This recipe comes together in three simple steps. I'll walk you through each of them (with pictures) below.
Make the clove oil
Add the tomato paste and the seasonings
Divide it into jars. Freeze all but one.
Step 1: Make the Clove Oil
The secret to making your sugar free ketchup taste like what you're used to (or close to it) is the clove oil and making the clove-infused oil is really simple. To make clove oil, put a few whole cloves into the olive oil (or avocado oil) in a pot on the stove.
Turn the burner on medium-low and cook it for 3-5 minutes. The cloves will spice the oil and will add a delicious flavor to the ketchup. After 5 minutes, take the cloves out and turn off the burner.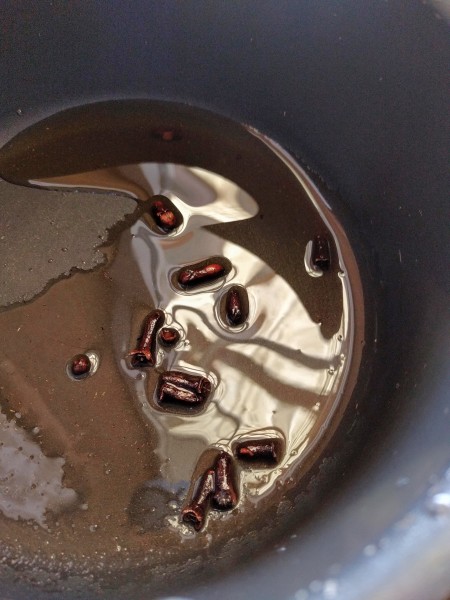 Step 2: Add the Tomato Paste and Seasonings
Next, add the tomato paste, vinegar, water, and seasonings to the oil (make sure you remove the whole cloves first) and stir to combine.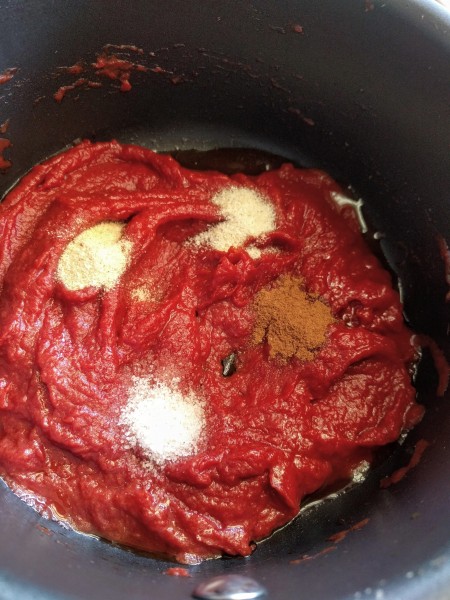 Step 3: Pack the ketchup into jars...time to eat!
Now, you scoop the ketchup into your mason jars. It'll make three of this size of mason jar. I like to freeze two and keep one in the fridge to use right away.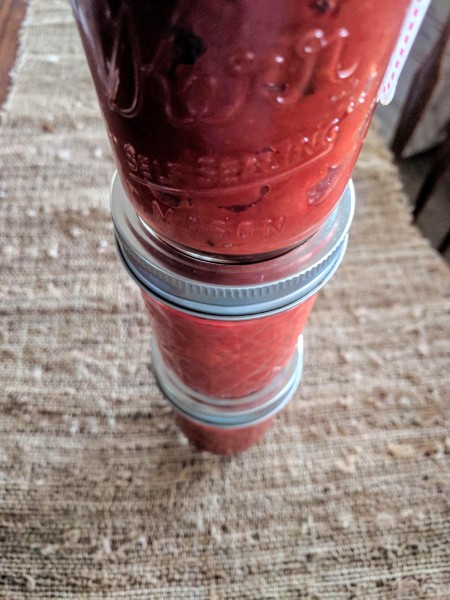 FAQ & Recipe Tips
How long can I keep my homemade ketchup? Does it freeze well?
Once you've got your no sugar added ketchup in the jar, you're done! It's really that simple.
You can store your ketchup in the fridge for 2-3 weeks, or freeze it for several months.
What's the difference between ketchup and tomato sauce?
To make tomato ketchup, you need concentrated tomato flavor and some key spices. This recipe uses tomato paste as a base. Here's a quick breakdown:
Tomato sauce is tomatoes cooked down into a sauce, usually with salt and sometimes other flavors.
Tomato paste is usually JUST tomatoes that have been reduced down farther than tomato sauce to be a very thick paste.
Ketchup is made from tomatoes with spices (and usually sugar) to make a flavorful sauce you can put on burgers, etc.
If you're wondering about the comparison of ketchup vs tomato sauce, ketchup is usually spiced with cloves, and other spices to get the distinct ketchup flavor. Tomato sauce is usually just salt, sometimes sugar, and a few herbs.
Is ketchup gluten free?
This ketchup recipe is definitely gluten free. If you're buying store bought ketchup you'll want to read the ingredient label and make sure there is no gluten in it. You may think, "why would they put gluten in ketchup?" - and I'm right there with you. It's often used in sauces as a thickener, but definitely not needed when you make it from home.
Related Recipes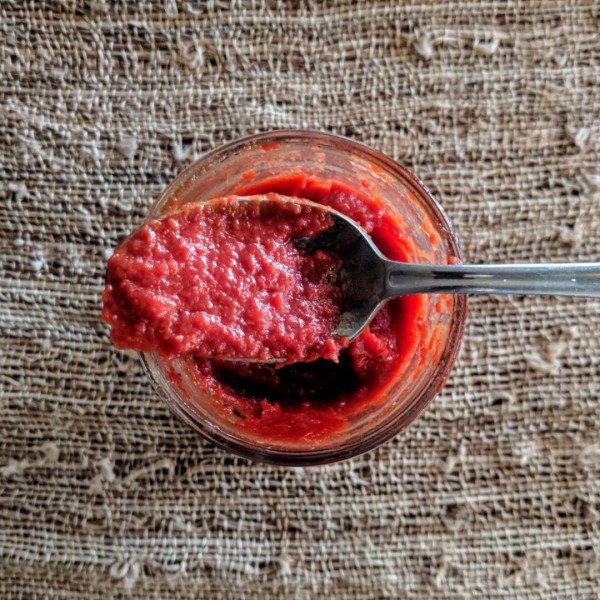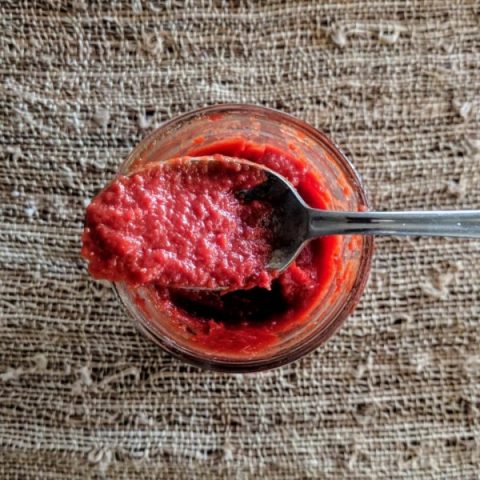 Sugar Free Ketchup Recipe
This homemade ketchup is made without added sugar! Still sweet and delicious, perfect for your burger, hot dog, or french fries.
Ingredients
¾ teaspoon whole cloves
3 tablespoon olive oil (or avocado oil)
3 - 6 oz cans of tomato paste
6 tablespoon white vinegar
3 tablespoon water
¾ teaspoon cinnamon
1 ½ teaspoon salt
¾ teaspoon garlic powder
¾ teaspoon onion powder
Instructions
Put your whole cloves in a pan with the olive oil and heat on medium low heat for 5 minutes.
Remove the whole cloves from the oil and turn off the heat
Add the tomato paste, vinegar, water, cinnamon, salt, garlic powder, and onion powder to the pan
Stir to combine
Notes
This makes 3 8 oz jars of ketchup. I like to keep one in the fridge for immediate use, and freeze the other two.
Nutrition Information:
Yield:

48
Serving Size:

1 Tbsp
Amount Per Serving:
Calories:

17
Total Fat:

1g
Saturated Fat:

0g
Trans Fat:

0g
Unsaturated Fat:

1g
Cholesterol:

0mg
Sodium:

79mg
Carbohydrates:

2g
Fiber:

1g
Sugar:

1g
Protein:

0g
Save this for later on Pinterest!