Some of the links on this site may be affiliate links. This means, at no additional cost to you, I may be paid a small commission if you follow the links and make a purchase. Learn more here.
This sugar free ketchup recipe is packed with flavor. You'll never miss the other stuff when you can make this in ten minutes in your own kitchen with simple ingredients.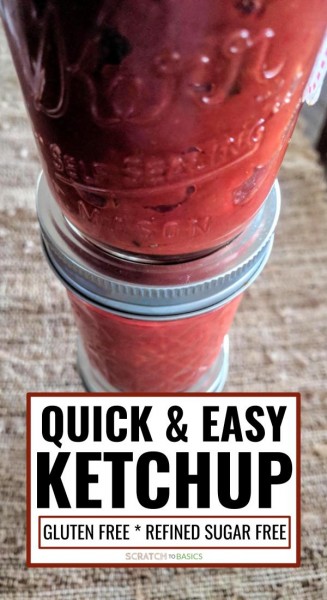 When you start paying attention to the ingredients in the food you're eating, you might wonder why the ingredient list is two inches long.
Are all those ingredients really necessary? Could it really be that hard to make condiments from scratch?
No!
It's not hard at all.
Welcome to the wonderful world of DIY cooking.
You've likely noticed the ketchup in the store is loaded with excess sugar.
And nobody needs extra sugar in their life. Especially not in a condiment when it's not even necessary.
I don't know about you, but I'd much rather eat my sugar in chocolate form...who's with me?
Why Use Tomato Paste in Ketchup?
You can make your own ketchup from fresh tomatoes when they're in season, but you can also use tomato paste and make it any time of the year.
Related: How to Make Pizza Sauce with Tomato Paste
Of course, these days we have tomatoes year round in the grocery stores, but I really wouldn't recommend making ketchup, or anything really, with them.
If you've ever eaten a tomato fresh off the vine in tomato season, you know what a tomato should taste like. The flavorless "tomatoes" you'll find in the grocery store were likely picked when green and shipped from somewhere else.
When you take fruit (like a tomato) off the plant before it's ripe, the sugars haven't developed fully (and won't). That means you get very little flavor. And it's just not worth it, in my opinion.
So I like to use tomato paste. Specifically, I like using organic tomato paste where "tomatoes" are the only ingredient. We buy ours at Costco. Apparently you can buy it on Amazon too if you don't have a Costco near you.
Ketchup with simple ingredients
When you make your own, you get to decide what goes in, and what stays out. This recipe uses tomato paste, no added sugar, and simple seasonings. The tomato paste is plenty sweet as it is.
how to make sugar free ketchup
tools needed
ingredients needed
Whole cloves
Olive oil (or avocado oil)
White vinegar
Other spices (cinnamon, salt, garlic powder, onion powder)
Here are the steps we'll take to make this ketchup:
Make the clove oil
Add the tomato paste and the seasonings
Divide it into jars. Freeze all but one.
Step 1: Make the Clove Oil
The secret to making the ketchup taste like what you're used to (or close to it) is the clove oil. And making clove-infused oil is really simple. To make clove oil, put a few whole cloves into olive oil (or avocado oil) in a pot on the stove.
Turn the burner on medium-low and cook it for 5 minutes. The cloves will spice the oil and will add a delicious flavor to the ketchup. After 5 minutes, take the cloves out and turn off the burner.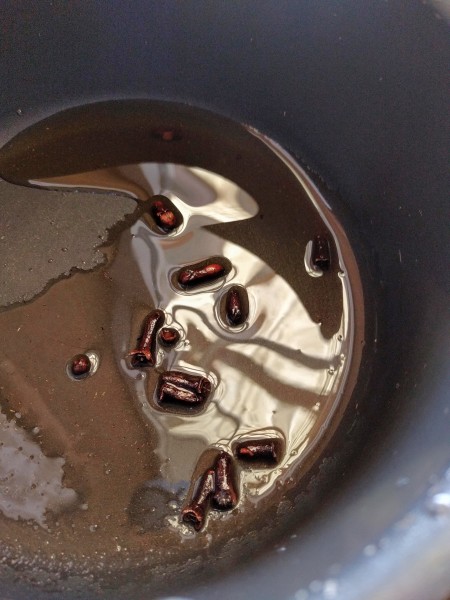 Step 2: Add the Tomato Paste and Seasonings
Next, add the tomato paste, vinegar, water, and seasonings to the oil (make sure you removed the whole cloves first). Stir to combine.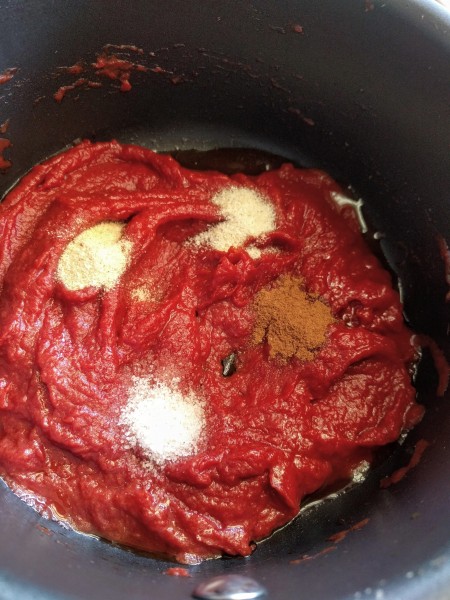 step 3: Pack the ketchup into jars...time to eat!
Now you scoop the ketchup into your mason jars. It'll make three of this size of jar. I like to freeze two and keep one in the fridge to use right away.
And now you're done! It's really that simple.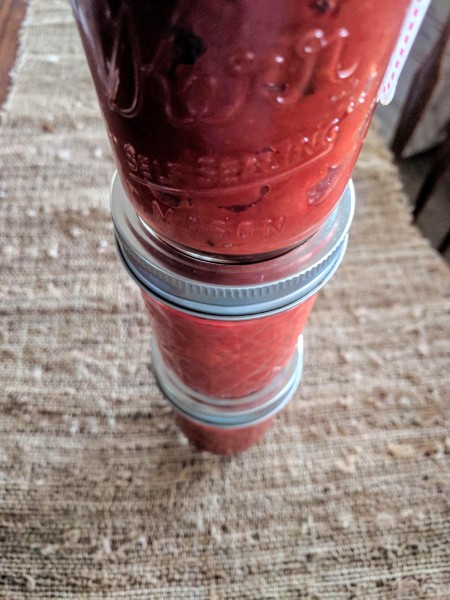 You can store this ketchup in the fridge for 2-3 weeks, or freeze it for several months.
Time To Make Your Own Sugar Free Ketchup
If you'd like to make your own sugar free ketchup, this recipe is for you! It uses simple, nourishing ingredients and delivers delicious taste. Perfect for dipping your sweet potato fries or spreading on your burger.
Looking for more recipes? Make your own fry sauce by mixing your ketchup with this easy homemade mayonnaise, mustard, and pickles. And if you're looking for more ways to use tomato paste, here's a delicious pizza sauce recipe your family will love.
Storing your ketchup for later
I think half pint (8 oz) mason jars are a great size to use. Choose your jars carefully though. Use this style (or this one) so you don't have a lip at the edge. We don't want wasted sauce in hard-to-reach places.
This recipe will make enough for 3 half pint (8 oz) mason jars.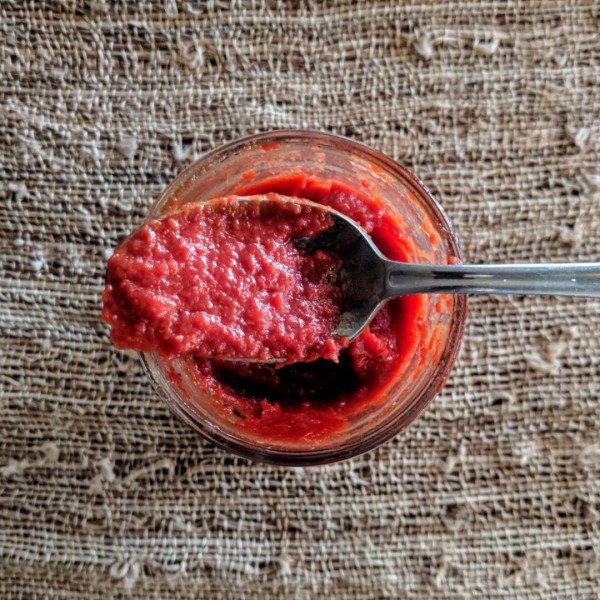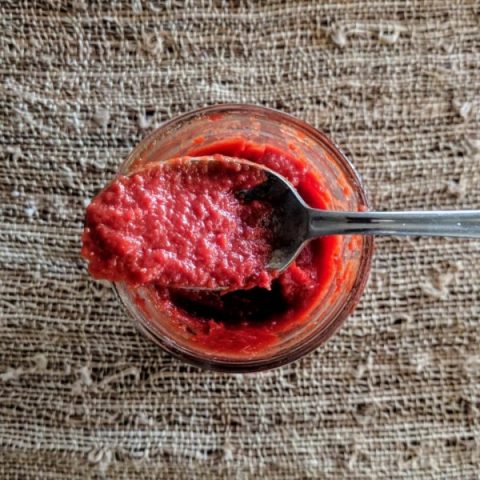 Sugar Free Ketchup Recipe
This homemade ketchup is made without added sugar! Still sweet and delicious, perfect for your burger, hot dog, or french fries.
Ingredients
¾ tsp whole cloves
3 Tbsp olive oil (or avocado oil)
3 - 6 oz cans of tomato paste
6 Tbsp white vinegar
3 Tbsp water
¾ tsp cinnamon
1 ½ tsp salt
¾ tsp garlic powder
¾ tsp onion powder
Instructions
Put your whole cloves in a pan with the olive oil and heat on medium low heat for 5 minutes.
Remove the whole cloves from the oil and turn off the heat
Add the tomato paste, vinegar, water, cinnamon, salt, garlic powder, and onion powder to the pan
Stir to combine
Notes
This makes 3 8 oz jars of ketchup. I like to keep one in the fridge for immediate use, and freeze the other two.
Nutrition Information:
Yield:

48
Serving Size:

1 Tbsp
Amount Per Serving:
Calories:

17
Total Fat:

1g
Saturated Fat:

0g
Trans Fat:

0g
Unsaturated Fat:

1g
Cholesterol:

0mg
Sodium:

79mg
Carbohydrates:

2g
Fiber:

1g
Sugar:

1g
Protein:

0g
Save this for later on Pinterest!