Some of the links on this site may be affiliate links. This means, at no additional cost to you, I may be paid a small commission if you follow the links and make a purchase. Learn more here.
This is the easiest recipe for Caesar dressing from mayo you've been looking for! If you're looking for a quick Caesar dressing recipe with no eggs required, then you've come to the right place.
You don't need any special equipment or raw eggs to make this creamy, umami-rich Caesar dressing with mayonnaise, since we only use mayonnaise as a base, and this dressing couldn't be easier to whip up. What are you waiting for? Make this Caesar dressing from mayo today!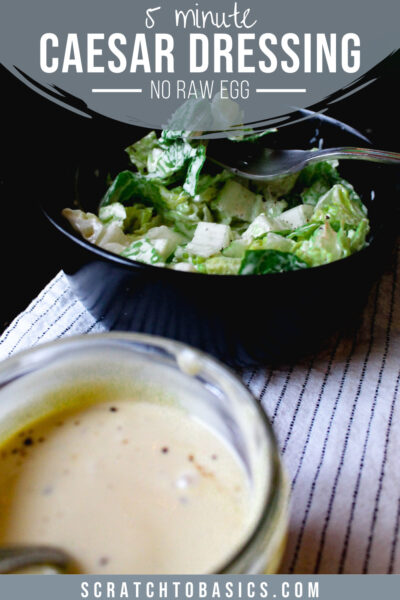 It doesn't matter if you're avoiding eggs for health reasons, don't want to eat the raw egg, or are just way too intimidated by the egg-emulsion required for the traditional Caesar dressing, this recipe is a Caesar salad dressing without eggs that you will absolutely love.
If you DO want a traditional homemade Caesar dressing (WITH the egg emulsion), here's my classic homemade Caesar dressing recipe.
Tools Used to Make the Caesar Dressing from Mayo
Jar/Bowl - You may serve your salad in a beautiful bowl made of wood, glass, or ceramic. Do also keep in mind that the salad dressing should be kept in an airtight container with a cover in order to keep it fresh.
Spoon- Salad forks which are always paired with a spoon this ensures better mixing and serving of salad.
Zester - A zester is a cooking equipment used to extract the zest from citrus fruits like lemons. (This is optional, but recommended. This is the one we use and love)
Ingredients to Make the Easiest Caesar Dressing from Mayo
Mayonnaise - It is a condiment created from vinegar and egg yolks. Taken in small quantities, it can be healthy. (store bought or homemade mayonnaise) If you're avoiding eggs for health reasons, make sure you're using an egg-free mayo substitute. If you don't have any mayo, you might be able to use plain yogurt.
Anchovy paste (you miggghhhhtttt be able to go without this, but I encourage you not to) - If you don't like anchovy paste, you can slice up some anchovy filets and mix them in if you want to taste the pieces of salty umami.
Black pepper - Black pepper has health benefits beyond spicing up Caesar salad dressing.
Fresh Garlic - Garlic zest gives this dressing a garlicky edge. For a milder garlic flavor, substitute garlic powder. Try ¼ tsp first. If you want more garlic? Add more.
Salt - It enhances the flavor of food and serves as a binding agent and stabilizer. We love using this salt because it still has those trace minerals in it.
Lemon juice - Add a dash of lemon juice to your homemade Caesar dressing from mayo salad to add a dash of flavor and freshness.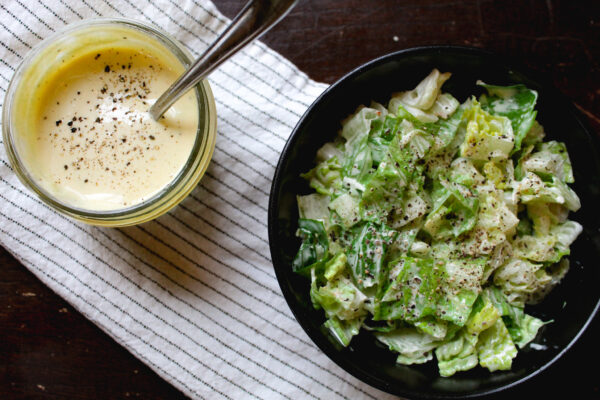 How to Make the Easiest Caesar Dressing from Mayo
This recipe could NOT be easier.
Zest the garlic (we love this zester)
Add all ingredients to the jar/bowl you're using
Stir to combine
Enjoy over a delicious salad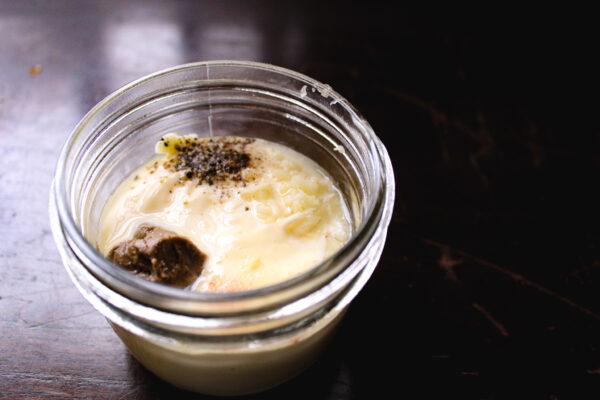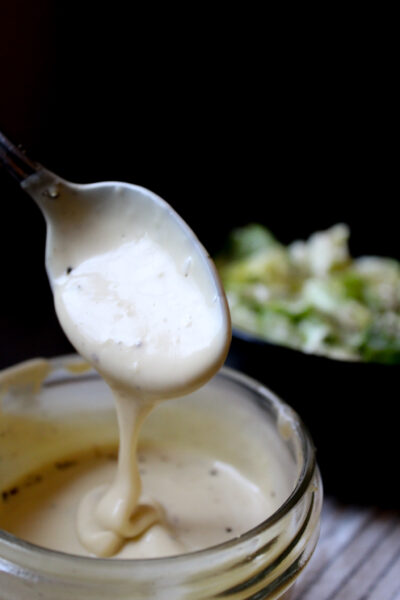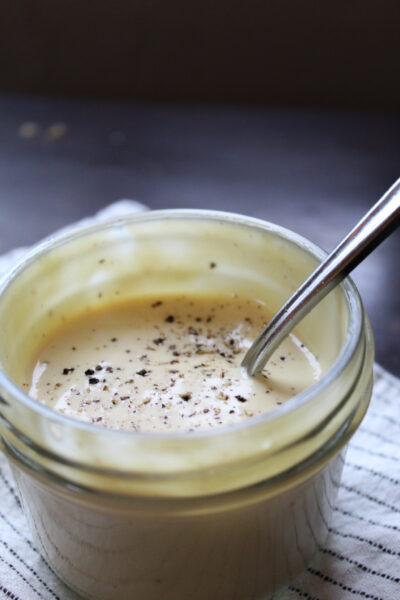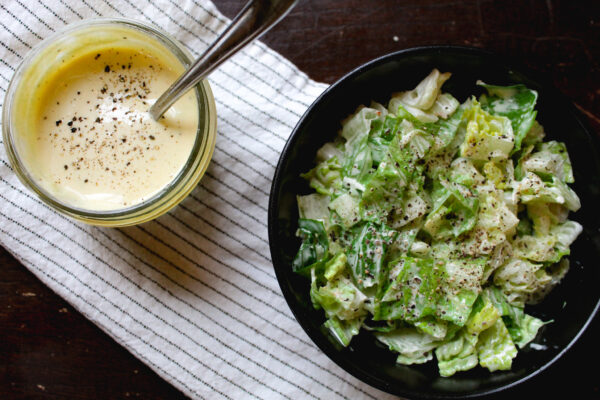 FAQ & Recipe Tips
Does Caesar dressing contain mayonnaise?
Traditionally, Caesar dressing doesn't have mayonnaise in it. However, our Caesar salad dressing has mayonnaise in it, along with anchovy paste, pepper, raw garlic, salt, and lemon juice. Here are a few more uses for mayonnaise if you've got some to use up.
What is classic Caesar dressing made of?
Most classic Caesar dressings contain olive oil, egg (or just the yolk), Worcestershire sauce, lemon juice, mustard, garlic, and pepper. Here is a great homemade Caesar dressing that's more traditional with the egg emulsion. This recipe (below) is a shortcut recipe that uses mayonnaise as a base instead of using raw eggs and the egg emulsion technique.
More salad dressings to make at home this week
If you're looking for other healthy homemade salad dressings, I've got you covered. Most likely you already have all the ingredients for these recipes in your kitchen (or you can easily get them at your local grocery store).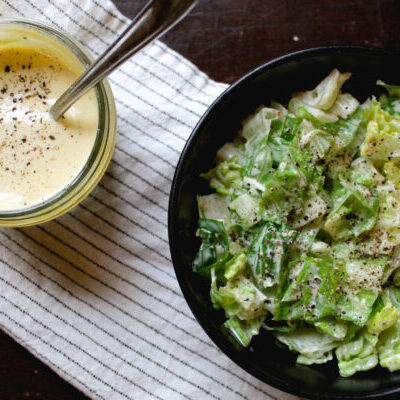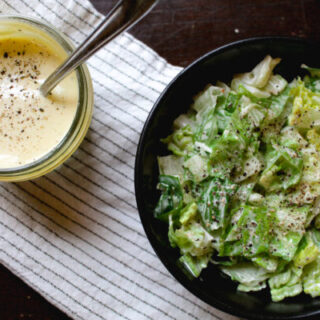 5 Minute Caesar Dressing
Looking for the easiest Caesar dressing from Mayo? Check this recipe out! This recipe uses mayonnaise and just a few simple ingredients!
Ingredients
½ cup mayonnaise
1 tsp anchovy paste
1 garlic clove - zested
1 tsp lemon juice
Salt, black pepper to taste
Instructions
1. Using the zester, zest the garlic into a bowl.
2. Add mayonnaise, anchovy paste, and lemon juice.
3. Taste, and add black pepper and/or salt if you'd like
4. If you'd like the dressing to be thinned out, add 1 tsp of water at a time until it's the consistency you want it.
Save this for later on Pinterest