Some of the links on this site may be affiliate links. This means, at no additional cost to you, I may be paid a small commission if you follow the links and make a purchase. Learn more here.
Make yourself some homemade pumpkin seed butter (or pepita butter) and you won't be disappointed! While making pumpkin seed butter will take longer than walnut butter, but it's worth the wait.
I love the creamy texture of homemade nut butters and spreading it makes it so easy to eat.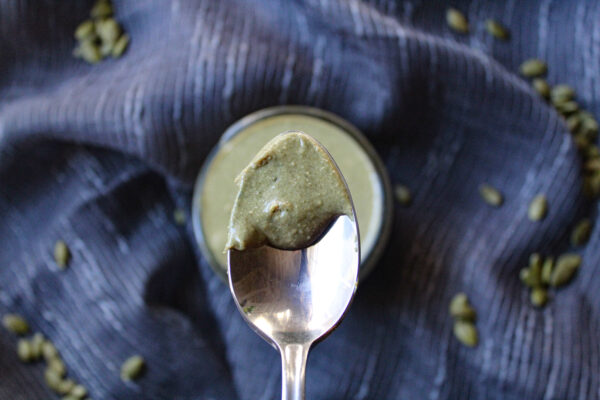 Tools used to make pumpkin seed butter
Baking sheet - You'll need a baking sheet to roast the pumpkin seeds in the oven.
Food processor - To blend it all up. We love our Cuisinart and have had it for over a decade now. Here's the one we have.
Ingredients used to make pumpkin seed butter
Pumpkin seeds (sometimes also called pepitas) - I usually buy the raw pumpkin seeds from the bulk section in the grocery store. They'll be green, flat, and oval.
Salt - Use what you love. We love this himalayan salt.
Health benefits of pumpkin seeds
Pumpkin seeds contain a whole lot of nutrition, and you don't have to eat much of them to get the benefits. Here's a few benefits, according to this article:
High in antioxidants like carotenoids and vitamin E which can reduce inflammation and protect your cells from free radicals.
They're linked to a reduced risk of stomach, breast, lung, prostate, and colon cancers.
Pumpkin seeds are one of the best natural sources of magnesium. Did you know that magnesium is needed for more than 600 chemical reactions in your body?
There's many more health benefits of pumpkin seeds, but hopefully these few will convince you that you should definitely be making some pumpkin seed butter today.
How to make creamy pumpkin seed butter
Friends, this one is so simple, it just takes a little time. It's all passive for you though, so sit back and watch your pumpkin seeds turn into butter - right before your eyes.
Step 1: Roast the pumpkin seeds
First, you'll roast the pumpkin seeds in a 300 (F) oven for 15 minutes. This releases some of the oils and adds a bit of flavor.
Step 2: Blend the pumpkin seeds in your food processor
Add the roasted pumpkin seeds to the bowl of your food processor. Pumpkin seeds will take a while to turn into nut butter, but they WILL do it on their own.
It took my food processor about 10 minutes to get it to a nice creamy consistency. Some recipes will tell you that you have to add oil, but you don't. The seeds will come together on their own.
If your food processor starts smoking or smells funny, let it rest, then come back to it when it's cooled down a bit.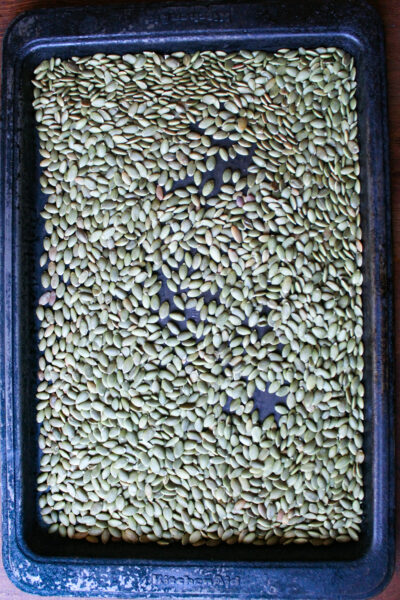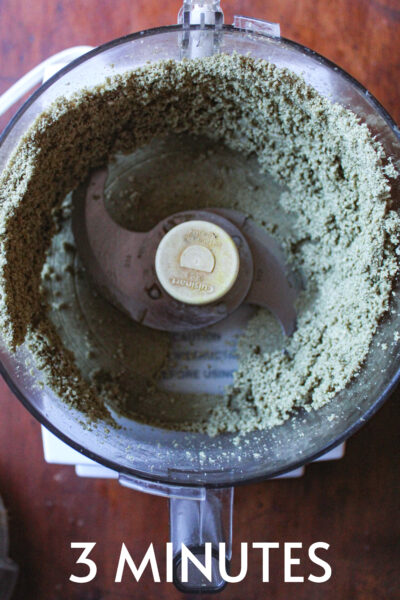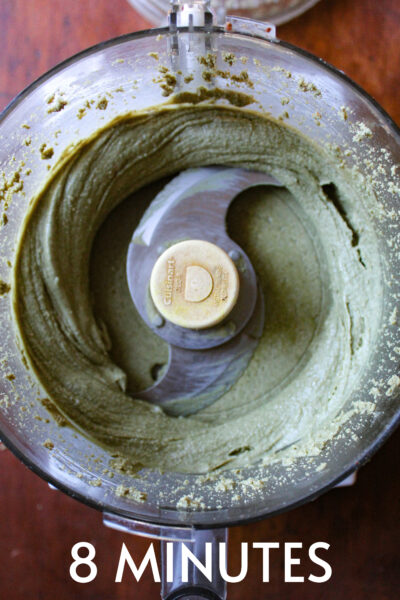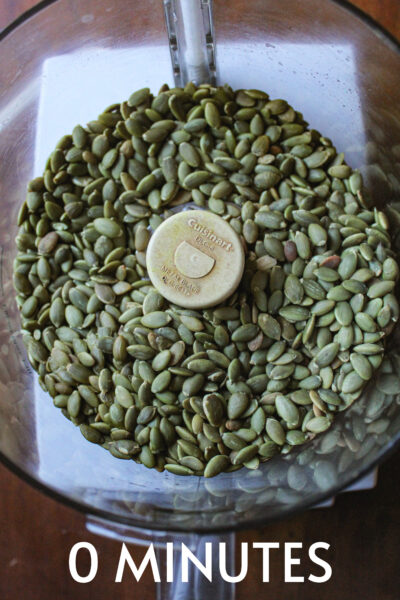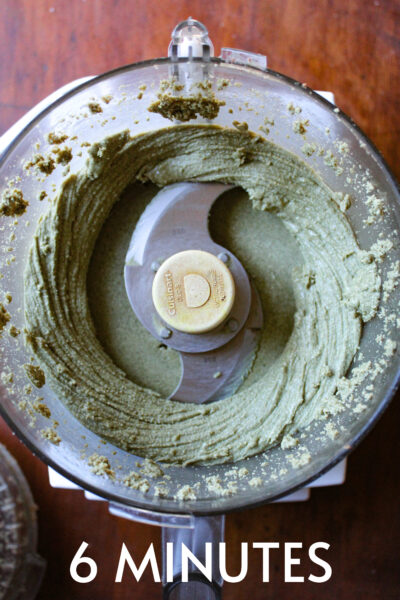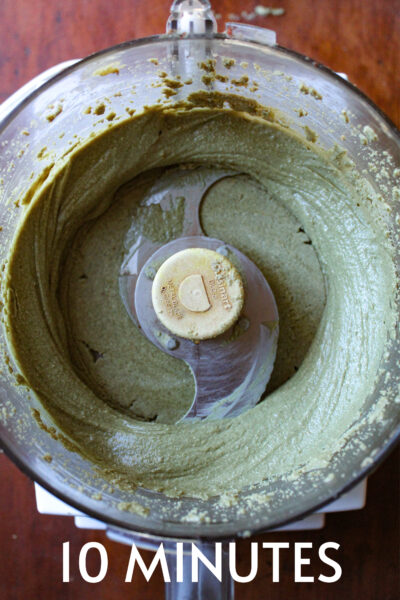 FAQ & Recipe Tips
Do I have to add oil to make the pumpkin seed butter work?
Nope! It'll come together eventually assuming you're using a food processor that is powerful enough. Just keep blending :).
How to store pumpkin seed butter
I recommend storing your pumpkin seed butter in the fridge. You should be able to keep it in the fridge for at least a week.
How to use pumpkin seed butter
You can use it in a recipe (like these ginger cookies), or just spread it on your toast in the morning. People might look twice at you for using what will look like green peanut butter, but it's gonna taste great!
What are pepitas?
Pepitas are another name for pumpkin seeds. They're green, flat, and oval. If you've ever carved a pumpkin you may be a bit puzzled because those seeds were white. But inside that hard white outer coating, is the green pumpkin seed (or pepita) that we use in this recipe.
Can I use the pumpkin seeds from a pumpkin?
Nope, I wouldn't do that. The green pumpkin seeds we're using in this recipe don't have a shell, which makes them much easier to turn into nut butter. You can definitely roast the pumpkin seeds that you get when you carve a pumpkin, but I wouldn't use them to make nut butter.
More homemade nut butters you can make today!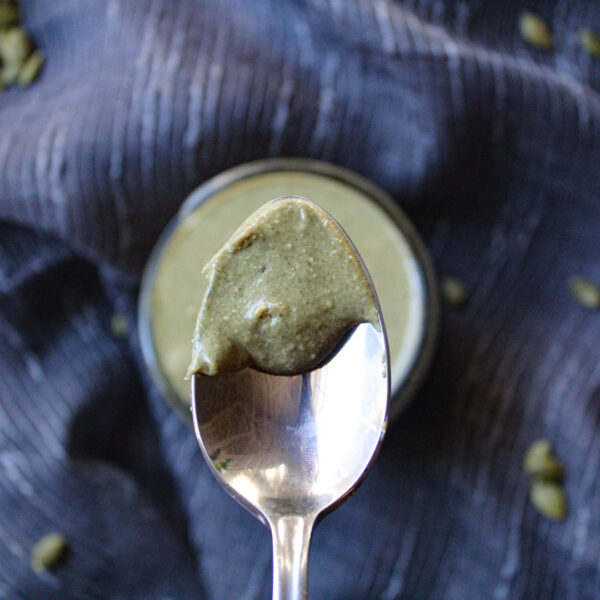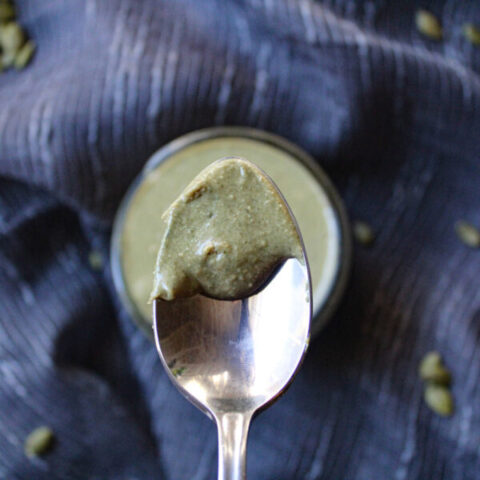 2-Ingredient Pumpkin Seed Butter Without Oil
Make yourself some delicious homemade pumpkin seed butter with just 2 ingredients - it's easy, creamy and no oil needed!
Ingredients
2 cups pumpkin seeds
½ teaspoon salt
Instructions
Roast the pumpkin seeds in a 300 degree (F) oven for 15 minutes.
Add pumpkin seeds to the bowl of your food processor and blend for about 10 minutes.
Enjoy!
Nutrition Information:
Yield:

16
Serving Size:

1 tbsp
Amount Per Serving:
Calories:

36
Total Fat:

2g
Saturated Fat:

0g
Trans Fat:

0g
Unsaturated Fat:

1g
Cholesterol:

0mg
Sodium:

74mg
Carbohydrates:

4g
Fiber:

1g
Sugar:

0g
Protein:

1g
Save this on Pinterest now!