Some of the links on this site may be affiliate links. This means, at no additional cost to you, I may be paid a small commission if you follow the links and make a purchase. Learn more here.
One of the best ways to get maximum flavor from your home cooked meals, is to use spice blends like the ones listed here. This post has 20 simple homemade spice mixes that you can make today from simple spices in your spice cupboard. Give these homemade spice mixes for gifts, or use them in your next homemade meal!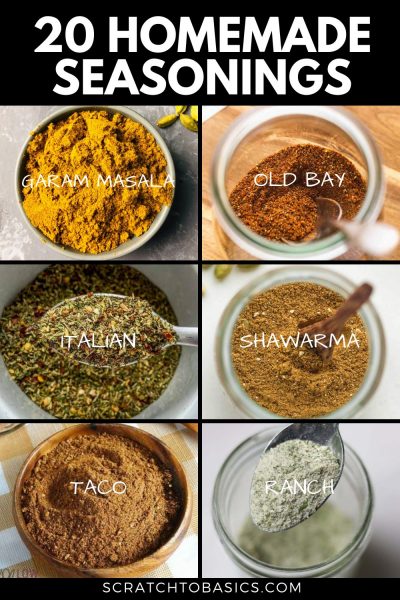 If you've ever looked at some of those store bought spice packets, you'll notice there's quite a bit of preservatives & artificial flavorings in addition to the spices.
Related: Get A Monthly Spice Box Delivered To Your Door - 5 Must-Try Spice Box Subscriptions
A simple way to bypass all that icky stuff is to just make your own homemade spice blends.
I've broken the spices out into a few different categories to make it easier to sort through.
Classic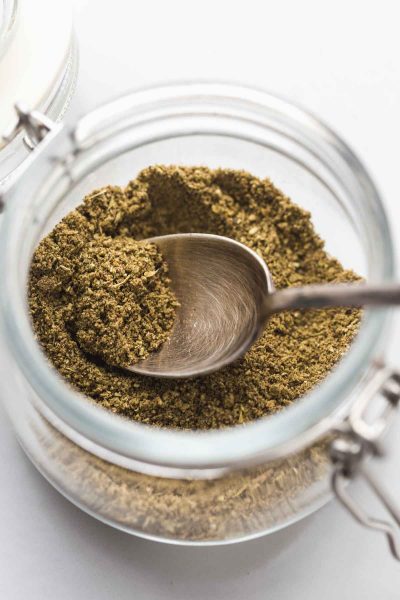 Poultry Seasoning by Nourish Plate - This tasty and easy to make Poultry Seasoning is a must-have in every pantry! It's perfect for seasoning chicken, turkey, stuffing, gravy, and much more. And it requires only a few simple ingredients.
Ranch Seasoning Mix by Cook at Home Mom - If you love ranch seasoning, this is the recipe for you! This ranch seasoning mix is Vegan, Keto, and Whole30 compliant, made with simple herbs and spices you probably already have in your pantry!
Pumpkin Pie Spice by In the Kitch - This easy, quick recipe for pumpkin pie spice is a simple blend of 4 spices. This mix is all you need to flavor a variety of pumpkin dishes.
Italian Seasoning by This Healthy Table - Italian seasoning is a versatile herb blend that can be used to flavor Italian and other Mediterranean dishes. It's easy to make your own Italian seasoning blend at home.
Taco Seasoning by Low Carb Yum - A simple homemade Taco Seasoning Mix using wholesome ingredients and no preservatives.
Onion Soup by Son Shine Kitchen - Forego the store-bought package of Onion Soup Mix and make yours at home next time you need it with a few simple ingredients and 5 minutes of time.
Burgers - Steaks - Seafood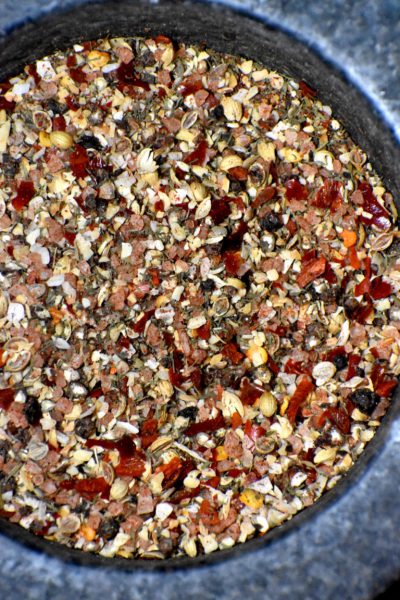 Montreal Steak Seasoning by GypsyPlate - How to make every Steak the BEST you've ever had? Only one answer: Montreal steak seasoning!
Homemade Seasoned Salt by Slender Kitchen -The best homemade seasoned salt that can be used for french fries, roasted vegetables, grilled meats, burgers, seafood, and more. Easy and delicious.
Burger Seasoning by Snappy Gourmet - Burger Seasoning, an easy spice mix that is perfect for all kind of burgers!
Old Bay Seasoning by Little Sunny Kitchen - Homemade copycat Old Bay Seasoning made with sweet paprika, celery salt, dry mustard, and a few more secret ingredients. This is a copycat recipe that replicates store-bought Old Bay Seasoning. Perfect for shrimp, crabs, chicken, and vegetables.
Cajun Seasoning by Easy Recipes for Families - This most flavorful Cajun spice mix comes together in 5 minutes! Find out how to make this amazing spice mix.
Everyday Seasoning by 24Bite - Use this tasty mild pepper everyday seasoning salt blend on anything from meat to vegetables. It's delicious on popcorn and french fries and great in stew and chili. Use it everywhere!
Indian Style SPice Mixes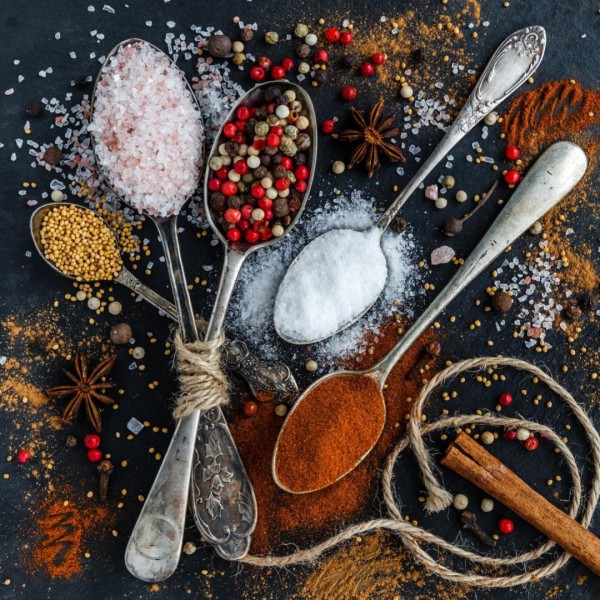 Chai Mix by Scratch to Basics - This simple, yet delicious chai mix can be used to flavor your coffee, hot chocolate, or even baked goods.
Garam Masala by Spicy Tamarind - Garam masala is a blend of whole spices that is dry-roasted and ground into a fine powder. 'Garam' means hot and 'masala' generally refers to a spice mix. Garam masala is used in many curries (mostly north Indian) towards the end of the cooking.
Tandoori Masala by Dishnthekitchen - Tandoori Masala is a mixture of lively spices commonly found in Indian cooking. Use it to marinate chicken or in a luxurious Butter Chicken Sauce. A quick dry roast and spices come alive.
Milk Masala by Spice up the Curry - Milk masala powder recipe - a unique blend made from nuts, couple of spices and saffron. This is added in a glass of milk along with sugar to make masala doodh or masala milk.
Sambar Masala by Homemade Recipes - This is a combination of aromatic spices dry roasted and ground together to prepare this flavorsome spice mix. This is used to prepare a popular South Indian Dish- sambar (Indian lentil)
Middle Eastern/African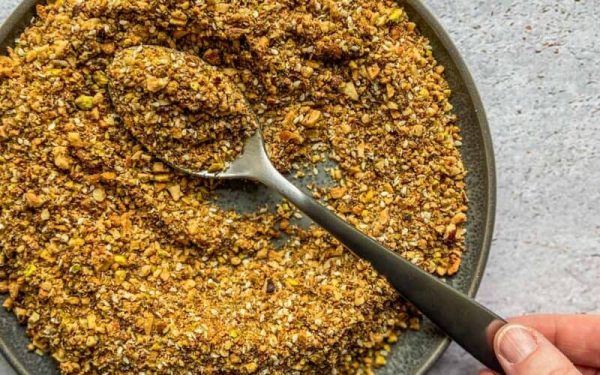 Dukkah by This Healthy Table - Dukkah (pronounced doo-kah) is an Egyptian nut, seed, and spice mix used as a topping and dip for meat, fish, and vegetables.
Ras al Hanout by MarocMama - Ras al hanout is a Moroccan spice mixture that is used to add a punch to dishes. Use it sparingly and a little goes a long way!
Shawarma by Little Sunny Kitchen - Authentic Shawarma seasoning blend, just the way it's made in the Middle East. It's so fragrant, delicious, and easy to make. Great to season chicken, meat, vegetables, and even chickpeas.
which is your favorite?
Well, which is going to be the first homemade spice mix you make in your kitchen? Comment below and let me know!