Some of the links on this site may be affiliate links. This means, at no additional cost to you, I may be paid a small commission if you follow the links and make a purchase. Learn more here.
Looking for a gluten free & grain free sausage & cranberry stuffing for Thanksgiving this year?
When you're avoiding grains, gluten, or dairy, the standard American Thanksgiving dinner can be a bit lacking of food you can actually eat. Not so if this dish is on your table! It's made with simple ingredients, real ingredients, and is Paleo, Whole 30, Gluten Free, Grain Free & Dairy Free friendly.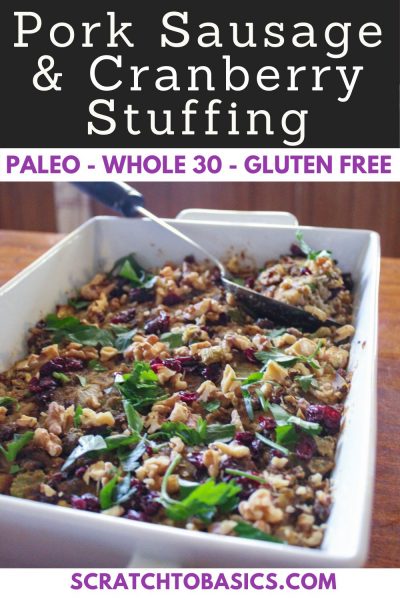 Tools used to make gluten free sausage & cranberry stuffing
Ingredients used to make this sausage & cranberry stuffing
How to make this sausage and cranberry stuffing
In all things in life, I strive for simplicity. This recipe is no different. Just follow these simple directions.
Cook the ground pork in your pan.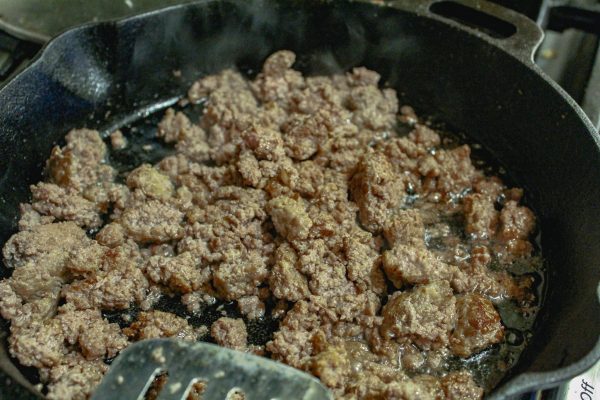 Then add the onions, celery & seasonings.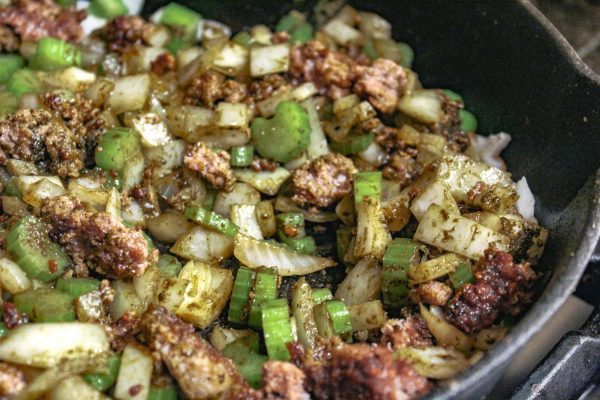 After the onions and celery are cooked, add the diced apple.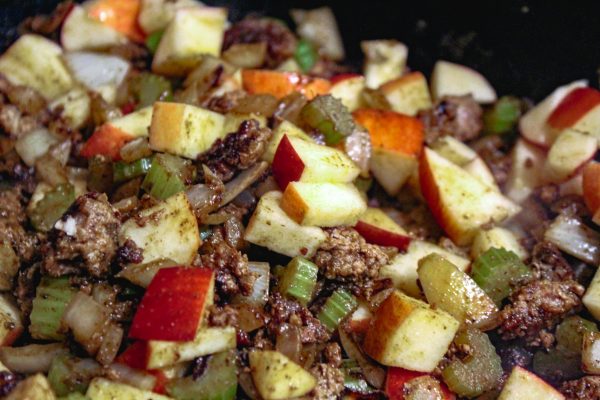 After about a minute, add the dried cranberries & remove from heat.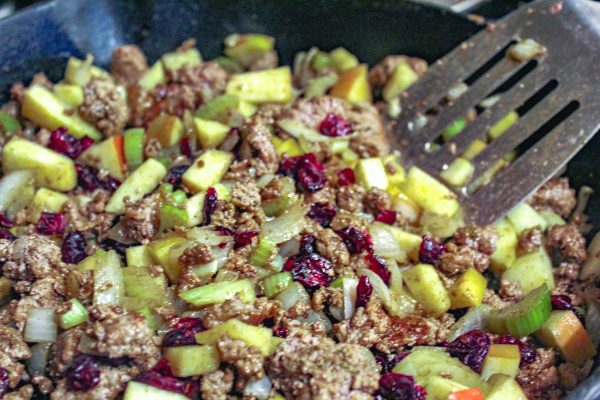 Next, add the coconut flour/tapioca flour/broth/egg mixture & bake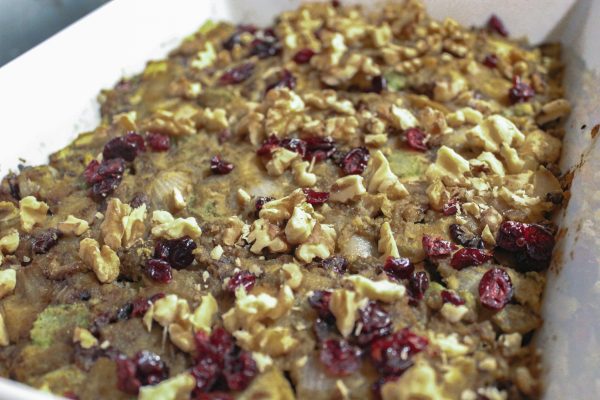 Serve with fresh parsley (optional) and enjoy your feast!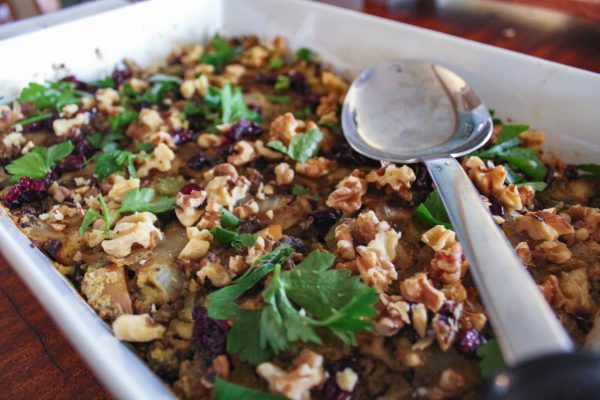 Gluten Free Sausage stuffing - Make ahead & storage options
This would be a great dish to make the day before Thanksgiving and just reheat the day-of. One less thing to do day-of Thanksgiving sounds pretty great...amiright?
Another option would be to make the pork/onion/celery/apple/cranberry part a couple days before you need it, then the day-of, add the coconut flour + tapioca + egg mixture and bake.
Ingredient Substitution ideas
Flours - There are a lot of different flours that could work in this recipe. We use coconut flour in most recipes and prefer it to other Paleo flours. However, I would guess (although haven't tested it yet) that you could substitute the coconut + tapioca flours for almond flour.
Liquid - This recipe is pretty flexible. I used bone broth for the liquid, but you should be able to substitute water, or even your preferred milk if you'd rather.
Meat - If you'd rather substitute pre-seasoned sausage for the ground pork, you'll need to adjust the spices accordingly. Since each type of sausage will be seasoned a bit differently, I recommend starting with ¼ of the seasonings in the recipe (poultry seasoning and salt) and add more (before you add the flour mixture) to taste.
More Thanksgiving Recipe Ideas
If you're looking for more recipes for Thanksgiving this year, look no farther. I've got you covered.
Looking for sides? Check out this HUGE list of gluten free Thanksgiving sides & salads. Or these maple bacon brussels sprouts OR these honey mustard brussels sprouts.
Looking for desserts? Here's an awesome list of Paleo-friendly pumpkin desserts, OR these pumpkin brownie bites OR these no-bake ginger date balls.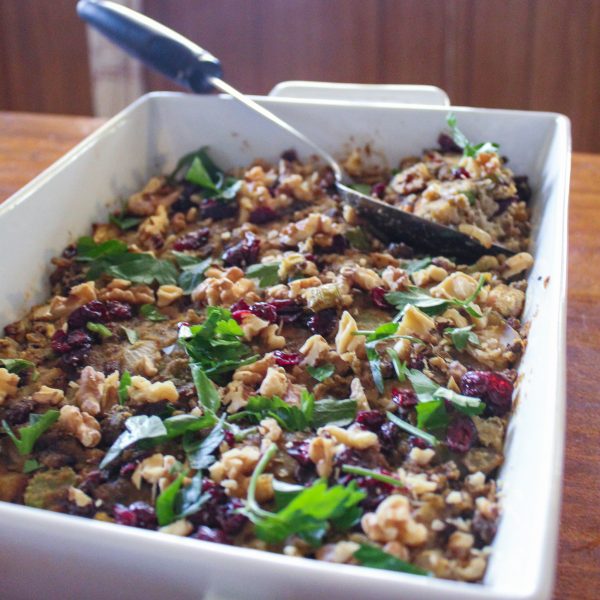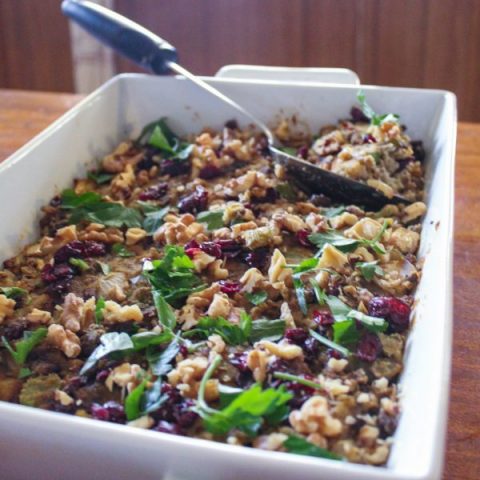 Pork Sausage & Cranberry Stuffing
Enjoy this delicious flavor-packed stuffing for a gluten-free & grain-free stuffing replacement. You'll never even know the difference.
Ingredients
1 lb ground pork
7 stalks celery, diced
2 medium onions, diced
4 Tbsp poultry seasoning
1 ½ tsp salt
2 large apples (or 3 small/medium apples)
¾ cup dried cranberries
¾ cup coconut flour
¼ cup tapioca flour
2 eggs
1 ½ cup bone broth
2 Tbsp butter, melted
½-¾ cup walnuts, chopped
Fresh parsley (optional)
Instructions
Preheat the oven to 350 (F)
Cook the pork in your skillet on medium heat, breaking it up into pieces as it's cooking.
When the pork is cooked through (you'll see no pink), add the poultry seasoning, salt, diced onion and celery to the pan and cook until onion is translucent (about 5 more minutes) while stirring occasionally.
Once the onion and celery are cooked, add the diced apple and cook for 1 more minute, stirring occasionally.
Add the dried cranberries and remove the pan from heat.
In a separate bowl, mix the coconut flour, tapioca flour, egg, and bone broth. Stir until evenly mixed.
Pour the stuffing into your baking dish and sprinkle chopped walnuts on top.
Bake for 30-40 minutes in a 350 (F) oven.
Sprinkle with fresh parsley and serve.
Notes
To substitute pre-seasoned sausage for the pork, you'll need to adjust the seasoning accordingly. I recommend starting with ¼ of the recommended poultry seasoning & salt, and adding more to taste, as needed
Don't forget to save this for later!