Some of the links on this site may be affiliate links. This means, at no additional cost to you, I may be paid a small commission if you follow the links and make a purchase. Learn more here.
Semi dried tomatoes straight out of the oven are one of the most delicious things I've ever eaten. The oven roasting brings out the sweetness and dries them out a bit, then you can use them on salads, sandwiches, burgers, or just by themselves. You've got to try them!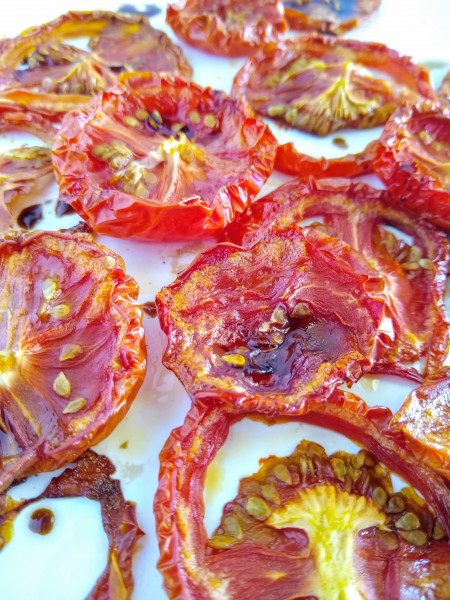 What is the difference between sun dried and semi-sundried tomatoes?
Sun dried tomatoes are completely dried. They sit out in the sun for a few days to fully dry and the end product has no water left in them.
Semi dried tomatoes are...well...almost dried, but not quite. They're dried enough to make them super sweet, and not as watery, but they still have their tomato shape (not totally curled up).
We love slow roasting our garden fresh tomatoes (which are way sweeter than store bought) and then we freeze the excess.
If you don't have garden fresh tomatoes, just use store bought (or find someone with an over-producing tomato plant and make a friend).
If you use the store bought tomatoes (which often have very little flavor), semi-drying them will turn your them into sweet bursts of yumminess that's worth eating.
Ingredients to make semi-dried tomatoes
Tomatoes - buy organic if you can find them and afford them (or just grow your own). Garden fresh tomatoes are going to be your best (and sweetest) option because of how much flavor they have. But even with store bought tomatoes, you'll get a sweet result from this recipe.
Olive oil or Avocado oil for drizzling.
Salt and Pepper
Tools needed to make semi-dried tomatoes
No fancy tools are needed for this recipe, which makes it even better! You likely already have these in your kitchen, but if not I've provided links to Amazon for your convenience.
How to make semi dried tomatoes
Basically what we're doing is half-way drying the tomatoes in the oven. It doesn't take quite as long as the fully dried (or sundried) tomatoes, and doesn't require you to have a dehydrator (or a big open sunny spot outside).
Plus, the texture and flavor of the finished product is awesome.
This recipe is so easy and passive (meaning it doesn't take hours of standing over a stove). Turn on the oven, stick the sliced tomatoes in, and in a few hours you'll have the sweetest roasted tomatoes ever. It's so easy.
Step 1: Slice the tomatoes
I used the big tomatoes for this recipe. With the big ones you'll want to slice them into several slices. Try to slice the tomatoes into equal sizes so they cook in a similar time.
If you're using smaller tomatoes (grape tomatoes or cherry) you can just halve them and move on to step 2.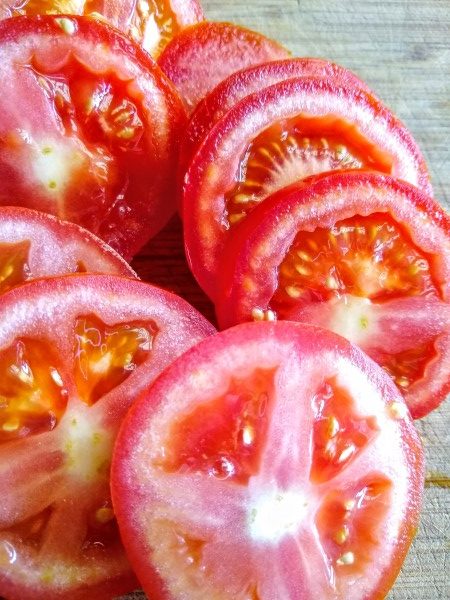 Step 2: Lay the tomato slices on a baking sheet
Next, lay the tomato slices in a single layer on a baking sheet. Drizzle a little olive oil and sprinkle some salt over the top of them. Notice in the picture below there are different sized slices. If this happens to you, that's okay! You might just need to remove the smaller ones before the big slices are done.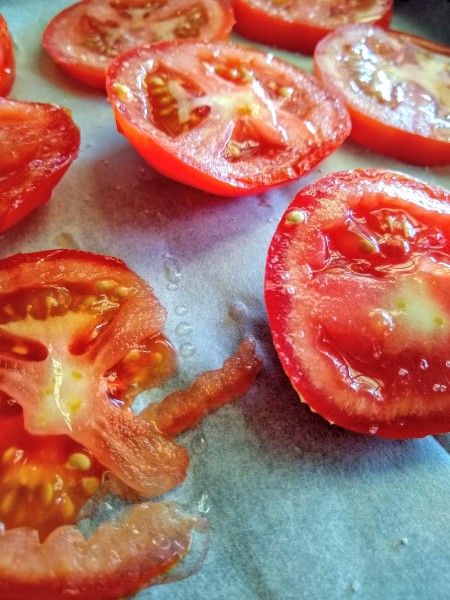 Step 3: Bake the tomatoes in your 250 (F) oven
Bake them in your 250 (F) oven for a few hours. The exact time will depend on the size of the tomato slices. You'll need to cook them for 2-3 hours if you're using big slicing tomatoes sliced about ¼" thick (longer if you have really big slices).
Smaller tomatoes like grape or cherry tomatoes may take less time, depending on how big they are.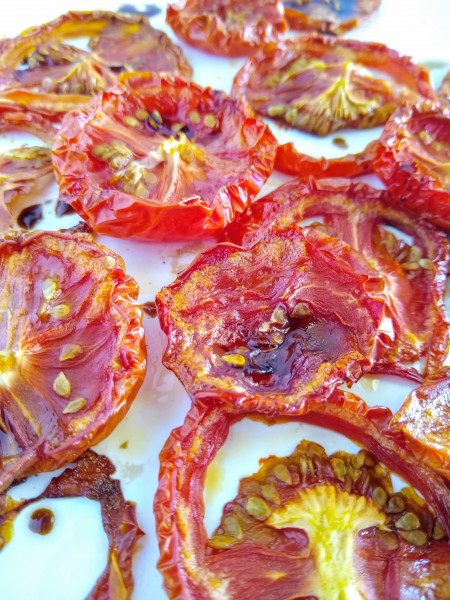 Step 3: Remove your semi-dried tomatoes from the oven and enjoy!
Start peeking at them at the 2 hour mark and see if any of the small pieces are ready to come out. I like to cook them until the skins are shriveled and most of the moisture is gone. If some slices are done early, just remove them and set them aside until the rest are done.
The beauty of cooking them on a low temperature is you don't have to worry about them getting burnt in the minute it takes you to wash a couple dishes. Start checking them at the 2 hour mark, and every 20 or 30 minutes check again to see if any more are ready to come out.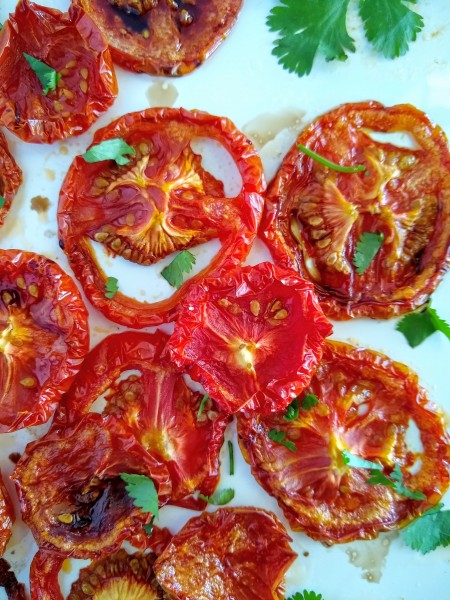 Making Semi Dried Tomatoes: FAQ
What tomatoes should I use to make semi sun dried tomatoes?
I love using the big beefsteak tomatoes for this recipe so I can put one slice on a burger, or chop them smaller if needed. However, you could use cherry tomatoes or Romas. Use what you have. Generally speaking, the bigger the tomato, the longer it's going to take to get them semi-dried.
What is the difference between sun dried and semi-sundried tomatoes?
Sun dried tomatoes are typically completely dried (in the sun). There's no water left in them. Semi dried tomatoes are...well...almost dried, but not quite. They're dried enough to make them super sweet, but they still have a tomato shape (not totally curled up) and you can use the slices on sandwiches or burgers if you use the big beefsteak tomatoes.
Can you sun dry your own tomatoes in the oven?
Yes! It's very similar to this process, except you'll do it for even longer until there's no moisture left in the tomato.
How to store semi-dried tomatoes?
Use what you want the day you make them (it's hard to stop eating these sweet little pieces of heaven). And then you can store any that make it past that first day in the fridge or freezer.
For fridge storage: keep in mind that these tomatoes still have moisture inside them so if you just put them in a container in the fridge, they will get moldy after a few days. If you want to keep them in the fridge for longer you'll need to fully submerge them in olive oil (add some herbs if you'd like).
For freezer storage: I've successfully frozen containers of these slow roasted tomatoes for months. Layer them in a freezer-safe container (we love mason jars) and freeze. To defrost them, just set them out the day before you want to use them (or the morning of) and add them to your dinner at night.
How to use semi-dried tomatoes
You can use these semi-dried slow roasted tomatoes in a bunch of ways...
On your sandwich or burger - works great when you use the big beefsteak tomatoes
Chop them up and sprinkle them on your summer salad - if you use semi dried cherry tomatoes you can skip the chopping.
Use them as a pizza topping - yum!
Blend some up and use instead of tomato paste in this pizza sauce recipe.
Use it on some homemade bruchetta with basil and balsamic vinegar
Okay, now I'm hungry....time to make some more!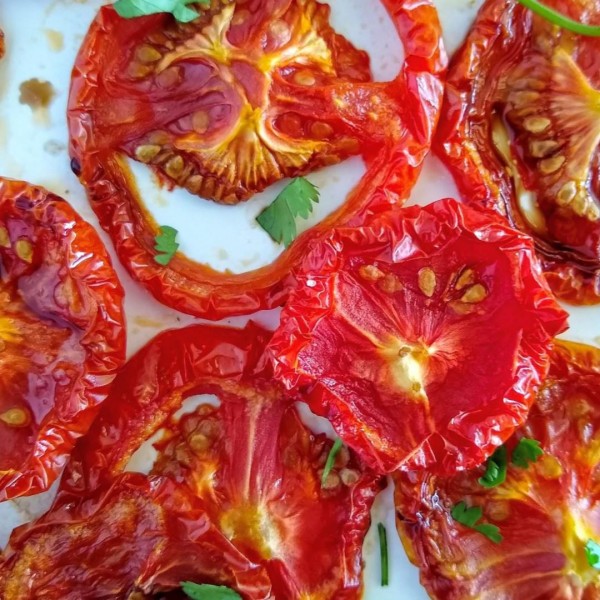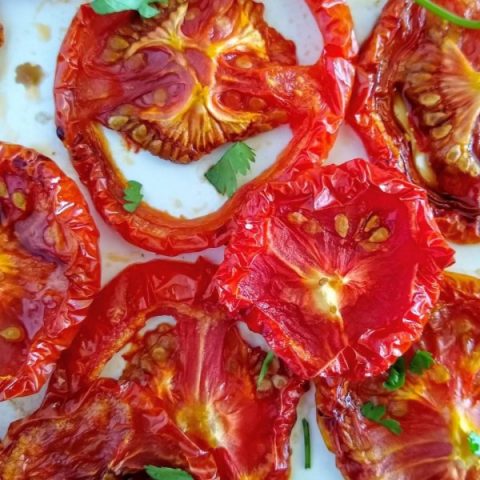 The Best Slow Roasted Semi Dried Tomatoes
Total Time:
3 hours
5 minutes
These sweet bursts of rich tomato flavor are SO worth the time they take to cook. Enjoy these slices of heaven on your burger or sandwich today.
Ingredients
3 medium - large slicing tomatoes
1 Tbsp olive oil
1 pinch salt
1 Tbsp balsamic vinegar
Instructions
Preheat your oven to 250 (F).
Slice your tomatoes and place them on a parchment paper lined baking sheet.
Drizzle olive oil over the top and sprinkle the pinch of salt.
Bake in your oven for 2-3 hours (depending on thickness of slices).
Remove from oven and drizzle balsamic vinegar over them.
Notes
If you have slices with varying thickness, check at the 2 hour mark and remove any slices that are getting browned or dried. 
Nutrition Information:
Yield:

4
Serving Size:

3 slices
Amount Per Serving:
Calories:

39
Total Fat:

3g
Saturated Fat:

0g
Trans Fat:

0g
Unsaturated Fat:

3g
Cholesterol:

0mg
Sodium:

36mg
Carbohydrates:

2g
Fiber:

0g
Sugar:

1g
Protein:

0g
Don't forget to share on Pinterest!