Some of the links on this site may be affiliate links. This means, at no additional cost to you, I may be paid a small commission if you follow the links and make a purchase. Learn more here.
This dairy free chocolate ice cream isn't like any you've ever had before. It's dark and rich and super creamy, without the use of milk or refined sugar! The chocolate and almond flavors are incredible together and will satisfy that summer chocolate craving and leave your taste buds happy. Plus, it's a dairy free and Paleo chocolate ice cream recipe! This one's a keeper.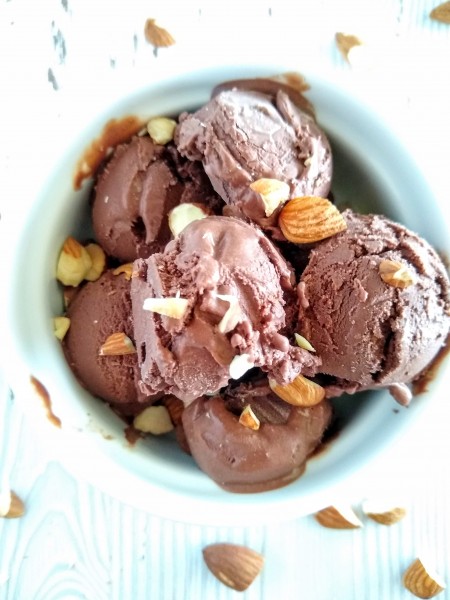 A few years ago I found this ice cream in the small town I was living in (back when I was eating dairy). I fell in love fast. Swiss Double Chocolate Almond ice cream made by Lochmead Farms....sooo good.
They're a relatively small company, and it was really hard to find it in stores. When we moved away from that town, I always looked in the grocery stores to find it, without much luck.
Now that I'm avoiding dairy and loving creating recipes, I thought I'd give
WHY I LOVE This Dairy Free & Paleo Chocolate Ice Cream
Here's why I love this ice cream recipe:
it's dairy free
honey is used as the sweetener (maple syrup works too!)
no fillers and preservatives like store bought ice cream
Chocolate and Almond Coconut Milk Ice Cream
Guys, this flavor combo is awesome. I'm a big fan of chocolate and almond. You can maybe tell by some of the other dessert recipes on the blog...
Dark chocolate almond clusters
Chocolate brownie (made with almond butter)
This recipe uses almond extract to give it a subtle, yet delicious almond flavor.
Tools & Ingredients Used to Make Paleo Ice Cream
Tools
Ingredients you might not have
INGREDIENTS IN
Coconut milk
Honey (or maple syrup)
Cocoa powder
Almond extract
Vanilla extract
Sea salt
INGREDIENTS OUT
Refined sugar
Preservatives
Milk
HOW TO MAKE Paleo & Dairy free Chocolate Ice cream
STEP 1: Get your ice cream machine ready
Use the manual that came with your mixer to get specifics on how to get it ready. You may need to freeze the container before using.
STEP 2: Mix the Ingredients
Mix everything together in a bowl. If you have clumps from your coconut milk, use an immersion blender to get it smooth.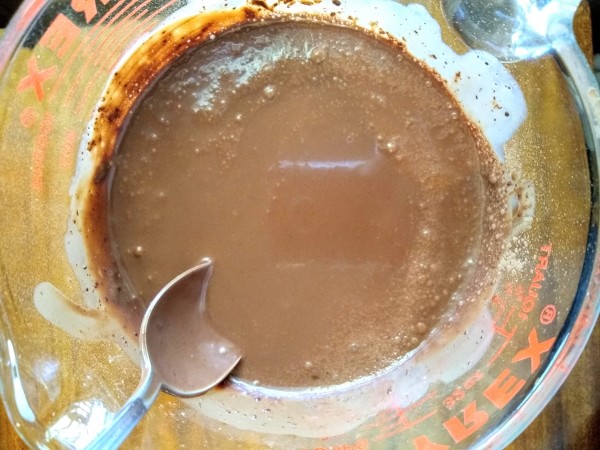 STEP 3: Pour Your Ice Cream Mixture into the ice cream container
Pour the ice cream mixture into the ice cream container and put the lid on.
STEP 4: Layer ice and rock salt In your ice cream maker
Our ice cream maker is kind of ancient (we were gifted it by my mother-in-law and she found it at a thrift store)! If your ice cream maker is newer or different, follow the instructions there. For our ice cream maker with the ice/salt layering method, I usually do a 2" layer of ice, then sprinkle with salt, then repeat until I've filled the container.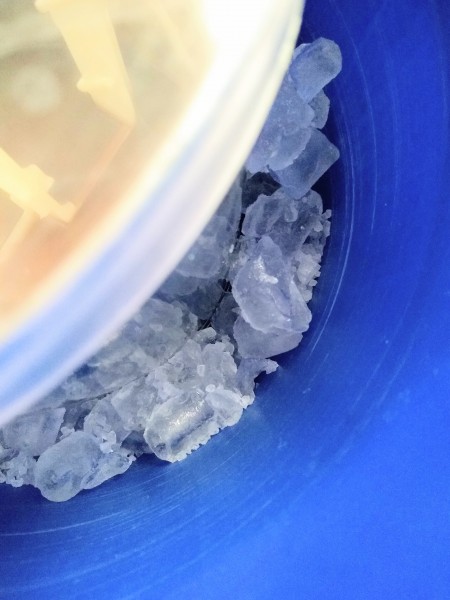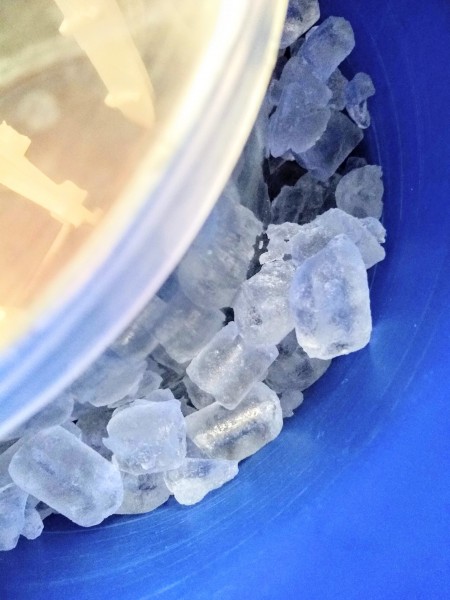 STEP 5: Turn on the ice cream Machine
Now turn on the ice cream maker and let it run. Usually the ice cream makers just stop when the ice cream is completely frozen. Sometimes you can hear the motor working harder as it gets close. It'll sound like it's really struggling, or that the motor is dying.
Step 6: Put in freezer safe container to store
Some ice cream makers allow you to put the canister along with the ice cream right in the freezer. I usually transfer mine to a different container for a few reasons.
The canister for my ice cream maker is huge and usually doesn't fit nicely in my freezer
My pyrex containers have lids that fit securely, the ice cream maker canister does not.
FAQ and Substitutions
I know every household is different, and the pantry staples in your house are likely different than mine. I also know how disappointing it is to find a recipe you want to make and then remember you forgot to get it at the store...oops.
Here are a few ideas for substitutions as well as answers to frequently asked questions.
What If I don't Have Almond Extract?
Omit it if you'd like, but you won't get the delicious and subtle almond flavor that makes this ice cream extra delicious. You can usually find almond extract in the baking aisle in the grocery store. And of course, it's also on Amazon. Order it here.
What Can I Substitute For The Honey?
You can substitute maple syrup in a 1:1 ratio for the honey. I haven't tried any granular sugars. If you try it, make sure it isn't grainy when you start to make the ice cream. If it is, heat it on the stove for a few minutes until the sugar dissolves.
DO I have to Use Rock Salt?
No. Although I've never tried it, it's possible to use table salt to make ice cream. If you run out of ice cream/rock salt, use what you have!
Does it taste like coconut?
No! I don't really enjoy coconut taste, and I am thrilled that there isn't a coconut flavor to this ice cream. I think the cocoa powder and almond extract do a great job of covering it up. If you want more coconut flavor, use some coconut flakes as a topping.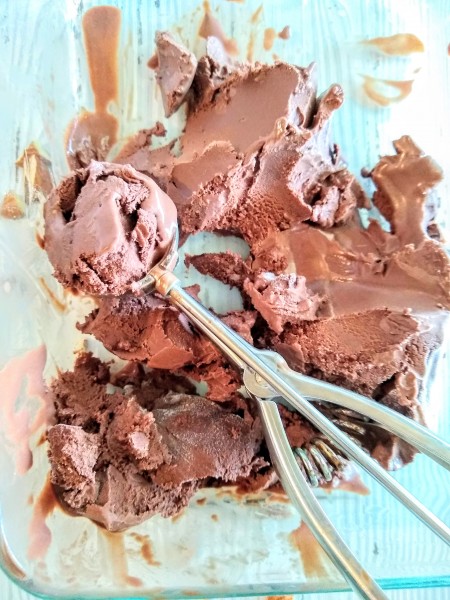 Serving Ideas & Storage
Serving Ideas
Have an ice cream sundae bar with toppings like:
fresh summer berries
chopped almonds
chocolate chips
Use ice cream bowls and make it a fun party!
Storage
Keep in a covered container in the freezer until you're ready to eat.
More Dairy Free & Paleo Chocolate Desserts
Get more dairy free & Paleo chocolate desserts (like this Paleo chocolate cake) or these delicious desserts at these links:
Want more dairy free & vegan ice cream recipes?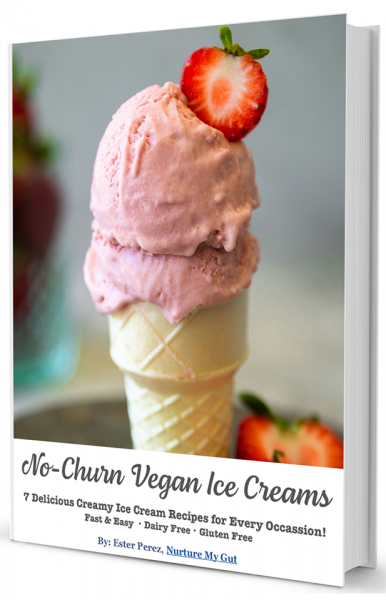 My friend Ester put together a book of delicious no-churn vegan ice cream recipes. I've personally tried the peanut butter chocolate ice cream, and oh my goodness it was delicious. Buy her book and enjoy delicious ice cream all summer long! See the recipes included here.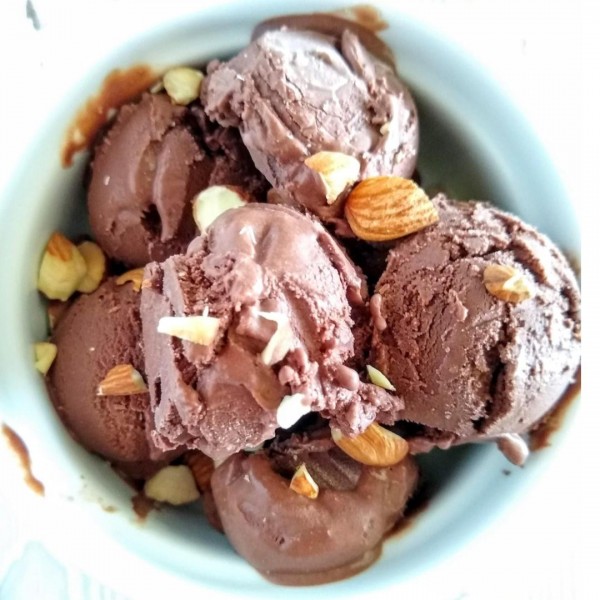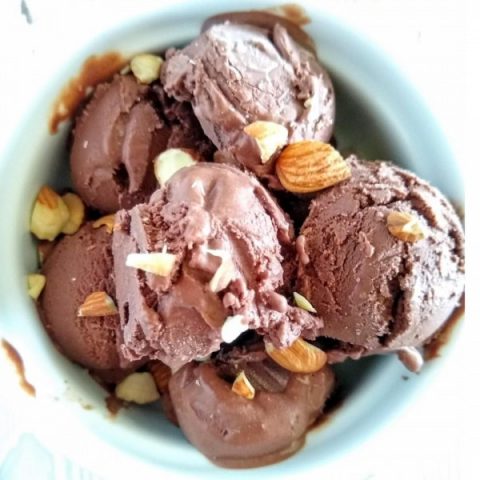 Quick & Easy Chocolate Almond Paleo Ice Cream
A rich and delicious chocolate almond dairy free ice cream.
Ingredients
14 oz coconut milk (1 can)
½ cup cocoa powder
¼ cup honey (or maple syrup)
1 tsp vanilla extract
¼ tsp almond extract
pinch of salt
chopped almonds, chocolate chips, berries (optional toppings)
Instructions
Mix all ingredients with an immersion blender (blender or food processor work too) to get any coconut milk clumps out.
Follow the instructions on your ice cream maker. If you have a double canister ice/salt maker, keep reading these instructions.
Put the mixture into the inner canister.
Assemble the machine...put the lid on the canister with the mixture and place inside the outer container.
Layer ice and salt in between the containers.
Turn the machine on and wait for the ice cream to be done.
Move to a freezer safe container with a lid and store until you're ready to eat.
Nutrition Information:
Yield:

8
Serving Size:

¼ C
Amount Per Serving:
Calories:

162
Total Fat:

11g
Saturated Fat:

9g
Trans Fat:

0g
Unsaturated Fat:

1g
Cholesterol:

0mg
Sodium:

24mg
Carbohydrates:

15g
Fiber:

2g
Sugar:

10g
Protein:

2g