Some of the links on this site may be affiliate links. This means, at no additional cost to you, I may be paid a small commission if you follow the links and make a purchase. Learn more here.
Last week I shared my Crockpot Chicken Tortilla Soup recipe, and we're continuing the winter soup series this week with a fan-favorite - spaghetti!
This crockpot spaghetti with meatballs recipe is one you're gonna want to keep on hand as a family staple and quick weeknight meal the whole family will love.
This spaghetti is super tasty as-is, with just the meatballs, sauce, and noodles. Or add parmesan, french bread, and a salad on the side for a bigger meal. For specific diet modifications, see the notes in the recipe card at the bottom.
Make ahead freezer meal
I love freezer meals (especially the ones that don't take any cooking before it's time to eat it). I spent a couple months developing about a dozen crockpot freezer meals. We went an entire month without actively cooking dinner ONCE.
If you don't know, a make-ahead freezer meal is one where you prep the work ahead of time, freeze it in a bag for later, and then thaw and cook later (a few days...a few weeks...or a few months later.
To make this recipe ahead of time, you'll just need a few freezer meal tools. The main thing you're going to need to make this ahead of time is something to store your uncooked meal in. I use these compostable freezer bags because I don't love the idea of using single-use plastic bags.
Here's the general idea:
Prep your ingredients
Put them in your (labeled) freezer bag
Freeze for later
To cook the spaghetti with meatballs, just set the bag it in the fridge the night before you're ready for it.
Here's how to make it as a freezer meal
First, put the meatballs together and stick 'em in the freezer.
Mix the tomato paste with spices and put it in the freezer bag (or crockpot).
Put the frozen meatballs, onion, and mixed sauce into the crockpot (or freezer bag).
Crockpot Recipe
Once you're ready to cook your soup, you just need your crockpot (or instant pot with slow-cook setting). Dump all the thawed ingredients inside and cook for 5-6 hours. Serve over cooked noodles.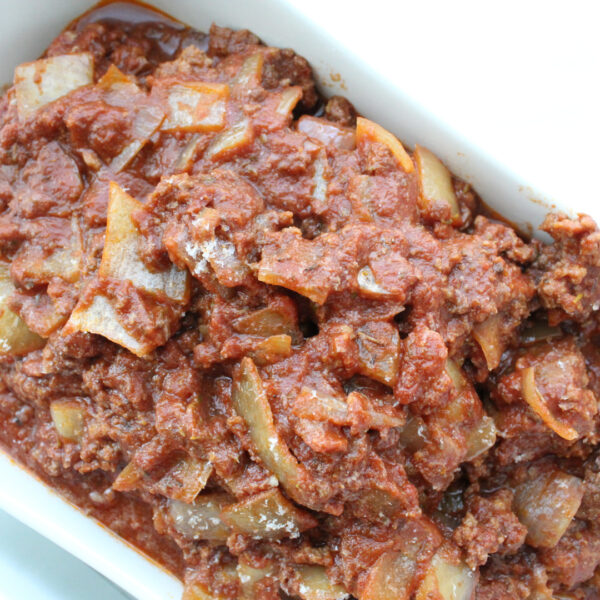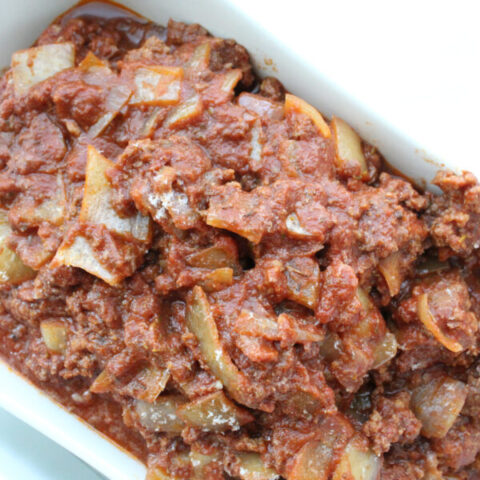 Crockpot Beef Spaghetti with Meatballs
Total Time:
6 hours
10 minutes
Make this beef spaghetti and meatballs in your crockpot for an easy weeknight meal the whole family will love.
Ingredients
1.5 lb ground beef
½ large yellow onion, diced to ¼"
2 cans tomato paste (12 oz total)
2 ½ tsp oregano (½ tsp for meatballs, 2 tsp for sauce)
2 tsp thyme
1 ¼ tsp salt (½ tsp for meatballs, ¾ tsp for sauce)
1 cup water
1 ½ tsp garlic powder (½ tsp for meatballs, 1 tsp for sauce)
1 tsp vinegar
Optional Toppings
Parmesan
Noodles (made out of zucchini, carrots, or wheat pasta from the store)
Instructions
Prep Instructions
Mix the ground beef, 1⁄2 tsp oregano, 1⁄2 tsp garlic powder, and 1⁄2 tsp salt in a mixing bowl until well combined.
Roll the beef mixture into balls and put them on a parchment lined baking sheet. Put it in the freezer to freeze.
In a small mixing bowl, combine the tomato paste, oregano, thyme, salt, water, garlic powder, and vinegar until evenly mixed.
Add the sauce mixture to your freezer bag.
Chop the onion and add it to the freezer bag.
When the meatballs are frozen (or mostly frozen) add them to the freezer bag with the sauce and onion.
Squeeze the air out of the bag, seal, and lay flat in the freezer.

Cook Instructions
Thaw in the fridge overnight, or soak in cold water the morning you're ready to cook it.
Cook on low in crockpot for 5-6 hours. Serve over noodles with Parmesan (optional).
Notes
Diet Modifications
For gluten free, use gluten free pasta
For dairy free, omit Parmesan topping
For Paleo, use zucchini noodles or carrot noodles
For vegan, use plant based ground meat substitute
Nutrition Information:
Yield:

4
Serving Size:

1
Amount Per Serving:
Calories:

577
Total Fat:

31g
Saturated Fat:

8g
Trans Fat:

0g
Unsaturated Fat:

19g
Cholesterol:

181mg
Sodium:

948mg
Carbohydrates:

29g
Fiber:

5g
Sugar:

11g
Protein:

49g
Pin this for later!