Some of the links on this site may be affiliate links. This means, at no additional cost to you, I may be paid a small commission if you follow the links and make a purchase. Learn more here.
These brussels sprouts are roasted to perfection and then covered with a sweet honey mustard sauce. The slight bitterness of the brussels sprouts combined with the sweet mustard sauce is a beautiful and delicious combination I think you'll really enjoy.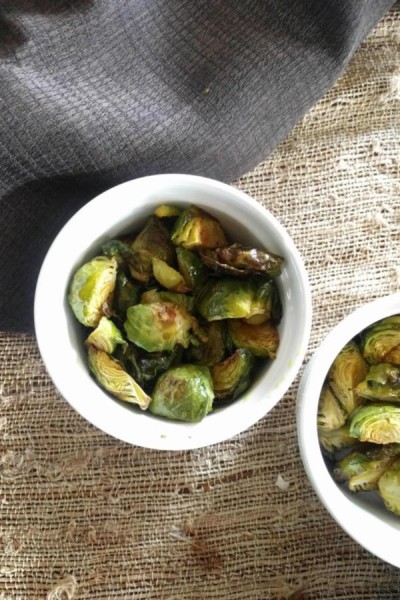 Many people are turned off by brussels sprouts. Often it's from being forced to eat them as a kid (without much seasoning or flavor). After you try these oven roasted brussels sprouts with the honey mustard sauce, you just might switch over to the "I love brussels sprouts" camp.
We love roasted veggies in our house. This time of year one of our favorite dishes is oven roasted brussels sprouts. Yumm!
Honey Mustard Sheet Pan Brussels Sprouts
Tools To Make Roasted Brussels Sprouts
Prepare the brussels sprouts
You'll need a cookie sheet to roast the brussels sprouts.
I like cutting them in half or quarters (depends on how big they are to start). You want to try to cut them to be approximately the same size so that they cook evenly.
Put them on a cookie sheet so that they are in a single layer. A little space between them is ideal.
I usually "toss" the veggies in oil on the cookie sheet directly. Just drizzle some oil over them, sprinkle with salt, and stir them around a little on the tray to ensure there's oil and salt on each of them.
Of course, you can toss them in a bowl with oil if you'd rather, but we don't have a dishwasher in our house, and the fewer dishes we have to clean, the better.
If you're wondering which oils you should be using for dressings, and which are safe for cooking, read this post: 12 Things You Should Know Before Cooking Your Next Meal.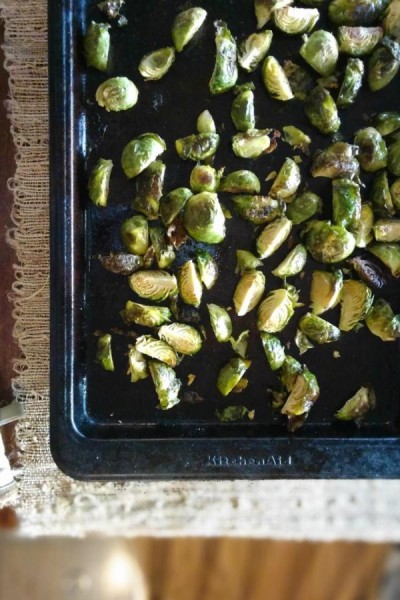 Roasting the brussels sprouts
At 400 (F), it'll take around 30-40 minutes for them to cook, depending on their size.
I like to see a little char on them….more like medium-well done (if there's such a thing for veggies). If you don't like the charred look/taste, cook them until no longer crunchy.
make the Honey Mustard Sauce
While the veggies are cooking, make the sauce by combining the honey, olive oil, mustard, and salt/pepper. And it's so easy to make this sauce. Just add all the ingredients to a small mason jar (this 8 oz size works great), cover the lid, and shake until it's mixed together.
It really couldn't be any easier.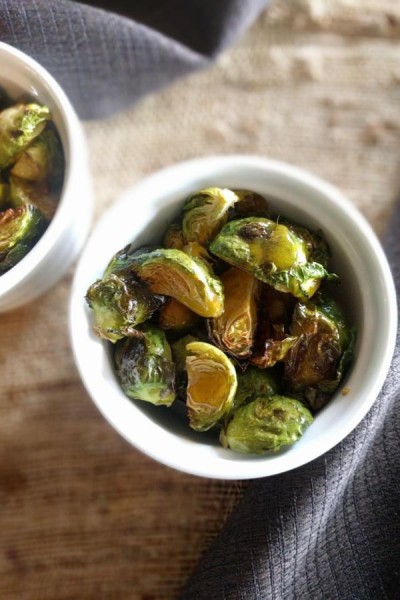 How much sauce to use?
I'm a fan of tasting while I cook. So I usually drizzle a little sauce over them, then taste. If I can't taste the sauce, it needs more. I like to be able to taste the sweet mustard sauce, but not so much that it's overpowering.
The recipe above will give you about 1/2 cup of sauce. This recipe should be enough for two cookie sheets full of brussels sprouts (about 2-3 pounds, depending on their size). And you might have a little sauce left over, depending on how much you use.
Dish up, and enjoy.
If you want another roasted brussels sprouts recipe, try these maple mustard bacon and apple brussels sprouts. They're super tasty!
Did you try this recipe? Let me know how it went in the comments below!
Print
Oven Roasted Honey Mustard Brussels Sprouts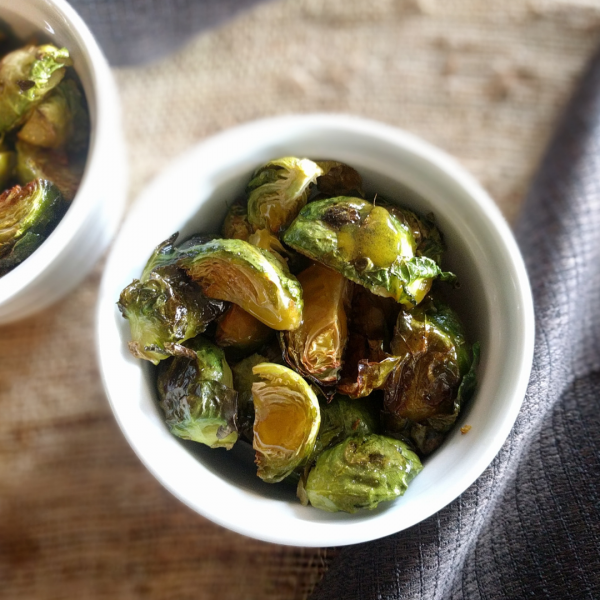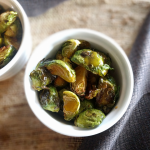 A honey mustard sauce drizzled over the oven roasted brussels sprouts makes a delicious side dish to any meal.
Author:
Prep Time:

5 minutes

Cook Time:

30 minutes

Total Time:

35 minutes

Category:

side dish, vegetables
Scale
Ingredients
2

–

3

pounds brussels sprouts, halved or quartered
oil for drizzling (I recommend avocado oil)
pinch or

two

of salt

1 Tablespoon

honey

4 Tablespoon

s olive oil

3 Tablespoon

s mustard
salt and pepper, to taste
Instructions
Preheat the oven to 400 (F)
Halve or quarter the brussels sprouts and place them on a cookie sheet (or two)
Drizzle oil over the brussels sprouts and sprinkle with salt
"Toss" (or stir) them on the cookie sheet so that the oil and salt coat them evenly
Bake them for 30-40 minutes, until cooked through and slightly charred
While the brussels sprouts are cooking, make the sauce
In a mason jar, combine the honey, oil, and mustard
Put the lid on the mason jar and shake until combined
Add salt and pepper, to taste
When the brussels sprouts are cooked, drizzle half the sauce over them
Taste one and decide if you want more sauce, add more as needed
Notes
When baking the brussels sprouts, you want them in a single layer so they cook evenly.
Keywords: brussels sprouts, oven roasted vegetable, honey mustard
Don't forget to share on Pinterest!