Some of the links on this site may be affiliate links. This means, at no additional cost to you, I may be paid a small commission if you follow the links and make a purchase. Learn more here.
These honey mustard brussels sprouts are perfect for a weeknight meal or even a Thanksgiving side dish! The brussels sprouts are roasted to perfection and then covered with a sweet honey mustard sauce.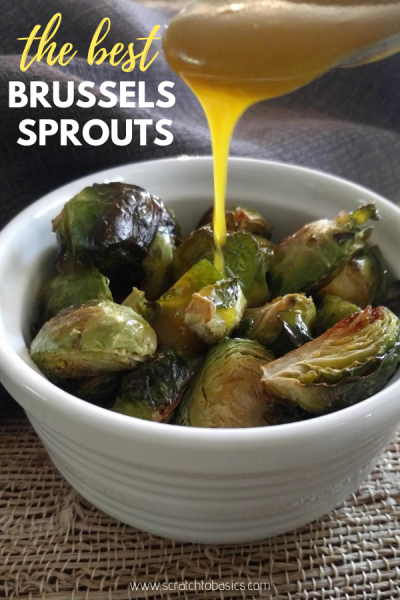 The slight bitterness of the brussels sprouts (there's really not much bitterness if you roast them in the oven) combined with the sweet mustard sauce is a delicious combination you'll really enjoy.
A lot of people are turned off by brussels sprouts. Often it's from being forced to eat them as a kid without much seasoning or flavor...something no one should ever have to endure.
After you try these honey mustard brussels sprouts, you just might switch over to the "I love brussels sprouts" camp. I'm in that camp. My husband is in that camp. Come join us, won't you?
Tools & Ingredients To Make These Honey Mustard Brussels Sprouts
How To Make Honey Mustard Brussels Sprouts
1. Chop the brussels sprouts & toss them in oil
I like cutting the brussels sprouts in halves or quarters (depends on how big they are to start). Try to get the pieces to be about ½ inch so they'll get nice and roasty in the oven. If they're too big, they won't cook quite right.
Put them on your baking sheet in a single layer. A little space between them is ideal. We want them to roast not steam.
I usually "toss" the brussels sprouts in the avocado oil on the sheet pan directly. Just drizzle some oil over them, sprinkle with salt, and stir them around a little on the tray to ensure there's oil and salt on each of them. You can use a bowl if you'd prefer.
Related: 12 Things You Should Know About Oil Before Cooking Your Next Meal.
2. Roast the brussels sprouts
At 400 (F), it'll take around 30-40 minutes for them to cook, assuming they're about ½ inch. You'll know they're done cooking if they're a bit browned (crispy even), and not crunchy anymore. I like them to be medium-well done. Roasting them in the oven will bring out the sweetness of them and will make the bitterness go away (almost completely).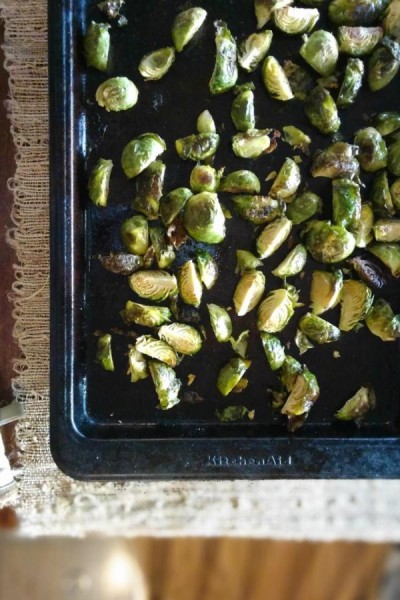 3. Make the Honey Mustard Sauce
This sauce is so easy to make. We love drizzling it over vegetables, or using it as a salad dressing. So while the brussels sprouts are cooking, make the sauce by combining the honey, oil, mustard, and salt/pepper. Just add all the ingredients to a small mason jar (this size works great), cover with the lid, and shake until everything is mixed together.
It really couldn't be any easier. The recipe below will give you about ½ cup of sauce.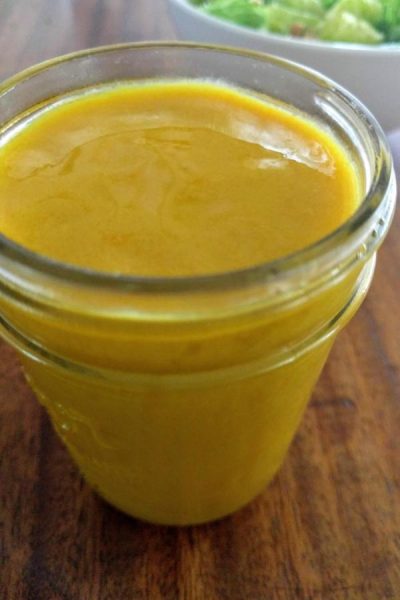 4. Drizzle the Brussels sprouts with honey mustard sauce
I'm a big fan of taste-as-you-go cooking. What that means for this recipe is that I drizzle half the sauce over the brussels sprouts, then taste. If I can't taste the honey mustard sauce as much as I want to, it needs more.
I like to be able to taste the honey mustard flavors enough to know they're there, but not so much that it's overpowering. You can add as much sauce as tastes good to you!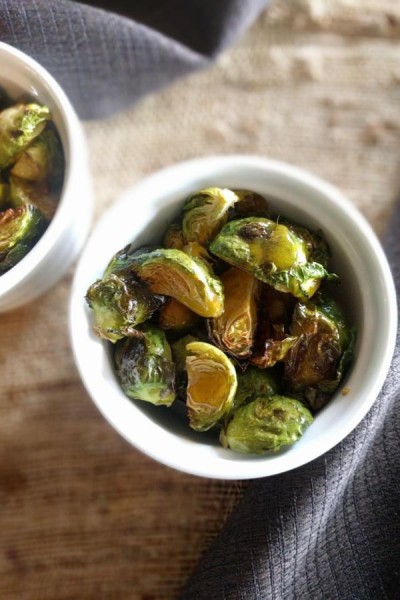 This recipe should be enough for two baking sheets full of brussels sprouts (about 2-3 pounds, depending on their size). Depending on how much sauce you end up using, you might have some sauce left over. Use any leftover sauce as a honey mustard salad dressing throughout the week.
Related Recipe: 4 Ingredient Honey Mustard Salad Dressing
Recipe Notes & Tips
How to get your brussels sprouts crispy? - Make sure they're in a single layer and roast them in the oven on until brown and crispy. Also, don't overdo the oil. Too much oil will lead to soggy brussels sprouts, as will a crowded sheet pan.
Line your sheet pan with parchment paper and clean up will be super easy. Make sure the parchment paper is safe to 400 (F) so it doesn't burn.
Choose small, firm brussels sprouts. If yours are large, slice them into ½ inch chunks to make sure they cook perfectly (and get a little brown, too).
Optional substitutions & add ins - You can use whatever mustard you like. I like dijon, but use what you like best. Also, feel free to add in dried cranberries or other seeds or dried fruit when serving to add crunch or extra sweetness.
Make Ahead Tips
Can you make oven roasted brussels sprouts ahead of time? Yes you can! Pop them in the oven at 425 (F) for a few minutes to reheat (and try to get them a bit crispy right before serving.
This recipe doubles well, just make sure you're still keeping your brussels in a single layer when roasting.
Looking for more vegetable side dish recipes?
Here are more of our favorite vegetable side dishes your family will love.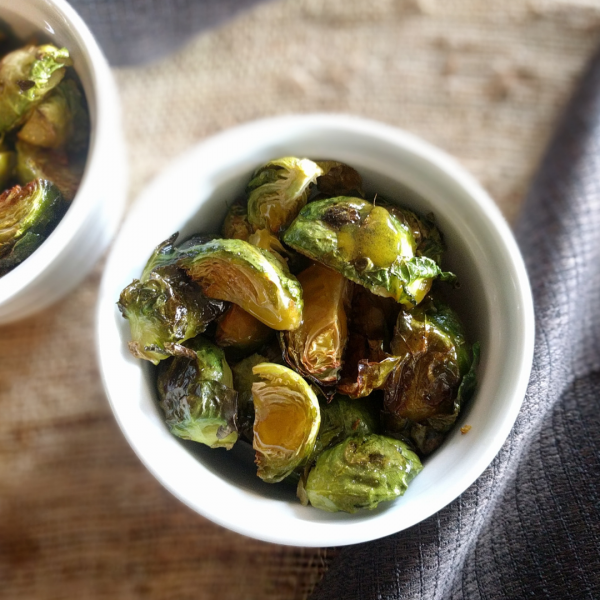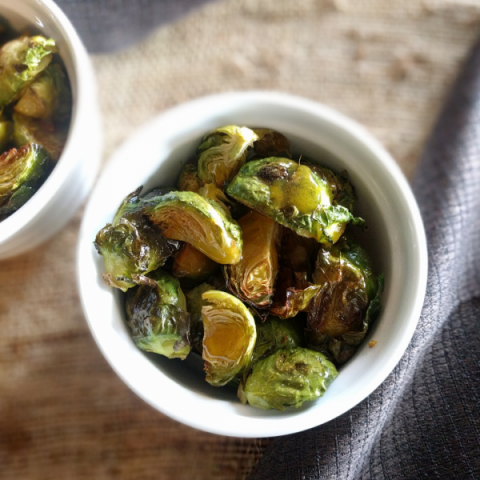 Oven Roasted Honey Mustard Brussels Sprouts
A honey mustard sauce drizzled over the oven roasted brussels sprouts makes a delicious side dish to any meal.
Ingredients
2-3 pounds brussels sprouts, halved or quartered
oil for drizzling (I recommend avocado oil)
pinch or two of salt
For the sauce:
1 Tablespoon honey
4 Tablespoons olive oil
3 Tablespoons mustard (I like dijon, but use what you like best)
salt and pepper, to taste
Instructions
Preheat the oven to 400 (F)
Halve or quarter the brussels sprouts and place them on a baking sheet (or two) in a single layer
Drizzle oil over the brussels sprouts and sprinkle with salt
"Toss" (or stir) them on the cookie sheet so that the oil and salt coat them evenly
Bake them for 30-40 minutes, until cooked through and slightly charred
While the brussels sprouts are cooking, make the sauce
To make the sauce, combine the honey, oil, and mustard
Put the lid on the mason jar and shake until combined
Add salt and pepper, to taste
When the brussels sprouts are cooked, drizzle half the sauce over them
Take a bite and decide if you want more sauce.
Notes
When baking the brussels sprouts, you want them in a single layer so they cook evenly.
Use leftover sauce as a honey mustard salad dressing
Nutrition Information:
Yield:

4
Serving Size:

1
Amount Per Serving:
Calories:

296
Total Fat:

19g
Saturated Fat:

2g
Trans Fat:

0g
Unsaturated Fat:

16g
Cholesterol:

0mg
Sodium:

338mg
Carbohydrates:

29g
Fiber:

9g
Sugar:

10g
Protein:

9g
Don't forget to share on Pinterest!