Some of the links on this site may be affiliate links. This means, at no additional cost to you, I may be paid a small commission if you follow the links and make a purchase. Learn more here.
Easter can be a really fun holiday with kids. Decorating Easter eggs, Easter egg hunts, and the gift of an Easter basket are traditions that create lasting memories. Whether you celebrate for religious reasons or just for the family festivities, these non candy Easter basket ideas will be a hit for any kid.
Because...what if you don't want to just give you kids boatloads of sugar? I mean if you're anything like us, you've barely recovered from Halloween when Easter comes around.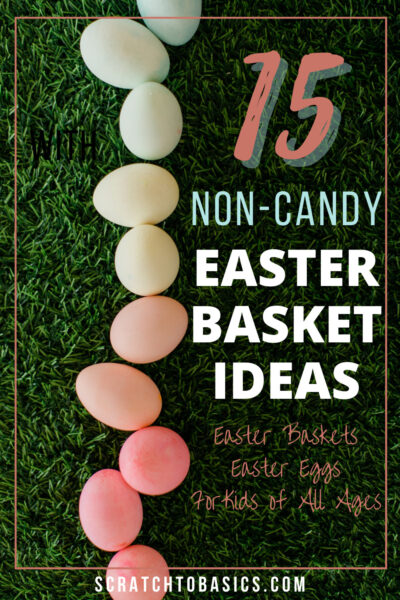 Use this list to come up with great ideas for non candy Easter basket ideas (Easter eggs, too).
Seeing that magical moment when your kids see the brightly colored eggs hidden (often in plain sight) is a special thing for any parent. But what happens when your kid opens the Easter eggs only to find a boat load of candy?
All of the sudden it's Halloween all over again!
Before you know it, your kids have eaten the head off their hollow chocolate bunny and half the package of peeps are missing.
And then, all bets are off. The children you once knew will have transformed into candy-crazed kids who would have been better off without any candy at all.
What kind of non candy Easter Egg ideas are the best for kids?
Before you stuff candy in each of those plastic Easter eggs, read this list to see how you can replace the candy with other items your kids will love!
Stickers
These will work best for younger kids. Cut out stickers from the sheets so that they fit in the Easter eggs. We do this every year, my kids are now 6 and 4 and they still love stickers.
My kids love stickers. Can't get enough of them. The problem is we go through them SO fast. The next time we run out, I'll be grabbing these sticker rolls. Those animals are super cute, and maybe it'll take them a little longer to go through the huge rolls.
Money
Coins in Easter eggs are a hit with kids. They make a rattling noise when you shake them, and it's a great opportunity to teach your kids about money. Show them how to save up for something they want at the store. I love these save/spend/share blocks to help teach them about categories for money.
Activity dates
Kids love spending time with you. Put something symbolic in the Easter egg that represents a fun activity you can do with them and explain it to them when they open it.
Or, write it out if they're able to read. A fun lunch date? Trip to the zoo? Smoothies in the park? Or maybe you want to make a special recipe together in the kitchen, so you give them one of these cooking tools for kids.
prize Game
When I was growing up, we did an Easter "egg" hunt with rocks. My grandparents painted a bunch of rocks different colors and wrote numbers on them with a Sharpie.
We searched the yard for the rocks and then brought them all inside for "prize time". Whoever found the "1" rock, got to pick a prize from a bucket (or pile) first. Then it moved to "2" and so on. You can replicate this with eggs by placing numbered papers inside each egg. Tell the kids to hold onto their numbers and they'll get their prizes later. Young and old kids will find this game exciting!
Plus, you'll be able to have larger gifts that may not necessarily fit inside the Easter eggs.
WHat Non Candy Gifts Can You put inside the eAster basket?
If you're used to giving your kids an Easter basket with candy filled to the brim, consider some of these candy-free options instead to avoid the sugar crash all together. Not only will you avoid the sugar, but you'll be giving lasting gifts to make sweet memories with your kids.
Seeds
Spring is a great time to teach kids about growing plants. Get a pot with some soil and put some seeds in it. Watch them grow with a little water each day. Turn your kid into a gardener with a gardening kit like this one. I love the wood handles on the tools (plastic toys always seems to break right away).
A special outfit
Maybe there's a piece of clothing you know your kid will love. It doesn't have to be a big expensive thing, it can be simple. It's not about giving more stuff, it's about giving intentional gifts that you know your kid will appreciate.
Here's an adorable matching dress set for mom and daughter (there's even a baby option)!
Pajamas
Start a new tradition. Every year on Easter, give your kids new pajamas! I've done this the last few years and although my kids have been too young to remember, or understand what a tradition is, I'm really enjoying it and I know they will too as they get older. These gray pajamas would work for boys or girls. Matching Easter jammies, anybody?
An outdoor toy
Spring means summer is coming soon, which means lots of outdoor time! Give an outdoor toy that is related to an upcoming trip to get your kids really excited.
Are you going to the beach this summer? Get them this awesome eco beach set. Or plan a picnic in the park and let them bring this recycling truck (teach them young, right?).
Scavenger Hunt
A scavenger hunt is another idea that you can stick in the basket, and it's free! You can make one on your own by drawing or printing out pictures of things they might find outside. Or, buy a game like this one to play as a family.
Craft Supplies
I don't know about you, but we go through crayons like crazy. If your crayon box looks anything like ours (broken crayons into small bits, and most of them missing), maybe your kids would appreciate a new box. Get this 64 pack with lots of fun colors! Or get this set of smaller boxes and keep a box in every room of the house (and the car).
Painting supplies, paper, tape and glue are all craft supplies that your kids will be excited about getting! Especially if you print out a picture of something awesome you can make with them. Check out this fun paper craft from Jennifer Maker.
Book
My four year old LOVES lions right now. She loves all things lion and a book on lions would make her day on Easter. Whether you use your local library (we do, and we ALWAYS have "new" books around here), or you buy a new book is up to you. Getting your kids excited about reading will do wonders for them as they get older.
Activity book
An activity book would be a great addition to an Easter basket. Here are a few ideas, depending on the age of your kids.
Sidewalk chalk
I remember having a lot of fun with sidewalk chalk when I was a kid. Apparently it's one of those things that just doesn't go out of style (considering my childhood was a long time ago)! The one thing I didn't like about it was when my hand scraped against the concrete. Ouch! These chalk holders from Melissa & Doug would solve that problem!
Bubbles
Bubbles are a great idea for an Easter basket. Here's a big jug of bubbles so you can just refill the bubble containers you already have!
Dress up clothes
Do your kids like playing dress up? Head to your nearest thrift store and pick up a couple new pieces to stick in their Easter basket. I don't know about you, but my girls have plenty of princess dress up stuff already. That's why I love this dress up set with an explorer, scientist, and vet.
So, Now what?
There are so many gifts you can give your kids on Easter that don't involve candy in their Easter baskets. Pick out one or two of the suggestions here for a memorable Easter without any sugar meltdowns.
Related: How to teach your kids about healthy living
Don't forget to Pin this for later!