Some of the links on this site may be affiliate links. This means, at no additional cost to you, I may be paid a small commission if you follow the links and make a purchase. Learn more here.
This easy grilled zucchini recipe will be your new go-to vegetable dish for the summer. It's a simple and delicious way to use your extra zucchini!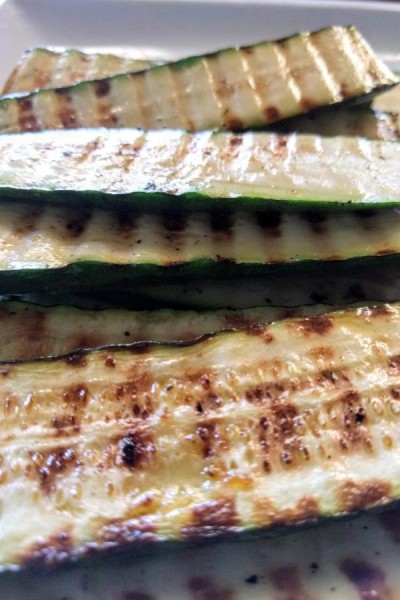 Slicing the Zucchini
We love this method of grilling zucchini. We've tried grilling little zucchini circles, but inevitably a few of them (or half of them) fall through the holes in the grill. Of course, foil is an option. But we love this method. Because A) they don't fall through and B) It's fewer items to flip!
I've found that slicing the zucchini in to ¼" strips works great. The thicker your strips, the longer they'll take to cook.
How to Season Grilled Zucchini
Typically we go the simple route with grilled zucchini. A little salt, sometimes pepper. You can sprinkle some garlic powder if you'd like, but it's not necessary. The simple seasoning lets the flavor of the zucchini shine.
If you want more flavor, consider this three ingredient taco seasoning blend that's super easy to throw together.
How to Cook the Zucchini
Grilling Zucchini on the Barbecue
Drizzle the zucchini with a little olive oil (or avocado oil), sprinkle with salt and cook it on your BBQ on medium heat. Flip them after about two minutes (or when you see grill marks). Once they've been cooked on both sides for 2 minutes, they're done! You can taste one to make sure it's cooked to your liking.
If you cook it too long it'll be super soft and mushy. I'm not a mushy zucchini fan, and I've found that around the 2 minute mark keeps the zucchini firm, but cooked.
Grilling Zucchini on your Stove "Grill"
If you have one of those 5th burners on your stove top and prefer using it, it's a great alternative. Our current barbecue heats food really inconsistently and I found the 5th burner to be an awesome alternative.
How to Use Grilled Zucchini
Grilled zucchini is an easy and delicious addition to any meal. Eat it as a side to your burger, bring it to a potluck, or add it to your salad. The possibilities are endless!
Pin this for later!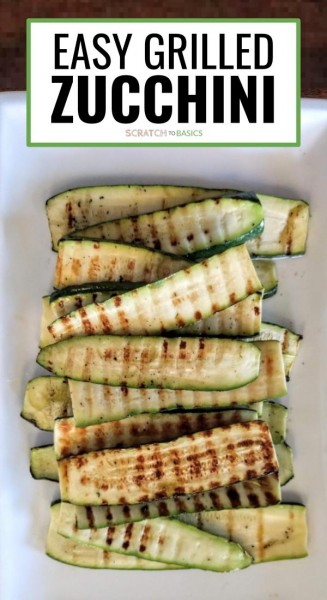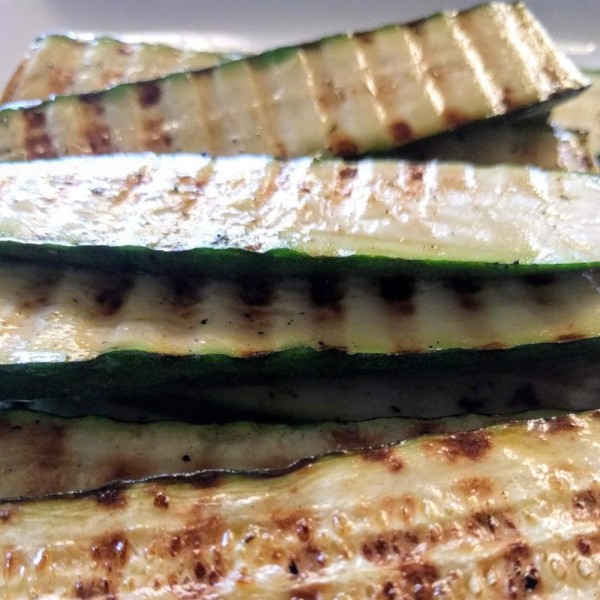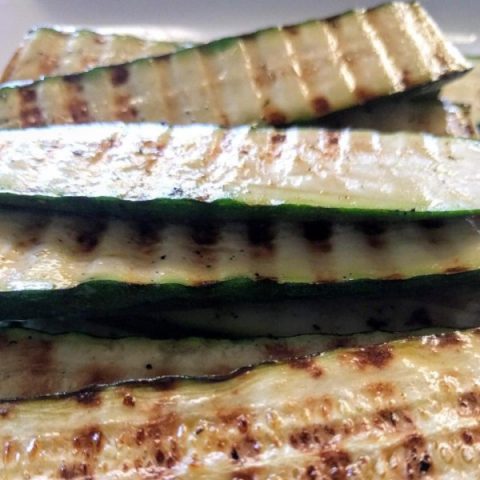 Easy Grilled Zucchini
A simple and delicious way to grill zucchini!
Ingredients
4 medium sized zucchini
olive oil
pinch of salt
pepper (optional)
Instructions
Slice the zucchini lengthwise in ¼" strips
Lightly drizzle olive oil on the slices
Sprinkle salt (and pepper if using) on zucchini
Cook on medium heat (on your grill or stove top "grill")for about two minutes on each side (or until the grill leaves grill marks).
Nutrition Information:
Yield:

4
Serving Size:

1
Amount Per Serving:
Calories:

64
Total Fat:

4g
Saturated Fat:

1g
Trans Fat:

0g
Unsaturated Fat:

3g
Cholesterol:

0mg
Sodium:

40mg
Carbohydrates:

6g
Fiber:

2g
Sugar:

4g
Protein:

3g