Some of the links on this site may be affiliate links. This means, at no additional cost to you, I may be paid a small commission if you follow the links and make a purchase. Learn more here.
This grilled zucchini recipe is the perfect summer side dish for your next summer cookout. You can whip it up in minutes, it tastes amazing, and it's so, so simple to make.
This is one of those recipes that people marvel at when they eat it - amazed that the zucchini is perfectly cooked and not soggy at all. We've made this zucchini dozens of times for guests, and each time they say "Wow, this zucchini is so good!".
How to Make the Best Grilled Zucchini
1. Slice Your Zucchini into strips
We love this making grilled zucchini recipe in the summertime. We've tried grilling little zucchini circles, but inevitably a few of them (or a few dozen of them) fall through the slots in the grill.
The secret to non-soggy grilled zucchini is in the slicing. There are two slicing options that will ensure the zucchini doesn't fall through your grill cracks, and doesn't get soggy either.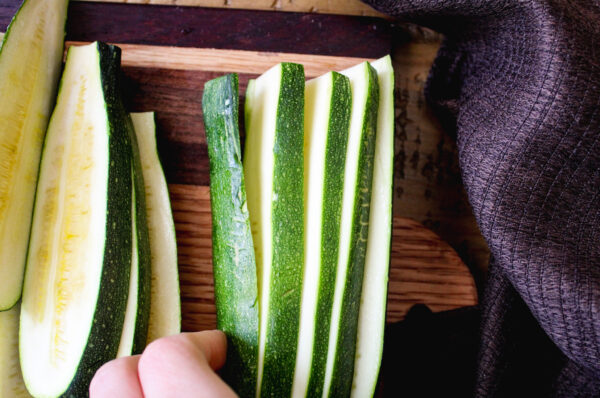 Option 1: Slice the zucchini lengthwise into ¼ inch slices
I've found that slicing the zucchini in to ¼" strips works great. The thicker your strips, the longer they'll take to cook.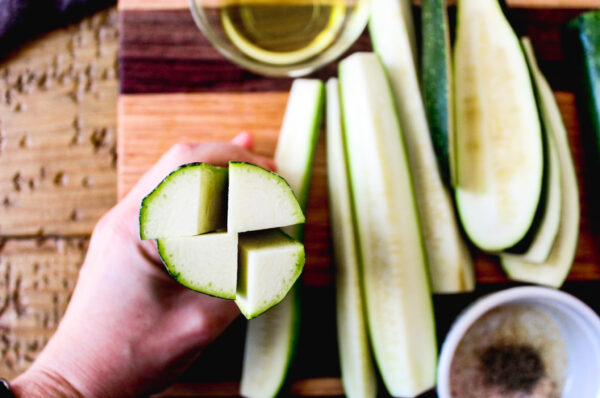 Option 2: Cut the zucchini lengthwise into wedges
For zucchinis that are small in diameter (1" or less) you'll just be quartering the zucchinis lenghtwise.
2. Season & Grill the Zucchini
Drizzle the zucchini strips with a little oil (or use a pastry brush to brush oil on), sprinkle with your seasonings (salt, pepper, garlic powder are amazing with this).
Lay your zucchini strips out in a single layer of the grill. Flip them after about two minutes (or when you see grill marks). Once they've been cooked on both sides for 2 minutes, they're done!
If you cook it too long it'll be super soft and mushy. I'm not a mushy zucchini fan, and I've found that around the 2 minute mark keeps the zucchini firm, but cooked.
Serve your grilled zucchini slices alongside your fish tacos with avocado mango salsa as another summer treat, or double up on veggies with grilled cauliflower steaks.
Troubleshooting & FAQ
Why is my zucchini soggy? If your grilled zucchini is mushy or soggy it means you cooked it too long. The thinner the strips, the quicker they'll cook. I've found for ¼" strips that 2 minutes per side is just about perfect.
What are other flavoring options? We've made this grilled zucchini with just salt and it's delicious. The garlic powder and pepper in this recipe add a savory flavor that's so good. And there are countless other flavor combinations. I encourage you to spice it up however you'd like to. Add parmesan right before serving, drizzle with balsamic vinegar, or spice it with some paprika.
Can I grill other veggies? You sure can! Grilled squash is also delicious when cooked this way. Grilled zucchini and squash? Yes please!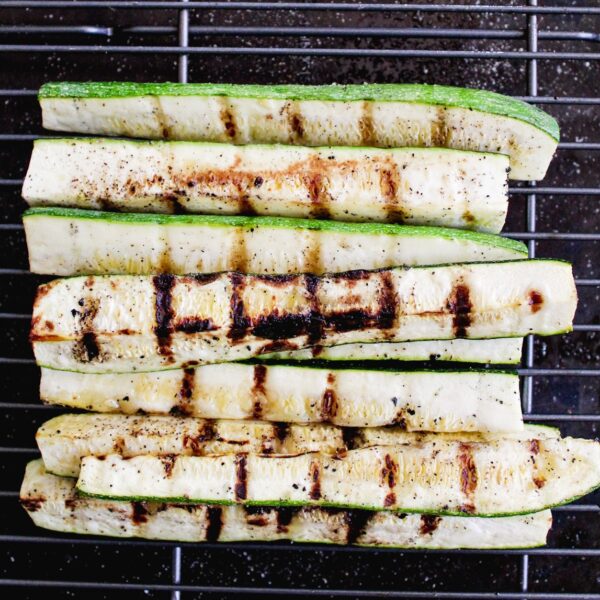 Quick & Easy Grilled Zucchini Recipe
A simple and delicious grilled zucchini recipe - perfectly cooked and cut in a way that it won't through the cracks on the grill either!
Ingredients
4 Medium sized zucchini
1 tablespoon Olive oil
½ teaspoon Salt
¼ teaspoon Pepper
¼ teaspoon Garlic powder
Instructions
Slice the zucchini lengthwise in ¼" strips (alternately you can cut them into wedges)
Lightly drizzle the olive oil over the slices
Mix the salt, pepper, and garlic powder into a small bowl then sprinkle it over the zucchini slices
Cook on medium heat for two minutes on each side (or until the grill leaves grill marks).
Enjoy!
Nutrition Information:
Yield:

4
Serving Size:

1
Amount Per Serving:
Calories:

64
Total Fat:

4g
Saturated Fat:

1g
Trans Fat:

0g
Unsaturated Fat:

3g
Cholesterol:

0mg
Sodium:

40mg
Carbohydrates:

6g
Fiber:

2g
Sugar:

4g
Protein:

3g
Save this for later on Pinterest!