Some of the links on this site may be affiliate links. This means, at no additional cost to you, I may be paid a small commission if you follow the links and make a purchase. Learn more here.
Make yourself some homemade almond butter and you won't be disappointed! While making almond butter will take longer than a softer nut (like walnut butter), it's worth the wait.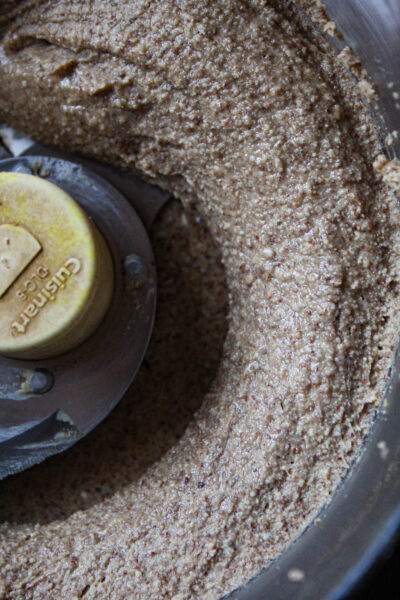 Why make almond butter at home when you can buy it at the store, you might ask? Well, you get to control the ingredients when you make it from home, and you also don't have to pay $15 for a jar of almond butter. This is really the best almond butter - it tastes SO good - with no oil required.
Plus, making nut butter at home allows you to customize it like in this cinnamon almond butter recipe.
Tools used to make almond butter
Baking sheet - You'll need a baking sheet to roast the almonds in the oven.
Food processor - To blend it all up. We love our Cuisinart and have had it for over a decade now. Here's the one we have.
Ingredients used to make almond butter
Almonds - I usually buy raw almonds in the bulk section of our grocery store. If they don't have them in bulk, they should have some in a bag or a jar.
Salt - Use what you love. We love this himalayan salt.
Health benefits of almonds
Here are a few health benefits of almonds, according to this article:
High in nutrients
Loaded with antioxidants - mostly found in the brown skin - so choose the almonds with the skin ON for maximum benefit.
Helps with blood pressure, blood sugar, and cholesterol.
There's many more health benefits of almonds, but hopefully these few will convince you that you should definitely be making some almond butter today.
How to make Almond butter in 10 minutes
Step 1: Roast the almonds
First, you'll roast the almonds in a 350 (F) oven for 10 minutes. This releases some of the oils and adds a bit of flavor.
Step 2: Blend the almonds in your food processor
Add the roasted almonds to the bowl of your food processor. almonds will take a while to turn into nut butter, but they WILL do it on their own.
It took my food processor about 10 minutes to get it to a nice creamy consistency. Some recipes will tell you that you have to add oil, but you don't. They will come together on their own.
If your food processor starts smoking or smells funny, let it rest, then come back to it when it's cooled down a bit.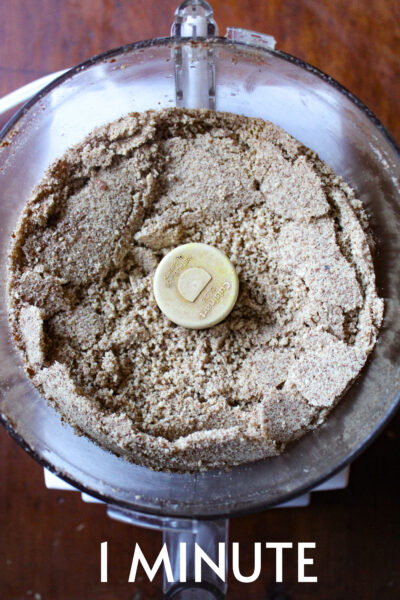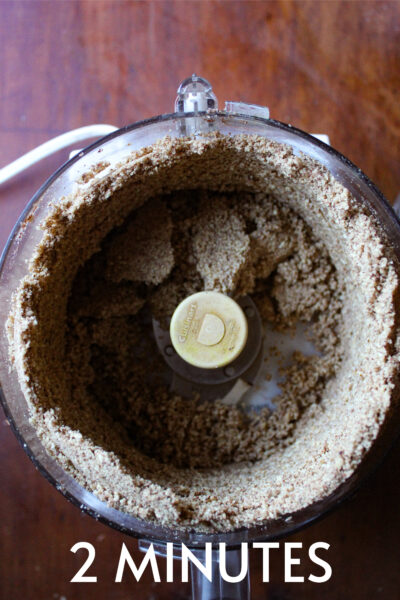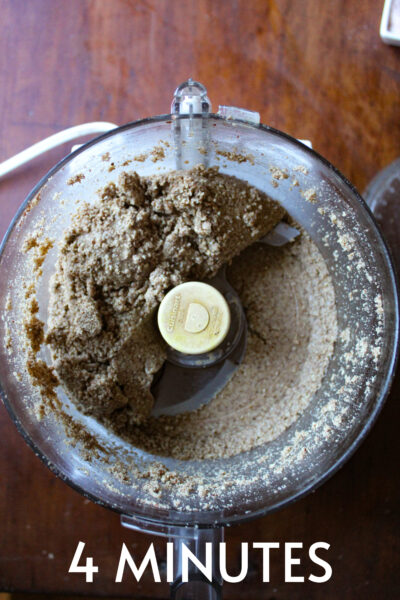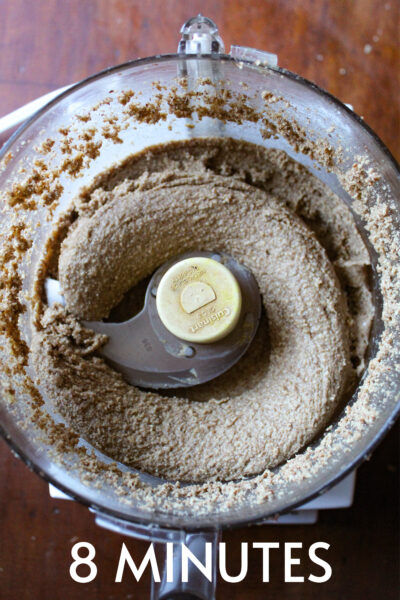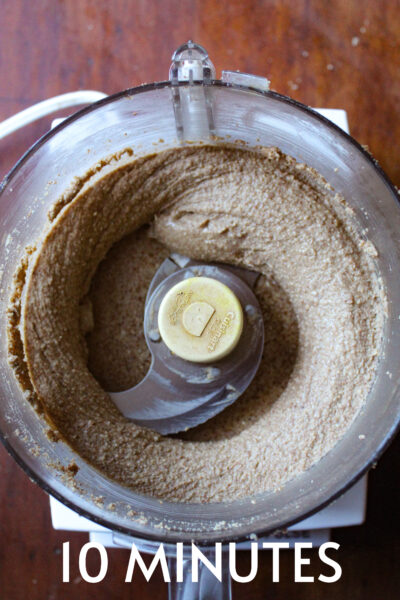 Homemade Almond Butter Tips
It's going to take around ten minutes for your almonds to turn into almond butter without any oil added. If your food processor starts smoking or smells funny, let it rest, then come back to it when it's cooled down a bit.
If you like combining nuts into a nut butter blend, you can definitely do that. For example, you could make an almond, walnut, cashew butter blend with whatever ratios you like (just add them to the food processor and blend).
You can control the thickness. If you prefer your almond butter to be really thick - it won't take as long to blend. However, if you like it thinner, keep blending until you get the consistency you want.
FAQ & Recipe Tips
Do I have to add oil to make the almond butter work?
Nope! It'll come together eventually assuming you're using a food processor that is powerful enough. Just keep blending :).
How to store almond butter
I recommend storing your almond butter in the fridge or on the counter. It should last on your counter for at least a week.
How to use almond butter
Spread it on your toast, use it in place of peanut butter, or eat it by the spoonful. You can also use it in a recipe (like these ginger cookies, these brownies, protein balls, or chocolate almond butter cups.
More homemade nut butter recipes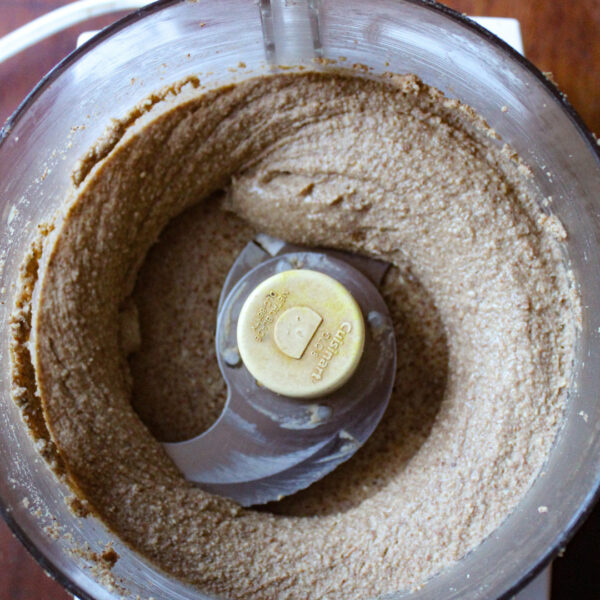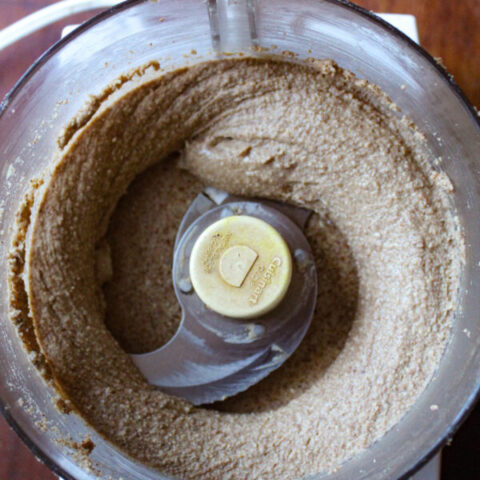 Homemade Almond Butter
Make homemade almond butter in just ten minutes without sugar, oil, or preservatives.
Ingredients
3 cups almonds
½ teaspoon salt
Instructions
Roast the almonds in a 350 degree (F) oven for 10 minutes.
Add almonds to the bowl of your food processor and blend for about 10 minutes.
Scrape down the sides, add the salt, and blend for 30 more seconds.
Enjoy!
Nutrition Information:
Yield:

24
Serving Size:

1
Amount Per Serving:
Calories:

103
Total Fat:

9g
Saturated Fat:

1g
Trans Fat:

0g
Unsaturated Fat:

8g
Cholesterol:

0mg
Sodium:

134mg
Carbohydrates:

4g
Fiber:

2g
Sugar:

1g
Protein:

4g
Save this on Pinterest now!