Some of the links on this site may be affiliate links. This means, at no additional cost to you, I may be paid a small commission if you follow the links and make a purchase. Learn more here.
Note: I received a SmoothieBox with all their four flavors (described below) in exchange for this review. All opinions are 100% my own.
I recently came across SmoothieBox in my search for the best smoothie delivery companies. I was drawn to them because of their use of organic, farm fresh fruits and vegetables and the convenience of a nutrient-rich smoothie delivered to your door (that's totally customizable). Keep reading for my SmoothieBox review to give you an honest opinion of this awesome ready to blend smoothie option (as well as an exclusive coupon code).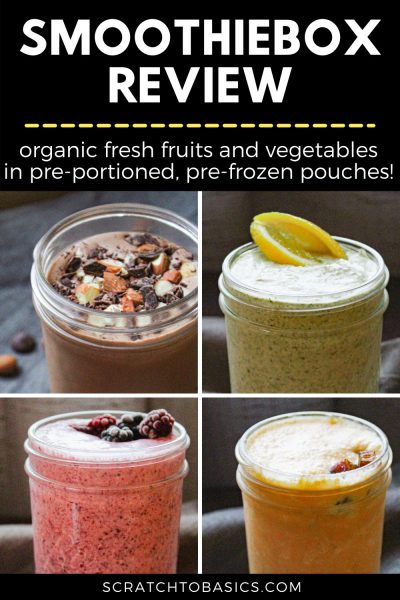 As you probably know by now, I've really been enjoying testing out products and services for you!
And now, I'm thrilled to bring you this SmoothieBox review!
Related: The 5 Best Smoothie Delivery Services for smoothies delivered to your door!
What is SmoothieBox?
SmoothieBox brings together the world of "convenience" and "health".
When you sign up, they will deliver a box of frozen, pre-portioned smoothies to your door. The smoothies are ready-to-blend, and are made from organic fruits, vegetables and seeds, and they include NO sugars or sweeteners.
Really, it's just a super convenient and easy way to add a nutritious smoothie to your daily routine. Pick a smoothie flavor, add liquid (your choice), blend, and enjoy! How simple is that?
What flavors do they have?
They have four base smoothie flavors to choose from. Click on the links below to see the ingredients and nutrition information for each flavor.
The smoothies come in pre-portioned pouches (you can see the chunks of the fruit & vegetables inside - no powdered smoothies here).
Each smoothie pouch can yield one 16-20 ounce smoothie, or two 8-12 ounce smoothies, depending on how much liquid you add and how hungry you are.
What comes in a box?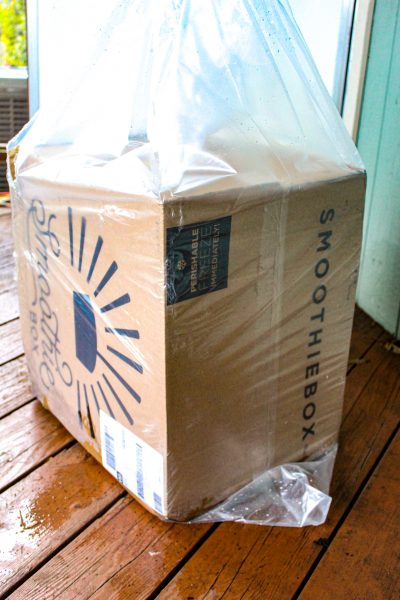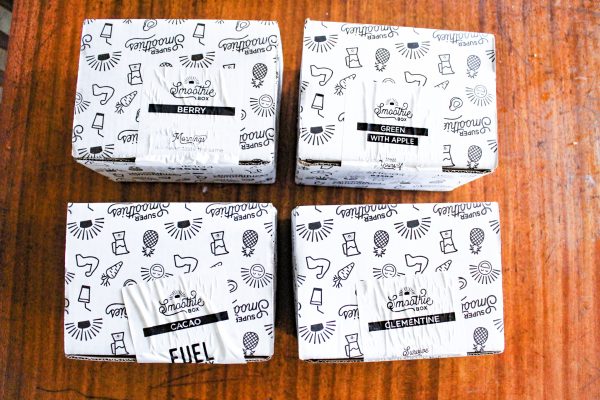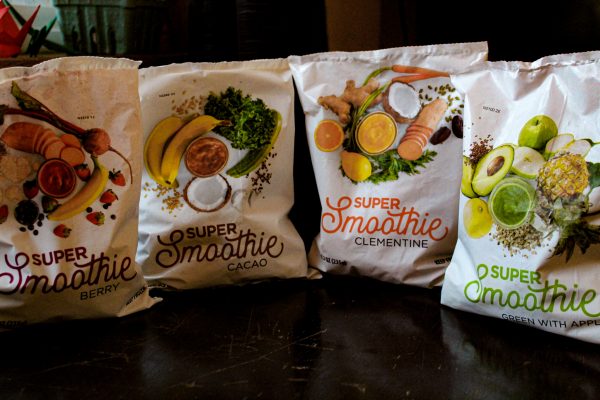 The SmoothieBox will be delivered to your door (ours was wrapped in plastic because of the torrential downpour that was happening at the time - soooo nice of them).
Inside the big SmoothieBox, you'll find smaller boxes - each with five smoothie pouches inside. When you go to order your box, you'll be able to choose which flavors you'll get. In the images above, I got five smoothie pouches of each flavor (so one white box of each flavor).
Even though my box sat outside for several hours, my smoothie pouches were still completely frozen when I opened them up. Phew!
How to Make a SmoothieBox Smoothie?
One question I had when I was looking into these pre-portioned, pre-frozen smoothies was…"How do I make it, exactly?"
So let me explain.
As you'll see in the image above, you start with the bag of smoothie ingredients. This is what's mailed to you from SmoothieBox. Inside these pouches are chopped up fruits and vegetables. The ingredients are listed on the back of each pouch, OR you can just see the ingredients in the picture on the front.
To make your smoothie, you can use a blender or an immersion blender. I personally have been using an immersion blender, and it's worked well. I have noticed the greens don't get TOTALLY broken down like they would in a high-powered stand blender, but I'm okay with that.
If you're in the market for an immersion blender - this is the one I have. I've gone through a few that didn't have much power. But this one works great and I've had it for a few years now.
Anyway...dump your smoothie pouch ingredients into a mason jar or bowl (if you're using an immersion blender) or straight into the blender.
Then, add the liquid. Each smoothie pouch gives a few suggestions on liquids you could add. Here are a few ideas:
Milk (dairy OR non-dairy)
Juice (apple, cranberry, pineapple, etc.)
Water
A combination of these
Blend it up, and add any other mix-ins you'd like. I've found the smoothies from SmoothieBox are a really good base for a smoothie. Then I can add extra flavors if I want it to taste a certain way.
How much does SmoothieBox cost?
When you order your box from SmoothieBox, you'll get a choice between 20 smoothies or 25 smoothies in your box. Each of their boxes come with FREE shipping.
For the 20 smoothie box, you'll pay $5.95 per smoothie pouch.
For the 25 smoothie box, you'll pay $5.56 per smoothie pouch.
The price shown on this page is for the "Subscribe & Save" option (as you'll see later). If you just want a one-time box, the price is higher. When you choose their "Subscribe & Save" option, you can cancel or pause your subscription at any time, so I don't really see a downside here.
In addition to smoothies, they also offer add-ins (collagen powder, an insulated smoothie mug, and even a smoothie blender). You can add these to your box if you want, or just leave it as-is.
Once you choose your box size, you'll decide which flavors you want in your box. The SmoothieBox smoothies come in 5 packs.
How do I order?
Step 1 - Pick your Box Size
When you go to the SmothieBox website, make sure you've my code: SCRATCHTOBASICS handy (it'll give you $15 off your first box). You can choose between a box with 20 smoothie pouches OR 25 smoothie pouches.


Step 2 - Pick Your Flavors
Once you've chosen the size of box you want, you get to decide WHICH flavors you want included.
So if you choose the 20 box smoothie, and just want the Cacao and the Green smoothies, you could get 10 of each, or 5 of one and 15 of the other. It's quite simple and streamlined how they have their checkout set up.
Once you've chosen your flavors, select "Next Step".
Step 3 - Pick "Subscribe & Save" or "One Time Order"
The next step is choosing their "Subscribe & Save" option or a "One-Time" box. Since the "Subscribe & Save" is cheaper and you can pause or cancel the subscription at anytime, I don't really see why you WOULDN'T sign up for this option.
Step 4 - Choose Your Add In's
Add in's are optional, and you can easily say "no thanks" to this step.
Grassfed Collagen Powder - I've tried this collagen powder and am loving it for a protein boost in my smoothies AND my hot cocoa!
Insulated Smoothie Mug
The Smoothiest Blender - I haven't personally tried their blender, but they claim it will make your smoothies velvety smooth (I believe it). If you'd like more info on the blender - check out this page for more details.
Step 5 - Checkout
Once you've made those decisions, you get to checkout and just wait for your box to arrive at your door.
Like I said before, they've really made the process quite streamlined and simple.
Why I like SmoothieBox
I like SmoothieBox for a lot of reasons, actually.
They don't add sweeteners or sugars (although I can do that at home if I want)
The smoothies actually taste really healthy. Sometimes smoothies from other smoothie places just taste like a huge sugar rush, and I didn't get that at ALL with these smoothies. In fact, one day I had a headache and I had a few sips of one of their smoothies and it went away. Coincidence - maybe, OR it could be that their smoothies are super nutritious and was just what my body needed.
I can see the REAL food inside every pouch.
They use organic fruits and vegetables.
It's SO convenient to pull out a pouch and make up a smoothie I know my whole family will love.
What about you? Have you tried SmoothieBox? Let me know in the comments below! To get $15 off your first box, use the code SCRATCHTOBASICS here.
Looking for more healthy breakfast recipes?
Save this for later!