Some of the links on this site may be affiliate links. This means, at no additional cost to you, I may be paid a small commission if you follow the links and make a purchase. Learn more here.
Looking for a smoothie delivery service to give you a convenient option for healthy and nourishing snacks for you and your family? Look no farther.
Smoothies are a favorite in our house for two reasons.
They taste yummy.
My kids eat smoothies with kale & other vegetables (but not so much in any other form).
But the problem I continue to find is that I'm usually out of some ingredient and by the time I make it to the store to get what I need, I'm out of something else.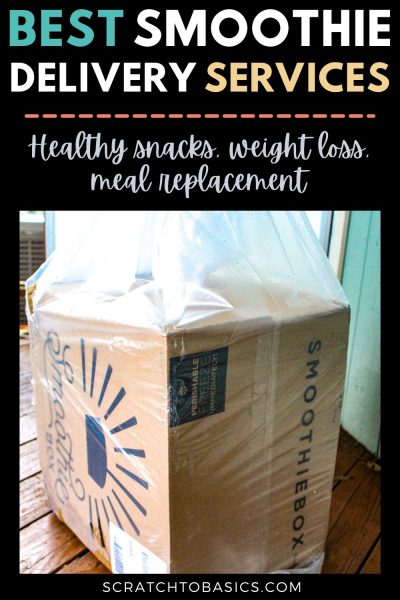 So, I started looking into smoothie delivery options.
These smoothie delivery options are a super convenient way to get extra fruits and vegetables into your (or your kid's) diet.
1. SmoothieBox
SmoothieBox delivers pre-portioned, pre-frozen smoothies to your doorstep. Their smoothies are made with Organic fruits & vegetables, and come in four flavors:
Add your favorite liquid, then blend and enjoy! Read my in-depth SmoothieBox review here!
2. Revive Superfoods
Revive Superfoods delivers farm frozen chef crafted smoothies to your door. You can pick a weekly, or monthly plan, then pick your cups, and wait for your delivery to arrive at your door.
Their smoothie delivery service offers 9, 12, or 24 cups per box in over a dozen flavors.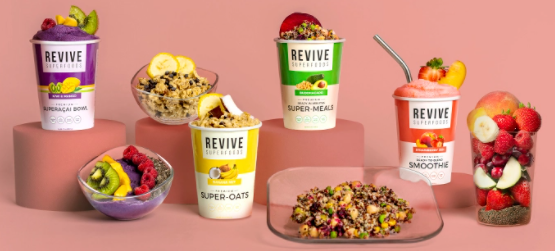 3. The Frozen Garden
You can get ready-to-blend smoothies from real farmers, made with real ingredients. There are 11 flavors of smoothies, and you can order in a large box or individually.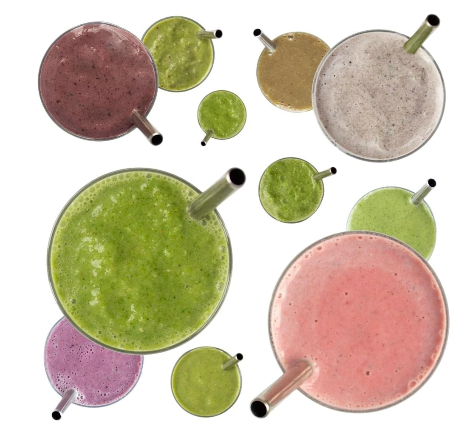 4. Everipe
The smoothies from Everipe are freeze-dried, so they don't need to be frozen (less freezer space = a win). Their smoothies have no sugar added, and are preservative free.
To prepare the Everipe smoothies, dump the pouch in the blender, add ice & water or milk, then blend and enjoy.
They have five flavor options - Cocoa Mojo, Unbelieva Berry, Strawberry Bananza, Tropical Zing, and Pina Colossal.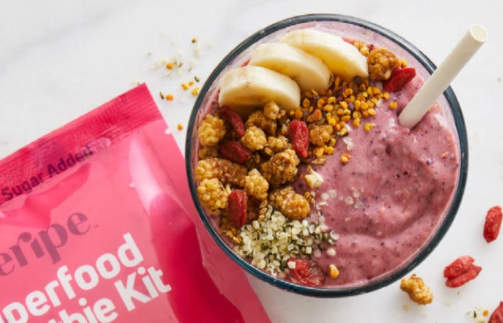 5. Daily Harvest
Daily Harvest is another smoothie delivery service for you to try. They've got a ton of flavor options for their smoothies that are packed with fruits and vegetables.
Here's how they work. The smoothies are shipped frozen in cups. When you're ready to make the smoothie, just fill the cup to the top with your preferred liquid, dump into the blender to blend, then pour it back in your cup and enjoy.
Order a box with 9, 14, or 24 items on a monthly or weekly schedule.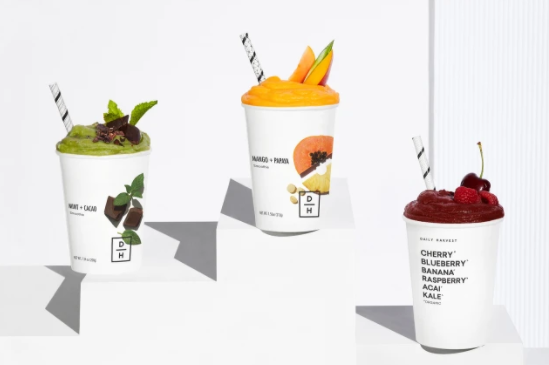 So, what do you think?
Which smoothie delivery company are you going to try first? My favorite? SmoothieBox. Don't forget to use SCRATCHTOBASICS for $15 off your first box!
more real food delivery options
Save this for later!