Some of the links on this site may be affiliate links. This means, at no additional cost to you, I may be paid a small commission if you follow the links and make a purchase. Learn more here.
The following post is sponsored by Secolari. All reviews and opinions expressed in this post are 100% my own.
While the kids are putting on their costumes, waiting for that perfect time for trick-or-treating, doesn't it sound nice to have some non-sugary snacks to fill them (and you) up? That's where this savory grown up Halloween snack board comes in.
Obviously, there will be tons of sugar around on Halloween. Candy will be sitting in bowls in individually wrapped packages, maybe you'll have candied apples, or a separate Halloween snack board with sweets.
This Halloween snack board features some of the products from Secolari - the maker of high quality, delicious olive oils, vinegars, jams, jellies, tapenades, and mustards. Seriously there's so much good stuff on their site. I highly encourage you to check it out.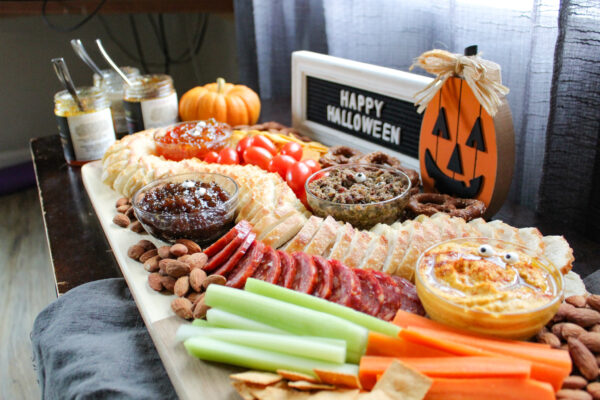 The beauty of snack boards, or charcuterie boards, is that there's really no "right" way to make one. As long as you've got a variety of foods that can be combined in different ways - you're good to go.
For this Halloween snack board I chose to highlight a few of the delicious products from the Secolari online store. Plus some fun candied googly-eyes to make it festive.
If you've been around here for any amount of time, you know I pay close attention to the ingredient labels on food, and would only bring you a product that was made with high quality ingredients, and tasted amazing.
Secolari's products lived up to that expectation by a thousand percent. Every single product I tried was absolutely delicious.
Here's what I ordered from their online store: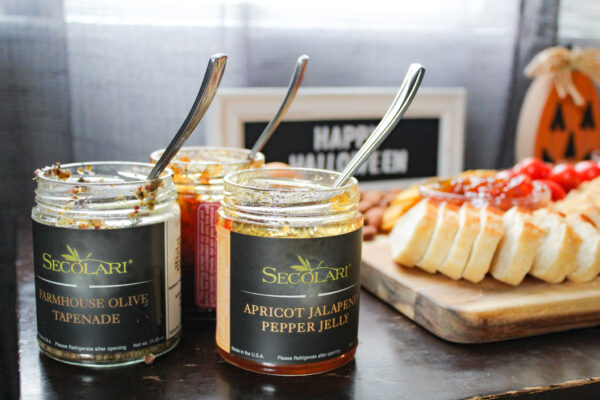 How to make a Halloween snack board
To make this Halloween snack board, I used the following items:
Secolari products (listed above)
Pumpkin Hummus - find the recipe here
A sourdough baguette
Chorizo sausage
Pretzels
Almonds
Carrot and celery sticks
Crackers
Cherry tomatoes
Plantain chips
8 googly-eyes (can't forget those)
The beauty of putting a board like this together is that it ends up looking stunning, with very little expertise needed.
To put it all together
Decide what you're going to put it on. I borrowed my mother-in-law's big charcuterie board (I think she got it from Ikea years ago). If you don't already have one, a platter would work, or you can buy a wood board to use on Amazon here.
Start with the bowls, or containers that you'll be using. You'll build everything else around them. I used these little glass bowls for the dips and they were a great size.
I was using a long loaf of bread, so I knew I wanted it to fit across the whole board. I sliced it and laid it out next - weaving in between the bowls.
Gather the dippers & any meat you'll use. I used chorizo, carrots, celery, almonds, crackers, cherry tomatoes, plantain chips, and pretzels. I also thought of adding popcorn to the tray, but I ran out of room.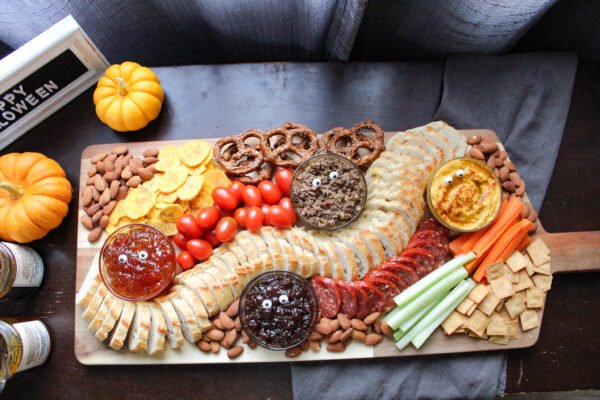 Although I had a lot of dipping options, the sauces totally stole the show. We ate it while watching a football game and couldn't quite get enough of all those delicious flavors.
Do you want to make a Halloween snack board? I highly, highly, highly recommend grabbing some of Secolari's delicious products to wow your guests and satisfy your taste buds.
Save this for later