Some of the links on this site may be affiliate links. This means, at no additional cost to you, I may be paid a small commission if you follow the links and make a purchase. Learn more here.
Are you looking for a healthy fall brownie treat? These healthy pumpkin brownies are for you. These pumpkin brownie bites are made in a mini muffin pan, filled with spiced pumpkin puree, and topped with creamy chocolate frosting.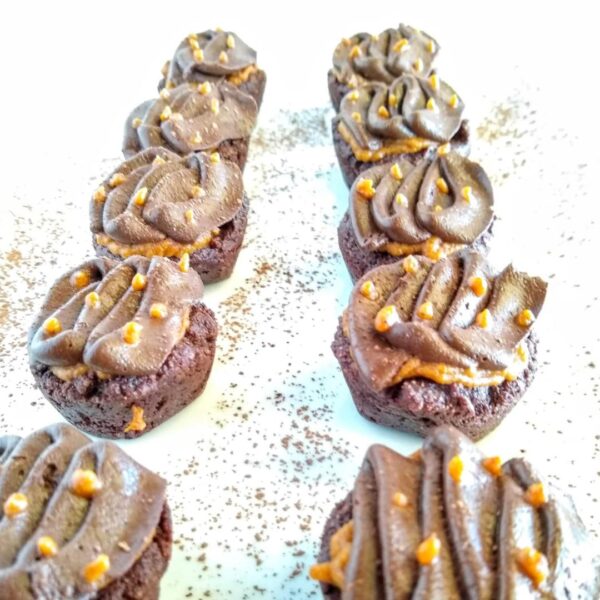 Tools needed to make these pumpkin brownies
Ingredients needed to make these healthy pumpkin brownies
Part One: Brownies
I used my gluten free, dairy free brownie recipe for these pumpkin brownie bites. They hold together well and are very chocolatey (which I love). Here are the ingredients you'll need:
Almond butter is a nutritious and delicious choice in this pumpkin brownie recipe. It is packed with protein and healthy fats and also gives that nutty, sweet flavor.
Coconut oil
Honey - These brownies are refined-sugar free, so we use honey instead.
Applesauce (OR ¼ cup coconut milk) - If you're a baker who's trying to eat healthy, applesauce is your best buddy. It has the same effect as sugar in sweetening food, but with far less calories.
Vanilla extract - Enhances the chocolate flavor.
Cacao powder (can sub cocoa powder) - Creates a rich chocolate flavor in baked goods and sweets.
Almond flour - I use almond flour as the base for these brownies because it's gluten free, and Paleo friendly.
Salt - Can't forget the salt.
Baking powder - Gives the brownies a little "lift".
Part Two: Pumpkin Puree Mix
The pumpkin puree mix for this recipe is pumpkin puree seasoned with yummy fall spices. Here's what's inside:
Pumpkin puree
Spices - Cinnamon, Nutmeg, Cloves, Ginger, Salt
Honey
Coconut milk
Part Three: Chocolate Frosting
You can use whatever chocolate frosting you like, but I love my avocado chocolate frosting (you can't taste the avocados, I promise). You just need avocados, cocoa powder, and honey for the recipe.
How to make these Healthy Pumpkin Brownies - With Step by Step Pictures
This recipe is a bit more complicated than others on my site, so I included step-by-step instructions as well as written instructions to make it as easy as possible for you.
Make the brownies in a mini-muffin tin (mini brownies)
Make the pumpkin spice puree & chocolate frosting
Fill the cooked brownies & top with frosting
Keep reading for the step-by-step instructions, along with pictures of each step.
Step 1: Make the mini brownies with holes in the middle
Make your brownie recipe, as you would normally do. Here's a link to the gluten free brownie recipe that you'll see me using in the pictures below. Notice it's a very thick batter (which is really useful in this recipe so we can add that hole in the middle).
Instead of a brownie pan, use a mini-muffin tin and line it with strips of parchment paper (for easy removal later). Use a 1 Tbsp scooper to scoop the brownie batter into the mini muffin pan.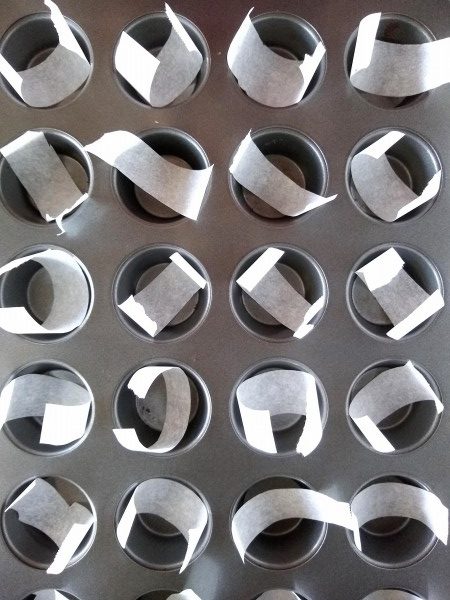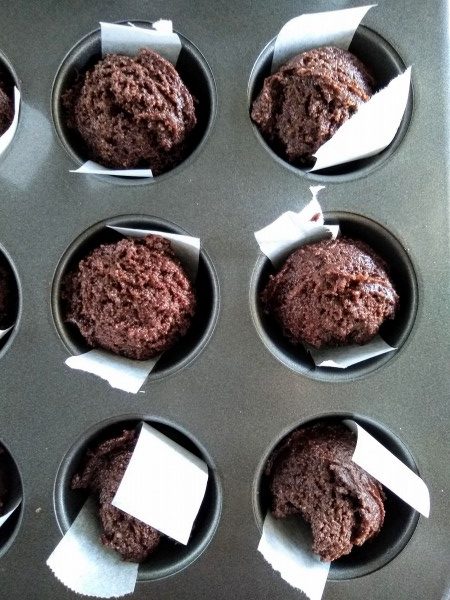 Next, take your scooper (or a normal spoon) and flatten the top of the brownies.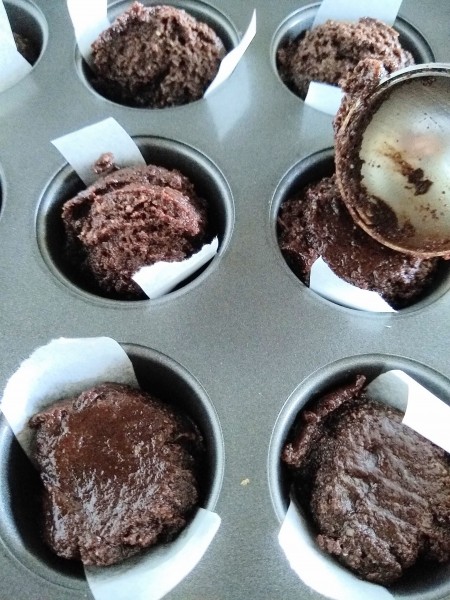 If you'll be filling your brownies with spiced pumpkin puree (which I highly recommend), grab a wooden spoon or anything with a round, flat end and poke a hole in the brownie batter. If you want the hole bigger, just wiggle the spoon handle around a bit until you get it the size you want it.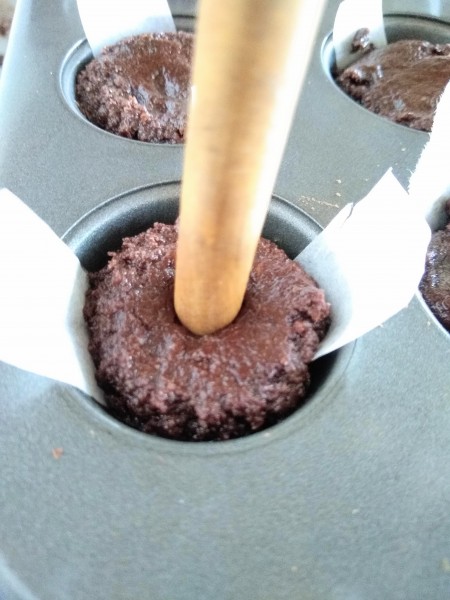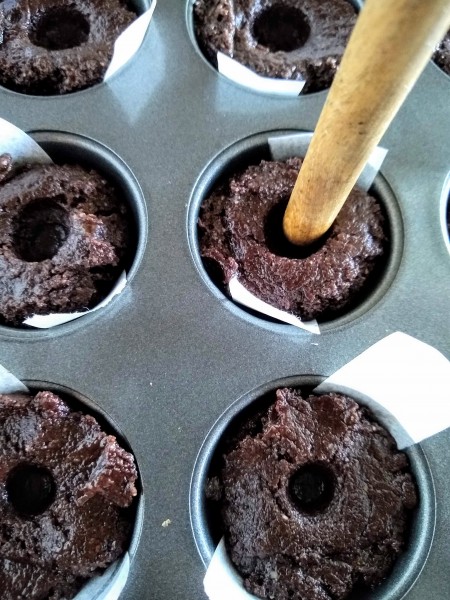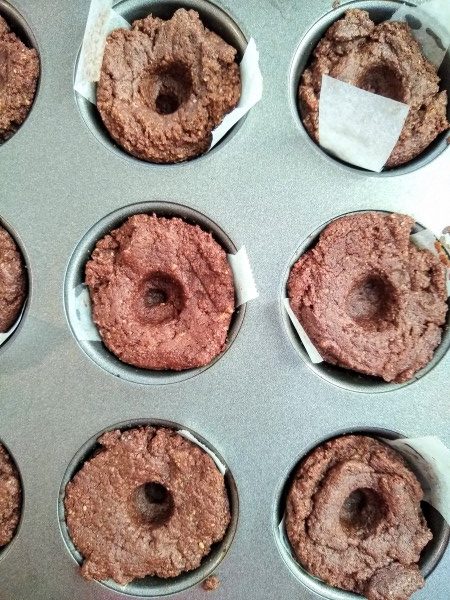 Bake the mini brownie bites in your oven according to your recipe (350 (F) if you're using my paleo brownie recipe). Pull them out of the oven when the top is set.
Let them cool completely before lifting them out of the tin. We want them to stay together, and they are more likely to crumble apart when they're warm.
Step 2: Make the pumpkin spice puree & chocolate frosting
While the brownies are baking (or cooling), you can mix up the pumpkin spice puree and the chocolate frosting.
Pumpkin Spice Puree - Mix all the ingredients together (see recipe in the recipe card below) and set aside until you're ready for it.
Chocolate frosting - Grab your immersion blender or food processor to mix up this healthy chocolate frosting. If you use my recipe (I highly recommend it), you'll need a couple of avocados, cocoa powder, honey, and a pinch of salt. Super simple. Super healthy. SO delicious.
Step 3: Fill the mini brownies with pumpkin puree, top with frosting
When the brownies are cool, remove them from the mini muffin pan simply by lifting the parchment paper strip ends. And now it's time to fill them!
When you're ready to fill them and frost them, you have a choice to use a piping kit or just a spoon/knife. The piping kit will make your dessert look more professional (even if you don't really know what you're doing - just check out a YouTube video on beginner piping tips.
Either way, fill the hole of the brownie with your spiced pumpkin puree, then add an additional layer of pumpkin. If you're piping, just make concentric circles for a pumpkin layer.
Notice how NOT perfect mine look in the pictures at this step, and yet they still look great and taste amazing when they're finished. For the pumpkin puree, I used the small circular opening (Wilton number 3). It doesn't have to look great because we'll cover it up with the chocolate frosting in the next step.
Tip: Save a little bit of pumpkin puree in your piping bag for a finishing pumpkin touch (optional, but fun).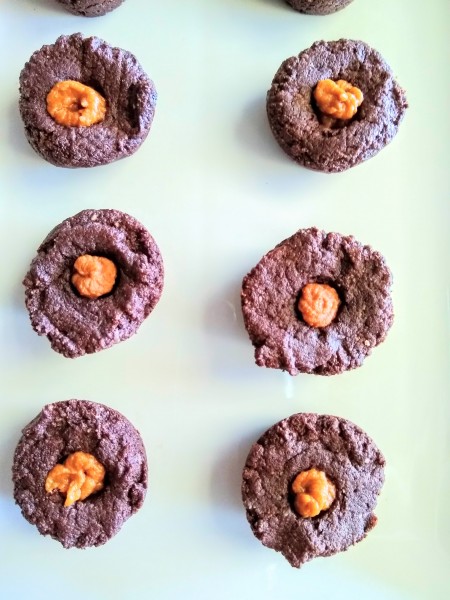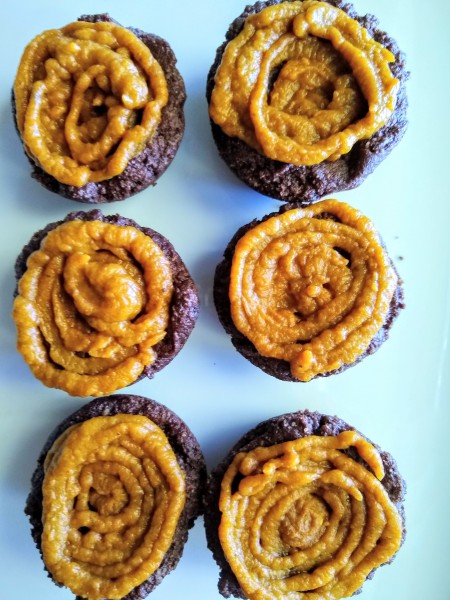 Now that we have the pumpkin layer done, let's add the chocolate frosting topping. Again, I used my piping kit (new bag, new tip). I'm a newbie but I still think these turned out looking awesome. I used the Wilton 104 tip and did a zig-zag (I'm sure there's a more technical term for it). Then I dotted the top with pumpkin puree.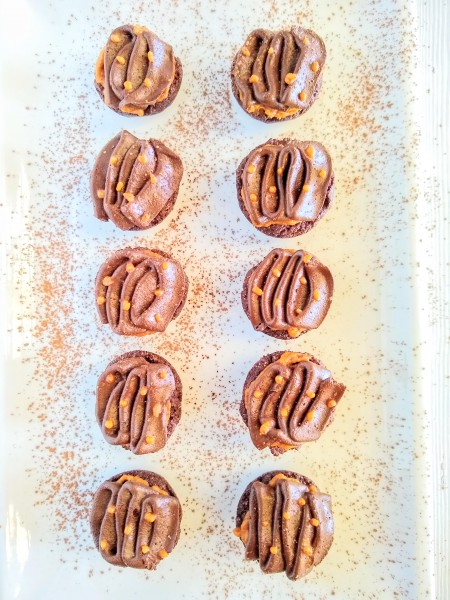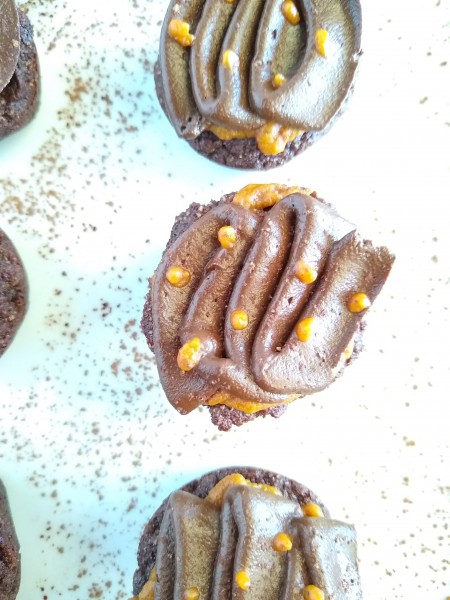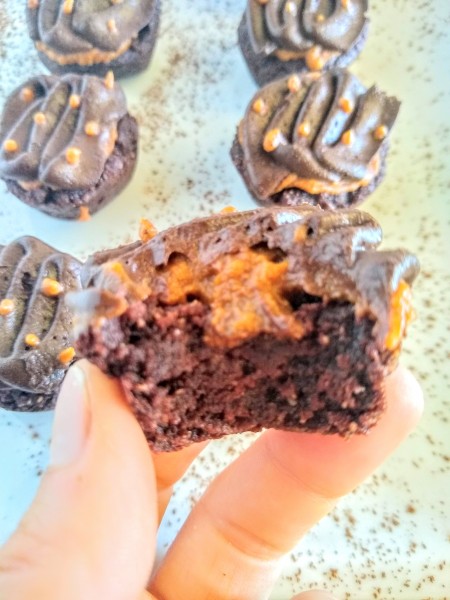 Recipe tips, tricks & ingredient substitutions
If you're making these pumpkin brownies ahead of time, it's best to wait and fill/frost them until the day you'll be serving them. Just keep the brownies in a container in your fridge until the day of.
For the brownies, you can use my gluten free & Paleo brownie recipe (as seen in these images) or another one - as long as they'll hold together and not fall apart.
For the frosting, I always use my secret-ingredient go-to chocolate frosting recipe to frost these brownies, and I recommend you do the same! Of course you can use a different chocolate frosting if you'd rather, but this recipe won't disappoint your taste buds (it's dairy free, too).
What about other allergens? The recipes I've linked to are dairy free, gluten free, and grain free. However, there are almonds in my brownie recipe, so anyone allergic to nuts couldn't eat them.
How to make a vegan pumpkin brownie? You can make this healthy pumpkin brownie vegan by substituting the honey in the brownie recipe for maple syrup. This brownie recipe is already egg free so the substitution is really pretty simple.
Modifications / Customization Ideas
If you've been reading this blog for any amount of time, you know I'm a big fan of customization. So if something about the way I did this doesn't sound ideal to you - change it! That's the power you have when YOU are making the food in your own kitchen. Here are a few ideas...
You could omit the pumpkin filling, and ONLY do the pumpkin puree layer + chocolate frosting layer.
You could make the brownies in a normal brownie pan, cover with the pumpkin puree, and then top with the frosting.
You could swirl in the pumpkin puree with the brownie batter before baking, then top with chocolate frosting.
The possibilities are endless, friends.
FAQ & Recipe Tips
How to serve these healthy mini pumpkin brownies
I think displaying your Christmas brownies on a tiered tray like this one would be awesome! Although they'll look great no matter how you decide to show them off.
What makes fudgy brownies fudgy?
Fudgy brownies have more fat than cakey brownies. Fat in brownies comes from butter (usually, but in my recipe it comes from almond butter), chocolate, oil, etc.
Related Recipes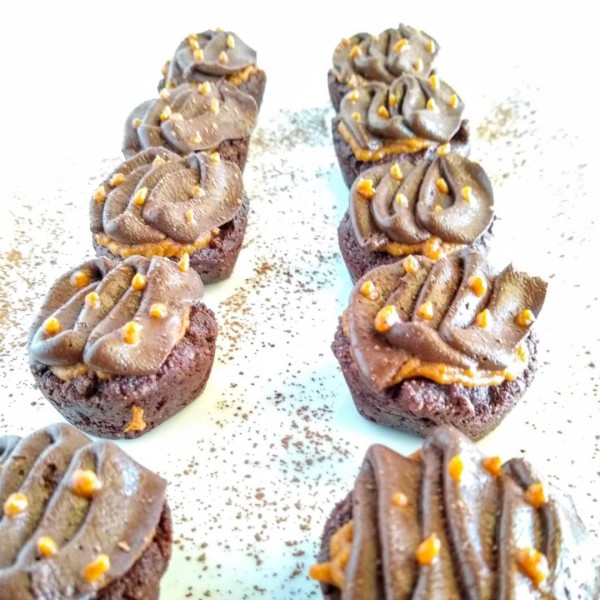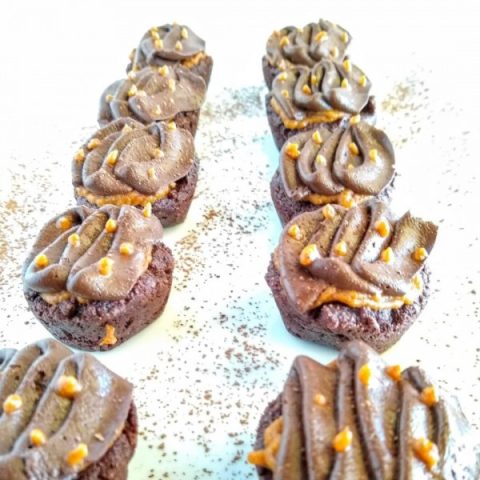 Pumpkin Brownie Bites With Chocolate Frosting And A Surprise Filling
These brownie bites are festive, pumpkin filled treats that are sure to be a crowd pleaser. Made in a mini-muffin tin, dark chocolate brownies are filled with spiced pumpkin puree then topped with chocolate frosting.
Ingredients
Brownies:
1 cup almond butter
¼ cup coconut oil (melted)
½ cup honey
½ cup applesauce (OR ¼ cup coconut milk)
2 tsp vanilla extract
¾ cup cacao powder (can sub cocoa powder)
¾ cup almond flour
¾ tsp salt
½ tsp baking powder (*** see notes for Paleo or if sensitive to corn starch)
Pumpkin Puree:
1 can pumpkin puree (15 oz)
2 tsp cinnamon
¼ tsp nutmeg
½ tsp cloves
3 tsp honey
1 tsp ground ginger
¼ tsp salt
¼ cup coconut milk
Chocolate Frosting:
2 large ripe avocados
½ cup cocoa powder
½ cup honey
1 pinch of sea salt
Instructions
Preheat the oven to 350 (F)
Using a mini muffin tin, cut ½ inch wide, 3" long parchment strips and line the muffin tin.
Make your brownie batter:
Melt coconut oil in microwave or in a pot on the stove and mix all wet ingredients in mixing bowl.
Mix all dry ingredients in a separate bowl. Combine dry ingredients with wet ingredients and stir until combined. The mixture will be thick.
Using a 1 Tbsp scoop, scoop the brownie batter into the mini-muffin tin.
Flatten the brownies with the back of the scooper, or a spoon.
Using the handle end of a wooden spoon, poke a hole in the brownie batter about half way down and wiggle it until it's the size you want your pumpkin filled hole to be.
Bake the brownies in the oven until set. This recipe takes about 10-12 minutes in the oven.
While the brownies are baking, make the pumpkin puree by mixing the pumpkin puree ingredients together with a spoon.
Make the frosting using an immersion blender or a food processor by blending the avocados, cocoa powder, and honey together. Add a pinch or two of salt, to taste.
When the brownies are done cooking, let them cool completely before removing them from the muffin tin.
Using a piping kit or a spoon, fill the hole with pumpkin puree, and add a thin layer of spiced pumpkin puree to the top of the brownie.
Add the chocolate frosting to the top with piping kit or a spoon.
Decorate with the remaining pumpkin puree by making small dots on top of the chocolate frosting. (optional)
Notes
If the corn starch in typical baking powder is an issue, substitute (⅛ tsp baking soda + ¼ tsp cream of tartar) for the baking powder in the brownie recipe.

This recipe makes a lot of the pumpkin spice puree and the chocolate frosting. You might have extra if you go light on the filling/frosting. If you have extra, I HIGHLY recommend eating the frosting like pudding and layering the pumpkin spice puree in. A reward for your hard work. OR...add the pumpkin spiced puree to your morning coffee...homemade pumpkin spice latte, anyone?
Nutrition Information:
Yield:

24
Serving Size:

1
Amount Per Serving:
Calories:

214
Total Fat:

13g
Saturated Fat:

3g
Trans Fat:

0g
Unsaturated Fat:

9g
Cholesterol:

0mg
Sodium:

117mg
Carbohydrates:

22g
Fiber:

4g
Sugar:

14g
Protein:

5g