Some of the links on this site may be affiliate links. This means, at no additional cost to you, I may be paid a small commission if you follow the links and make a purchase. Learn more here.
Looking for a fruity dessert for your 4th of July BBQ? This list will give you some amazing ideas for fruity desserts you can make at home today and bring to the party. Everyone will love these fourth of July treats! Bonus: they're all gluten free so everyone can enjoy them!
Also, if you're looking for help enjoying your outdoor celebration, check out this post on how to to keep flies away from your food.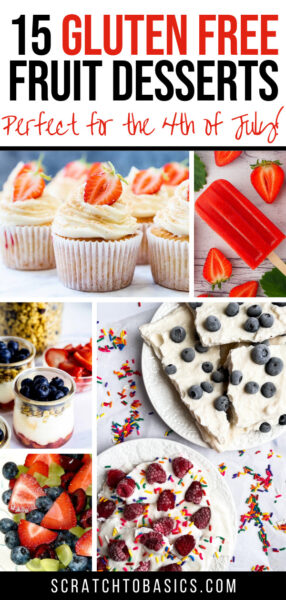 Here they are: 15 Delicious 4th of July Fruit Desserts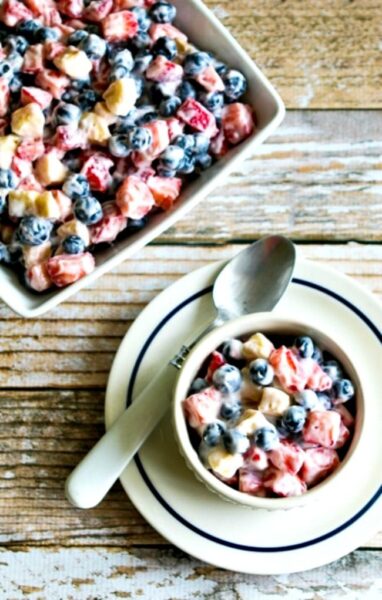 Red, White, and Blueberry Salad by Kalyn's Kitchen- This Easy Red White and Blueberry Salad is perfect for holiday parties, and this salad with fruit is a healthy treat for a special occasion.
---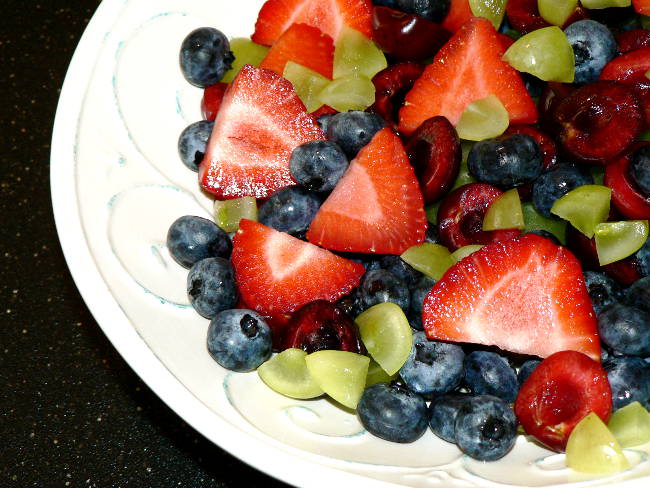 Strawberry Salad With Cherries and Blueberries by Easy Recipes for Busy Moms - This easy and delicious fruit salad is the perfect dessert for 4th of July! Vegan, healthy and gluten free, everyone is going to love this delicious dish.
---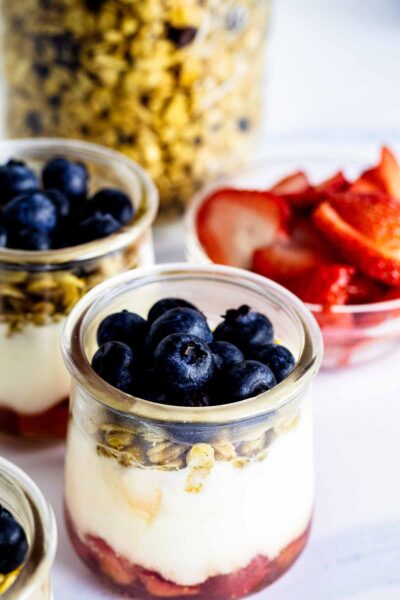 Berry Yogurt Parfaits by Heavenly Home Cooking - If you're looking for a super easy and healthy breakfast recipe, our berry yogurt parfaits will fit the bill perfectly. They come together in a snap. Plus you can assemble them ahead in small mason jars and grab and go on those busy weekday mornings.
They also make a beautiful festive presentation for the 4th of July, or birthday parties. These would also make a delicious and healthy dessert. Layer them with a delicious homemade granola as a great preservative-free, whole food alternative to standard grocery store fare. Ready in less than 10 minutes!
---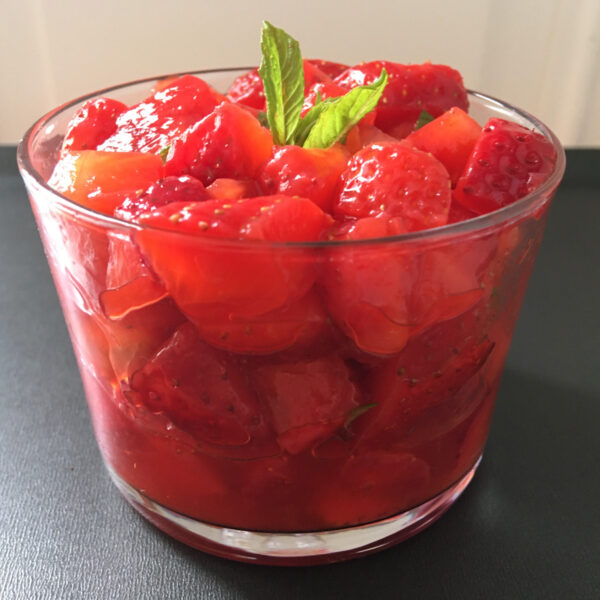 Strawberry Fruit Salad by Go Healthy With Bea - This simple strawberry fruit salad recipe is fresh and healthy. It also looks good enough to be served for a special occasion.
---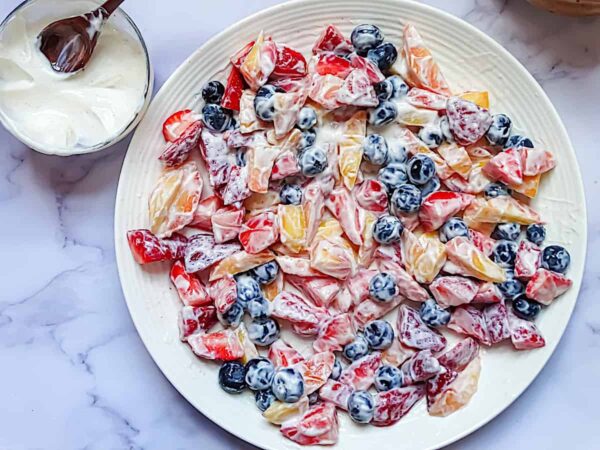 Summer Berry Salad by Tasty Oven - Summer Berry Salad with Yogurt Dressing is an easy creamy fruit salad recipe that takes just 10 minutes to make. It's made with juicy summer fruit: fresh strawberries, peaches, and blueberries.
Tossed together with a creamy honey and cinnamon yogurt dressing, this summer berry salad is delicious, easy, and healthy! It's perfect for summer parties, barbecues, and holidays.
---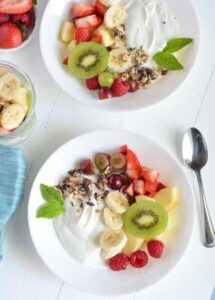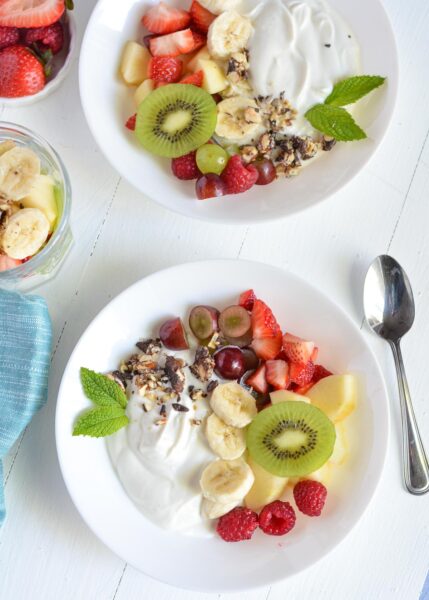 Healthy Greek Yogurt Fruit Salad by FitMealIdeas - Healthy Greek yogurt fruit salad where fresh summer fruits are served with vanilla-flavored Greek yogurt that is mildly sweetened with monk fruit. Perfect protein-packed & sugar-free yogurt bowl with fresh fruits. It is a low-fat fruit salad for weight loss.
---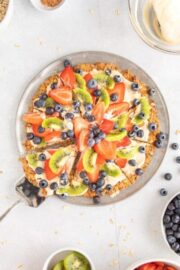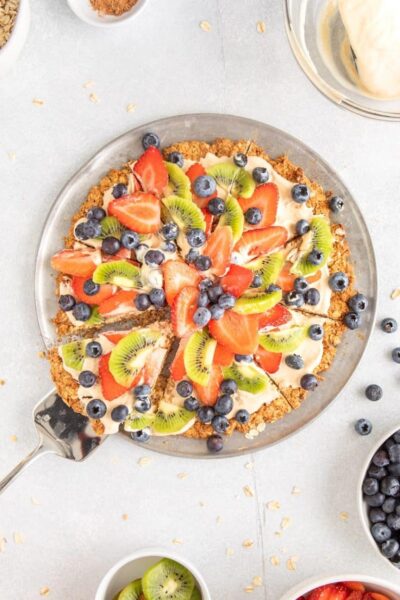 Gluten Free Fruit Pizza by Bucket List Tummy - A healthy and delicious fruit pizza made with a gluten free almond crust, this snack or dessert makes the perfect addition to your summer spread.
---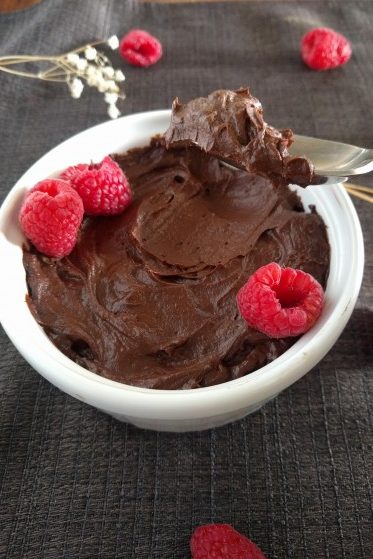 Avocado Chocolate Pudding by Scratch to Basics - This delicious recipe will prove why avocados as a base for pudding makes perfect sense! The avocado provides a creamy texture, while the cocoa powder and the honey give it the rich chocolate flavor. Adding some raspberries or blueberries on top will make it the perfect 4th of July dessert!
---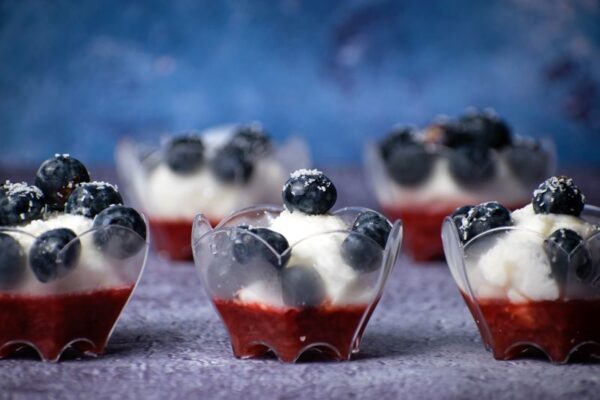 Red White & Blue Layered Fruit & Ice Cream Treat by In the Kitch - This Red White & Blue Layered Fruit & Ice Cream Treat is a cool tasty treat to serve at your 4th of July gathering. The light fresh taste of the lemon ice cream combines well with the freshness of the fruit.
---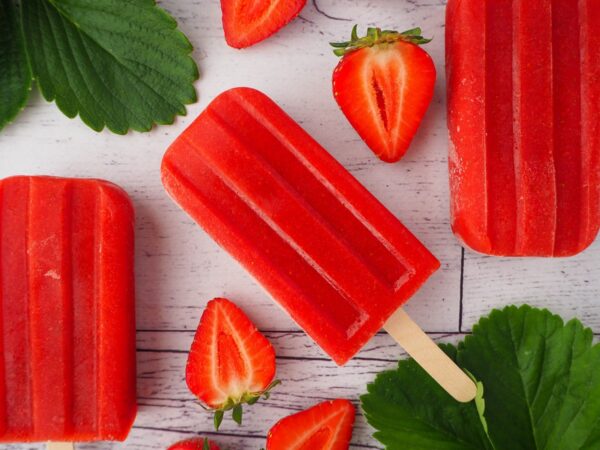 Strawberry Popsicles by Keep Calm and Eat Ice Cream - These fresh strawberry popsicles are bursting with strawberry flavor. With whole fruit and no refined sugar they are a great snack for kids and kids at heart.
---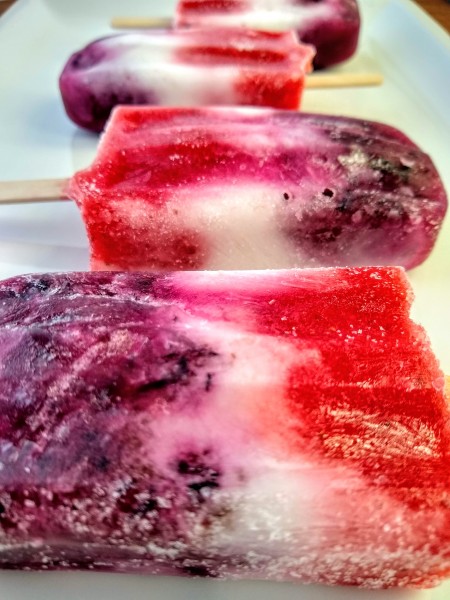 Fruit Puree Popsicles by Scratch to Basics - Here is a refreshing dairy free and sugar free treat any time you need a cool-down. These popsicles (or ice pops) are made with blueberries, strawberries, coconut milk, lime juice (and a pinch of salt). They make the perfect 4th of July dessert!
---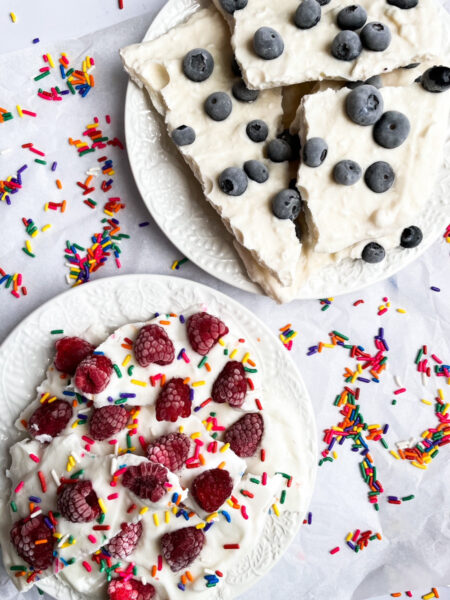 Greek Yogurt Breakfast Bark by Sugar & Snap Peas - My Greek Yogurt Breakfast Bark is a fun and simple make-ahead recipe. I share two variations of bark on my blog, but you can definitely get creative on your own with this recipe. It only takes a few minutes to prepare the bark and then you let the freezer do the rest of the work. It will freeze in as little as 2 hours so if you would like to enjoy this any other time of day, you certainly can.
I think it would be a fun after school snack to surprise the kids with. It's also a healthy substitution for popsicles or ice cream. Both of my recipes for Greek yogurt bark contain lots of fruit and as you can see from the photo, would make an excellent 4th of July dessert thanks to the red, white and blue colors.
---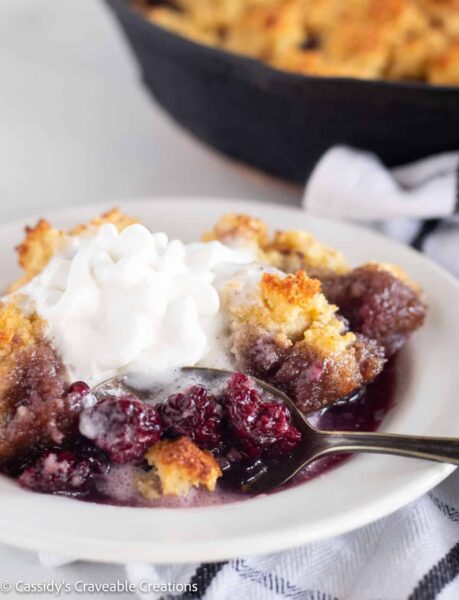 Keto Blackberry Cobbler by Cassidys Craveable Creations - This easy summer keto blackberry cobbler is made with fresh blackberries and topped with a golden biscuit topping! It's perfect with whipped cream or low-carb ice cream, is gluten-free, and can also be made grain-free and paleo.
---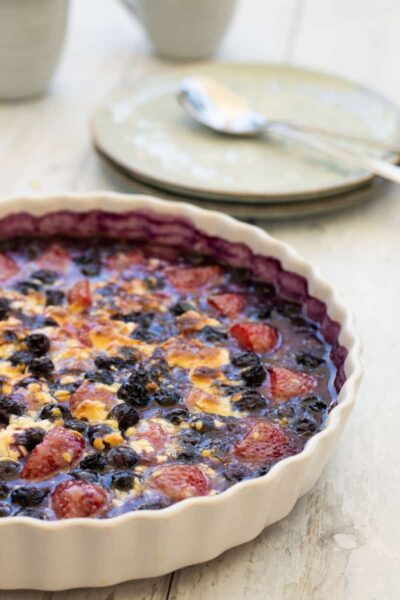 Red, White & Blue Gino by Always Use Butter - This easy to make berry bake is filled with bananas, strawberries and blueberries and topped with white chocolate for a delicious red, white and blue dessert. Perfect for any holiday gathering - and great to prep ahead of time. Serve over vanilla ice cream for the ultimate, indulgent experience.
---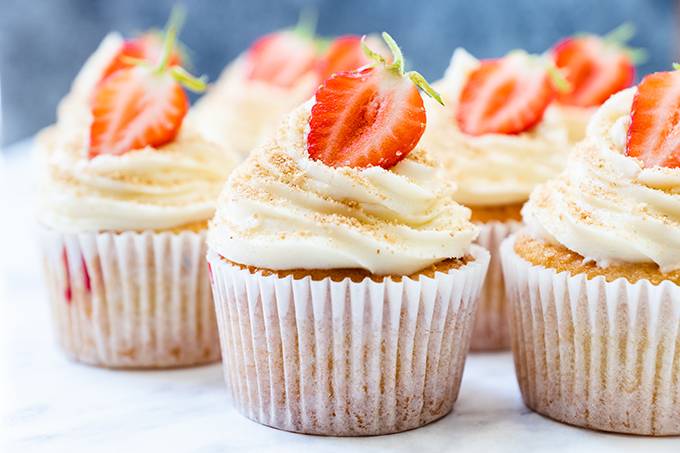 White Chocolate and Strawberry Cheesecake Cupcakes by Blue Sky Eating - These strawberry cheesecake cupcakes are the ultimate sweet treat! There's a fluffy vanilla and strawberry sponge with an indulgent white chocolate cream cheese icing.
Conclusion
Now that we got through that awesome list (and you're probably drooling…), which of fruity 4th of July gluten free desserts are you going to make first? I'd love to hear in the comments below!
SAVE THIS FOR LATER ON PINTEREST!