Some of the links on this site may be affiliate links. This means, at no additional cost to you, I may be paid a small commission if you follow the links and make a purchase. Learn more here.
Homemade walnut butter is super easy to make in your kitchen. You can make a batch in just 2 minutes, and then you've got all the options in the world on how to flavor it to make it your own.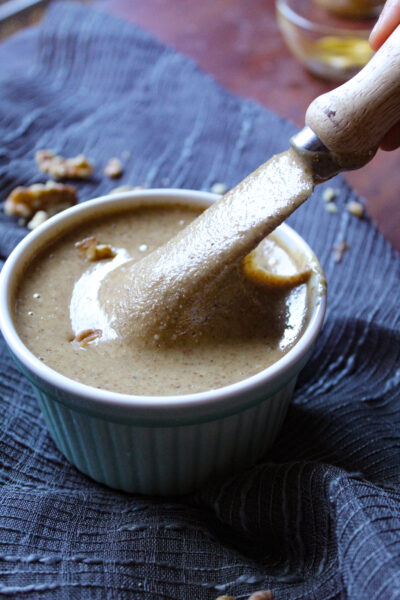 Tools used to make this recipe
Baking sheet - You'll need a baking sheet to roast the walnuts in the oven.
Food processor - To blend it all up.
Ingredients used to make this recipe
Walnuts - I usually buy the whole walnuts from the bulk section in the grocery store.
Salt - Use what you love. We love this himalayan salt.
Flavors (optional)
Health benefits of walnuts
Walnuts are a powerhouse of nutrition. Here's just a few of the benefits (according to this article)
Rich in omega -3s - They are significantly higher in omega-3 fat than any other nut.
High in antioxidants
May decrease inflammation, promote a healthy gut, and reduce the risk of some cancers…among SO many other things.
If you want to find a way to add more walnuts into your diet, this recipeis a great start!
How to make this homemade walnut butter recipe
This is one of the fastest nut butter recipes out there. Walnuts are a soft nut and so they come together into a nut butter really fast. I like to roast the walnuts to give them a bit more flavor before blending. Another option is soaking the nuts, then drying them. I typically don't leave myself enough time to do that so I just roast them.
Step 1: Roast the walnuts
First, you'll roast the walnuts in a 300 (F) oven for 12 minutes. This releases some of the oils and adds a bit of flavor.
Step 2: Blend the walnuts in your food processor
Add the roasted walnuts to the bowl of your food processor. Walnuts are a softer nut and will turn into walnut butter quickly (about 2 minutes).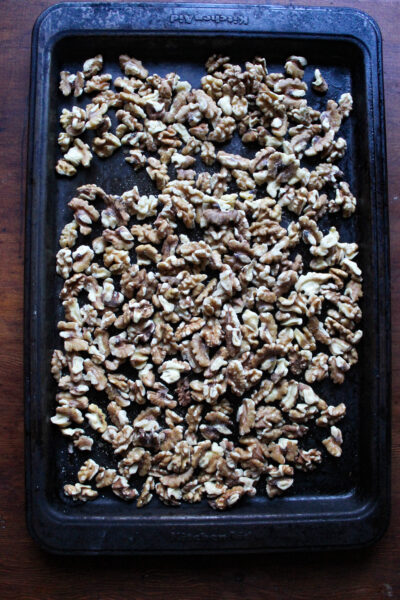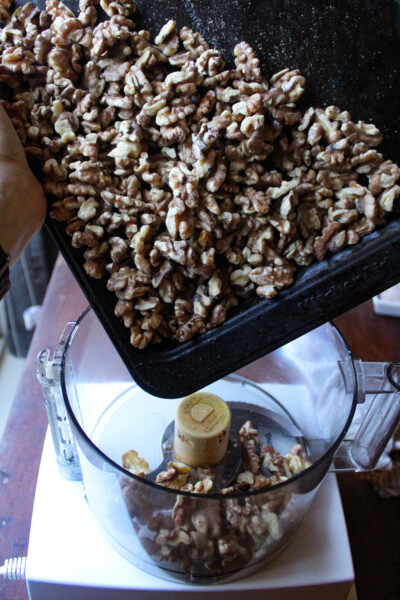 After it's blended, scrape the sides down of the food processor, add salt and any flavors, then blend again for 30 seconds.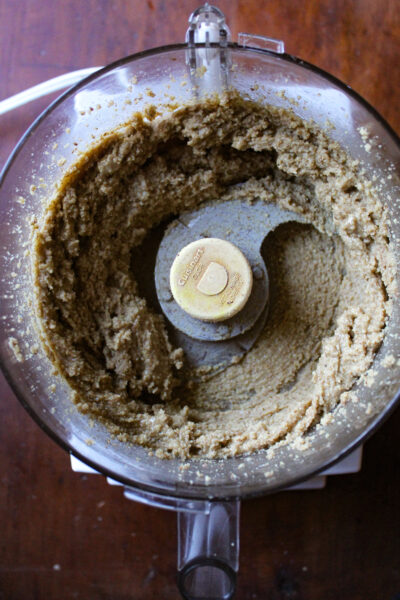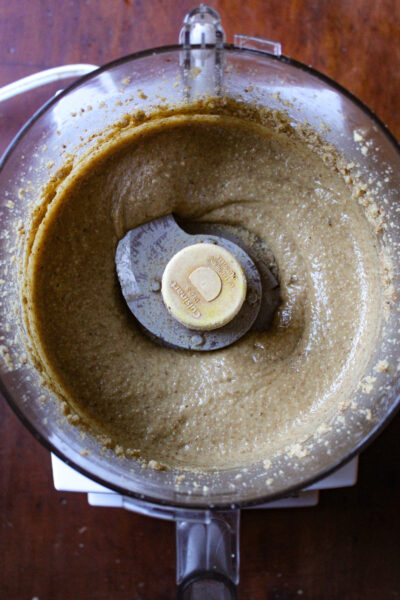 FAQ & Recipe Tips
How do you make walnut butter taste better?
The first time I made this, I took a big bite and was less than pleasantly surprised at the flavor. The texture was awesome, but the flavor…not so much.
So now I know (and I'll share with you) that this butter is used IN another product, or when you add flavor to it. The flavor combinations you can make are really only limited by your imagination. I personally LOVE this maple walnut butter.
How to store walnut butter
I recommend storing it in the fridge so the precious Omega 3 oils are protected from heat or light, or anything else that might damage them. You should be able to keep it in the fridge for at least a week.
How to use walnut butter
Like I said before, this is best used IN another recipe (like in these ginger cookies or in this edible cookie dough instead of the almond butter. You also have the option to add flavorings to the walnut butter to make it taste better.
Flavoring ideas for you:
Maple syrup (maple walnut butter is super yummy)
Ginger & honey - other warm spices if you'd like
Add some chai spices for a chai walnut butter.
More homemade nut butters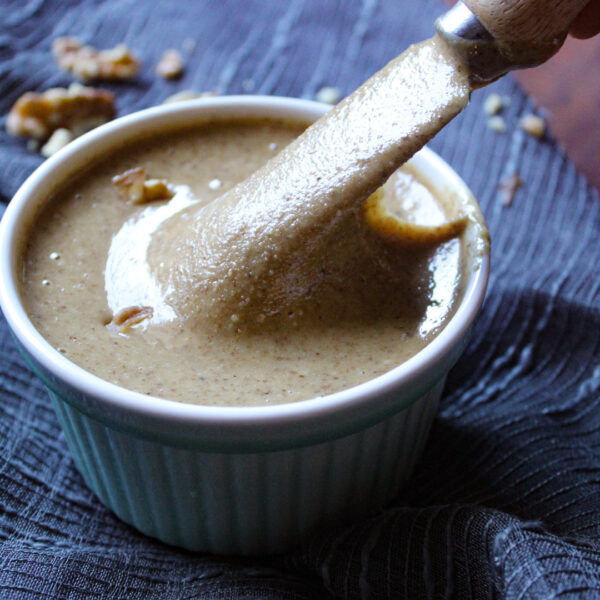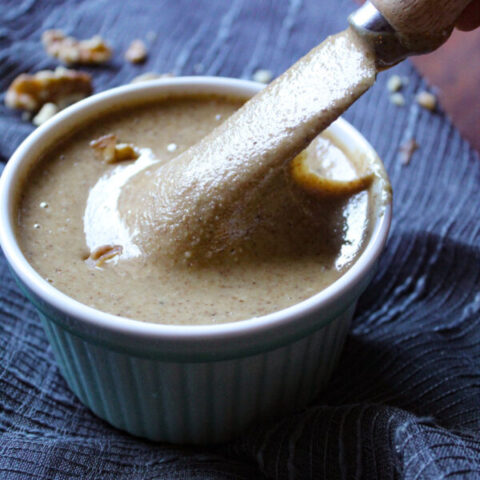 Walnut Butter
Make this quick, easy and creamy walnut butter in your own kitchen with just 2 ingredients -walnuts and salt!
Ingredients
3 cups walnuts
½ teaspoon salt
Instructions
Roast the walnuts in a 300 degree (F) oven for 12 minutes.
Add roasted walnuts to the bowl of your food processor and blend for 2 minutes.
Scrape the sides down, add salt, and blend for 30 more seconds
Add any flavors and enjoy.
Nutrition Information:
Yield:

24
Serving Size:

1
Amount Per Serving:
Calories:

85
Total Fat:

9g
Saturated Fat:

1g
Trans Fat:

0g
Unsaturated Fat:

7g
Cholesterol:

0mg
Sodium:

49mg
Carbohydrates:

2g
Fiber:

1g
Sugar:

0g
Protein:

2g
Don't forget to save this for later on Pinterest!