Some of the links on this site may be affiliate links. This means, at no additional cost to you, I may be paid a small commission if you follow the links and make a purchase. Learn more here.
Grilled cauliflower steaks hot off the grill, drizzled with a sesame ginger sauce will make your plate beautiful and your taste buds happy. Don't wait...fire up the grill and make this today!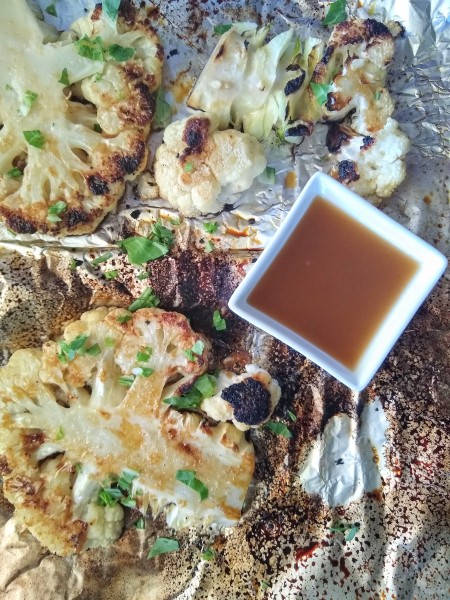 WHY I LOVE grilled cauliflower steaks
I love cauliflower. It's so versatile. You can use it for a rice substitute, you can roast it in the oven, or even use it as a base for pizza crust. We've been using Imperfect Produce for a while now, and we got some (perfect-looking) cauliflower the last few weeks that I wanted to use in a new way.
Since it's summer, grilled cauliflower won! There's something about char-grilled cauliflower. Especially when it's brushed with this delicious sesame ginger sauce.
sesame ginger sauce
The truth is, you can season your cauliflower steaks however you like. If you'd like to do mexican spiced cauliflower steaks, use this easy taco seasoning. if you'd like to go italian, add some herbs and parmesan for a delicious vegetable side dish. But today we're making an asian inspired cauliflower steak recipe with this delicious sesame ginger sauce!
The sesame ginger sauce is made with coconut aminos. If you don't have any, feel free to substitute soy sauce. It will taste a little different, but it should work well. I would recommend omitting the salt from the sauce if you do make this switch.
Speaking of sauces....check out this FREE E-cookbook with essential sauce and dressing recipes.
HOW TO MAKE it
First: Make the sauce. It's a simple sauce to make, just throw all the ingredients in a mason jar and shake, shake, shake!
Second: Get the cauliflower steaks cut and on foil.
Third: Drizzle the cauliflower with oil, sprinkle with salt, and grill!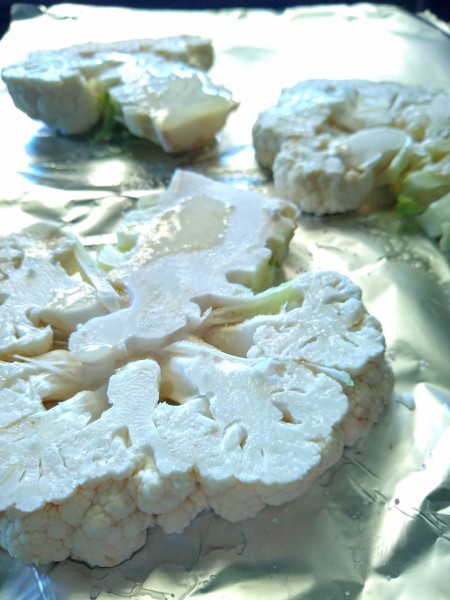 Fourth: Flip the cauliflower once after about 2 minutes (or when it's getting charred).
Fifth: Take the cauliflower off the grill and brush them with your sesame ginger sauce.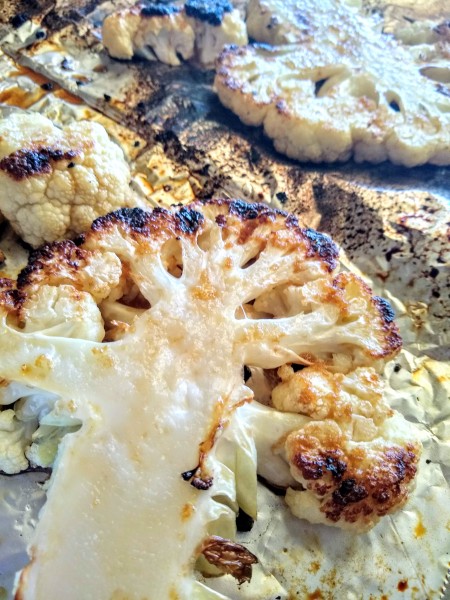 Tools I use
These tools make this recipe extra easy.
Mason jar - I like this size for the sesame ginger sauce. If there's any leftover sauce, store it in the fridge and use it on your next salad or on grilled chicken.
Zester - We use our zester for ginger, shaving chocolate, and garlic. We find it super handy. It has a "sheath" type cover (shown in the picture) to keep your fingers safe as you're reaching through the drawer for it.
Basting brush - This might come in handy for brushing the cauliflower steaks with the sauce. You can always use a spoon, too.
Use what you have so you can make this TODAY (and then make a note of what would have made it easier). Start a wish list and ask for those things for your birthday!
FAQ
My Cauliflower Steaks Keep Crumbling...What SHould I do?
If your cauliflower steaks crumble, here's a few tips...
Make sure you're not cutting them too thin. I cut mine about ½ inch and it worked pretty well.
Handle them gently. When it comes time to flip them, don't just smack them down like a burger. Use two hands and be gentle with it. Softly set it down.
Is foil necessary for this recipe to work?
You could make these without foil if you're in a pinch and just ran out. But here's why I use foil.
If one of your cauliflower steaks breaks, you won't lose any cauliflower pieces into the depths of the grill. You can still eat them!
You still get the char grilled marks, and the amazing flavor from grilled cauliflower.
Easy clean up! Just throw the foil away when you're done and you don't even need to clean the grill.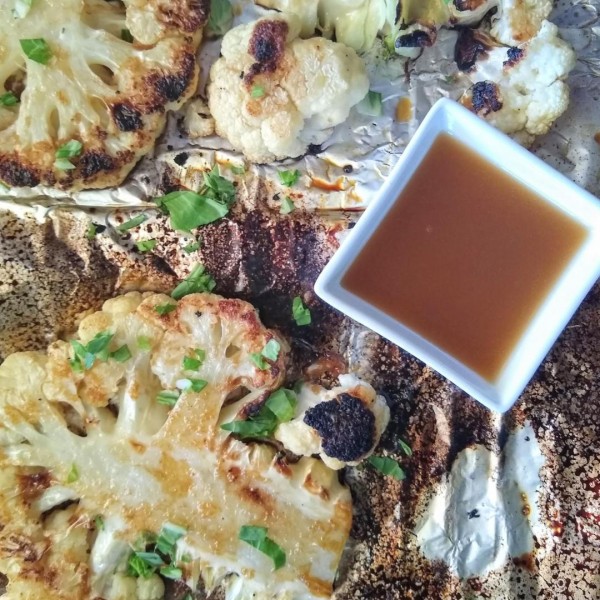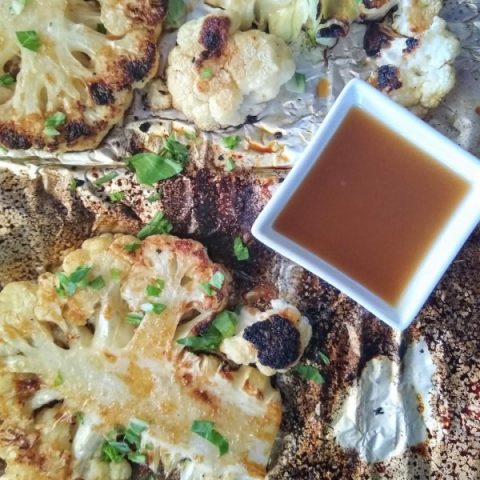 Grilled Cauliflower Steaks with Sesame Ginger Sauce
Grilled cauliflower steaks brushed with a sesame ginger sauce will make your taste buds so so so happy.
Ingredients
Sauce:
4 Tbsp avocado oil
1 Tbsp sesame oil
2 Tbsp coconut aminos (can use soy sauce, see note below)
1 tsp zested ginger
1 tsp honey
2 tsp white vinegar
pinch of salt
Cauliflower Steaks:
2 heads of cauliflower (sliced ½" thick)
1 Tbsp olive oil
pinch of salt
Instructions
Make the sauce by putting all the sauce ingredients into a mason jar, close the lid, and shake until combined.
Slice the cauliflower steaks to about ½" thickness
Put them on a sheet of foil and drizzle with oil (I used avocado oil, but olive oil would work too) and sprinkle with a generous pinch of salt.
Grill the cauliflower (on the foil) for about 2-5 minutes (this will vary depending on how hot your grill is). When the bottom looks charred, flip it over gently (see note below).
After another 2-5 minutes, remove it from the grill and brush the sauce on top.
Notes
If you want to substitute soy sauce for coconut aminos, feel free. I would omit the salt in the sauce (because soy sauce is saltier than coconut aminos). 
To gently flip the steaks on the grill, I use a spatula to grab them underneath, and then my other hand to make sure they don't hit the grill too hard. Be careful, the grill is hot!
Nutrition Information:
Yield:

4
Serving Size:

1
Amount Per Serving:
Calories:

260
Total Fat:

22g
Saturated Fat:

3g
Trans Fat:

0g
Unsaturated Fat:

18g
Cholesterol:

0mg
Sodium:

242mg
Carbohydrates:

15g
Fiber:

6g
Sugar:

9g
Protein:

5g