Some of the links on this site may be affiliate links. This means, at no additional cost to you, I may be paid a small commission if you follow the links and make a purchase. Learn more here.
The holiday season is overflowing with tempting foods that *usually* aren't the healthiest. If you're reading this, you're probably wondering, "How can I eat healthy during the holidays?" and "How do I not overindulge on Christmas desserts?".
Well I've got answers for you. In this post you'll find helpful and actionable tips from 15 food bloggers who are committed to a healthy lifestyle.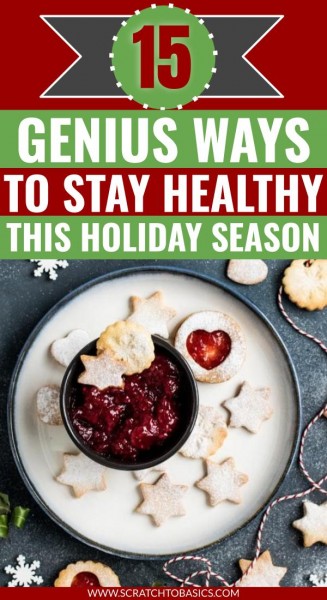 The holidays are supposed to be an exciting time. Twinkle lights strung around your home, holiday music in every store, and social time with family and friends.
But when you've been working hard on making healthy food choices, instead of warm and cozy feelings, the sight of Christmas trees in the store makes your heart sink. Because you know what's coming...
Comfort foods that you grew up loving (but don't fit into your current lifestyle)
Your aunt's pumpkin cheesecake that has a day's worth of calories JUST in one slice
Home baked goods everywhere you look.
The thought is overwhelming. And believe me. I get it. JUST when you feel like you've managed to get into a routine with your healthy eating, the holiday season (along with its cookies) appears in full force.
Don't give up
Whether you're the most disciplined dieter this holiday season or you decide to put things on pause for a few special occasions, don't give up on your bigger health goals.
Related: Redefine Failure And Don't Give Up On Your Goals
Healthy living is a long term goal, and you're worth the effort! A recurring theme in the advice below is to make a plan. And making a plan can be as simple as writing down what you're going to eat during the week.
Expert Advice on healthy eating
I asked fifteen food bloggers who focus on healthy eating to give me their best advice to eat healthy during the holidays. Below you'll find the answers to these questions:
What advice would you give to someone who's looking to stay healthy during the holidays or stick to a special diet?
What's your favorite cookbook or food blog (other than your own)?
I hope you find encouragement from their advice and you're able to soar through the holiday season, healthier and happier than ever on the other side.
The advice below (as well as action on your part) is ALL YOU NEED to stay healthy this holiday season. Notice that the food bloggers mentioned below focus on all different kinds of eating styles on their blogs:
Gluten free
Paleo
Keto
Dairy Free
Real Food
Low Carb
Whole 30
And this highlights an important point. There isn't ONE right way to be healthy. Do what works for your body, and stick with it.
One thing we all have in common is that we believe it's worth it to put in the effort and be intentional about what you eat. We know food can heal. And we know that healthy living is worth the effort. YOU are worth the effort.
15 Tips: How To Eat Healthy During The Holidays
1. Megan Barrett
I blog here at Scratch to Basics about simple, real food recipes that nourish your body. The recipes on my blog are aimed to help heal your body with food. Whether you eat gluten free, Paleo, or something else all-together, I believe real food and a healthy lifestyle can do wonders to heal your body.
How to stay healthy during the holidays
My advice is to make a plan, and stick to it. Before you go to your event, decide whether you'll stick to your diet 100% or indulge in a holiday treat.
Also, I've found that if I bring a dish I KNOW I can eat, I won't be put in a tough situation to make a choice to eat something that's going to make me feel awful, or not eat at all.
Usually I try to bring a dessert I can eat, too. Because I do NOT have enough self control to say "no" to dessert. By making a dessert with real food ingredients that match my preferred diet, I know I won't feel awful after indulging in a slice (or two) of cake.
favorite cookbook And/or food blog?
The food blog Downshiftology and the cookbook Nourishing Traditions
2. Deanna Quickle
Deanna blogs about gluten-free, Paleo, and low-carb recipes at The Harvest Skillet. She focuses on healthy homemade, allergen-free, and toxin free cooking.
How to stay healthy during the holidays
Pretty much any recipe can be made to fit any diet with a few (usually minor) tweaks. You don't have to sacrifice your health around the holidays, if you are comfortable making your own dishes and desserts to bring to get-togethers!
There are tons of great recipes out there, especially when it comes to copycat holiday favorites. If you're attending a big family gathering, bring foods you know you can eat, so you don't go hungry or eat something you would regret.
If you tell people the dish is Paleo or gluten-free and everyone loves it, maybe it could convince someone else to try eating that way too!
favorite cookbook And/or food blog?
The food blog Wholesome Yum.
3. Hope Pearce
Hope blogs at Love Food Nourish about gluten free and dairy free recipes, with many Paleo and Whole30 recipes too.
How to stay healthy during the holidays
Be prepared and stock up on your own healthy treats so you don't feel like you are missing out. Take a plate of food that you can eat along to any gatherings.
Let family and friends know in advance about your dietary requirements so they can cater to you. It may be just a small adjustment that they need to make such leaving a dressing or sauce to the side instead of pouring it a dish so that you can eat it - you might need to take your own dressing or sauce along.
favorite cookbook And/or food blog?
The blog My Darling Lemon Thyme by Emma Galloway was one of the first blogs I ever followed and I have a couple of her cookbooks. I love Emma's recipes, photography and writing style.
4. Cheryl Malik
Cheryl creates recipes that cater to all food styles on her blog 40 Aprons. Her blog features a variety of food styles like Whole30, vegan, gluten-free, paleo, vegetarian, keto, low-carb, dairy-free, and sugar-free.
How to stay healthy during the holidays
Prep and plan as much as possible because if you have game plan you are less likely to cave. Having a few sources of healthy recipes you love either in a cookbook, food blog, or on pinterest can make a huge difference, and it will have you feeling anything but deprived.
favorite cookbook And/or food blog?
The cookbook Mastering the Art of French Cooking by Julia Child.
5. Amy Reid
Amy blogs about gluten free and Paleo recipes at Amy GF Girl. She shares family friendly, easy to prep gluten free meals.
How to stay healthy during the holidays
Stick with those dishes that are "safe" for you. It's easy to stray or "cheat" during the holidays, but don't do it! It's not worth it, your body deserves more than that! If you are looking to try a new recipe, research it in advance so that you can be prepared properly.
favorite cookbook And/or food blog?
The food blog Noshtastic and the cookbooks Against the Grain by Danielle Walker and Elana's Pantry by Elana Amsterdam.
6. Cheryl McColgan
Cheryl blogs about keto and sugar-free recipes at Heal Nourish Grow. She shares her expertise about wellness, healthy lifestyle, and advanced nutrition.
How to stay healthy during the holidays
Depending on your goals and health concerns, it may be acceptable or even enjoyable to cut yourself some slack during the holidays in regards to your diet.
However, I don't find keto restrictive and choose to stay "on plan" even during the holidays. There are plenty of ways to make holiday favorites fit into a special diet by making substitutions.
Holidays or not, what's most important is you make choices that fit your health and wellness goals. If you do choose to make some exceptions during the holidays, make the choice and don't beat yourself up about it!
Savor every bite of dishes you choose to make an exception for and enjoy your time around the holiday dinner table with family and friends.
favorite cookbook And/or food blog?
I love Julia Child's Mastering the Art of French Cooking...such a classic!
7. Lisa Day
Lisa blogs predominantly about gluten-free recipes on A Day In The Kitchen. From her small kitchen in Hong Kong, she wants to share her big ideas that can be made in any sized kitchen.
How to stay healthy during the holidays
Sticking to a special diet can be easier than you think if you adopt a what "can" I eat, as opposed to what "can't" I eat. There are many resources available online, catering to different diets, letting you see what IS possible. It is too easy to get caught up in what ISN'T.
If you're hosting holiday get-togethers, that is also a perfect opportunity to serve up dishes that cater to certain diet restrictions, showing others that you can eat delicious food while taking into account diet sensitivities.
favorite cookbook And/or food blog?
The food blog Nom-Nom Paleo and the cookbook The Wisdom of the Chinese Kitchen by Grace Young.
8. Lisa MarcAurele
Lisa blogs about primarily low carb and gluten free recipes, but also has Paleo and dairy-free recipes on her blog, Low Carb Yum. Her recipes use simple ingredients that are easy to find.
How to stay healthy during the holidays
Bulk cooking is a fantastic way to stick to any special diet when things get busy. During the holidays, I'll bake up healthier snacks and desserts that I can freeze for later to take with me to events and parties.
I also like to double or triple recipes to freeze quick meals when I don't have time to cook. Keeping a good supply of convenience foods at home for my needs makes sticking to a special diet much easier.
favorite cookbook And/or food blog?
The food blog Paleo Leap.
9. Maya Krampf
Maya blogs about Keto/Low carb recipes that are naturally gluten free at Wholesome Yum. Her recipes are easy and are made with 10 ingredients or less.
How to stay healthy during the holidays
Prep ahead of time to stay on course. Search for recipes that everyone will enjoy but also help you stick to your specific diet.
favorite cookbook And/or food blog?
The cookbook Keto Clarity.
10. Jamie Horrigan
Jamie blogs about gluten free, dairy free, Paleo, AIP, and SCD recipes at Sweetened by Nature. She's experienced healing through food and hopes to share that with others.
How to stay healthy during the holidays
Do what you can to keep eating your typical diet at home and try out some fun new recipes for the holidays. If you are celebrating a holiday at a friend/family member's house and do not know if there will be compliant foods, bring a dish or two to share.
If you are tempted by desserts, bring your own compliant dessert. That way, you can enjoy all courses of the meal with your loved ones. In my experience, the paleo desserts are always the most popular.
favorite cookbook And/or food blog?
Anything from Against All Grain.
11. Dana Monsees
Dana blogs about gluten-free recipes at Real Food With Dana. She teaches women how to ditch the diet cycle for good and thrive with real food, one meal at a time.
How to stay healthy during the holidays
Take the guilt away from enjoying holiday treats. When you tell yourself you'll abstain from something through the holidays, *of course* that's all you can think about.
This then leads to the "might as well's", which is when you eat one of something you were trying to restrict, and then you eat all the things you were trying restrict, usually in quantities that make you feel sick, sluggish, bloated, etc.
When all foods are available to you and we don't label foods as good or bad, it's much easier (and enjoyable) to experience the holiday season around food!
favorite cookbook And/or food blog?
The food blog PaleOMG.
12. Emily Stauch
Emily writes about Autoimmune Protocol (AIP) and Paleo recipes at Flawed Yet Functional. She's experienced healing through food and lifestyle changes and hopes to inspire others to live their best life.
How to stay healthy during the holidays
I would say two things to those trying to stick to a special diet during the holidays
Plan ahead. ask what the host will be serving and ask to bring a dish. Of course your dish will comply with your diet, but your host doesn't need to know that!
Don't be ashamed. When you go to the event, don't apologize or be ashamed for your diet and food choices. You have found healing through food! Your results are reason enough to stick to your diet! Do so with pride!
favorite cookbook And/or food blog?
The food blog Paleo Running Momma.
13. Paola
Paola blogs about real, whole food recipes at Swallow The World. The purpose of her blog is to help people with eating disorders to recover, and help everyone become the best version of themselves.
How to stay healthy during the holidays
Don't feel like you owe anyone an explanation for eating the way you do. Normalize it so it's not a big deal. If you're going to eat at someone else's house, tell them your dietary requirements, but letting them know that they don't have to cook something special; you can bring your own food and it's totally fine.
If people make comments about that or the way you eat, be polite but firm, without over explaining: just say you can't eat x on the table, but are glad they're enjoying it. Never apologize for your food choices.
favorite cookbook And/or food blog?
The food blog Hungry Girl.
14. Michele Spring
Michele blogs about Paleo, Autoimmune Paleo (AIP Diet), Whole30 recipes at Thriving on Paleo. She's dedicated to helping people find relief from autoimmune diseases (like Hashimoto's and Celiac) using the Paleo & AIP Diets.
How to stay healthy during the holidays
If you are making dinner for others who aren't Paleo, make things that are naturally gluten-free and Paleo, but don't make a big fuss out of it or even mention that it's Paleo if possible.
I have found that people on a Standard American-type diet tend to automatically think Paleo or even any "healthy" food is inferior, even if it is way more delicious than anything else. So don't unnecessarily taint the food ahead of time with this false opinion.
If you have guests that request you make something because of some sentimental tie (which happens a lot around the holidays), cheerfully agree to make it. You don't have to eat it.
favorite cookbook And/or food blog?
Clean Eating With a Dirty Mind (Paleo dessert cookbook).
15. Leslie morrison
Leslie blogs about gluten free recipes at Deliciously Plated. Her hope is to inspire you to slow down and get into the kitchen and cook.
How to stay healthy during the holidays
Always be prepared. I've found that bringing my own treats keeps me from feeling down about having to be gluten free.
Whether it's gluten free corn muffins at Thanksgiving or brownies for the work Holiday party getting to indulge a bit with friends and family keeps me happy and satisfied.
favorite cookbook And/or food blog?
The food blog What The Fork Food Blog.
In Summary
Well there you have it! Fifteen people who have been where you are, and have come out the other side.
Plan ahead
Bring a dish you can enjoy
Stand firm in your decisions and don't be embarrased about your diet and food choices. You are taking steps to heal your body with real food. And that's something to be proud of.
You can do this! Let's get to the other side of the holidays feeling good about our food choices, ready to start the new year strong.
Recipes To Try This Holiday Season
Sides
Desserts
More healthy living resources
I hope your holiday season is filled with friends, family, and great memories. Here's to real food and healthy choices! Leave a comment below with any other tips you have!