Some of the links on this site may be affiliate links. This means, at no additional cost to you, I may be paid a small commission if you follow the links and make a purchase. Learn more here.
You spend hours over the stove, cooking a healthy homemade meal...
...with food that cost a lot of money to buy at the store.
And when you finally finish the meal with a few different veggies added in, you walk over and set it down on the table only to be met with this response from your kids.
..."what IS it?" or "I don't want THAT" or "I told you I don't like broccoli, mom!"
Frustrated and defeated, you go to your best problem solver...Google.
"How to get kids to eat more veggies", you type into the search bar.
I get it, mama.
I hear this all the time. And we both know that getting a variety of fruits and vegetables in our diet is essential for our bodies to function at their best.
There's a reason every diet suggests that we eat fewer processed foods and more fruits and vegetables.
Fruits and vegetables provide your body with necessary nutrients, they boost your immunity, and they help you feel (and look) great.
So, here's a question for you...Are YOU getting enough fruits and veggies?
Is your family getting enough fruit and veggies in your diet?
On average, people are eating 2-3 servings of fruits and vegetables each day...which is definitely lower than the 7-13 servings we're "supposed" to get. I consider myself a "healthy eater", but I'm still not getting 7-13 servings every day.
I read that only 1 and 10 people are actually eating the recommended amount.
Um...
That's not great odds.
Which is why I wanted to write this post and share with you something my family has been doing since fall of 2021.
Thankfully, we discovered a way to simplify healthy eating with our three kids so that everybody gets a baseline of 30+ fruits and vegetables each and every day (without the complaining).
First, a little bit about my story...
In 2019 I experienced two back-to-back miscarriages. Obviously, it was devastating.
But the silver lining (I love finding those) was that it got me thinking that maybe my health needed some attention. Maybe it was time I stop caring for everyone else better than I was caring for myself.
After getting some testing done, I was diagnosed with Hashimoto's (an autoimmune thyroid disease). So after years of being too busy to pay attention to my body, I was forced to make a choice:
Keep doing what I was doing, living the way I was living, and the doctors said eventually my thyroid will "stop working completely" even with medication (umm…what?)
Make some changes: change the story, change the outcome.
Well, I chose door #2. And after a year and a half of a firehose of information working with a functional nutritionist, here's what happened:
I was able to give birth to baby girl #3
I realized that my body actually does have needs and it's okay to take care of myself
I learned that by taking care of myself, I'm teaching my kids to do the same
Healthy eating doesn't have to be complicated, friends. The internet and social media can make "health" feel so overwhelming, but I'm here to help you make your life (and healthy eating) easier.
I want to help you simplify your life so you can show up as the healthiest version of you.
Because if you don't know it already, your kids seeing the healthiest version of you is what is going to teach your them how to be the healthiest version of them.
How we get our kids to eat 30+ fruits and veggies every single day
Okay, so back to the original topic. After far too many dinner time battles with my kids, negotiating with them over eating one more teeny tiny bite of broccoli in exchange for something exciting, and getting creative hiding veggies in muffins, pancakes, and other baked goods...I knew we needed a more sustainable approach to getting veggies in their tummies.
So, we signed up for the Healthy Starts program with Juice Plus+.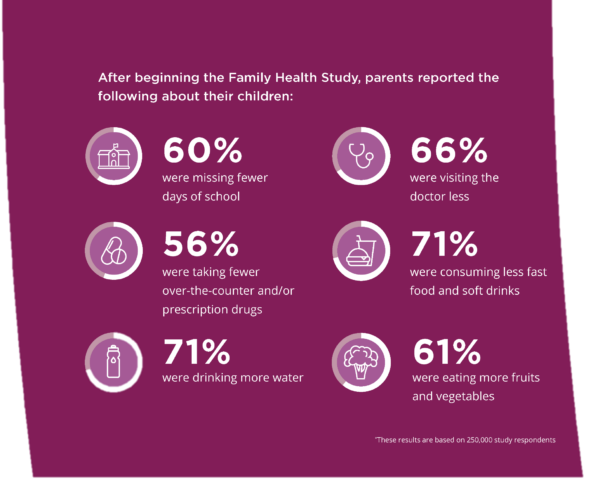 It's how we get free fruit & veggie gummies for our kids, how we load up the whole family on nutrients (even the baby), and it's how we've improved our health month after month after month.
What is in the Juice Plus fruit & veggie gummies & capsules?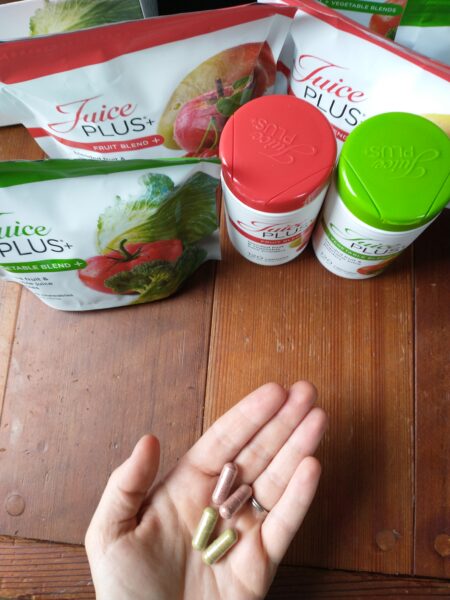 So...what's in it? Great question. These gummies are better than traditional vitamins because they are created by picking produce at its peak ripeness, crushing them whole, dehydrating them to retain the nutrients, and then encapsulating them (or putting the goodness in a gummy).
They're made with a unique blend of 30 different fruits, vegetables, and berries so you get tons of phytonutrients and food synergy working in your favor.
Can't I just eat fruits & vegetables?
You sure can...sort of. I highly encourage you to eat a diet rich of fruits, vegetables, high quality protein, and anything else that nourishes your body.
Raw fruits and vegetables give us so much goodness:
We get minerals from fruits and vegetables (assuming the soil they were grown in hasn't been stripped of all minerals).
We get enzymes from raw meat, raw milk, and raw fruits and veggies. Personally I don't usually eat raw meat or raw milk, so I'll be heavily relying on that third category for the enzymes my body needs.
There's a special synergy that we get when we eat fruits and vegetables in combination with each other.
But here's the problem...
Our soil has been stripped of minerals and because of that, the produce we eat today is actually LESS nutritious than the produce our grandparents ate.
Much of the food we see in the grocery store was picked BEFORE its peak ripeness so that it can be shipped to the store before spoiling (which often means it's not as nutritious).
It's one thing to know we SHOULD be eating 7-13 servings of fruits and vegetables. And it's an entirely different thing to actually do it.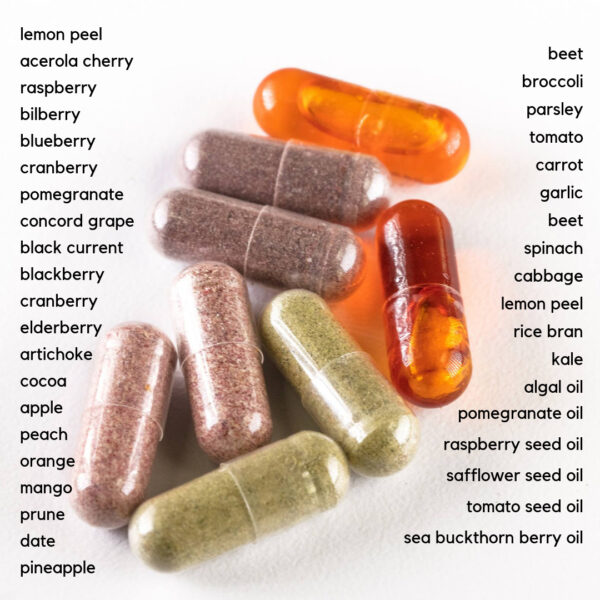 Here are a few things I love about Juice Plus+:
Encapsulated whole food fruit and veggies picked at their peak ripeness, in soil that's cared for.
Made from over 30 non-GMO fruits and vegetables. They also have a berry blend that's packed with antioxidants, plant-based Omega pills, and super yummy protein shakes.
Kids get FREE product (no, that's not a typo). With an adult purchase, your kid (age 4-18) can get the capsules or chewables (gummies) for free! Read more about the Healthy Starts for Families program here.
A research based approach. For anyone who likes to see the science and data, there's a lot of that. They've had over 40 independent studies done on their products (peer reviewed, double-blind, placebo control group, etc.). Basically, they're the gold standard of studies.
My family has been using this stuff for a few months now (with no plans to stop), and I absolutely love the fact that my kids' bodies are being flooded with daily nutrients (and it's not dependent on them eating their broccoli at dinner).
Why should I trust Juice Plus+?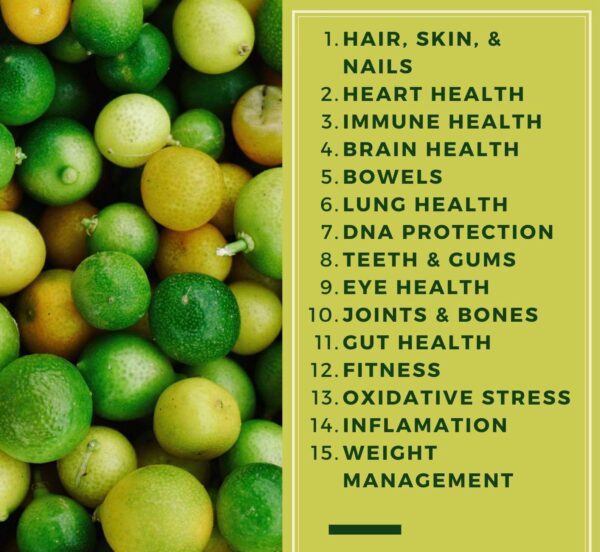 To all my fellow skeptics...I just want to say, I hear you.
It takes a lot for me to trust that something is worth spending money on. And it takes even more for me to want to tell others about it.
If you know me, the fact that my family is dishing out money for this stuff AND I'm talking about it every chance I get should tell you something.
But if you don't know me (and therefore don't have a reason to trust what I'm saying...) you can trust the research.
There are over 40 journal articles on a variety of benefits of using Juice Plus+ ranging from weight loss, immune system benefits, heart health, bioavailability, oxidative stress, inflammation, lung health, healthy skin, etc.
Is Juice Plus+ too good to be true?
If you're sitting there thinking, "this is just too good to be true..." just think about what the "experts" have been saying for years and years and years and years...
"Eat a healthy diet of whole foods, fruits, and vegetables."

- Every health expert, since forever ago
Obviously, I'm not a doctor. But I 100% believe when you've got a thousand different people telling you a thousand different things about health and wellness, you've gotta pick somebody to trust.
And in my experience, the simplest solution usually makes the most sense.
I mean...you can't get much simpler than "Eat more fruits and vegetables"...right?
Juice Plus+ makes it easy for you AND your kids to get a HUGE variety of nutrient-rich fruits and vegetables...in one bite.
Ready to get started? Good. Sign up here!
Still have questions about Juice Plus+?
Sign up for my FREE 3 Day Email Course where I'll send you one email a day for three days and share why we finally said "yes", what makes Juice Plus+ different from the other products out there, how to make it fit in your budget, and the changes I've noticed in my health since we started.
Save this for later on Pinterest