Some of the links on this site may be affiliate links. This means, at no additional cost to you, I may be paid a small commission if you follow the links and make a purchase. Learn more here.
Wondering whether it's better to buy salad dressing at the store, or make it at home? Is homemade salad dressing healthy? Or is it better to just buy it at the store?
We all prioritize. We categorize the demands of the day into buckets. "Important", "sort of important but not right now", and "not important". Because there's only 24 hours in the day, and "doing it all" isn't a realistic option.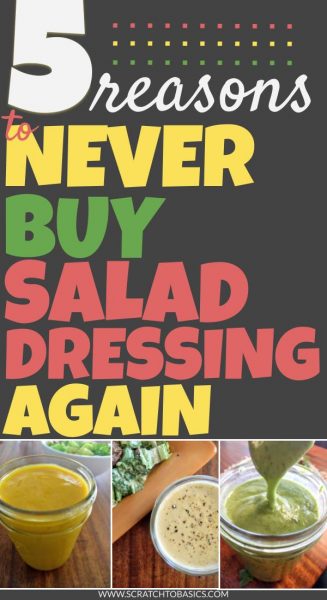 So I just try to make sure I'm keeping on top of the "Important" bucket.
Healthy meals for the kids? Important.
Spending quality time together as a family? Important.
Keeping the house spotless? Not important.
Keeping this sort of mental priority list, categorized into these buckets helps when I am in a time crunch. Because aren't we all in a time crunch? Almost always?
One item that seems to always show up on my "to be sorted" list is food.
Is it important that I make this food from scratch? Or can I get a high quality version from the store? It's a balancing act with time, money, and nutrition.
Today we'll talk about homemade salad dressing. Is homemade salad dressing healthy? You betcha. Making salad dressing from scratch is something that always ends up in the "important" bucket for me. Keep reading to find out why.
Five reasons why you should always make your own salad dressing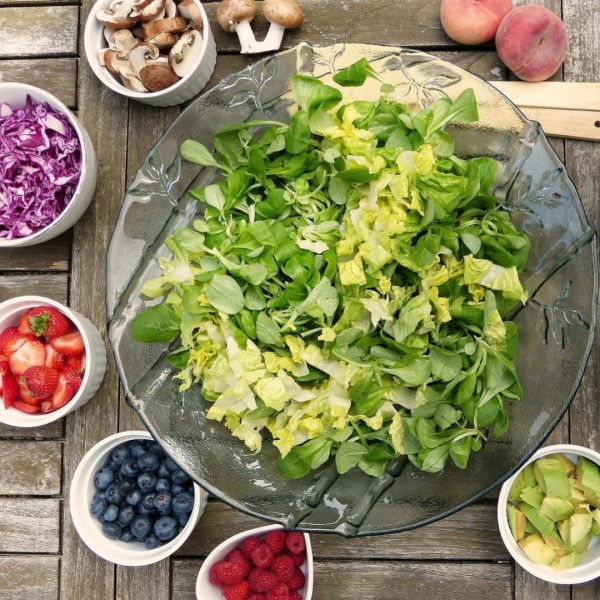 1. Remembering to buy it
I'm a list person. Ask my family. Ask my oldest daughter (she's five now). She reminds me to add things to my list so I don't forget.
I always have a list going. And before I head to the store, I pause to make a grocery list. I'm REALLY good at MAKING a list.
But remembering to bring the list into the store? Now that's a different story. If I had a nickel for every time I left my list in the car (or dropped it in the store), I'd have a lot of nickels.
In order to have salad dressing in your pantry, you EITHER need to make it OR buy it. Store trips are just better for me when I have less on my list.
Because of fussy kids, my forgetfulness, and enjoying spending less money at the store, I do better with needing to buy LESS. Can you relate? Doesn't it sound nice to buy less at the store?

Ready to take the stress out of the kitchen?
Make a meal plan today!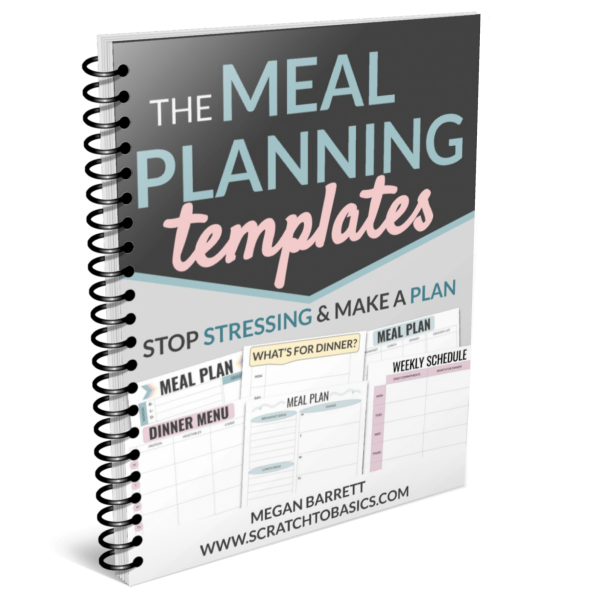 Cut through the overwhelm and get started meal planning with this bundle of meal planning templates. Opt in below to get this PDF delivered directly to your inbox.
2. Price
In the store, a bottle of salad dressing ranges from $2 – $5. And often what happens is you pay $3 for your bottle, take it home, try it, don't like it, and it ends up going bad in your fridge because no one wants to eat it. Big bummer.
Compare that to making it at home. You use ingredients you already have (so it's basically FREE) and make a cup of dressing. If you don't like it, you can change it. Add more vinegar, or salt, or a totally new flavor. No waste.
Start with this simple vinaigrette. It's three ingredients…olive oil, mustard, and balsamic vinegar. It's the perfect starting point.
Now take that $3 you'll be saving each week and at the end of the year, you'll have $156. Invest it, save it, or spend it on something that's worth it to you.
3. Ingredients
Salads are healthy, right? Add some greens, some healthy toppings, and a salad dressing to a bowl. It's the perfect picture of healthy food. But have you ever stopped to look at the ingredients in the salad dressing you're buying?
Go look right now. Seriously. Right now. I'll wait.
You'll likely find refined oils, sugar, and plenty of preservatives. When you make salad dressing at home you get to pick what goes in and what stays out.
Using honey, mustard, olive oil, and salt, you can make a delicious honey mustard salad dressing in 5 minutes. No blender needed. No preservatives either.
4. Waste
Ohhh, plastic. There's so much plastic in the salad dressing aisle. Do you ever look at the shelves in the grocery store and only see plastic? I do. And then I'm reminded how bad plastic is for the environment.
The next time you reach for a bottle at the store, think about the packaging that it's coming in. If you insist on buying salad dressing, choose a glass bottle every chance you get.
You see, plastic doesn't biodegrade. And glass is infinitely recyclable. Choose glass every chance you get.
5. Control over flavors
I don't know about you, but decisions at the grocery store overwhelm me. I can just sit and stare at all the options of something like toothpaste FOREVER. Reading all the labels, thinking the decision through, weighing the pros and cons of mint vs spearmint (yeah, a little ridiculous).
Staring at the dozens (if not hundreds) of salad dressings on the shelf at the store gets me overwhelmed pretty fast. But when you make your own salad dressing, you don't have to deal with the decision overwhelm.
And, you get to decide how the end product tastes. If you don't like it, make adjustments. Add more salt, more lemon juice, or more honey. Make it how you like it and take control of your food!
For example, let's say you wanted to make a Caesar dressing. You start with this recipe, then decide you actually like it a little tangier, with more pepper. So what do you do? You add more lemon juice and more pepper. Add a little at a time until it tastes how you want it to.
Healthy Homemade Salad Dressing
The next time you're standing in the salad dressing aisle, with a bottle in hand. Just put the bottle back on the shelf. You already have everything you need to make a delicious salad dressing at home.
Making your own salad dressing doesn't take long (usually about 5 minutes, max) and adds real food back into your diet.
To get you started with some salad dressing ideas, get this FREE E-Cookbook with 5 awesome salad dressing recipes, and 5 sauce recipes you can easily make at home in 5 minutes.