Some of the links on this site may be affiliate links. This means, at no additional cost to you, I may be paid a small commission if you follow the links and make a purchase. Learn more here.
If you're just starting on your journey to eating a no processed food diet (aka real food diet or whole foods diet), that's awesome. You're right where I was not too long ago.
If you're ready to cut out processed food, you might be wondering...what else there is to eat? What is real food? What do you look for at the store? Where's the best place to start? Is there a way to make all of this easier? This post will walk you through what's in and what's out, as well as an easy way to get it. Hint: You don't have to leave your house.
Related: How to Avoid Processed Food When it Feels Impossible.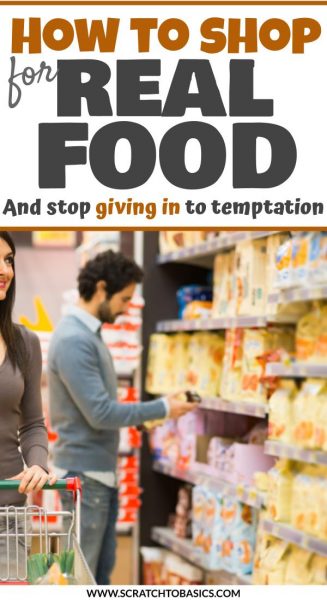 What is "Real food"?
First, let's talk about what I mean by "real food". The blog 100 Days of Real Food has some great information on how they define real food. My (slightly altered) definitions are below.
When you're shopping for real food, here's what you should look for.
Eat more Vegetables
First of all, you should be eating a lot of vegetables. Shoot for half your plate being vegetables, a quarter protein, and a quarter grains/carbs. That might be drastically different from what your plate looks like now. If it is, gradually add extra vegetables to your meals until you get there.
Read the Labels
Read labels (not just the front) and understand what they mean. Be an informed consumer! Here are 5 tips to help you decode your food labels.
Below I've listed the end goals. Take steps to move in this direction if you're not there yet.
Meat - Pastured, humanely raised, organic, local meat, eaten in moderation.
Dairy - Pastured, organic, dairy products. Unsweetened yogurt, cheese, milk (cows milk or goats milk, depends what you like and what your body can handle).
Seafood - Pick wild over farmed seafood.
Grains - 100% whole grains if your body can handle it. Or consider going gluten free and/or grain free.
Beverages - Lots of water! Naturally sweetened beverages, in moderation.
Snacks - Nuts and dried fruit make great snacks.
What Is "Fake" food?
So we know what we're looking for when we're at the store. Now let's talk briefly about what we should try to avoid. If the list above is considered "real food", I guess that would make this list "fake" food? Whatever you call it, here's a list of things to avoid.
Processed food (specifically, heavily processed food). Look for food with only a few ingredients. You should recognize all of them and be able to pronounce them. Shoot for five ingredients or less. Read more about what's wrong with processed food here.
Refined grains - These will spike your blood sugar without anything positive in return.
Refined sugar - When you start paying attention you might be surprised at how much sugar you're eating. Sauces, salad dressings, canned soups, pre-made foods...it's everywhere. Check your labels and be informed!
Refined oils - Try to steer clear of refined oils. For more info on oils, read this post.
Now that you're aware of what you shouldn't be eating, set yourself up for success and throw out the processed food that's screaming "EAT ME" from the cupboard.
Once you've cleaned out the cupboards, now you get to fill them back up with real food. Here are some tips for navigating grocery shopping and eating out.
1) Tips for the Avoiding processed food in the Grocery Store
Shop the food on the outside walls of the store
When you go to the grocery store, shop the outside of the store. Just about every grocery store I've ever been to is organized in the same way. The produce, meat, seafood, eggs, and dairy sections are on the outside of the store. Stay there and you'll be well on your way to eating a no processed food diet.
Avoid the Inner Aisles
Do everything you can do to avoid the inner aisles that are filled with the crackers, cookies, chips, and the temptations you're trying to avoid! If you have to get in there to get something, put your blinders on and don't just "browse" the chip aisle. We both know what's going to happen if you do.
Bring a List, Make a Plan
It's amazing how something as simple as a grocery list can help you stay on track. Make a list before you go. And if you make a meal plan to go with it, bonus points. Check out this awesome meal planning bundle for insider secrets and cheat sheets to make healthy eating something you can stick with.
2) Online Grocery Shopping with the 'No Processed Food' Diet
One way I've found to avoid the impulse junk food purchases at the grocery store is to buy groceries online. I find it's a lot easier to pass up an online purchase as opposed to when they're right in front of me at the store.
What's your weakness in the store? Something salty? Chips? Or something sweet? Maybe a dark chocolate bar with sea salt and almonds? The chocolate bar tempts me. Every. Single. Time.
Why I Love Thrive Market
One online grocery option that stands out above the rest is Thrive Market. The main reason I want to mention it here is that it's an awesome way to simplify your grocery shopping. Here are a few of my favorite things about Thrive.
Organic and healthy food for less money than the specialty store (they even sell meat and seafood, which is pretty great).
Caters to every diet - Gluten free, Vegan, Paleo, Keto, AIP, Vegetarian, and more.
Shipped to your door, so it's available even in remote locations...as long as they can ship it to you.
More than just food. They sell household goods, beauty, and other eco-friendly products, too.
They donate a membership to a low-income teacher or family in need for every membership they get.
Really, I could keep going. But if I listed all the benefits and options they have, this bullet list would be a page long! Sign up and get 30% off your first order (up to $20) when you sign up. They have 1 month, 3 month, and 1 year memberships available. Sign up here to grab that 30% off.
I wrote a post recently about three online grocery options that I highly recommend. If you're interested in a couple other online grocery options, check that post out.
3) Tips for eating out and avoiding processed food
We love eating out (although these days with young kids it's almost always in the form of take-out). But actually going out to restaurants is a nice treat every once in a while...if we can time it right with naps, and the kids aren't too hungry, and we don't see a meltdown in sight.
I don't know about you but I don't like being confined in a public place with a screaming child.
Related: What's wrong with processed food, and how to avoid it.
Pick your restaurant carefully
When you make the choice to focus on eating real food, be intentional about which restaurants you're eating at. Most restaurants use pre-made processed sauces and salad dressings.
When you're going to eat out, look for restaurants that focus on fresh, local ingredients. If they mention farm-to-table, that's an indicator that they might love real food just like you! Ask them if they make their sauces in house.
Know what you want when you sit down
Look at their menu online and pick what you'll order before you go. Because you know what happens, right? You say you'll just get a salad...and then it takes fifteen minutes longer to order, and then you start wondering..."is a salad really going to fill me up?
I'm a lot hungrier than I was earlier. Maybe I'll just get the fried appetizers too."
Final Thoughts about The No processed Food Diet
It doesn't matter how you make the shift towards real food in your life. The important thing is that you do it. Make a commitment to make real food a priority.
Three tips as you navigate a diet of real food/no processed food diet:
Start meal planning (grab these free meal planning templates to get started today). Use a meal planning app if you prefer a digital meal plan.
Starting your meal planning / real food journey with a service like Prep Dish can significantly lower the effort and stress involved in changing how you eat.
Find a grocery store that carries the food you want to eat - make it easy on yourself and get yourself a membership at Thrive Market today. Grab 30% off your first order (and a free gift) with this link.
Yes, it will require effort. And yes, it will take a little more time to adjust in the beginning. But if you do it, you'll see what I've seen and what so many others have seen. You'll see that it's worth the time and it's worth the effort. And YOU are worth it too.
Pin This for Later!