Some of the links on this site may be affiliate links. This means, at no additional cost to you, I may be paid a small commission if you follow the links and make a purchase. Learn more here.
It's fall, y'all! And that means it's time to break out the pumpkin recipes, fall spiced drinks, and bust out the sweaters and cozy socks. This pumpkin hummus recipe is quick and easy to make, and will give you an orange colored festive dip for your fall festivities.
This pumpkin hummus takes 10 minutes to whip up (and that's including opening the can of chickpeas and pumpkin). Plus, I love that it uses a whole can of pumpkin so you're not left with a random half-used can that eventually goes bad in the fridge.
...or is that just me?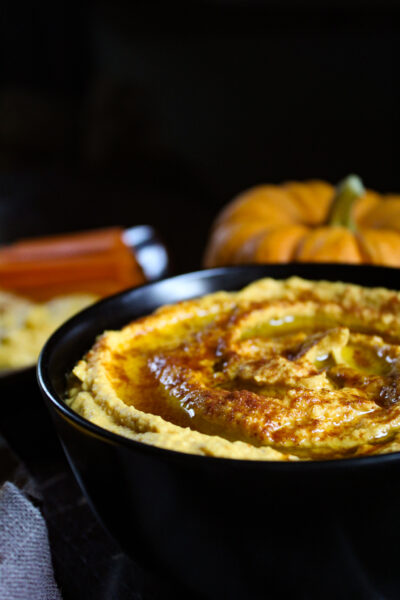 Many pumpkin hummus recipes are sweet like a dessert, but this one is savory with a touch of sweetness from the pumpkin. My hummus loving husband even said, "I think this is better than your regular hummus recipe!"
Folks, if that's not a great review, I'm not sure what is.
How to make this pumpkin hummus recipe
This easy pumpkin hummus recipe will be table-ready in minutes. Here are the basic steps:
Drain the chickpeas (or garbanzo beans) and juice the lemon.
Add all ingredients to food processor and blend until creamy.
Top with a drizzle of olive oil, sprinkle of paprika, or a few cilantro leaves for a polished look.
Serve with veggies (carrot sticks tasted really good), bread slices, or crackers.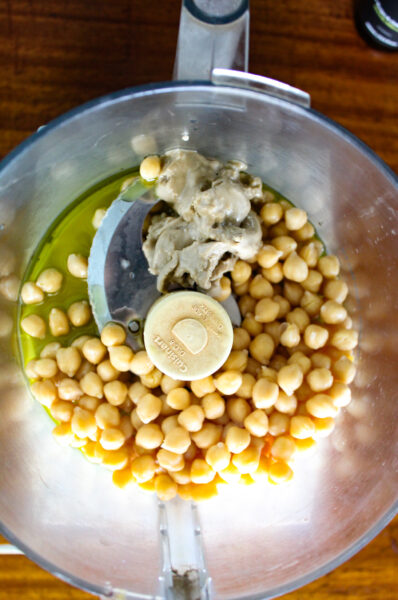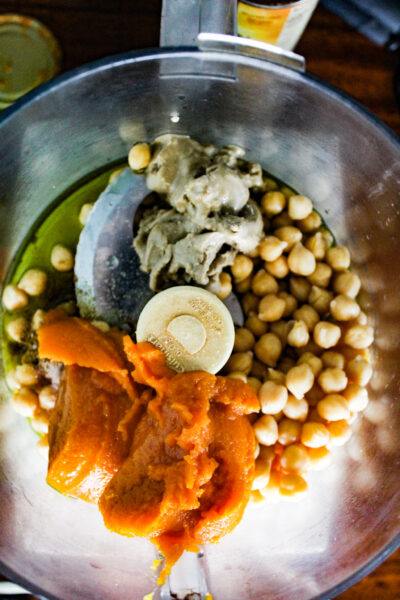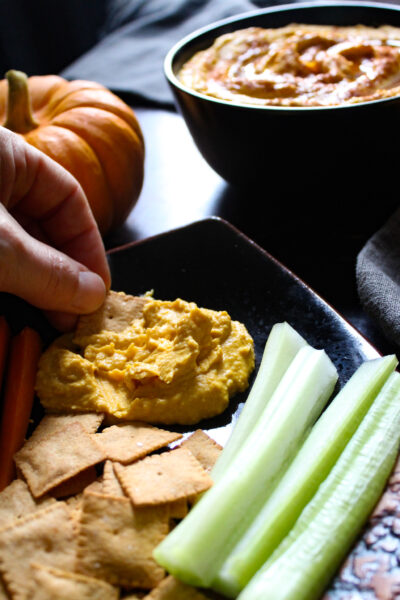 A few notes on the ingredients
As you may be aware, I'm very intentional with the ingredients I use in my recipes. Here are a few notes on why I chose the ingredients I did:
Make sure you use pumpkin puree, not pumpkin pie filling. Pumpkin pie filling has spices and sugar. There's nothing wrong with a dessert version of pumpkin hummus, but that recipe is for another day.
Instead of a more traditional recipe using whole cloves of fresh garlic, I opted for garlic powder to tone down the garlic-y-ness, and to make it more likely my kids would eat it. If you'd rather the fresh garlic - use 1-2 cloves fresh garlic in place of the garlic powder.
I recommend using a high quality olive oil. In the pictures I used Secolari Olive Oil and it was delicious!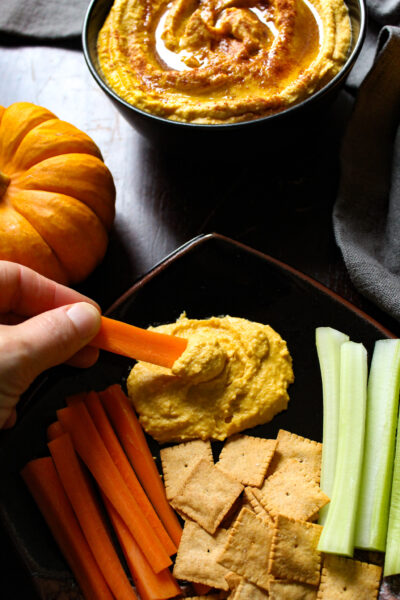 How to serve your pumpkin hummus this fall
Bread of choice - sourdough is a favorite of mine, or go with a sprouted wheat bread, or even Paleo or gluten free bread. The sky is the limit here.
Crackers - get some store-bought crackers, or make your own. Here's my almond flour "cheesy" cracker recipe, and my ranch flavored almond cracker.
Veggies - we used celery and carrots and both worked great as dippers.
Include it on fall charcuterie board or Halloween snack board.
Do I really need a food processor?
To make hummus from scratch, yeah. You do. If you have a really high powered blender you might be able to get by with that, but in my experience, blenders don't work great for thick dips like this pumpkin hummus recipe.
Here's the food processor I recommend. We've had ours for about ten years (wedding gift) and it's still going strong. I know many people recommend having a special tool for everything, but I don't have cupboard space for every tool out there, and even if I did I wouldn't want to have that many appliances.
If you're curious which tools I think ARE worth the cupboard space, here's my list of recommended kitchen tools for a minimalist kitchen.
Here are a few more recommended fall recipes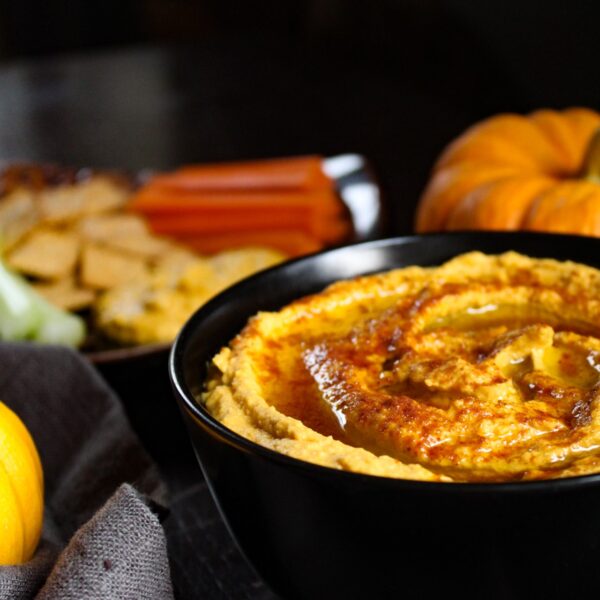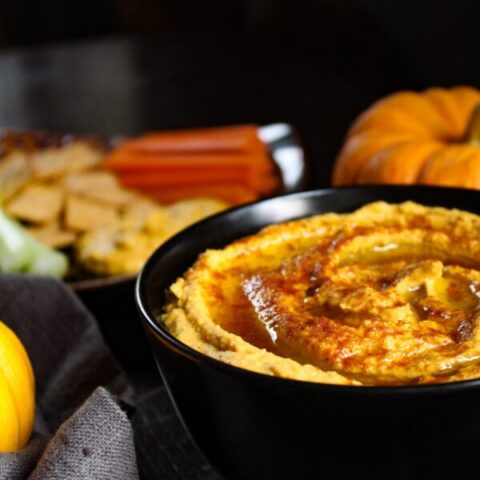 Easy Pumpkin Hummus Recipe
Make this pumpkin hummus recipe from scratch in minutes in your own kitchen. This savory pumpkin hummus is exactly what you need this fall. Use it on your Halloween snack board, or a an appetizer or side dish at your Thanksgiving dinner. Such an easy dip with GREAT flavor!
Ingredients
1 can chickpeas (or 1.5 cups cooked chickpeas - also known as garbanzo beans)
15 oz can pumpkin puree
¼ cup tahini paste
¼ cup extra virgin olive oil
juice of 1 lemon
½ tsp garlic powder 
¼ tsp salt
½ tsp cumin
1-3 Tbsp water
Instructions
Open can of chickpeas and drain the liquid.
Add all ingredients (except water) to food processor, process until smooth.
Add water, 1 Tbsp at a time until you've got the consistency you're looking for.
Serve alongside veggies, crackers, or bread
Notes
Be careful not to use pumpkin pie filling. You want the pumpkin puree (with just pumpkin inside).
Save this for later on Pinterest