Some of the links on this site may be affiliate links. This means, at no additional cost to you, I may be paid a small commission if you follow the links and make a purchase. Learn more here.
It's fall, y'all! And that means it's time to break out the pumpkin recipes, fall spiced drinks, and bust out the sweaters and cozy socks. This pumpkin hummus recipe is quick and easy to make, and will give you an orange-colored festive dip for your fall festivities.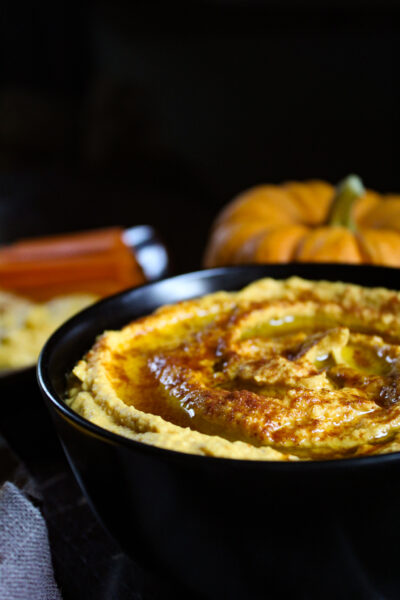 This creamy pumpkin hummus recipe takes 10 minutes to whip up (and that's including opening the can of chickpeas and pumpkin). Plus, I love that it uses a whole can of pumpkin, so you're not left with a random half-used can that eventually goes bad in the fridge...
...or is that just me?
Many pumpkin hummus recipes are sweet like a dessert, but this one is savory with a touch of sweetness from the pumpkin. My hummus loving husband even said, "I think this is better than your regular hummus recipe!"
Folks, if that's not a great review, I'm not sure what is.
Tools Needed to Make this Pumpkin Dip
Food processor - Where you can blend all your ingredients in.
Dipping bowl - To serve your delicious creamy pumpkin dip.
Ingredients to Make Pumpkin Dip
Chickpeas (also known as garbanzo beans) - Base for the pumpkin dip. They have a nutty flavor that isn't overwhelming.
Pumpkin puree - You can use canned pumpkin or make your own pumpkin puree. Just don't get the pumpkin pie filling (it's already flavored, and in a way we don't want).
Tahini paste - It has a savory, bitter, and nutty flavor - made from sesame seeds pureed up.
Extra virgin olive oil - It gives the hummus a luxury texture, in addition to its health benefits. I used Secolari Olive Oil.
Lemon - To counteract the strong flavors of chickpeas and tahini, lemon is added to hummus to make those flavors balanced.
Garlic powder - Adds a savory flavor to your hummus (you could use fresh garlic, but you'll definitely taste a garlic kick). I used garlic powder for a milder garlic flavor.
Salt - Balances out all those other flavors and enhances the best parts.
Cumin - It adds a little more spice and richness to your pumpkin hummus.
Water - Helps to make the hummus smooth and nearly fluffy.
How to Make This Pumpkin Hummus Recipe
This creamy pumpkin hummus recipe will be table-ready in minutes. Here are the steps to get it to the table:
Drain the chickpeas (garbanzo beans) and juice the lemon.
Add all ingredients to food processor and blend until creamy.
Top with a drizzle of olive oil, sprinkle of paprika, or a few cilantro leaves for a polished look.
Serve with veggies (carrot sticks tasted really good), bread slices, or crackers.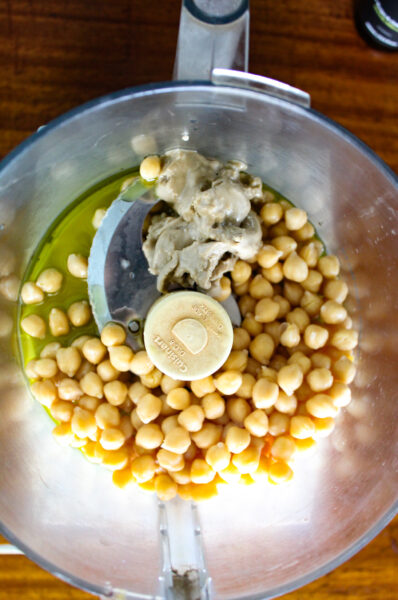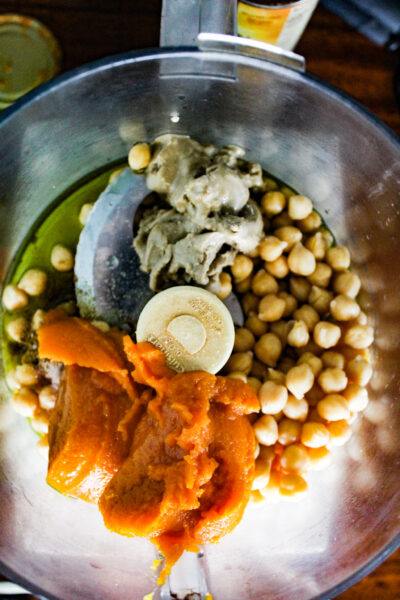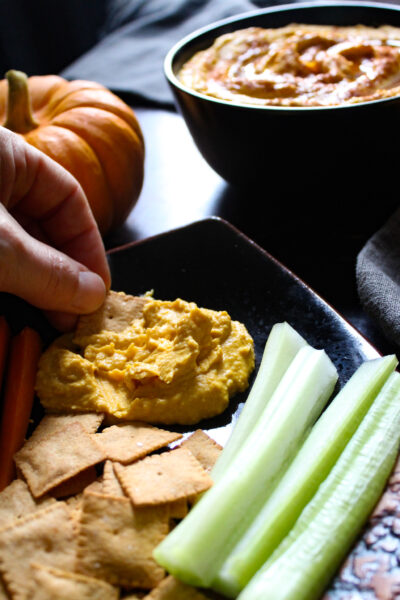 A few notes on the ingredients
As you may be aware, I'm very intentional with the ingredients I use in my recipes. Here are a few notes on why I chose the ingredients I did:
Make sure you use pumpkin puree, not pumpkin pie filling. Pumpkin pie filling has spices and sugar. There's nothing wrong with a dessert version of pumpkin hummus, but that recipe is for another day.
Instead of a more traditional recipe using whole cloves of fresh garlic, I opted for garlic powder to tone down the garlic-y-ness, and to make it more likely my kids would eat it. If you'd rather the fresh garlic - use 1-2 cloves fresh garlic in place of the garlic powder.
I recommend using a high quality olive oil. In the pictures I used Secolari Olive Oil and it was delicious!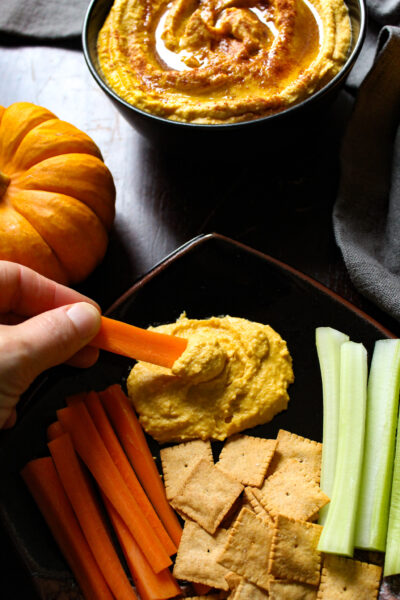 How to serve your pumpkin hummus this fall
FAQ & Recipe Tips
What goes with pumpkin hummus?
Pumpkin hummus is a lot like normal hummus, so you can serve it the same way.
Fresh pita
Tomato, onion, and cucumber salad
With falafel
On a huge platter drizzled with olive oil and herbs.
Crackers/bread
How long does pumpkin hummus last in the refrigerator?
Freshly made pumpkin hummus can be kept in the refrigerator for up to three days in an airtight jar with a tight fitting lid. You can also freeze it to make it last longer.
What can I add to my hummus to make it taste better?
If you'd want to add a little extra flavor to your hummus, you can chop up some fresh herbs like chives, parsley, rosemary, or dill. Then drizzle with a little olive oil and sprinkle with sea salt after adding your chosen herb.
Do I really need a food processor?
To make hummus from scratch, yeah. You do. If you have a really high powered blender you might be able to get by with that, but in my experience, blenders don't work great for thick dips like this pumpkin hummus recipe.
Here's the food processor I recommend. We've had ours for about ten years (wedding gift) and it's still going strong.
Related Fall Recipes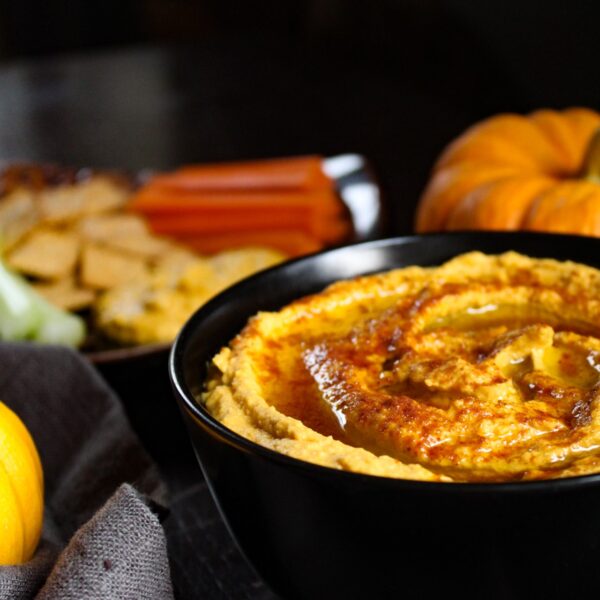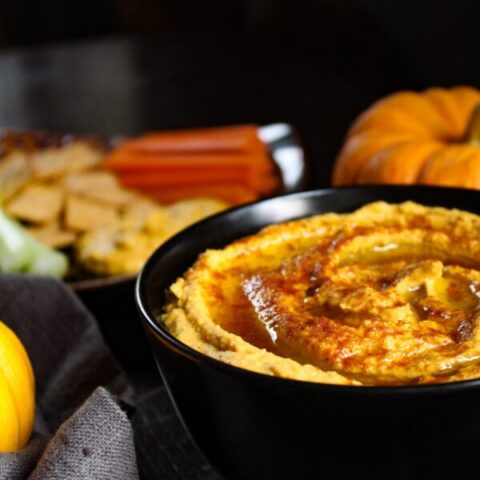 Easy Pumpkin Hummus Recipe
Make this pumpkin hummus recipe from scratch in minutes in your own kitchen. This savory pumpkin hummus is exactly what you need this fall. Use it on your Halloween snack board, or a an appetizer or side dish at your Thanksgiving dinner. Such an easy dip with GREAT flavor!
Ingredients
1 can chickpeas (or 1.5 cups cooked chickpeas - also known as garbanzo beans)
15 oz can pumpkin puree
¼ cup tahini paste
¼ cup extra virgin olive oil
juice of 1 lemon
½ teaspoon garlic powder 
¼ teaspoon salt
½ teaspoon cumin
1-3 tablespoon water
Instructions
Open can of chickpeas and drain the liquid.
Add all ingredients (except water) to food processor, process until smooth.
Add water, 1 tablespoon at a time until you've got the consistency you're looking for.
Serve alongside veggies, crackers, or bread
Notes
Be careful not to use pumpkin pie filling. You want the pumpkin puree (with just pumpkin inside).
Save this for later on Pinterest